Looking to find high-quality keywords for your marketing campaigns? Simply perform a search below to start your marketing research.
Jaaxy- The Overview and Rankings
---
Name: Jaaxy
Owners: Kyle and Carson
Website URL: jaaxy.com
Support: 95 out of 100
Training: 90 out of 100
Success Stories: 90 out of 100
Price: Free/ Pro version $49 per month/ Enterprise version $99 per month
Maketimeonline.com Rating: 92 out of 100
What is Keyword Research?
---
My first question to you is what is the capital of Tuvalu?
Not sure… well go and work it out then come back and read some more.
I bet if you actually did that you went into Google and found the answer within seconds. Chances are that you just saw it on the Wikipedia page at the top. If you were to scroll down you will probably see a load of random peoples websites.
These websites have probably got onto page 1 on a Google search because they provide valuable content to their audience regularly.
The fact is that these websites will receive regular visitors to their website every month from people typing in "what is the capital of Tuvalu"… just because they are on page 1 of a Google search. Now imagine you had 10 or 100 or 1,000 keywords that are on the top page of Google. Do you see how you can get free traffic now?
The best part is that it is possible to find certain keywords and phrases that people search for every month and have hardly any competition (other websites that target these keywords). Hence, by deciding what keywords to put onto your website's pages you can increase the chance of receiving FREE traffic every month to your site.
In Affiliate marketing, more traffic means more sales and more sales means more money. So if you can get traffic for free, it is effectively more money for free!
This is a big step in the right direction for you to create more TIME, which is the whole purpose of this website! So I'd say keyword research is pretty important!
Who is Jaaxy for?
---
Anyone wanting to get free traffic to their website.
It is an amazing tool to find keywords and phrases that people search for online. This means it helps you create content that people will search for every month. It not only does this but it also helps you to find keywords that have little competition, so it's more likely that you can reach the desired page 1 of Google.
This is what the online world calls SEO (Search Engine Optimisation). It is a method of bringing people to your website every month for free.
It's another great way to decide on a specific niche. If you're looking for more information about finding the best niche for you click here.
If you are currently using affiliate marketing or thinking about starting to use affiliate marketing, then Jaaxy is definitely a tool you should look into. If you create content through a blog or even YouTube, then it is an amazing tool for reaching more people every month.
Here is a list of people that may use Jaaxy:
Niche pursuers
Article marketers
Freelance writers
Professional bloggers
Domain flippers
Site flippers
Online / Pay Per Click advertisers
YouTube marketers
SEO companies
People who want to 'spy' on their competitors
Viral-news website owners looking for new trends to leverage
Internet marketers wanting to know how high their sites and posts are ranking on the SERPs
Local marketers
Local businesses
Affiliate marketers
Email marketers wanting to find hot topics to discuss with their subscribers.
Jaaxy- How to determine a "Quality" Keyword?
---
Here are the MAIN features of using Jaaxy explained:
Monthly Searches
This is the total number of searches that the specific keyword produces on search engines each month. The higher this number the more people will be looking into the keyword that you are researching.
Traffic
If you achieve 1st-page rankings this is the estimated amount of visitors you will receive to your account. It is not likely that you will receive many visitors at all if you do not rank on the search engines first page (think back to the earlier example of Tuvalu, did you even consider clicking onto page 2 of the results?) Again the higher the number the better!
Keyword Quality Index (KQI)
This is a quick way to determine whether the keyword will be a good marketing campaign for you to use. If it is green and says Great then it may be a good option. If it says normal and is orange then you should probably look for another campaign to start.
Quoted Search Results (QSR)
This is the BEST indicator for you to look at. This shows you the number of competing websites ranked on Google for the keyword. The lower the number the more chance you have to rank on Googles page-1, which is the main goal of keyword research!! Ideally, the number should be below 100.
SEO Power
This is a score for the keyword based on traffic and how much competition. If your researched keywords have 0 monthly searches then you will not receive any traffic. If there are hundreds of competing websites then it's less likely yours will feature on page 1 of a Google search! You want this number to be high and ideally over 90.
Alphabet Soup
---
This is something I stumbled across on a YouTube video about a year ago. If you just type in your keywords into Google it will pop up some common searches beneath.
For example, a common headline for articles starts with "how to become…"
Beneath it brings up some ideas for what people search for on Google: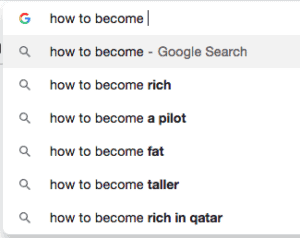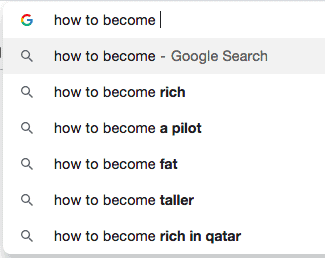 If we go one step further and click on "how to become rich…" we end up with more results appearing below: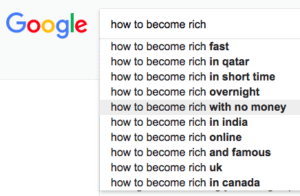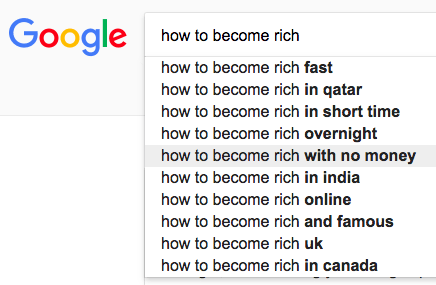 Now, this is where the alphabet soup idea really comes into its own. Once you have your post idea you just type the letters of the alphabet one at a time to come up with hundreds of ideas that people are already searching for i.e. type in "how to become rich a…" "how to become rich b…" "how to become rich c…" etc.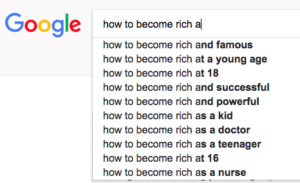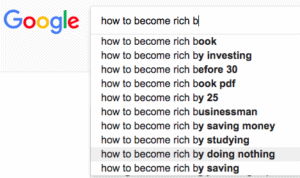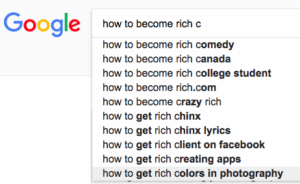 If you are struggling for content ideas this is a super simple way of generating hundreds if not thousands of ideas that you know other people are already searching for.
The best thing about Jaaxy is that it does this all for you… and gives you the option to then do your own research in more detail or add to your brainstorm queue so you can see these keywords together.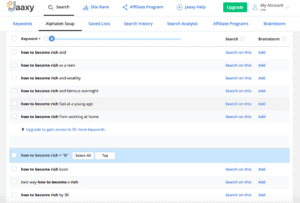 Saved Lists
---
Using the saved lists is a great way to put all your ideas in one place and then compare them against each other.
Remember the main goal here is: Reach the top page of a search engine if someone types in a specific phrase. If you can do this you want as many monthly searches for this key phrase or keyword as possible.
This walkthrough for how to use Jaaxy shows you how I can find a good key phrase to write a blog post or YouTube video for.
Is it Worth it?
---
Now, remember that my promise is to always be completely honest with you.
Right now as a relative newbie to the affiliate marketing world, are there other things that I should be spending my time and money on? 100% YES!
If you are just starting out and are not creating useful and engaging content already, then spending $99 on a Keyword Research Tool just seems silly to me!
The reason I love it is that it comes as part of the Wealthy Affiliate members program. Not only is the research and support in the community the best I have seen so far for learning how to start this online business, but the "Lite version" is part of the program. Click here to join Wealthy Affiliate for free!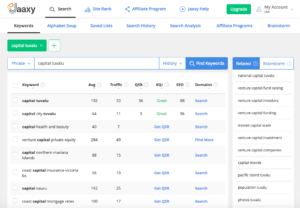 The Lite version gives you more than enough to start out with for Keyword Research.
The big benefit compared to the free version is that you get unlimited keyword searches and you can see all of the searches (30 searches can go very quickly, but it is a great way to see what it can do!)
I have read reviews about people who upgrade their Jaaxy account and they say it is easily worth $99 per month. I can understand why it is for them because if your research on one post helps you get an extra $99 each time then it pays for itself and some!
But when you are just getting started out with a few regular visitors having the extra bonuses that the Pro and Enterprise version has is a bit of a waste.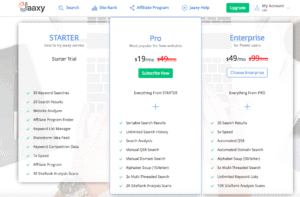 The one thing that makes these versions seem appealing compared to what I have already is that you can get your SiteRank worked out for you and tracked.
The Lite version only provides your site rank if you are in the top 30 sites for a keyword (i.e. on Page 1 or 2 of Google). But this is pretty much pointless because it's just as easy to Google it and see your website on page 1!!
The Pro version tracks up to 2,000 websites and the Enterprise version tracks up to 10,000 websites for a specific search. This could be useful to see how your website is progressing and improving!
Make Time Online Summary
---
Jaaxy is a great tool to use to find out how good a keyword is. You can also get some great ideas about what to base your blog post or YouTube video on by using the alphabet soup tab.
You can get a free account with some of the basic features and 30 searches. However, this will go very quickly. Every time I write a post I just type in some keywords and ensure my post title will have less competition and a good amount of traffic than if I were to choose my keywords myself.
My suggestion would be to join the Wealthy Affiliate program if you are serious about starting an online business. This provides you with the Jaaxy Lite version (unlimited searches) as part of the program. Click here to find out more.
The plan is, in the long run, for my website to be able to keep receiving FREE traffic so that it can become more and more like a business instead of a job.
Keep changing for the better,
Mike
If you have any questions and I mean ANY questions about Jaaxy, please leave them below. If you have used Jaaxy or another keyword tool before then please also add your opinions below.
Are you serious about making money online to free up your time? I would advise you to check out my #1 recommended program here
Type in a search below to start your keyword research
Please follow and like us: