In the spirit of full transparency, know that this 12 Minute Affiliate review contains affiliate links. This means if you make a purchase through these links, I may receive a small commission at no extra cost to you. Click here to read my full disclosure policy.
You have probably seen 12 Minute Affiliate advertised and are wondering whether this is the product you've been looking for.
Most people believe it's not that easy to make money online, otherwise, everyone would be doing it! 12 Minute Affiliate promises to help you make $460 a day and get set up in just 12 minutes.
This honest 12 Minute Affiliate review, with an insiders video, will reveal the truth about the program and let you make an informed decision about it.
12 Minute Affiliate Review- The Overview and Rankings
---
Name: 12 Minute Affiliate
Owners: Devon Brown (50 out of 100)
Website URL: easy.12minuteaffiliate.com
Type: Affiliate Marketing System
Training: 30 out of 100
Success Stories: 15 out of 100
Price: $9.95 for the first 14 days $47/ $97 per month after
Maketimeonline.com Rating: 32 out of 100
12 Minute Affiliate Pros and Cons
---
Pros
Teaching you about a legit business model
60-day money-back guarantee
Some done for you landing pages & swipe copy for emails
Cons
The traffic problem (it won't work without traffic)
Black hat sales methods
The true cost is much higher than first thought (there are many hidden costs)
The upsells
Done for you systems means you don't really own your business
What Does The 12 Minute Affiliate Do?
---
Simply put…
Provide you with an automated sales funnel to help you make money through affiliate commissions on Clickbank.
The landing pages, email swipe copy and affiliate products are done for you in 3 niches (personal development, weight loss, home business).
Here is the general concept of the business model:
Someone visits your landing page (done for you)
They sign up to your email list (connected with Aweber autoresponder)
You send them some emails (done for you)
They buy a product through your link and recommendation
You make money (commission from the sale)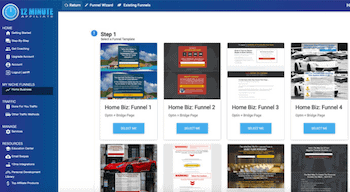 Hold on, what is affiliate marketing?
Great question…
It is when you recommend a product and someone else buys the product through your link. You earn a commission of the sale.
It's a legit business model that many people use ethically to help people that are looking for a solution to a problem. Just check out my chat with these guys who make $240k/ month with affiliate marketing through a personal finance website (this time 3 years ago, they didn't know what affiliate marketing was).
So let's dig into 12 Minute Affiliate's system a bit more…
After purchasing the 12 Minute Affiliate marketing system, the initial step is registering an account and uploading the prefabricated emails and landing pages to the autoresponder section. After activating the pre-built funnels, obtain traffic from Devon. You will likely accomplish the task in a record-setting 12 minutes. The traffic will flow via your funnel, which begins with the landing pages of the 12-Minute Affiliate scheme. Via affiliate offers, Devon Brown's emails are drip-fed to your subscribers.
After everything is in place, you can sit back and collect Clickbank earnings. The procedure is straightforward. Becoming an associate of 12 Minute Affiliate entails selling items created by others and receiving a commission based on the product's price. 12 Minute Affiliate has a preset platform that links hosts and merchants. The training focuses on promoting your link or website.
12 Minute Affiliate enables you to market a link with an opt-in email option and an email link. A percentage of the merchandise is credited to your account when you click the link and purchase the item. Depending on your purchase plan, 12 Minute Affiliate can also assist with website traffic.
Who Would Benefit Most From 12 Minute Affiliate?
Period: 12 Mins You can generate money with an affiliate marketing program regardless of your experience level or expertise in the internet business world. Around four billion individuals use the network, making it a gold mine for entrepreneurs.
Remember that 12 Minute Affiliate plug-and-play is not a get-rich-quick scheme that will run itself. You should be willing to work before signing up for this system. In particular, those who:
Want to Make Money Online but Don't Have a Product or Service to Sell and Aren't Prepared to 
Create a Sales Funnel

Want to make money but dread dealing with clients?

Making a futile attempt to get revenue through online endeavors

Looking for a daily commission, possibly
As an actual demonstration of the system's capabilities, the one provided on the website is invaluable. The 12 Minutes Affiliate marketing allows you to generate money in various ways, but the required level of independence may be overwhelming for some individuals. Therefore many opt instead to purchase a "done-for-you" solution. A large majority would rather have someone else take care of the system maintenance in exchange for a fee. The manufacturer has simplified the installation process, so your workload is minimal, and the volume of visitors you receive is highly sensitive to the size of your marketing budget.
What's Inside 12 Minute Affiliate?
Here's a great tip you can take with you…
Always check on YouTube before buying any online product. Chances are someone will show you the inside so you can understand exactly what you are getting.
Check out this 5-minute video I found on YouTube to see exactly what is inside 12 Minute Affiliate…
As you can see, you will receive some useful things from 12 Minute Affiliate. So let's just quickly go over exactly what's included.
12 Minute Affiliate Training
There are 5 main areas inside 12 Minute Affiliate.
1. Quickstart Guide
In here you will find out how to:
Choose your niche (options are home business, weight loss and personal development)
Create a free Clickbank account
Purchase Aweber Autoresponder (collects email addresses and sends out emails from you)
Integrate your autoresponder to Clickbank and your landing pages
2. Traffic Area
This is where you can buy traffic.
There is no real training on how to start getting your own traffic through free methods (SEO, social media) or paid ads (Facebook ads, Google ads).
3. Service Manager
You can manage your autoresponder & the whole funnel that is provided for you.
4. Resources
There are some additional bonuses in here such as:
Live training replays
Done for you swipe emails
eBooks
Lists of affiliate products to promote
5. Support and Facebook Group Access
You can call the support team or "open up a support ticket". You also get access to the "inner circle Facebook group".
Now all of this may be starting to sound pretty good. 12 minutes work and $460 a day right!!
But also note that there are numerous other courses and programs out there that are very similar to this. Some of the most prominent ones are:
I can almost hear your mind thinking…
Ready to make passive income online?
Hey, I'm Mike.
I created a passive income online within a year. I had no marketing skills or online experience when I started.
Is 12 Minute Affiliate a Scam?
---
The short answer is yes, 12 Minute Affiliate is a scam.
The long answer is below…
There are two main ways an online course can be a scam:
Take your money and run off into the sunset, never to be heard from again
Provide some information but it doesn't live up to their promises
Whilst you can see you will receive something for your money, it is also not possible for you to make $460 profit a day from 12 minutes work.
FACT.
Now, you may be able to earn $460 a day from 12 minutes of work… but technically Devon didn't say that would be profit did he!?
Let me ask you this…
Would you be willing to spend $1,000 a day to make $460?
No, neither would I!
---
Common positive reviews
Here are some of the positive reviews about the job opportunity…
"You'll earn affiliate commissions when people buy any of the products you're promoting. Your emails come with your ClickBank affiliate link."
"One of the good things about using a ClickBank product is that you can depend on their 60-day money-back guarantee. This is quite a generous guarantee and it's provided by ClickBank, not the product owners/creators."
Common negative reviews
And here are the common negative reviews…
"Also, newbies don't have an existing audience. While you can buy traffic and build your audience (which is the hardest part of getting the ball rolling), programs like 12 Minute Affiliate are most effective if you already have social media following or email list."
"With 12 Minute Affiliate, however, they have limited templates to choose from for your landing page (so you will end up with the same landing pages every other member is using)."
---
12 Minute Affiliate: The Good
---
With all of this being said, here are some of the things I like about 12 Minute Affiliate…
#1 Legit Business Model
---
As you've already seen in this 12 Minute Affiliate review, affiliate marketing is a legit business model that people use.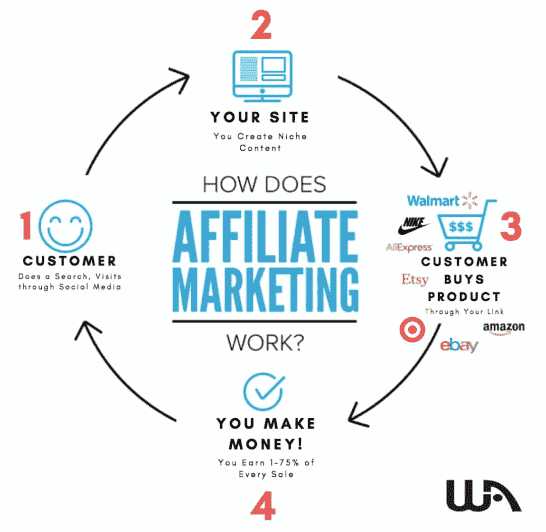 However, it only works long term when people are honest and genuinely help people to solve their problems.
The more you read this 12 Minute Review, the more you will realise the truth about the program.
#2 Done-For-You Landing Pages & Swipe Copy
---
If you are naturally lazy (who isn't!?) then this will jump out as being the best thing since sliced bacon.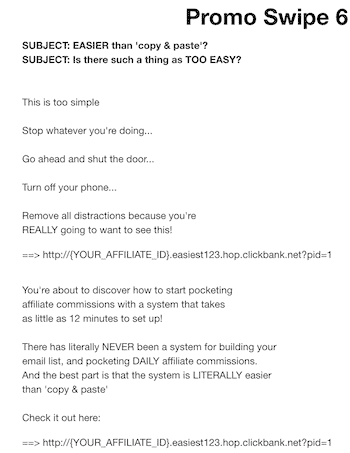 It means that you can put a sales funnel in place in a matter of hours (not really 12 minutes) instead of days or weeks.
If you are good at tracking and testing to see what works, it can be a great way to fast track your results.
#3 60 Day Money Back Guarantee
---
This is always a great sign as you can see that Devon and "the team" truly believe in the product and are willing to give your money back if it doesn't work for you.

A great tip is to contact Clickbank directly if you find it hard to get a response from the team (sometimes Clickbank products try to drag it out past the 60-day window, but Clickbank themselves can help here).
12 Minute Affiliate: The Hidden Truths
---
Here are some of the bad parts of 12 Minute Affiliate that you should be aware of before diving in…
#1 No Traffic = No Business
---
Everything else you have read in this 12 Minute Affiliate review is irrelevant.
These next 3 points really explain exactly what you need to be aware of before you start chucking money at it.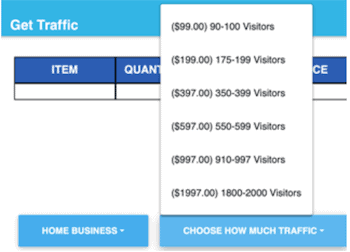 The ONLY way 12 Minute Affiliate helps you to get traffic is by paying for "visitors". This method is called solo ads where they will email an existing "email list" with the link to your landing page (which was made for you).
There is no training on how you can get free traffic, in fact, there's no training on how to create your own website.
You are solely reliant on spending money to send visitors your way, and you have no idea who they will be.
This leads onto…
#2 The Hidden Costs…
---
So now you know you will have to keep spending money on getting traffic.
You will also need to spend at least $19 a month on the Aweber autoresponder (you don't have an option of which autoresponder to use as the whole system is linked to Aweber).
Simply put, you need to spend…
$47 a month on 12 Minute Affiliate
At least $99 a month on traffic… likely much more if you want it to work
$19 a month on Aweber
Total spend every month = $165 bare minimum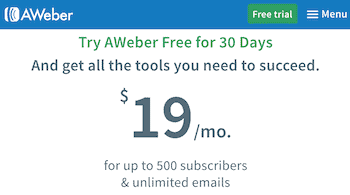 That's not the worst thing though as you're about to discover…
#3 Can You Even Make a Profit?
---
Devon's sales tactics are quite clever.
As stated earlier in this 12 Minute Affiliate review…
It may be possible to make $460 a day with 12 minutes of work. But that WON'T be profit.
STOP
Re-read that last sentence.

As you can see from the screenshot above 100 clicks doesn't mean you get 100 people to opt-in to your email list.
They claim a "fair" opt-in rate is 20-25%. I would say this is certainly on the high side for any type of opt-in.
But let's roll with it.
It doesn't end there though.
Even when you get people on your email list there is a conversion rate (the number of people that buy the product you recommend compared to how many people you send it to).
A realistic conversion rate is 1-5% for random email funnels (it can be higher for an email list of people that you have built up trust with over time).
So let's be generous and call it 10% conversion rate.
Most standard Clickbank products are somewhere in the region of $50 and get around 50% commission.
Let's round it up to say you get an average commission of $30.
Here's the maths:
$99 buys you 100 clicks
30% aka 30 people join your email list (I'm being even more generous here)
10% buy aka 3 people buy through your link from your emails
$30 x 3 = $90
Congratulations you've just made $90!! Go and spread the word in the private Facebook group!!
Hang on…
No, that's right you actually just lost $9 ($90 profit minute $99 on traffic)…
And that was with crazy high conversion percentages!
Yes, you may be able to make some commission on Clickbank with this system…
But will it be profit?
#4 Black Hat Sales Tactics
---
This leads on nicely to this big red flag.
Devon uses deceitfulness and clever wording to make you want to join.
If this is the guy you are learning from, you can guarantee these will be the tactics you'll end up using to sell to other unsuspecting victims.
Even if you're OK with that re-read #3!
#5 Upsells
---
The hidden costs don't end there!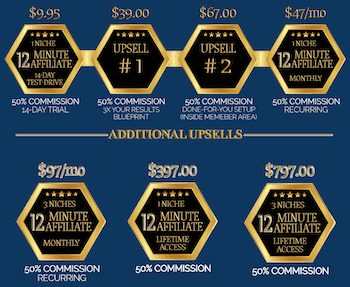 Around every corner inside 12 Minute Affiliate is another upsell to make you think "if I just by this then maybe the system will work and all my dreams will come true!?"
I'll tell you for a fact… it will just lead you further into the rabbit hole wondering why you can't get this "super simple" thing to work.
3 months later you'll check your credit card balance only to wonder how it got this bad.
(Can you tell I've been down this path before!? Chasing lost money is a dangerous thing)
#6 You Won't Own Your Business
---
This is the kicker…
Devon could decide tomorrow, "ah I can't sustain the team and costs of running this thing, I want to go and live on a beach".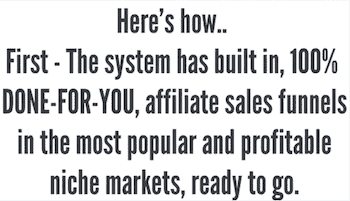 Your whole "business" would disappear.
You've learnt nothing about how to build these funnels, you've lost money buying traffic and are more confused than when you first started.
You own ZERO.
#7 Lack of Success Stories
---
Below are a few of the best "success stories" I found online or in the FB groups.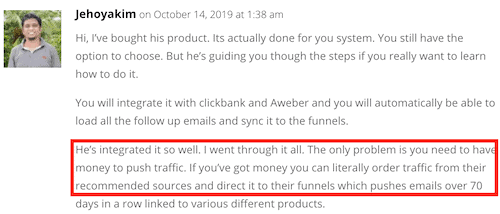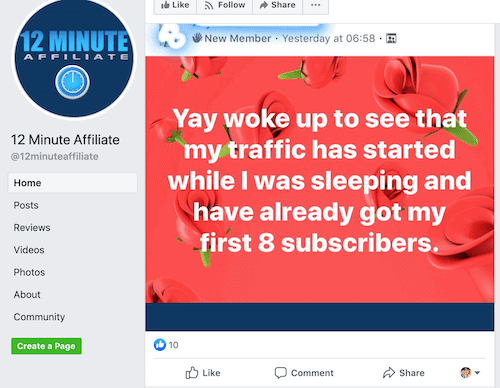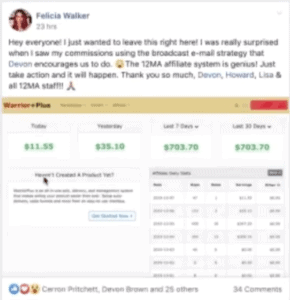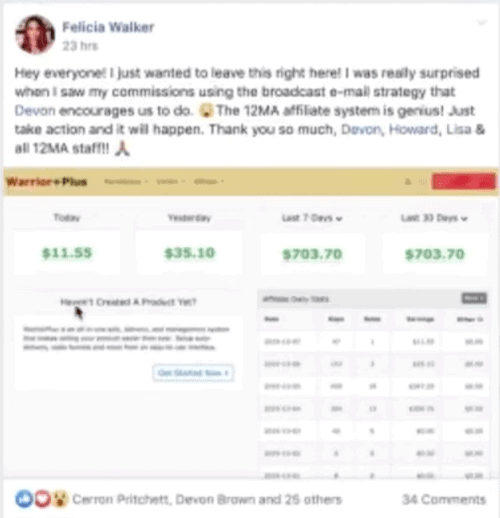 Honestly, just think about it.
If there was this magic way to make $460 a day from 12 minutes of work, don't you think more people would be sharing their success?
Ready to make passive income online?
I've created a growing passive income online with no marketing skills or online experience…
I've made a special video for you to explain exactly how I did this.
My Opinion- 12 Minute Affiliate
---
I really like the idea.
In fact, I wish it worked.
The truth is I've been burnt from very similar programs in the past such as Five Minute Profit Sites.
But in my opinion, it's not worth even wasting your time on it.
That's just me though. If you still want to give it a shot then click here to start.
The best thing about it is that you can learn how an affiliate marketing business works i.e.
Choose a niche
Build a website (or landing page in this case)
Get traffic
Earn revenue
But hey you've just learned that here for free.
If only there was another way to learn the nitty-gritty…
How I make passive income online?
---
It wasn't that long ago that I was still trying to figure out how it's possible for people to make money online.
I wanted to find a passive income system that ticked a few boxes:
I could work on part-time when I wanted (I was still in a full-time job)
Therefore I needed it to not cost a fortune to start and maintain
Didn't need me to sell stuff to my friends and family
It was in September 2018 that I found Wealthy Affiliate.
By the end of 2019, I quit my full-time job.
The best thing about it is:
It's free to start
Qualified traffic is brought to you for free (just think about how you found this review… there was no money or time spent from me promoting this!)
You get me as a personal coach to help you on your journey (someone that has been through the exact same process to help you avoid the mistakes I made, but not too far ahead to forget what it feels like)
You don't need ANY technical skills to start
When you try out this program you will see why so many people recommend it.
12 Minute Affiliate Review: The "MakeTimeOnline" Final Word
---
To sum up this 12 Minute Affiliate review… it's not worth your time or money.
There are many hidden truths that you won't learn until you're too far in and already spent a lot of money.
But here are the biggest concerns and reason it's really a scam:
You have no control and will have to continue to pay for traffic forever
You may make money but will it be a profit?
In 2018 I had no idea what affiliate marketing was.
Once I learnt about it, it just seemed like a great business model that can grow over time using the power of the internet.
So I tried to figure it out by myself… that got me nowhere fast.
Then I fell for some terrible online scams.
But eventually, I found Wealthy Affiliate. It teaches long-term proven strategies to build an online business with all the tools & support needed.
And this happened…
Once you learn the process of getting thousands of people to find your website every month (for free) there really is not limit to what you can achieve online.
I've reviewed hundreds of courses or programs that claim to help people make money online. And I've spoken to dozens of 6-7 figure online entrepreneurs on my podcast.
This is by far the best place I've seen to help beginners get set up on the right foot. You can read my full Wealthy Affiliate review here (including the pros and cons!)
Or you can watch an insiders video I made that explains exactly how it works here.