In the spirit of full transparency, know that this Fix Monthly Income review contains affiliate links. This means if you make a purchase through these links, I may receive a small commission at no extra cost to you. Click here to read my full disclosure policy.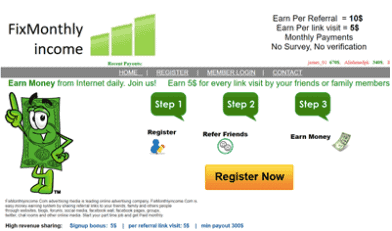 If you found this page then you're probably excited at the possibility of getting paid $5-10 for each person than clicks and subscribes to a free program through your link.
This is exactly what Fix Monthly Income suggests it will help you to do.
However, this Fix Monthly Income review will expose the truth behind the program and show you a legitimate way you can make money online to free up your time.
Fix Monthly Income- The Overview and Rankings
---
Name: Fix Monthly Income
Owners: Hidden
Website URL: fixmonthlyincome.com
Support: 0 out of 100
Training: 0 out of 100
Success Stories: 0 out of 100
Price: Free
Maketimeonline.com Rating: 0 out of 100
Pros and Cons
---
Pros
It's free… but the time you will waste is not!
Cons
Lies
Not a real program
People don't even get paid, they are just given links to surveys
Your details are not secure
Waste of everyone's time
What is Fix Monthly Income Review About?
---
Supposedly, it's really simple.
You join the program and post your affiliate link onto social media platforms and get people to click your link or sign up. Then you watch the money roll into your account each month!
You can earn $5 for people clicking the link and a bonus $10 for them signing up!
But note that there are many more similar programs out there such as:
Now, I can almost hear your mind saying…
Ready to make passive income online?
Hey, I'm Mike.
I created a passive income online within a year. I had no marketing skills or online experience when I started.
Is Fix Monthly Income a Scam?
---
Yes. 100%!
Read on to find out why…
There are two main ways an online program can be a scam:
Take your money and run off into the sunset, never to be heard from again
Provide some information but it doesn't live up to their promises
So Fix Monthly Income can't do number 1 because it is free.
But it certainly does not live up to its promises and your personal information may not be safe.
Fix Monthly Income Red Flags
---
So there are some big red flags to be aware of before putting any of your time and hopes into this product. If you'd like to learn more "Ways to Spot an Online Marketing Scam" then click the highlighted text.
Key Terms:
Black Hat Methods – Using lies and unethical methods to make someone buy something
White Hat Methods – Being honest and genuine to help people make informed decisions about purchases
Red Flag – A warning sign
#1 Dollar Sign in the Wrong Place… Make 10$
---
For a site that claims to be a leading online advertisement company, you'd like to think they could put dollar signs the right way around.
It's the first sign that something isn't quite right with this website.
#2 Make $5 per Unique Click on Your Link!
---
Shut the front door!
No one will pay anywhere near $5 per click on a link as that would be crazy money.
There are 2 ways websites can receive money by placing adverts:
Cost per click (CPC)
Cost per 1,000 views (CPM)
To give you a rough idea, a website can earn around $2 CPM using Google Adsense. That means $2 per thousand views… yet they claim to be willing to pay you $5 per viewer. Read more about "How blogs make money through advertising".
Not gonna happen, amigo!
#3 No Adverts on Their Site… So How do They Get Paid?
---
Fix Monthly Income claims that they can pay you money because…

This is clearly a lie as there aren't any adverts on their site. Let alone high paying adverts (you can only access this when you have hundreds of thousands of people viewing your website each month) that they would need to cover your costs.
However people do pay good money for getting access to other peoples contact details!
#4 $300 Withdrawal Amount
---
Usually, for similar sites to this, such as survey sites, you will see around a $10 payout. Maybe even $25 or $50.

But a $300 payout threshold is extremely high. If the program was legitimate that should take a long time for anyone to reach the payout threshold.
Another warning that something is not right!
#5 Customer Reviews- People Are Not Even Paid!
---
As you can see some below, some people using Fix Monthly Income have reached the $300 payout threshold. That means they have worked hard at promoting it to get 30-60 people (likely friends and family) to sign up.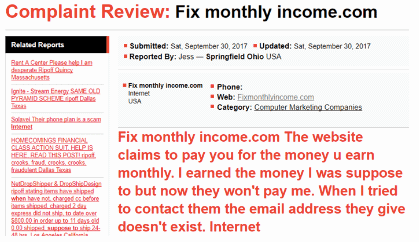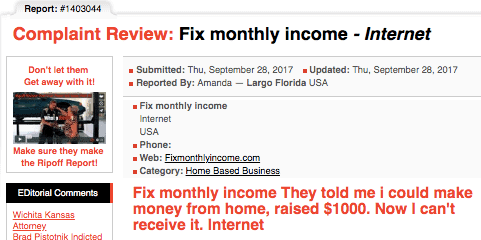 Source: Rip off report
When you go to claim your hard earned cash that's been promised, this happens…
You have to fill out some captcha tests that end up taking you to some more affiliate links and random survey sites! Now affiliate marketing is a legitimate business model when people offer real value and promote good products. When it's done in this deceitful way it is just spam!
#6 Website is Not Secure
---
There are 2 big reasons why it can be a bad sign to give out your contact details:
Not secure
No privacy policy
This means the people collecting this information can pretty much do anything with it, including selling it to other scammers on the Internet.
If you're like me you probably don't like have people send you ridiculous amounts of spam emails and hacking your credit card information.
Ready to make passive income online?
I've created a growing passive income online with no marketing skills or online experience…
I've made a special video for you to explain exactly how I did this.
My Opinion – Fix Monthly Income
---
It's not worth your time or effort.
Simples.
If you can find one genuine person that says a positive word about Fix Monthly Income, then by all means maybe give it a shot. Until then steer well clear.
If you have any questions and I mean any questions about this program, please leave them below. If you have used or currently are a member please also add your opinions below.
It may not be possible to earn a fixed monthly income through this scam but there are legit programs that exist where real people genuinely add value and help you to earn money online to live life on your own terms.
Fix Monthly Income Review: The "MakeTimeOnline" Final Word
---
To sum up, you should avoid this program like the plague!
It won't help and it will piss your friends and family off at the same time.
You probably already know you're not going to try this out but as you're still here I'm guessing you're interested in making money online.
The good news is that it is possible to make passive income through affiliate marketing if it's set up right and you genuinely help people. The bad news is it's hard to know where to start.
In 2018 I had no idea what affiliate marketing was.
Once I learnt about it, it just seemed like a great business model that can grow over time using the power of the internet.
So I tried to figure it out by myself… that got me nowhere fast.
Then I fell for some terrible online scams.
But eventually, I found Wealthy Affiliate. It teaches long-term proven strategies to build an online business with all the tools & support needed.
And this happened…
Once you learn the process of getting thousands of people to find your website every month (for free) there really is not limit to what you can achieve online.
I've reviewed hundreds of courses or programs that claim to help people make money online. And I've spoken to dozens of 6-7 figure online entrepreneurs on my podcast.
This is by far the best place I've seen to help beginners get set up on the right foot. You can read my full Wealthy Affiliate review here (including the pros and cons!)
Or you can watch an insiders video I made that explains exactly how it works here.