In the spirit of full transparency, know that this Facebook Ad Blaster review contains affiliate links. This means if you make a purchase through these links, I may receive a small commission at no extra cost to you. Click here to read my full disclosure policy.

You've probably seen the Facebook Ad Blaster course advertised and so you figured it would be a good idea to find out what it really is all about.
Most people know that getting traffic to their website or YouTube channel or content they create is so important. However, Facebook Ad Blaster makes it sound like they can send you traffic on tap to get you guaranteed sales.
This honest Facebook Ad Blaster review will show you exactly what to expect from the program.
Facebook Ad Blaster Review- The Overview and Rankings
---
Name: Facebook Ad Blaster
Owners: Unknown (0 out of 100
Website URL: facebookadblaster.com
Type: Lead generation from "Facebook ads"
Training: 0 out of 100
Success Stories: 0 out of 100
Price: $25
Maketimeonline.com Rating: 0 out of 100
Facebook Ad Blaster Review Pros and Cons
---
Pros
You get to spend your money on something (honestly struggling to find any)
Cons
Black hat sales tactics
Dodgy website
Linking to other scams
No proof of concept at all
It makes no sense!
Way too scammy
What does Facebook Ad Blaster do?
---
Facebook Ad Blaster claims it will send you guaranteed clicks and guaranteed sales.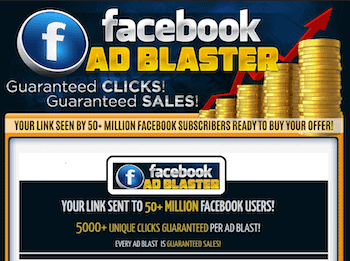 It supposedely sends you link to 50+ million Facebook users to do this.
However, it has no idea what your website or link or niche is about.
This app's main feature is sending an email containing your website link to millions of Facebook users. This could be a big boost to your Facebook marketing efforts.
Increasing your online visibility can generate more leads to potential buyers, which translates to more commissions.
Facebook Ad Blaster also guarantees that the traffic sent to your website is high quality and targeted. No bot traffic will come into your website and clicks from people who saw your page and are interested in viewing more.
The app also has a built-in click tracker that provides detailed information on the links you sent. You can view when your link was clicked, where it came from, and other detailed information.
Overall, the premise is extremely similar to another traffic generator, Blast4Traffic, in that it promotes your website by sending an e-mail to millions worldwide.
The key difference is that Facebook Ad Blaster uses Facebook as their avenue for traffic generation. As more than a billion Facebook users are growing further, the chances of organic traffic coming to your website are very high.
Also note that there are many other similar programs and courses out there. Some of the most popular ones are:
Now, I can almost hear your mind saying…
Ready to make passive income online?
Hey, I'm Mike.
I created a passive income online within a year. I had no marketing skills or online experience when I started.
Is Facebook Ad Blaster a Scam?
---
The short answer is yes.
The long answer is below…
There are two main ways an online course can be a scam:
Take your money and run off into the sunset, never to be heard from again
Provide some information but it doesn't live up to their promises
Even if they do send you "clicks" on your link, they have no way of guaranteeing any sales.
You could send them a link to a blank screen for all they know… will you get any sales? Absolutely not!
Just because your website is viewable now by over 50+ million Facebook users doesn't mean all of them will patronize what you're offering.
It may even be the reverse; they're more likely to ignore your product. That's because the method used by Facebook Ad Blaster is spam.
Facebook Ad Blaster may grant you website traffic, but many won't convert into sales, if any. In addition, the app claims that all traffic directed to your website will be targeted. Yet none of them will most likely be from your current niche.
Also, Facebook Ad Blaster DOES have a money-back guarantee, but there's a catch. They'll only give you a refund if, and ONLY IF, they fail to deliver the promised number of clicks, just like they stated.
Say, you used this app and got 5000+ clicks on your website as promised. But NONE of them converted into sales. You're still not eligible for a refund. Because technically, they still kept their guarantee of driving traffic to your website. It's unfair, yes. But it's a technicality that they can exploit.
As you continue to read this Facebook Ad Blaster review, you will learn why you should be very wary of this program.
Facebook Ad Blaster: Red Flags
---
Here are some major red flags about Facebook Ad Blaster…
#1 Dodgy Looking Website
---
This doesn't always matter.
It is possible that great things are inside terrible looking websites.
My concern here is that they are supposedly getting you clicks from Facebook from ads. To do that you need to be able to produce good, legit-looking ads!
The whole website looks like it was created in 1992 by a blind man without any hands.
It just screams scam…
#2 False Claims
---
There is no way in anyone's right mind that they can guarantee sales.

All they are doing is sending people to your link.
They have no control over this link in any way and it could be the worst sales page in the world. Or a blog about what you did at the weekend. Or anything!
It just makes absolutely no sense how they can guarantee sales when they don't know what the link is.
#3 Advertising Other Scams
---
This is the biggest red flag of all!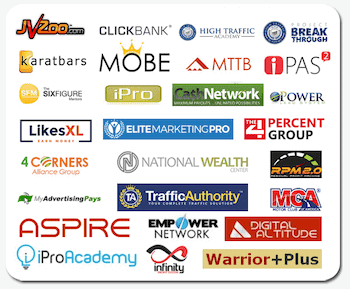 Here are 3 examples of scams that have been shut down that are advertised on the Facebook Ads Blaster sales page…
Digital Altitude- FTC shut them down
Aspire- FTC shut them down
MOBE- FTC shut them down
These are just the ones that I recognise from previous reviews and general online chat.
This is a clear sign that this program is outdated if nothing else.
#4 Hard to Claim Money Back
---
They can prove they sent you the "traffic" so you will have a hard time getting your money back.
However, who knows where the traffic comes from. It's most likely adult websites or some bots that do the clicking for them.
Even though there is supposedely a 60-day money back guarantee they have the small print in the screenshot at the bottom of the sales page.
They are pretty much saying… if you give us your money, you won't see that again.
I will often give a Clickbank product a go to help write a review on it as you can get the money back. After reading this I knew there was no point even bothering with this scam.
#5 Black Hat Methods
---
There are so many red flags here it's hard to put them all in, but this is a pretty boring review as there is literally nothing on the internet that suggests this is legit in any way.
I have seen 10-year-olds at the school I used to work at put a better-looking table together in Miscrosoft Word than this!
It's the worst "proof" I've ever seen from a sales page!
Ready to make passive income online?
I've created a growing passive income online with no marketing skills or online experience…
I've made a special video for you to explain exactly how I did this.
My Opinion – Facebook Ad Blaster
---
I think you get the idea…
It's a scam… don't waste your time or money on it.
A Legit Alternative
---
Seeing as you are still here, chances are you are looking for a way to get traffic to your website.
There are plenty of ways to do this in 2019 for example:
Facebook Ads (legit ones… still costs money)
"Solo ads" (buying clicks from someone's website… costs money)
SEO (get ranked on the first page of Google so people visit your website every month… this is free)
Pinterest (Check out how to use Pinterest to get traffic… this is also free)
Other social media platforms
There are other weird ways but this covers most of it.
And if you're like me the one that stands out is SEO. It's free and is completely passive. People keep coming back to your website every month if you rank on Google's first page for a phrase (keyword) that people search for.
I joined Wealthy Affiliate in September 2018.
Things felt slow at first and I didn't really follow the training. I have followed it since January and look at the results I'm starting to see…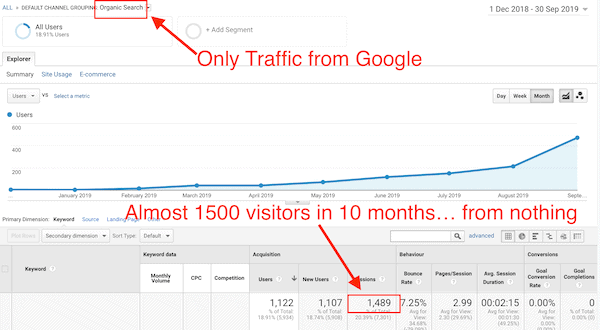 Plus look how many sessions I've had in recent months (500+) and how quickly it's growing.
This just shows you don't need to pay for traffic from scammy courses.
Wealthy Affiliate has held my hand completely in understanding everything I've needed to know about creating a website and it's completely free to start.
Facebook Ad Blaster Review: The "MakeTimeOnline" Final Word
---
To sum up this Facebook Ad Blaster review…
Don't get it, it's a big fat scam!
In 2018 I had no idea what affiliate marketing was.
Once I learnt about it, it just seemed like a great business model that can grow over time using the power of the internet.
So I tried to figure it out by myself… that got me nowhere fast.
Then I fell for some terrible online scams.
But eventually, I found Wealthy Affiliate. It teaches long-term proven strategies to build an online business with all the tools & support needed.
And this happened…
Once you learn the process of getting thousands of people to find your website every month (for free) there really is not limit to what you can achieve online.
I've reviewed hundreds of courses or programs that claim to help people make money online. And I've spoken to dozens of 6-7 figure online entrepreneurs on my podcast.
This is by far the best place I've seen to help beginners get set up on the right foot. You can read my full Wealthy Affiliate review here (including the pros and cons!)
Or you can watch an insiders video I made that explains exactly how it works here.