Do you want to get rich but are unable to do so? Well, that's the problem for most people. We have the willingness but not the resources. 
But what if I tell you that this dream is possible?
Yes, with the Small Business Lead Generation, your dream is just an inch away.
Let's find out how this thing works.
This review will help you decide if it's worth trying by discussing its content, pros, cons, so you'll know if it is a legit way to make money online.
Disclaimer:
This Small Business Lead Generation review has been thoroughly researched with information and testimonials that are available online to anyone in the public. Any conclusions drawn by myself are opinions.
Small Business Lead Generation review: The overview and rankings
Name: Small Business Lead Generation
Owners: Scot Britton
Type: Lead generation course
Price: $89.99
Best for: Anyone who wants to learn lead generation to make good money.
Small Business Lead Generation Pros
Flexible
Helpful
Profitable
Small Business Lead Generation Cons
Lacks content

Bland presentation
Small scope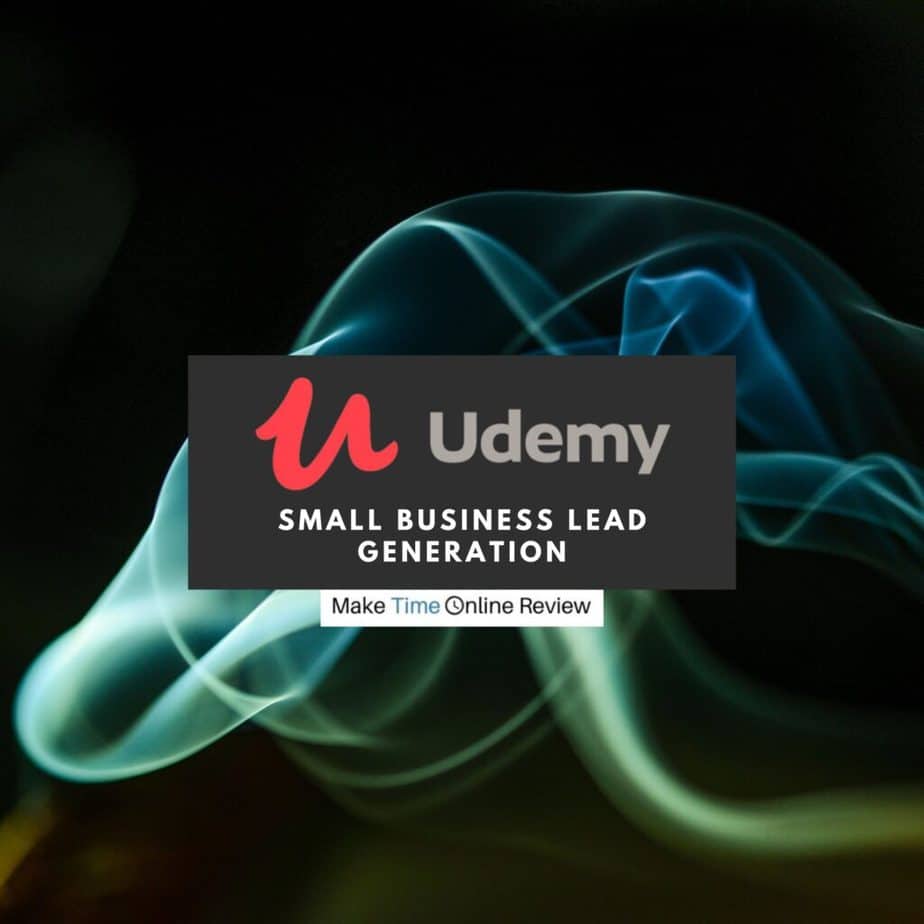 Summary:
Small Business Lead Generation is a lead generation course that teaches you how to make money online through effective local lead generation.
Make Time Online Rating: 40 out of 100 
Recommended: No
What is Small Business Lead Generation about?
The lead generation system allows you to connect with other people using leads.
Each time somebody lands on your website means an opportunity. Profit is just a click away. However, most people create leads to random strangers.

Sending random emails increases the scope of your business but not the probability of closing deals.
At the end of the day, it's like a dead investment. A waste of time and effort. But, with the Small Business Lead Generation, it's another story. 
The Small Business Lead Generation targets small businesses.
As a small business owner, you need to understand that generating new leads is essential to keeping your doors open. You must ensure a steady flow of new customers to grow your organization. 
Unfortunately, not all strategies are equal. Cold calling requires expensive resources in the form of a sales team to perform constant outreach, which usually yields a low average ROI to match.  
A successful small business's strong customer relationships are the heart, but customer acquisition can be challenging. 
That's why today's successful small businesses choose to work smarter — not harder.
Finding and building a client base is critical to your success, no matter what service or product your business provides. While traditional advertising techniques may capture some attention, lead generation helps you find the people who are most likely to become loyal customers.
In this guide, get expert recommendations for lead generation strategies and discover why customer relationship management systems are beneficial.
To stay relevant, marketers need to rethink their lead generation strategies. They need to attract potential customers with high search engine rankings, consistent social media engagement, useful tools, templates, ebooks, and more. In doing so, they are more likely to generate a larger volume of leads and better quality leads.
Lead generation is an essential part of running a small business; it's the fuel that helps to keep your business running.
Online networking doesn't have to be difficult when you learn how to focus on the right things using the right strategies.
Your business will go far when you use strategies and tactics outlined in this LinkedIn course.
That's because as soon as you work out a profitable way to acquire clients repeatedly, things get a million times easier.
Cashflow worries become a thing of the past, and you finally have the consistent income and new business figures you deserve.
It gives you an idea of how to close deals with doctors, spas, restaurants, and other enterprises. This allows you to conduct business with many other companies using cold emails. 
You may still send cold emails but not the way others do. This time, you're sending it to targeted individuals. People who can help you climb the ladder of success.
Check out this 7-minute video to know more about Small Business Lead Generation…
So, who created this Local Lead Generation 101 in the first place?
Who is Scot Britton?
So, whose idea was this Small Business Lead Generation?
The man behind this Udemy course is Scott Britton.
He's a renowned software entrepreneur. He's one of the co-founders of Troops.ai, a salesforce automation platform.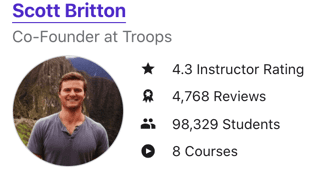 Troops.ai was rated as one of the top 100 startups in New York City in 2016. He's worked at SinglePlatform as a business development executive. It was later on bought for $100 million by Constant Contact. 
Scott publishes content about sales and marketing on his site called Life-LongLearner. He publishes his weekly work to 20k subscribers. His credentials as an online instructor are backed up with more than 50,0000 students. As such, he was featured on Lifehacker. 
Scott's vision to make a change in digital marketing earned him credits. With both ranking and reviews, he's a proven source of wealth intelligence. His expertise helped other individuals achieve success.
So, how does the course work?…
Ready to make passive income online?
Hey, I'm Mike.
I created a passive income online within a year. I had no marketing skills or online experience when I started.
How does Small Business Lead Generation Work?
The Small Business Lead Generation works by connecting with clients using cold emails.
Cold emailing is a traditional method of growing a business in digital marketing. This strategy is proven to be effective in increasing your sales. 
As the name suggests, cold emailing is a process of lead generation. You start with building a relationship and slowly move towards converting them into valuable customers.
The biggest advantage of cold emailing is that it is highly targeted, so you only focus on an audience interested in your product/service. You can contact the prospects and inform them of your product/service. 
Cold emails help build brand awareness because of the nature of the email.
They are generally targeted at prospects who have never interacted with your brand. But find value in using your product/services.
You can introduce your product to them using cold email and improve brand awareness.
As such, it's important to use cold emailing effectively. With the Small Business Lead Generation, you will know how to connect with other businesses. The cold email strategy works best when used in targeted companies.
Inside Small Business Lead Generation
Cold calling and cold emailing are two of the most common methods of lead generation. Both of them allow you to reach out to potential clients.
However, cold calling can be annoying sometimes. Hence, you'll face the hassle of taking a punch from angry customers. 
On the other hand, cold emailing is something that allows you to reach out nicely. You don't need to disturb your potential clients with random calls. Instead, you give them the freedom to choose when to respond to your emails. 
This way, they will have sufficient time to think about what you are going to offer. A perfect chance to give them an impression that you value their autonomy. If they feel like they're in control, willingness will just follow through. 
With its step-by-step process, you can recoup your investment in just a day. Yes, that's possible if you simply implement the things you've learned.
You don't have to worry if you're new to the digital enterprise. This doesn't need any prior knowledge.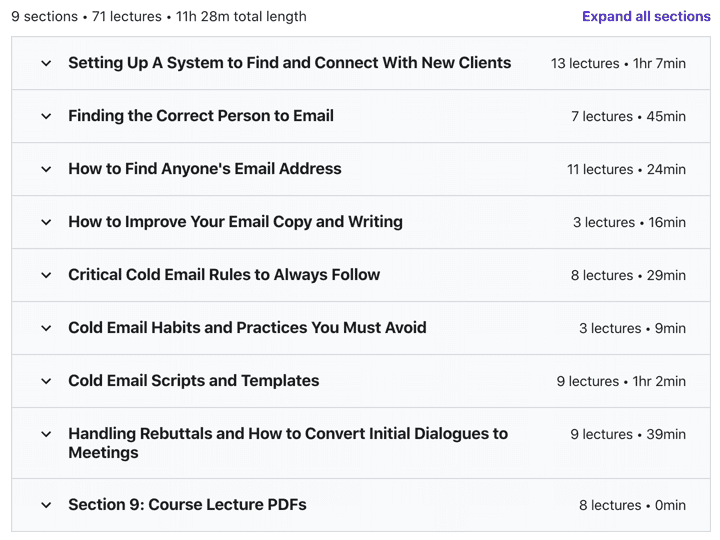 What you will learn
Timetable
With the Small Business Lead Generation, you will learn to create a timetable of activities. This way, you can leave time for creating new leads and responding to inquiries. With the right timetable, you can have an organized sequence of events. This makes your work much easier. 
Looking at people's needs
This course also allows you to pick the best places in fishing for clients. With the right knowledge about people, you will know what needs to be done. Looking at other people's needs is the best way to respond to what kind of services you will offer. 
Choosing clients
Choosing the right people gives you the upper hand in closing deals. With the right leverage, people will surely give it a go. All you have to do is present what you can offer. 
Email list
Looking for emails from potential clients is hard. But with the Small Business Lead Generation, it's just a piece of cake. It follows an 8-step process of generating people's emails. This way, you can filter out the creamiest cream of the crop. Once your offer is laid on the table, it's good as sold.
Become a good copywriter
Good content is key in persuading your clients. Without it, convincing them would be hard. With the right words, making deals would be easy by simply sending them your best regards. And this is taught using the Small Business Lead Generation.    
Email rules
I've mentioned the bad thing of cold calling, right? Let me make this clear. Cold emailing is also like a double-edged sword (but less offensive than speaking with an angry client). If you're just going to send random emails, this gives a bad impression of what you can offer. 
Things to avoid
You have to put in mind that cold emailing is a form of invading somebody else's privacy. To avoid an offensive approach, learn how to make a more friendly impression. If you know how to avoid making the same mistakes as other people, you will surely succeed. 
Email scripts
Sending emails is easy. But sending something that holds the power to convince is hard. If you want to make substantial content for your emails, the Small Business Lead Generation is your answer. By following its email scripts, you can write and respond with an email like a pro. 
Increasing response rate
It's not enough to simply send emails. You need to get a response. And there's no better way in achieving that than using the Small Business Lead Generation. You can achieve as high as a 50% increase in response rate.
Making the follow-up
After sending emails, it's important to make a follow-up. It's a sign of your sincerity and interest to conduct business. It's normal for people to be skeptical at first. But with the right push, you're close to making a deal. 
Closing a deal
It's a fact that digital marketing is now the new trend. There are many competitors around the bush. But, this is nothing compared to what you will learn from the Small Business Lead Generation. It's a system that allows you to close the most impossible deals. 
This is for you
The Small Business Lead Generation is for you if you are working as a consultant, freelancer, or owner of a small business. It offers the best strategies to connect with other entrepreneurs. By doing so, your business scope also expands. 
By adopting the strategies and methods of other entrepreneurs, you can work in collaboration with them. Grow your separate business franchise and prosper. This is the best way of pitching your business to new heights.
Check out this 23-minute video to give you a better understanding of Small Business Lead Generation…
And what are the prices?…
How do you join Small Business Lead Generation?
It doesn't take that much to join the Small Business Lead Generation.
All you have to do is go to its website in Udemy and click the sign-up box. Follow the instructions and pay the registration fee. Wait for the confirmation email, then you're good to go! 
Don't worry, you don't need to have any prior knowledge about the class. It works for everyone. Just follow the course and everything will be fine.
How much does Small Business Lead Generation cost to join?
You will only need to pay $89.99 for the registration fee.
That is inclusive of a 5-hour training video, 2 downloadable resources, full-time access over your smartphone and TV, and a certificate of completion. 
But wait, there's more. If you're lucky enough, you can avail of an 87% discount! Yes, that's a drop in price to only $11.99!
And hey, it's a 30-day money-back guarantee we're talking about. A very fair price for an income-generating course!
Small Business Lead Generation monthly cost
The Small Business Lead Generation is a one-time registration fee online course. It gives you lifetime access to its services and resources.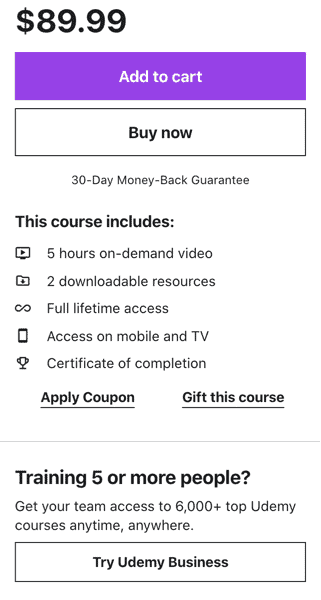 Simply pay its $89.99 one-time fee.
However, many people fail to realize there are ongoing costs to this business model such as…
• Weebley hosting and domain: $25 a month per website
• Call tracker i.e. Callrail $45-$145 per month or Callsling – $498 one time fee (needed- but you get one included – note it doesn't work everywhere in the world)
• Email autoresponder to track leads – $15+ a month
• PO Box (to set up your business address) – $19-$75 for 6 months (needed)
• SpyFu (competitor keyword research) – $33- $199 a month / AHrefs (keyword research) – $99 a month
• PPC ads – $200+ a month (not needed but can help for speed)
• Outsourcing (some people pay others to build a website or do some of the tasks- not needed, but a great way to scale eventually)
Small Business Lead Generation reviews online
The Small Business Lead Generation is a perfect match for people who want to make leads without cold calling.
It is the best tool in lead generation using cold emails. It received many positive reviews with an average of 4.3 out of 5 rating in Udemy's ranking.
Common positive Small Business Lead Generation reviews
Educational

Informative

Simple to understand
Here are some of the best positive reviews I have found…
"If you are now selling or want to improve your selling this is a must take course. Scott not only covers the basics, but gives excellent ides & tips to increase your sales."
"I work for a small, local residential solar installer and this course has made me realize some paths to new leads I haven't thought of before. I recommend new business owners AND naturally proactive people to take this course to develop their business or yourself."
"For someone currently in sales or business development this class is simply a must. I just started a new role in business development and the tools Scott speaks about in this class are simply invaluable."
Common negative Small Business Lead Generation reviews
Expensive

Lacks solid examples

Outdated
"I left this rating purely because of last part about BD Playbook. It's completely inappropriate to market your (pretty sketchy) company in a 200$ course."
"Good content – some of the modules a bit cut and pasted together so they chop about a bit, but doesn't affect content or learning."
So far everything that I've seen has been review and common information you can find for free if you just google it… Or easy tutorials that could be found on youtube. I was hoping to have resources I could apply when I cold call, i.e. scripts and stuff. I'll change the review If I find further into the course it makes up for the common knowledge."
Is Small Business Lead Generation a scam?
Now, is this a scam?
No, it's not.
Small Business Lead Generation is backed up with many positive reviews despite the bad ones.
Remember, the risk is always a part of the business. But with the right approach, you will become successful.
Small Business Lead Generation pros
Flexible
This course simply works with any type of business. It applies to almost anything. Just follow the course module and everything will work out fine.
This course offers the best resources. All you need to know about generating leads without cold calling is here. The best means of getting new leads.
Helpful
You don't need to worry about generating leads. This is the answer to all that worrying about getting clients. By following its system, your clientele increases and so does your profit.

If you've already undergone training with a similar course, this is a good refresher. It tackles every basic step in the lead generation process. It's easy to learn and simple to understand.
Improve marketing
If you're into business transactions, talking with the big fish is the best means to earn profit.
This course allows you to hit the decision-maker.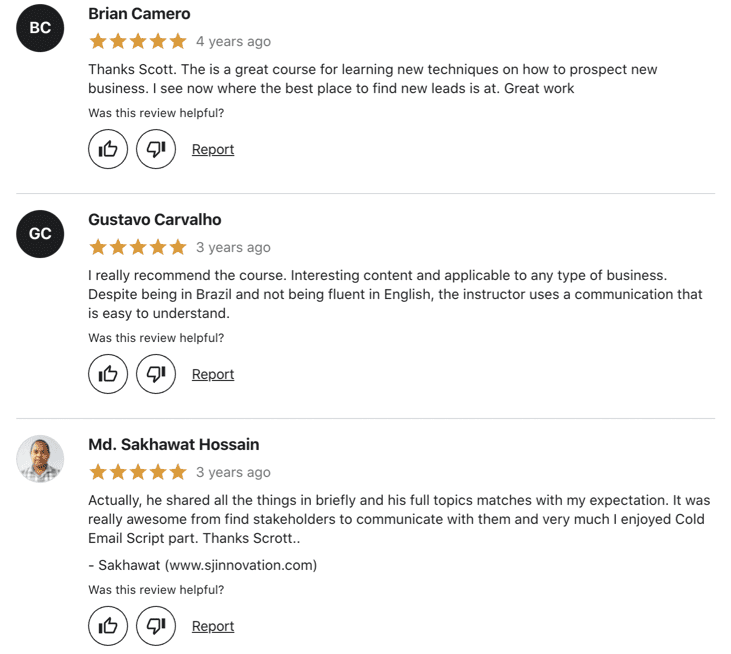 Once you take a hold of that person, money follows.
This lead generation course is easy to understand. It explains well the importance of lead generation. Besides, the simplicity is what makes it more interesting and fun.
Small Business Lead Generation cons
Lacks content
The course is just an overview of lead generation. Besides, you can simply google the things you want to learn. It's better if they give additional content.
The course only talks about the most basic steps in lead generation. It's better if they incorporate new means of creating leads. This way, people will have more options.
Bland presentation
The way the course is delivered needs to be improved.
Its bland presentation makes it bad as an online training course.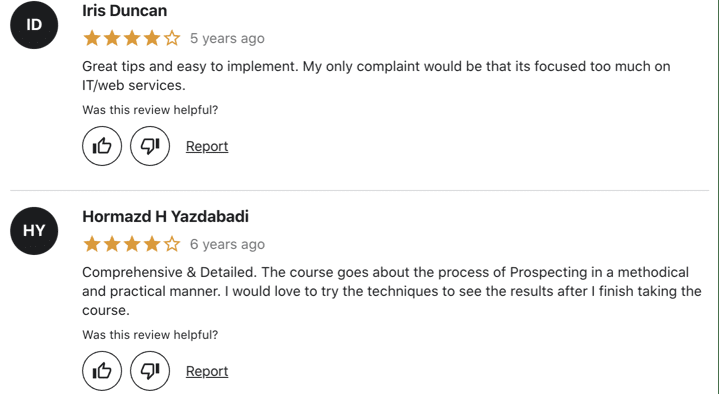 They should emphasize the mechanics of information delivery. Good audio is needed in an online training course. Bad audio makes learning difficult. The quality of learning must be given importance.
Small scope
Since this course is only targeted at small businesses, your chance of dealing with other people lessens.

As such, your opportunity to engage with other people decreases. This results in a small room for your market.
The course talks about the lead generation process. However, it's now clear that this was only about cold emailing. It needs to be precise about what it has to offer.
My opinion – Small Business Lead Generation
The Small Business Lead Generation teaches you how to conduct direct business with small enterprises.
It allows you to make a transaction with the decision-maker of a company. This is a good chance to present your products and services. 
It saves you time and effort in explaining your goods. With this course, you will learn how to handle digital marketing more efficiently. Despite the negative reviews, its process is proven and tested by thousands of students.
There are also many other better online business opportunities out there that you can try now…
How I make passive income online
In 2018 I had no idea what affiliate marketing was.
Once I learnt about it, it just seemed like a great business model that can grow over time using the power of the internet.
So I tried to figure it out by myself… that got me nowhere fast.
Then I fell for some terrible online scams.
But eventually, I found Wealthy Affiliate. It teaches long-term proven strategies to build an online business with all the tools & support needed.
And this happened…
Once you learn the process of getting thousands of people to find your website every month (for free) there really is not limit to what you can achieve online.
I've reviewed hundreds of courses or programs that claim to help people make money online. And I've spoken to dozens of 6-7 figure online entrepreneurs on my podcast.
This is by far the best place I've seen to help beginners get set up on the right foot. You can read my full Wealthy Affiliate review here (including the pros and cons!)
Or you can watch an insiders video I made that explains exactly how it works here.