If you have experienced doing Search Engine Optimization (SEO) before, you probably have heard of SEMRush.
For those who don't know, SEMRush is a tool that many professionals use when it comes to SEO.
Aside from useful tools, SEMRush also provides courses in various aspects of digital marketing. They call this platform the SEMRush Academy.
However, are their online courses as good as their SEO tools?
But is SEMRush Academy a scam?
No, it is not. SEMRush Academy is a legitimate subsidiary of SEMRush, and it is an online course platform that can help you improve your knowledge about digital marketing and passive income.
SEMRush Academy provides resources in a couple of niches. This includes keyword research, digital marketing, SEO, and more.
However, is SEMRush Academy good? Or perhaps it's just filled with the basic information you can get anywhere on the internet?
In this review, we'll look closely at the SEMRush Academy.
Disclaimer:
This SEMRush Academy review has been thoroughly researched with information and testimonials that are available online to anyone in the public. Any conclusions drawn by myself are opinions.
SEMRush Academy review: The overview and rankings
Name: SEMRush Academy
Owners: Matt Bailey
Type: SEO course
Price: $748 for self-learning, $1,069 for online bootcamp
Best for: Beginners in SEO who want to master their SEO skills and learn advanced methods.
SEMRush Academy Pros
Highly skilled instructors

Flexible lecture time
Free
High-quality content
SEMRush Academy Cons
Limited coverage
Overwhelming lessons
Not good for advanced SEO
Boring videos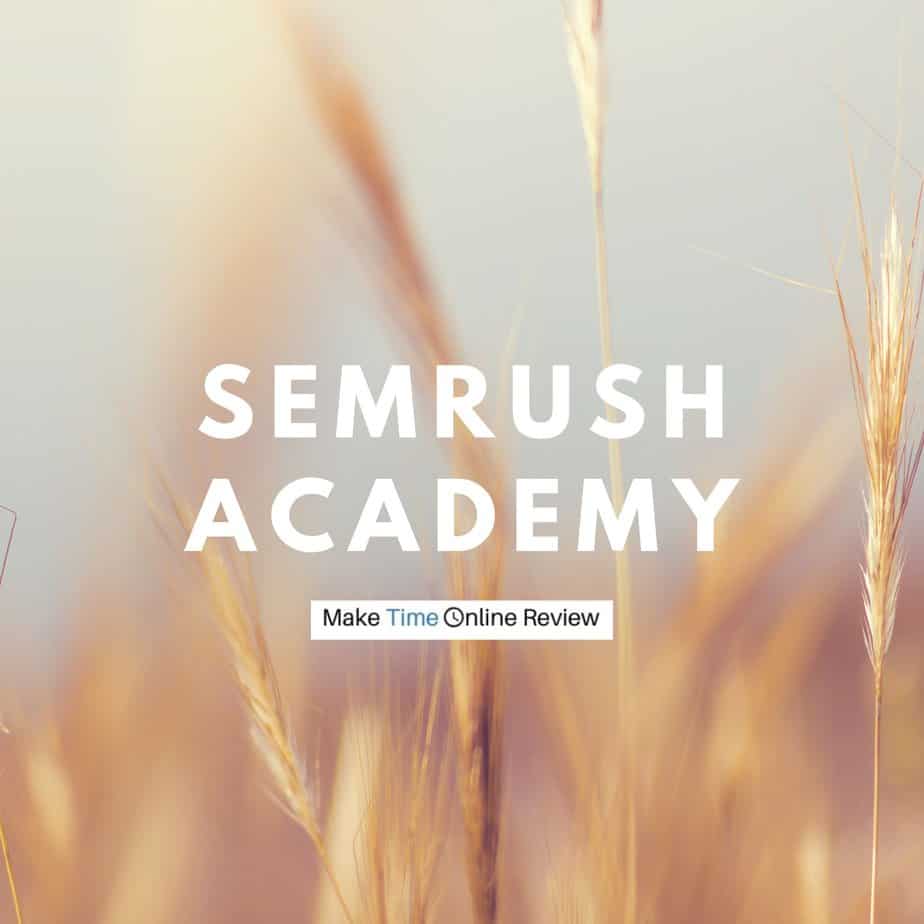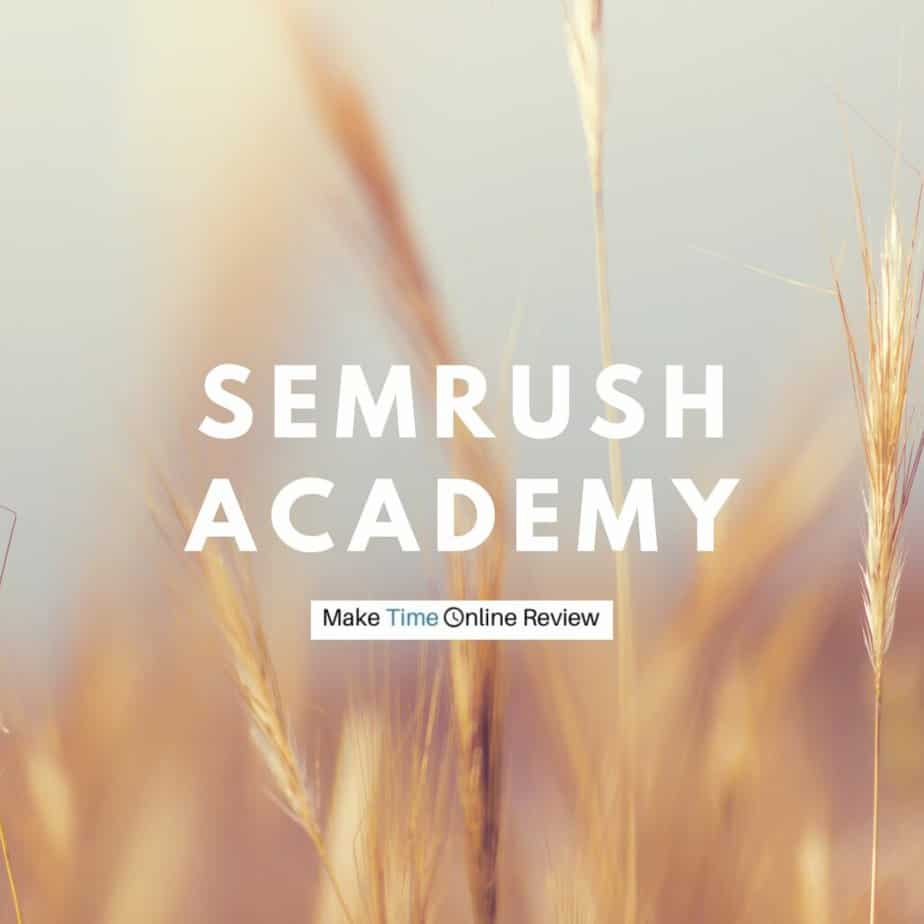 Summary:
SEMRush Academy is an SEO and digital marketing course which provides educational resources in keyword research, digital marketing, and SEO to help generate passive online income.
Make Time Online Rating: 45 out of 100
Recommended: No
What is SEMRush Academy about?
SEMrush Academy was created by SEMrush, a popular platform used by internet marketers for Search Engine Optimization (SEO) and paid advertising, among other things.
You can utilize the tool they provide, and as a result, you receive an invitation to their SEO courses. You can always give it a shot if interested in web marketing, SEO, and keeping your expertise current.
SEMrush Academy provides classes on several facets of online marketing.
Using Semrush, marketers will always have time for innovation and exploration, as we will handle all necessary data collection and management in the background.
To increase their online presence, marketing professionals can now use Semrush, the only platform that allows them to construct, manage, and measure campaigns across all channels.
Semrush acts as a member of your digital team, providing you with analytical support, guidance, a safety net, and a map of uncharted territories.
Today, the program assists businesses of all sizes and industries in optimizing their exposure across major channels and creating engaging content for their users, as evidenced by its distinction as the top SEO software at several international awards by their users.
SEMRush Academy is a free training platform. It is created by some of the well-known experts at SEMRush.
The objective of this platform is to teach students:
Digital marketing, PPC, Keyword Research
Trending SEO Updates
Latest and Updated SEO Methods
How to utilize SEMRush tools and then help you apply them to your marketing campaigns for better ROI
And more
SEMRush Academy provides two kinds of courses. This includes "video tutorials" and "learning modules."
Furthermore, there is a blog area as well filled with articles about topics such as social media marketing, keyword research, and more.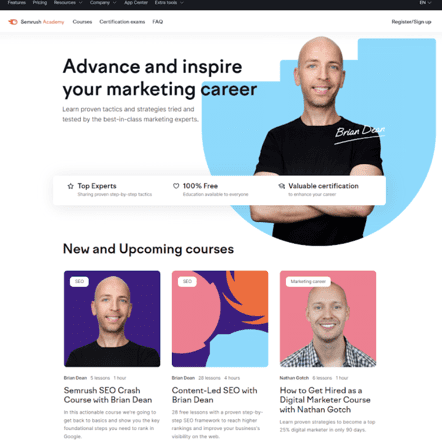 There's also an online forum where you can ask questions about any topic that they've discussed in the academy.
As of today, SEMRush Academy has more than 30 various learning modules that cover everything, from using Google Analytics to Keyword Research.
Every module contains a couple of lessons with step-by-step directions on how to finish particular tasks relevant to the subject matter of that module.
SEMRush Academy also provides video tutorials. Basically, they're just videos that show someone utilizing SEMRush in real-time while they explain what they're doing and why they're doing it.
If you simply want a couple of basic knowledge about PPC campaigns or SEO, these courses are excellent. This is especially true if you don't want to get bogged down in too much technical jargon or detail.
On the other hand, you might want to look for a more advanced course if you require more detailed explanations about each lesson.
Check out this 40-second video to learn more about SEMRush Academy…
So, who created this course in the first place?
Who is Brian Dean?
Try to google anything that is relevant to SEO. Chances are that you'll get results from Brian's previous work.
For those who don't know, Brian is the one who holds the most popular searches in this niche. Because of this, you can guarantee that he's an expert when it comes to SEO.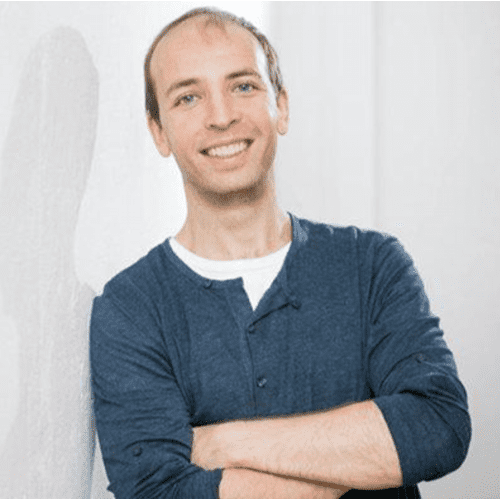 Brian is one of the instructors in SEMRush Academy. However, he is not alone.
Since there are tons of other topics in this learning platform, you will also learn other SEO techniques from other SEO specialists.
This includes Nathan Gotch, Andy Crestodina, Christina Garnett, and much more.
All of these instructors are experts when it comes to SEO. Thus, you can guarantee that each lesson is legit and useful.
So, how does the course work?…
Ready to make passive income online?
Hey, I'm Mike.
I created a passive income online within a year. I had no marketing skills or online experience when I started.
How does SEMRush Academy Work?
Before you can start learning the courses, you'll need an account. After creating an account, you can examine the variety of courses available and pick one that fits your needs.
SEMRush Academy allows you to learn various courses for free. Yes, you've read it right. This learning platform won't cost you anything.
It includes a couple of certification exams and more than 30 free courses. All lessons are taught by a team of reputable and skilled digital marketing experts.
SEMRush Academy provides a couple of courses. This includes social media marketing, affiliate marketing, PPC, email marketing, content marketing, and SEO techniques.
The course material includes both text and video. Thus, you can easily understand the courses. Also, you'll develop real-world and practical knowledge from SEMRush tools, provide better results, and solve SEO-related issues.
Inside SEMRush Academy
The course structure of this learning platform is carefully crafted by keeping all the steps in mind. From the first lesson to the last, SEMRush Academy has 32 sub-courses in the main category.
Module 1: SEO
SEMRush Academy SEO course is completely filled with knowledge. The SEMRush SEO Tool is also incorporated with the module to better understand the lesson.
The SEO course has practical lessons. It begins with the basics of SEO. The instructor for this module is Gref Giggord. Eric Enge is also in this module to teach you about content marketing.
The list of sub-courses included in this module are:
Content Marketing and SEO Fundamentals with Eric Enge
Role of Content Course with Eric Enge
SEMRush Overview Course
Audit Your Online Visibility with SEMRush
Growing Your SEO Agency with SEMRush with Greg Gifford
Digital Marketing for SMBs with Greg Gifford
SEMRush SEO Toolkit Course
Module 2: Learn How to Get SEO Done with SEMRush Tools
You'll need an SEO tool to offer the ideal metrics for your website when you're trying to optimize your site.
One of the best tools out there is the SEMRush tool. In this module, you will learn how to do SEO-related tasks using SEMRush free tools.
So, if you're confused about how to use SEMRush for your SEO needs, this course is best for you. It includes the following lessons:
Management, Reporting, Collaboration Course
Local, International, and Mobile SEO Course
Rank Tracking Course
Link Building Course
Technical and On-Page SEO Course
Keyword Research and Competitive Analysis Course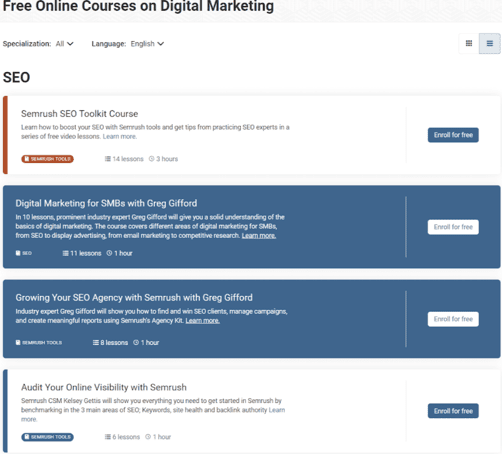 Module 3: SEO Learning Path by Greg Gifford
Today, local SEO is extremely vital for your business. In this module, Greg will teach you about local SEO and how to create a successful SEO plan for your local business.
You will learn backlink management, keyword research, and other important elements in Google My Business. The lessons you'll find in this module include:
Local SEO Course with Greg Gifford
Mobile SEO Course with Greg Gifford
Backlink Management Course with Greg Gifford
Keyword Research Course with Greg Gifford
SEO Fundamentals Course with Greg Gifford
Module 4: Technical SEO Learning Path by SEMRush Academy Experts
After learning the basics of keyword research and SEO, you need to know how to keep your site updated. That is why Bastian Grimm, an expert in technical SEO, is here to teach you.
This module covers the site audit lectures and SEMRush Academy technical SEO stuff that you need to learn to achieve your goals.
On-Page and Technical SEO Course
Technical SEO course with Bastian Grimm
SEMRush Site Audit Course
Module 5: SEMRush Academy Content Marketing
This module will cover the content marketing tool of SEMRush. It's a step-by-step guide on how to use SEMRush for content marketing.
After learning this module, you can easily sell your services as a content marketer. Also, you can start your career in digital marketing.
Ashley Segura and Diana Richardson are the instructors of this course. They're both professionals in their work. The lessons you'll get in this course include:
Content marketing fundamentals course with Ashley Segura
Marketing Yourself to Marketers – How to Land Your First Digital Marketing Job with Diana Richardson
SEMRush Content Marketing Toolkit Course
Module 6: PPC (Pay-Per-Click)
You cannot run a good ad on Google if you don't have knowledge about PPC. The PPC SEMRush Academy course is your best bet if you want to save money and try unlimited profitable campaigns.
Joel Bondorowsky and Navah Hopkins are two experts that will teach you everything you need to know about PPC. The lessons you'll learn in this module include:
PPC Automation Course with Navah Hopkins
PPC Fundamentals Course with Joel Bondorowsky
SEMRush Advertising Toolkit Course
Module 7: SMM (Social Media Marketing)
For any online business, social media marketing is becoming the core value. Because of its customer attention and fast reach, SMM is also part of SEMRush Academy.
The instructor for this module is Neal Schaffer. He'll teach you a social media marketing course with all the knowledge he has.
SMM Fundamentals Course with Neal Schaffer
Module 8: Competitive Research
SEMRush Academy competitive research course helps in learning how to address the ranking methods of your competitors in SERPs.
In this module, you will understand how to outrank your competitors and rank your site quicker compared to the competition.
Using the SEMRush competitor analysis tool, you will immediately know demographics and other data. The lessons included in this module are:
Advanced Competitive Research Practices with SEMRush
Competitor Analysis with SEMRush
Module 9: Sales
The SEMRush Academy is really helping people improve other skills as well. They're trying to introduce other courses on the platform.
Today, SEMRush launched the Sales module that includes step-by-step instructions on how to sell on Amazon.
The instructor for this course is Robyn Johnson.
How to Start Selling on Amazon with Robyn Johnson
Check out this 7-minute video to give you a better understanding of SEMRush Academy…
Let us move forward and learn more about…
How do you join SEMRush Academy?
When you want to join the SEMRush Academy, you should know that there are no minimum requirements. However, you can be well-equipped to succeed if you have basic knowledge of digital marketing, advertising, blogging, and SEO.
It's quite easy to join this learning platform. First of all, you need to open your favorite browser. Once you're done, the next step is to open Google Search.
In the search bar, type in "SEMRush Academy" and hit enter. Next, click the first result of the SERP.
You should be on the front page of SEMRush Academy. However, you can't start yet. You still have to create an account. In the upper right corner, you'll find a register/signup button.
After registering your email and password, you're good to go. You can now access all of the courses available on this platform.
Who is SEMRush Academy Best For?
SEMRush Academy is a vital tool for any person who likes to learn more about digital marketing, SEO, and blogging.
It is also best if you want to start a career in marketing. Digital marketing experts will find great benefits in this course.
You will find what you need with SEMRush if you're searching for high-quality course content from talented and competent instructors.
Even if you've got extremely little free time, SEMRush Academy is still best for you. So, if you're planning to start a career in digital marketing, you should consider joining SEMRush now.
SEMRush Academy cost to join
As mentioned earlier, SEMRush Academy is free.

There is no cost to join the program. There are no strings attached as well and no hidden fees.
Every single course and lesson that you'll find in SEMRush Academy is totally free. All you've got to do is to log into your account.
Common positive SEMRush Academy reviews
Educational
Helpful
Legitimate
Here are some of the most common positive reviews we have seen from clients…
"Semrush Academy is one of the best courses available. It's easy to get started as well, just create a free account"
"The SEMRush Academy can help you learn all the skills that you require in order to make the most of this platform. This includes SEO, PPC, SMM, affiliates, and content marketing. You'll get to learn different aspects related to these courses"
"If you are ready to improve your career in digital marketing or you want to get started with SEO, the SEMRush academy course will get you on your way to becoming an expert"
Common negative SEMRush Academy reviews
And here are some of the most common negative reviews we have seen from clients…
"I'm sorry but this course isn't just for me at all. I already know most of the content in each module. So, I find this course useless for me. It's not worth my time"
"This course is great since it's free. However, it will not help improve your skills at all. The lessons only cover the fundamentals of the course. It's great for beginners and not for advanced professionals"
"There are tons of courses and lessons in SEMRush Academy that I found to be too overwhelming. I did not know where to start. I was so confused that I had to close it."
Will You Receive Any Certification?
After you finish each lesson of the course, you'll get a badge at the end. This badge shows that you've finished the course.
However, you can also enroll in an exam for every lesson. Keep in mind that you don't have to finish the course to take the exam.
Thus, you can simply directly go to the exam if you're looking for some type of certificate and you already have the knowledge required to get it.
The length of the exam greatly varies on the course. For instance, the exam for SEO fundamentals has 20 questions. Thus, you can finish it in less than 30 minutes.
On the other hand, the exam for the technical SEO course has 32 questions. Thus, you can probably finish it in less than 40 minutes.
Also, you should take note that the questions are extremely short and have multiple choices. On almost every occasion, you'll perhaps be able to finish the exam a lot faster.
To pass the exam, you'll need to get 70% correct answers. Once you're done with the exam, you can get a certification with your name on it.
Is SEMRush Academy a scam?
The answer is no, SEMRush Academy is not a scam.
Keep in mind that this course is free.
It won't cost you anything. So, it's a huge sign that it isn't a scam.
Also, the courses that you get inside SEMRush Academy are all worth your time, especially if you're a beginner in SEO.
How Does SEMRush Academy Differ from Other SEO Courses?
The main aspect in which SEMRush stands out is the cost of joining it.
Courses from Moz Academy can run more than $200.
On the other hand, SEMRush provides the same courses and more certificates for free.
Also, SEMRush outshines the other SEO courses when it comes to certificate options.
Google only provides a single certificate. Ahrefs does not provide any. Moz provides a couple. However, its selection is a lot smaller compared to SEMRush.
Semrush's educational partners distinguish it from other digital marketing programs. Their team feels Semrush is a vital tool for any marketing profess.
They are always pleased to support their educational partners that instruct future industry professionals or help current leaders gain additional expertise.
You will be able to utilize teaching aids, provide students with access to Semrush, and more as their educational partner!
SEMRush Academy pros
Here are some of the best things that I like most about SEMRush Academy…
Highly skilled instructors
One of the biggest advantages of using this learning platform is its highly skilled instructors.
The entire team at SEMRush Academy is filled with professionals in digital marketing. Thus, the quality of the lessons is career-oriented, useful, and flawless.
Flexible lecture time
You probably don't have enough time to watch live classes or lectures. However, you won't have to worry about that.
SEMRush Academy courses are flexible. You can watch the videos any time you want. It all depends on you. Aside from that, you can also stop or pause the lecture if you're bored or you have to finish something.
Free
One of the biggest concerns about online courses is the fee. Luckily, SEMRush Academy won't charge you anything.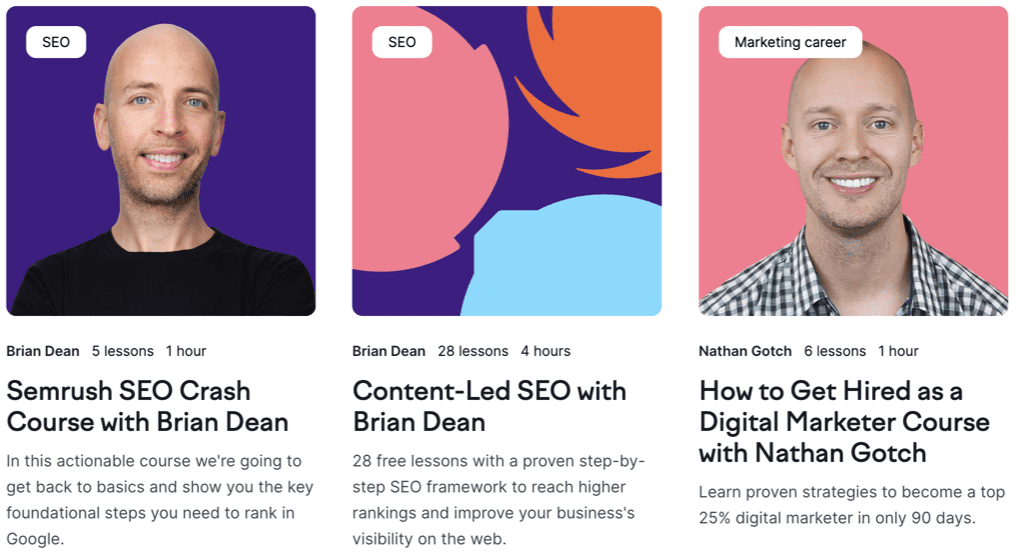 Everything you find inside the learning platform is free of cost.
You won't waste money here. The instructors are legitimate and the content of each module is real. So, if you want to start your career in SEO but don't want to invest a lot of money for an introductory course, the SEMRush Academy is your best bet.
High-quality content
Most of the users love the fact that SEMRush courses are high-quality and free. Because of this, students won't have to worry about getting their money's worth.

Instead, the only thing that you can waste in SEMRush Academy is your time. This is particularly true if you don't like it.
However, it's impossible to dislike this course. It's free and the quality of the lessons is great. It's best for both experienced and newcomers.
You don't need to worry about a learning curve. All you need to start is whatever knowledge you already have.
And here are the not-so-good things that I consider as red flags for SEMRush Academy…
SEMRush Academy Cons
Limited coverage
You might be very disappointed if you're looking for lessons other than digital marketing. Almost all of the lessons in the academy are for digital marketing only.
Extensive
SEMrush Academy's teachings are exhaustive. This is seen in various courses, including SEO, content marketing, and competitive research. To be clear, the emphasis is on SEO classes. Even then, the courses are substantial.
You conclude a lesson by watching a three-to-six-minute video, reading some additional material, and taking a brief exam. That makes perfect sense.
The SEMrush SEO Toolkit Course comprises 14 modules and requires around four hours to finish.
The videos may become monotonous after some time. Several of them consist merely of a person sitting and speaking throughout.
Overwhelming lessons
The SEMRush Academy has a couple of courses and lessons on the board.
If you're new, you'll probably struggle with where to begin. There is a good chance you will be overwhelmed with all of these stuff.
Not good for advanced SEO
If you already have extensive knowledge about the basics of SEO, then this course will just be a waste of time for you.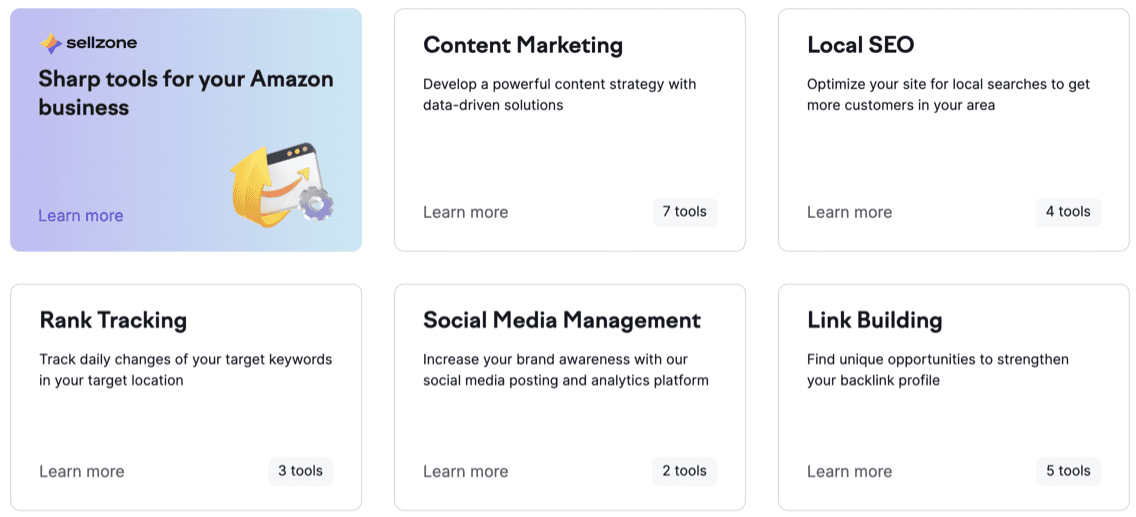 This course is only for beginners. They're ideal for people who have zero knowledge about SEO and digital marketing.
If you're looking to expand your skills and improve your knowledge, you might want to look for paid courses.
Boring videos
One of the biggest things I hate about this course was the videos. While some of them are interesting, most videos are just the instructor talking to the camera.


Unfortunately, I do not like this type of video. I get bored easily with it.
Fortunately, every video has a transcript.
So, if you get bored watching, you can stop the video and continue reading the transcript.
Also, since most of the courses are videos, you might find the course lacking practical training. There are no options for hands-on work.
Ready to make passive income online?
I've created a growing passive income online with no previous marketing skills or online experience…
I've made a special video for you to explain exactly how I did this.
My opinion – SEMRush Academy
In my opinion, I believe that the SEMRush Academy is worth your time. This is particularly true if you've got little-to-no knowledge about digital marketing and SEO.
SEMRush Academy provides a lot of important information about SEO and digital marketing. Aside from that, you can easily finish every lesson in less than an hour.
Since it's also completely free, it just makes SEMRush Academy one of the best learning platforms out there.
But then again, there is no guarantee of success because it is still up to you on how you are going to implement the things taught in the course in real life…
In 2018 I had no idea what affiliate marketing was.
Once I learnt about it, it just seemed like a great business model that can grow over time using the power of the internet.
So I tried to figure it out by myself… that got me nowhere fast.
Then I fell for some terrible online scams.
But eventually, I found Wealthy Affiliate. It teaches long-term proven strategies to build an online business with all the tools & support needed.
And this happened…
Once you learn the process of getting thousands of people to find your website every month (for free) there really is not limit to what you can achieve online.
I've reviewed hundreds of courses or programs that claim to help people make money online. And I've spoken to dozens of 6-7 figure online entrepreneurs on my podcast.
This is by far the best place I've seen to help beginners get set up on the right foot. You can read my full Wealthy Affiliate review here (including the pros and cons!)
Or you can watch an insiders video I made that explains exactly how it works here.