Starting an eCommerce business is a difficult task. It requires a lot of decisions and steps that have to come together properly.
Just like starting a regular business, understanding how to establish an eCommerce business is not always simple.
The good news is that maintaining, launching, and setting up websites where creators, designers, and entrepreneurs of all sorts are extremely achievable now more than ever.
For those who don't know, eCommerce businesses are businesses that provide funds, services, and goods over the internet. All of them differ in scope and size.
However, what if you don't have any idea about eCommerce?
This is where the Netz Commerce course comes in.
Is it legit? Is it a scam? Today, we are going to find out if Netz Commerce is worth your money.
We will also help you decide if it's worth trying by discussing its content, pros, cons, so you'll know if it is a legit way to make money online.
Disclaimer:
This Netz Commerce review has been thoroughly researched with information and testimonials that are available online to anyone in the public. Any conclusions drawn by myself are opinions.
Netz Commerce review: The overview and rankings
Name: Netz Commerce
Owners: Luca Netz
Type: Ecommerce course
Price: $425 basic package to $1700 advanced package
Best for: Anyone who wants to learn e-commerce and drop shipping to make good money online.
Netz Commerce Pros
Content is updated

Useful training
Helpful community
Netz Commerce Cons
Expensive
No refund policy
Minimal training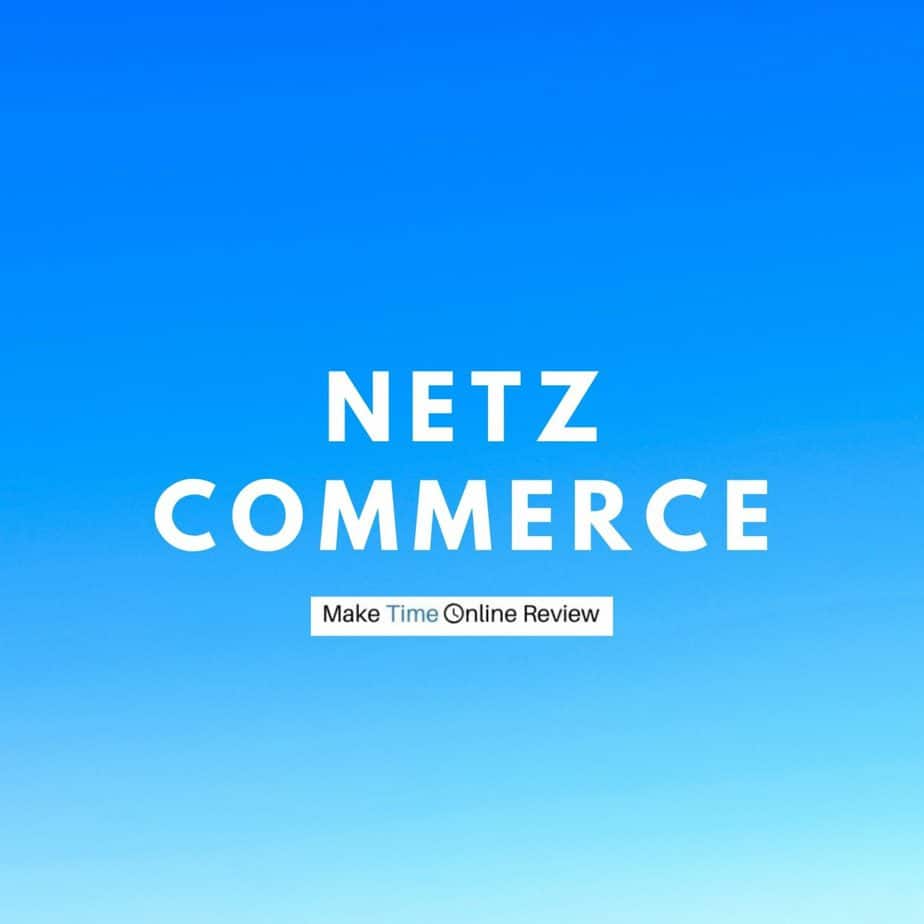 Summary:
Netz Commerce is an ecommerce course that teaches you how to make money online through effective drop shipping.
Make Time Online Rating: 45 out of 100
Recommended: No
What is Netz Commerce about?
Netz Commerce aims to teach its students how to launch and develop a profitable online storefront. This course is intended for entrepreneurs, small company owners, and individuals who wish to launch or build an internet business.
The course covers a broad range of topics, including creating and managing product listings, advertising and promotion, and customer service.
The course is organized into several courses that address various aspects of establishing and expanding an e-commerce firm. The modules consist of the following:
This session covers the fundamentals of establishing an e-commerce website, including selecting a platform, building a layout, and integrating payment and delivery options.
This session teaches how to build and manage product listings, including product photographs and descriptions, and how to manage inventories.
This session covers a variety of marketing and promotion techniques, including search engine optimization, social media marketing, and email marketing.
This session discusses how to provide superior customer service, including handling returns, refunds, and complaints.
This session discusses how to optimize your e-commerce firm for scalability and scale your business to accommodate increased visitors and sales.
Course content is often presented via video lectures, quizzes, and assignments posted online, with a devoted instructor available to answer questions and offer feedback at any point. The training is also periodically updated to reflect the latest e-commerce trends and best practices.

The Netz Commerce course is a comprehensive training program that can help anyone who wants to start or expand an e-commerce firm acquire the necessary information and abilities for success in the industry.
Netz is known for designing other eCommerce courses. Because of that, it's safe to say that Netz Commerce contains everything you need to know about the eCommerce industry.
Check out this 9-minute video to know more about Netz Commerce…
So, who created this course in the first place?
Who is Luca Netz?
Luca Netz is the founder and creator of Netz Commerce. Unfortunately, there is nothing much to learn about this guy.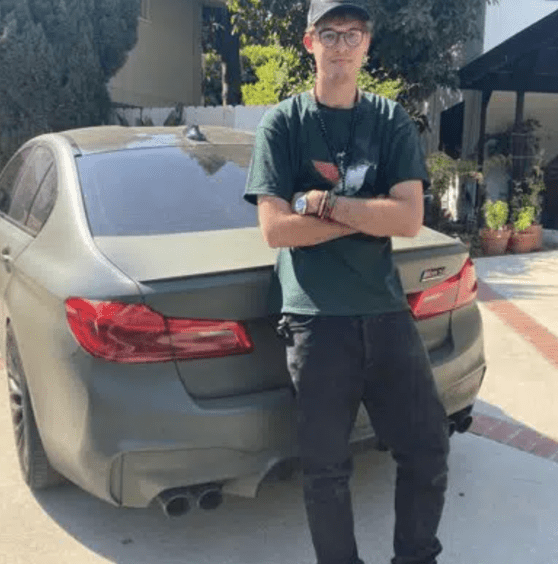 Everything that you read online when you do research about him mostly comes from his mouth. Thus, I can't confirm whether or not everything he says is true.
As far as I know, Luca Netz's original goal was to finish college and get a Bachelor's Degree in Business. Unfortunately, he became disappointed with the process.
That is why Luca decided to directly go working and eventually discovered eCommerce.
After a couple of failures, Luca found success in the jewelry industry and he slowly began earning money.
At this point, I am not certain if Luca has his own store or he simply works with other brands to help them be more effective when it comes to online selling.
There is also an interview that you can watch online. In this interview, Luca said that he usually helps other businesses develop their stores.
Luca also claims that he has earned $50,000,000. My guess is that this amount is what the stores earned while working with him. I believe that it is not what he has earned personally.
If he has a net worth of $50,000,000, it would be a complete waste of time selling an eCommerce program.
However, you should always keep in mind that these details came from his mouth. I do not have any confirmation if this is true or not.
So, how does the course work?…
Ready to make passive income online?
Hey, I'm Mike.
I created a passive income online within a year. I had no marketing skills or online experience when I started.
How does Netz Commerce Work?
Typically, the course consists of several modules that address various aspects of establishing and expanding an e-commerce firm.
Each module contains video lectures, quizzes, and assignments designed to aid learners in comprehending and applying the concepts to their own businesses.
The course covers a broad range of topics, including creating and managing product listings, marketing and promotion, and customer support.
Each module builds on the knowledge and skills acquired in the preceding one.
The course is provided online, allowing students to access course materials and progress at their own pace.
Typically, a dedicated instructor is present throughout the course to provide advice and assistance, answer questions, and provide feedback on assignments.
Just like other courses online, Netz Commerce works by teaching its users the basic things to know about eCommerce.
In addition to that, Netz commerce also teaches other things when it comes to creating an online business.
This includes:
How to Achieve Customer Convenience
If you own a business, you know that your goal isn't just about earning money. You want to improve the experience of your customers by having an online eCommerce website.
It's very convenient to have a website. Your clients can look for vital details about your shop. This includes address, phone number, or hours. This helps generate more sales.
In addition to that, your website will offer the convenience of being able to shop from anywhere. This is particularly useful if a client relocates or can't get to your store.
How to Create Money While Sleeping
If you own a brick-and-mortar store, you know that one of the most important factors to consider is the location.
The impact on sales and visibility can be huge. Online stores enable you to globally sell your products by creating your domain name.
It isn't necessary to have several storefronts to be seen around the world. There is a particular "passive" appeal to eCommerce.
Netz Commerce will teach you how to earn while you sleep.
How to Lower Operating Expenses
Due to its low-cost platforms, eCommerce is quite affordable to start. Today, it's a lot easier for entrepreneurs to build an online business.
Nowadays, it's easy to achieve a website that accepts various payment methods, is mobile-friendly, and is attractive. It's also easy to handle shipping and inventory.
First, you'll have to overcome a lot of problems and determine a lot of details. However, this is where Netz Commerce comes in to help.
Netz Commerce will teach you how to operate your business without spending a lot of money.
Inside Netz Commerce
Before you decide to join the Netz Commerce course, it's best that you know what you'll get. Fortunately, I can share with you some details about what's inside Netz Commerce.
Influencer Monetization
If you want to learn more about influencer marketing, you can do this by joining Netz Commerce's traffic training.
In this module, you will learn about how to conduct product research, reach out to potential influencers, learn examples of winning stores, and access their discord server.
Discord Access
If you get the Beginner package, you will get access to the Discord chat of Netz Commerce. In this, you can use Discord to chat with other members of the program.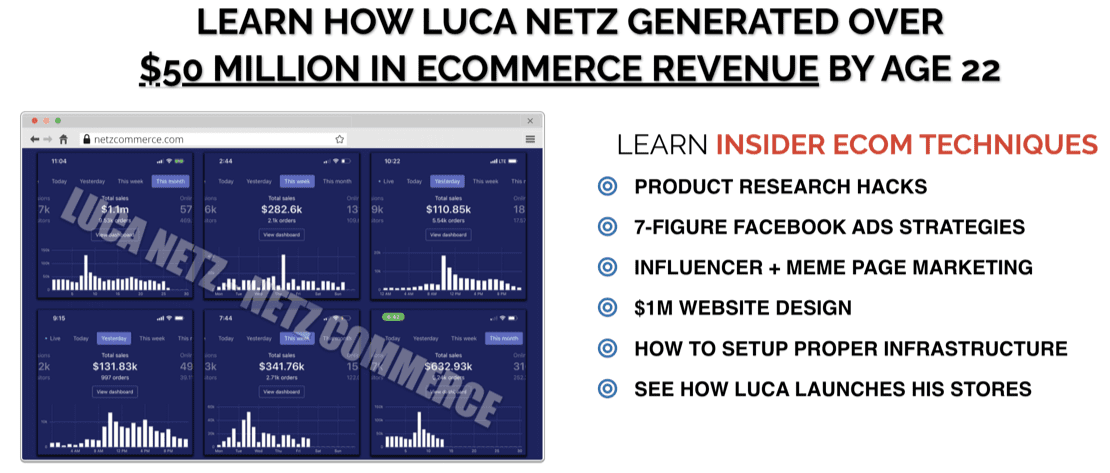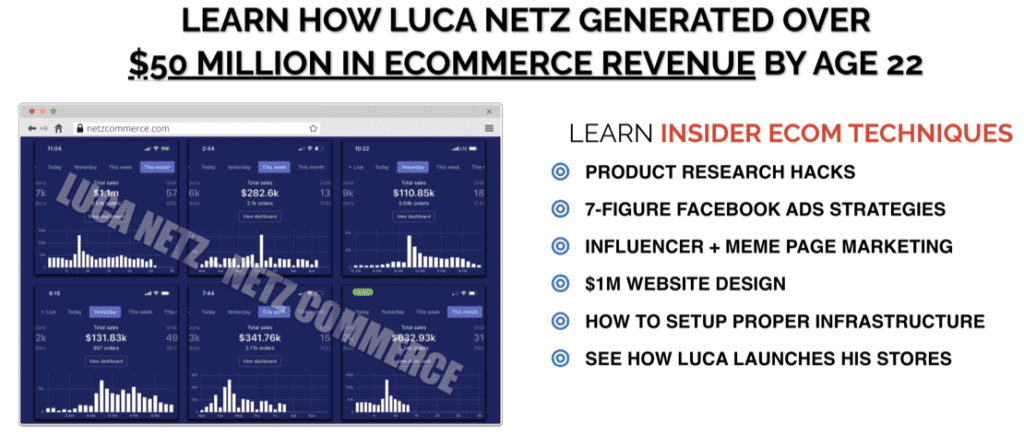 Advanced Package
This is a separate package that you will get if you pay $1,700. It covers all the other packages.
In addition to that, you will also get additional benefits such as access to Private Facebook Group, lesser-known eCommerce business models, how to create a Facebook page, SMS marketing, and email marketing.
Intermediate Package
This is a separate package that you'll get if you pay $850. This package covers more in-ground training.
You will get the Beginner Package modules. In addition to that, you will also get more features such as how to source products, how to fulfill orders, examples of products that can make money, extra Facebook Ad testing methods.
Furthermore, you will get access to the Private Discord server as well. This is a server where you can get updates about the program.
Beginner Package
This is the most basic package and perhaps the most affordable package. You'll have to pay $425 to get this package. It covers various topics such as Facebook ads, conversion-boosting methods, website design, and product research.
Unfortunately, this might be a waste of money since you can find all of these things from a YouTube video.
Check out this 23-minute video to give you a better understanding of Netz Commerce…
Let us move forward and learn more about…
How do you join Netz Commerce?
If you want to join the course, you need to visit their website first.
Unfortunately, their website can be a bit complicated to navigate if you're not tech-savvy.
Once you reach the home page of their website, you will find several options to choose from. These options are the packages that you can purchase.
If you scroll down a little, you will see a "Choose Level" button. Click on that button. Then, you'll have to choose what package you want to buy.
Click on the "Add to Cart" button on the package you're interested in. Next, you will have to fill up your billing information. Once you're done, you are good to go.
Netz Commerce cost to join
As mentioned earlier, the cost to join the advanced package is $1,700. I chose to pick the advanced package since it includes everything I need to know about eCommerce.
While $1,700 might sound expensive, it's comparable to other eCommerce courses available online.
The truth is that I have seen a couple of other eCommerce programs that are more expensive than this. Thus, I believe that this program is pretty reasonably priced given the features that you'll get.
Of course, if you can't afford the $1,700 package, you can always purchase the beginner package. It's a lot cheaper than the advanced package.
Here is a complete list of the different prices of different packages:
Advanced Package – $1700
Intermediate Package – $850
Influencer Monetization – $595
Beginner Package – $425
Ecommerce Discord – $497 or $49.97 a month
Netz Commerce reviews online
Just like other courses online, Netz Commerce has mixed reviews. Though it has a lot of positive reviews, the program also has a fair share of negative reviews.
Because of this, it's best to do your research first to see if these reviews affect your decision to buy this eCommerce course.
Common positive Netz Commerce reviews
The Discord community is very helpful.
You will learn everything you need to start an eCommerce business.
The content of the program is regularly updated.
Here is what we have seen…
"Known for generating sales for many brands in the Ecommerce space, he is a dynamic figure in the field. He did not succeed once, but more than once. This means he truly knows Ecommerce and has developed a system that works."
"The course structure is very well organized. It guides you step-by-step from the beginning. Each lesson includes action steps that students can take to begin seeing results."
Common negative Netz Commerce reviews
The cheap packages are a bit expensive compared to others.

You can't get a refund.
It's quite useless if you already know a lot of things about eCommerce.
And here is one of the most common negative reviews about Netz Commerce that we have seen…
"The beginner package is not comprehensive enough, so if you want to succeed, you should definitely go for the advanced package."
"Yes, in my opinion after reviewing several dropshipping courses, all levels of Netz Commerce are overpriced. I've seen other courses that are much better laid out and cover everything required, for a smaller cost."
Is Netz Commerce a scam?
The answer is no.
Netz Commerce isn't a scam.
It's one of the most effective eCommerce programs out there. It's also created by one of the most successful people in the industry.
The course content of the program is extremely comprehensive. It's easy to absorb and understand.
If you don't know anything about eCommerce, then you will find a lot of help if you get this course.
Netz Commerce pros
Here are some of the best things that I like most about Netz Commerce…
Content is updated
All of the things are updated.
If the online course is outdated, it will be a bad purchase for you. Luckily, Luca Netz regularly updates the Netz Commerce course.
Useful training
The structure of the program is properly organized.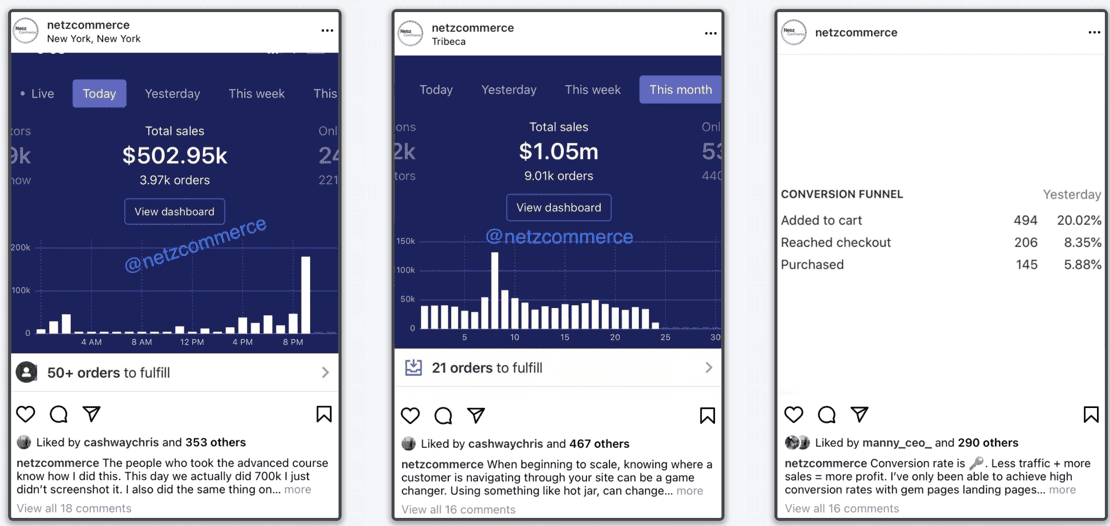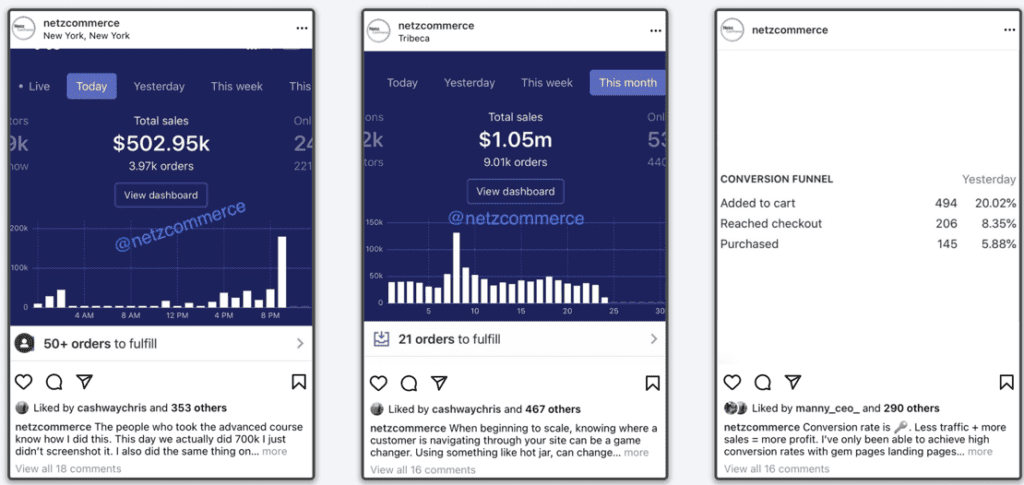 It will help you from the beginning and guide you step-by-step. Every module includes action steps that you can take to start seeing results.
In Netz Commerce, you will not see any impractical theory. It will cover every single thing you need to understand about eCommerce.
Helpful community
Netz Commerce allows you to join a private Discord server if you choose the right package.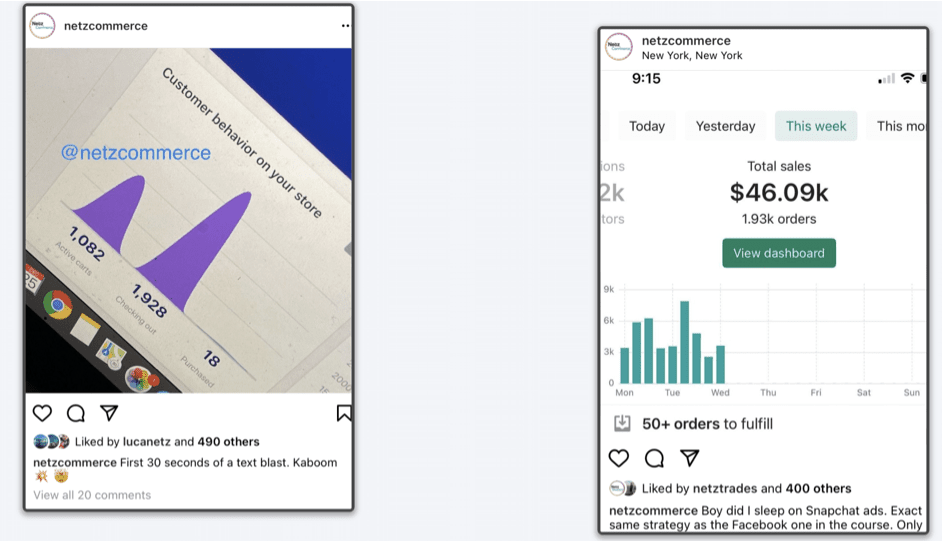 One of the best things about this is that the community is extremely useful.
Establishing an online business is hard, especially if you're alone. It's vital to be able to ask for help at any time. You can use the Discord server to ask questions to validate your ideas.
Netz Commerce cons
And here are the not-so-good things that I consider as red flags for Netz Commerce…
Expensive
Yes, it is overpriced.
When you choose the advanced package, it will be a bit expensive. This is particularly true since there are other options that are more affordable.
No refund policy
This is the biggest drawback of Netz Commerce.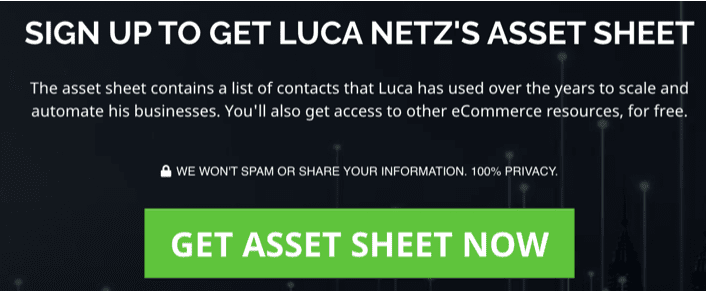 You can't get a refund if you don't like the product, which is a bad thing especially if you just want to try things out for now.
Minimal training
If you choose the beginner package, you're making the wrong move.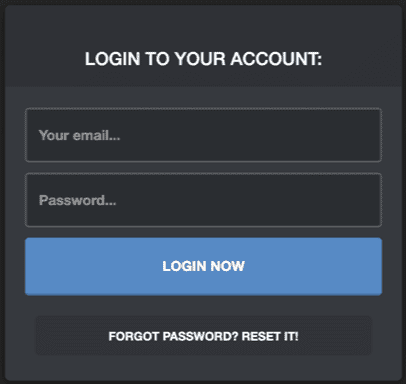 The information you'll get inside it is basic. You can find them on YouTube for free, and you don't need to pay anything…
Ready to make passive income online?
I've created a growing passive income online with no previous marketing skills or online experience…
I've made a special video for you to explain exactly how I did this.
My opinion – Netz Commerce
As you can see, there are a couple of pros and cons for Netz Commerce. However, everything will greatly depend on you.
If you are new to the eCommerce industry and want to become successful, Netz Commerce can be a useful course for you.
On the other hand, if you already found success in eCommerce and want to expand your knowledge, you might have to look for other courses online.
For me, I highly recommend Netz Commerce for beginners. However, if you choose to join this program, make sure you pick the Advanced Package.
If you pick the beginner package, you're only wasting your money since most of the details you'll find in this package can also be found on YouTube.
On the other hand, the Advanced Package contains information that you can't find anywhere else. It also allows you to join a Discord server full of people with the same goals as you.
There are also many other better online business opportunities out there that you can try now…
How I make passive income online
In 2018 I had no idea what affiliate marketing was.
Once I learnt about it, it just seemed like a great business model that can grow over time using the power of the internet.
So I tried to figure it out by myself… that got me nowhere fast.
Then I fell for some terrible online scams.
But eventually, I found Wealthy Affiliate. It teaches long-term proven strategies to build an online business with all the tools & support needed.
And this happened…
Once you learn the process of getting thousands of people to find your website every month (for free) there really is not limit to what you can achieve online.
I've reviewed hundreds of courses or programs that claim to help people make money online. And I've spoken to dozens of 6-7 figure online entrepreneurs on my podcast.
This is by far the best place I've seen to help beginners get set up on the right foot. You can read my full Wealthy Affiliate review here (including the pros and cons!)
Or you can watch an insiders video I made that explains exactly how it works here.