It is everybody's dream to earn something for a living. I mean, who wants to stay stagnant forever? Nobody does! Well, maybe except for those who don't care. Bottom line is, we all want to make cash!
And one good way to make good money is by first learning through a lead generation course such as Local Marketing Vault.
That's what this article is about because here, I'll tell you all you need to learn about this course, like how much it costs, who the creator or creators are, and in-depth discussion so you'll know if this is a legit way to make money online.
Disclaimer:
This Local Marketing Vault review has been thoroughly researched with information and testimonials that are available online to anyone in the public. Any conclusions drawn by myself are opinions.
Local Marketing Vault review: The overview and rankings
Name: Local Marketing Vault
Owners: Aime Ball
Type: Lead generation training
Price: $3,000 to $6,000
Best for: Anyone who wants to learn how to market their business digitally and attract new clients and investors
Local Marketing Vault Pros
Earning potential
Create new business opportunities
Useful
Local Marketing Vault Cons
Needs multiple strategies

Expensive
Time consuming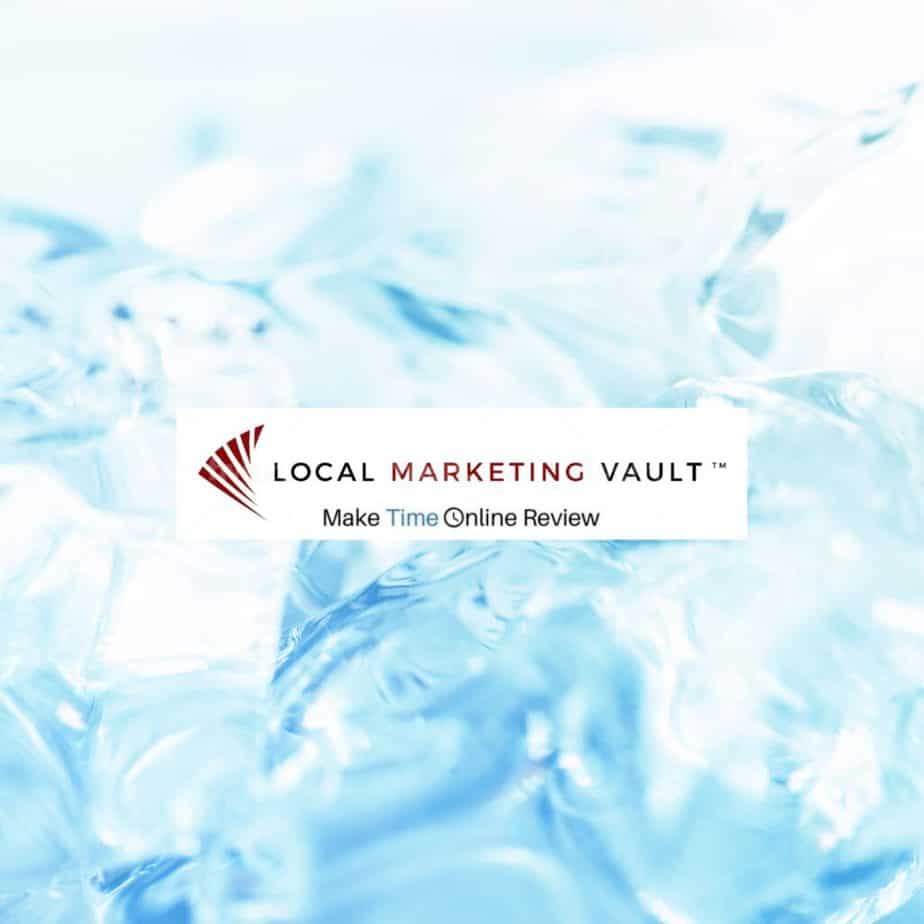 Summary:
Local Marketing Vault is an online training program that teaches you how to do digital marketing and grow your business online by acquiring new clients and investors.
Make Time Online Rating: 40 out of 100 
Recommended: No
What is Local Marketing Vault about?
While browsing the net, I came across Local Marketing Vault. It says there, "We Help Aspiring Entrepreneurs Build An Online Business… 100% Free Training." I was like, what? Who gives free training for starting a business?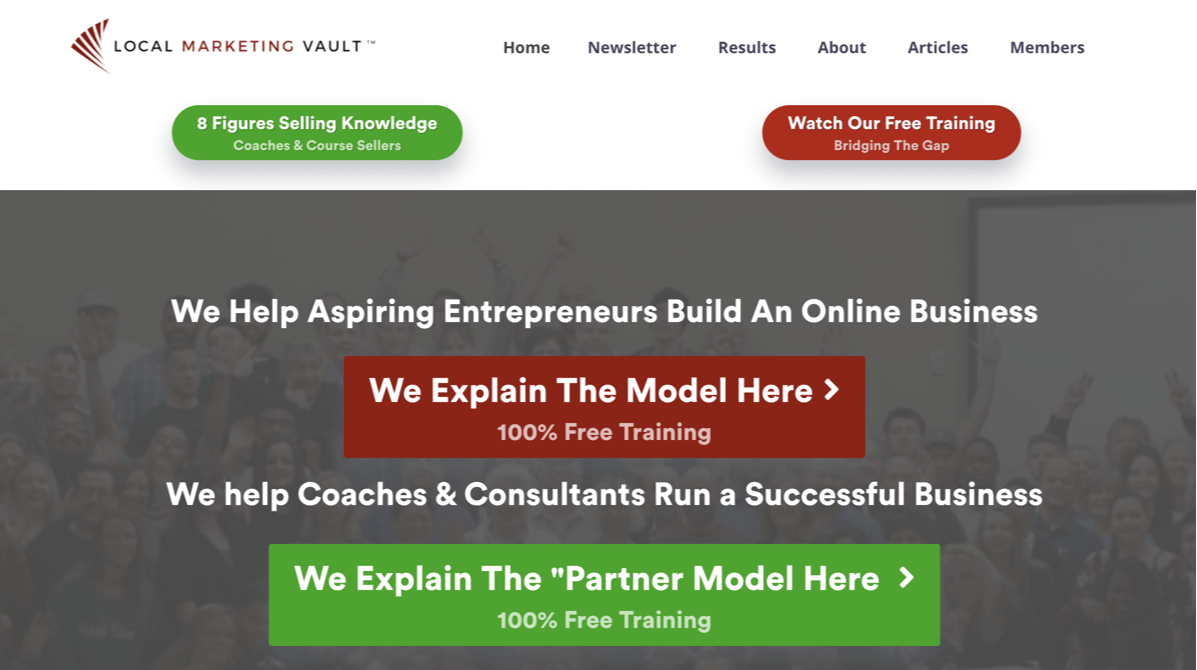 It's not your typical buy-in, learn more seminar. Yet, they claim to offer their services for free. I did a little research and to my surprise, there's still more about that tagline. So, what exactly is the Local Marketing Vault?
Local Marketing Vault is an online platform that teaches anyone who wants to learn about the many different ways of making money online.
The internet offers limitless opportunities for each and every user to access but sometimes we don't know where to go and what to do due the countless options that are presented in front of our faces. 
The Local Marketing Vault is a website that offers a solution to this problem as it teaches students how to use the internet as a medium to generate income. They offer basic training in many different courses and they offer these services for free.
James Bonadies and Jason McKim are the two co-founders of Local Marketing Vault, they live very different lives before actually making the company. 
James Bonadies worked in public education for 13 years and Jason McKim was in the Air Force and is now a veteran. 
The pandemic opened the opportunity for them to go into the digital scene and began to earn through the internet and they decided to teach their experience from online entrepreneurship to their students.
Local Marketing Vault is an online website that teaches you all about money-making stuff. It uses the internet as a medium to conduct business. They offer you free training about basic things in making your website, search engine optimization (SEO), and other stuff alike. 
It's an online coaching program that gives people an opportunity to build their business venture online. It offers ways to earn cash using sales. They help you look for potential customers and teach you how to close a deal. 
So, who created this Local Marketing Vault in the first place?
Who are James Bonadies and Jason McKim?
James Bonadies and Jason McKim are the men behind Local Marketing Vault. Both of them lived entirely different lives before earning 8 figures in just 2 years. James Bonadies spent 13 years of his life in public education.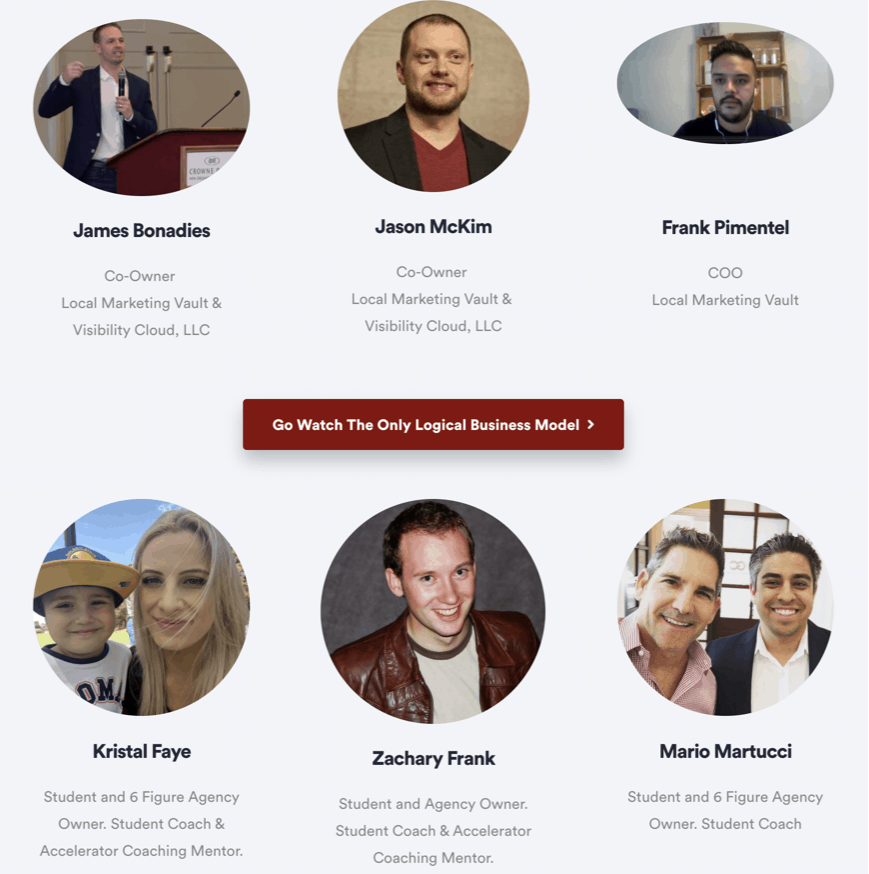 On the other hand, Jason McKim served in the Air Force and now has become a veteran. The pandemic opened the portal for these aspiring business tycoons. As the physical setup for business offices became limited, the two found a way to adopt the new normal. 
Learning from their mistakes as online entrepreneurs, they adopted methods that surely work. They started to introduce a new means of earning cash using the online platform. It's about looking for potential customers for small businesses without much cost. In exchange, you get paid for the profit you made. 
So, how does the course work?…
Ready to make passive income online?
Hey, I'm Mike.
I created a passive income online within a year. I had no marketing skills or online experience when I started.
How does Local Marketing Vault Work?
Now that we're done tapping on the men behind this door of success, let's find out about the Local Marketing Vault mechanics. Surely, getting such promise of an unimaginable profit deserves an explanation. 
The Local Marketing Vault is a coaching program that people can access online that gives them the opportunity to become an online entrepreneur.
People keep making mistakes over and over again especially when it is their first time conducting an online business venture, being in a program that teaches you everything that you need to know about having a business on the internet will make you less prone to making mistakes that are very common to newbies despite having no experience.
The co-founders, James Bonadies and Jason McKim, proposed a solution to the issue that first timers face when trying to earn online and it is: Creating your own digital marketing agency in which you can create your own business model and earn income from ads. 
It teaches students to manage a small business to help them to find leads for their clients.
Although you can sign up for free and avail their free programs and services, these can teach you basic skills but you cannot learn the full fundamentals of creating your own digital marketing agency, you might need to avail their full course that costs around $3000-$6000, it might be a bit costly but you are able to pay in installments.
It is up to you if you want to take the risk and take a leap of faith.
So, how does Local Marketing Vault work? 
The co-founders, James Bonadies and Jason McKim had given their assurance of maximizing your full potential on:
Landing Clients 
Fast Cash
Reasonable Revenue
Being Optimistic
Sounds too good to be true, right? But if you're in a tight situation, there's no harm in trying. 
What the co-founders discovered is that people are running in circles when it comes to financial stability. They keep making the same mistakes over and over again. It's because they got hooked up with a client's timeline for the return of investment. 
So, the two came up with a solution: make your digital marketing agency. Build a business structure from the ground and get paid from ads. With their years of experience? Well, it's just a piece of cake. 
Inside Local Marketing Vault
The Local Marketing Vault is designed to teach you how to spearhead small-medium businesses to help manage their ads. With more than 30 niches on the board, you will be able to make leads for your clients as soon as possible.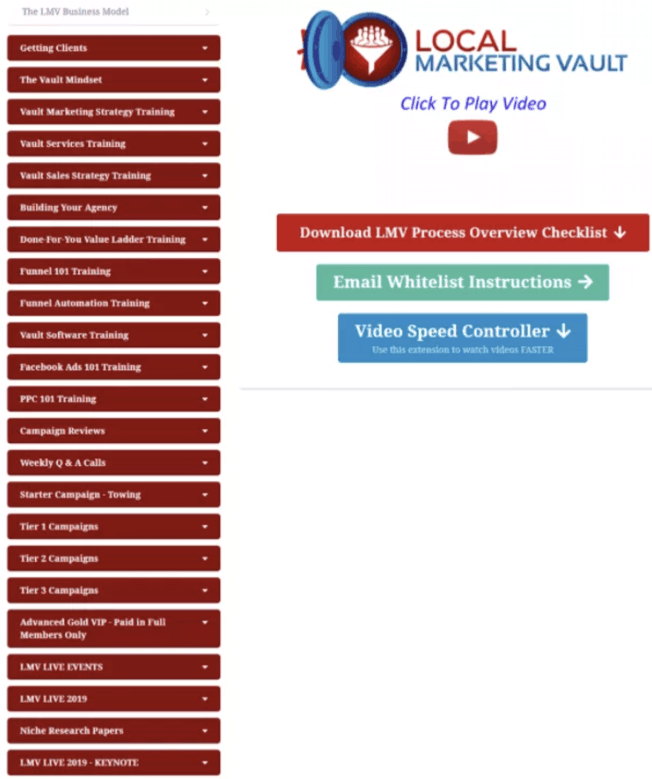 Knowing about lead generation, you'll be able to help other local businesses prosper. For instance, you can incorporate the contact number and service details of a real estate broker in Facebook ads. This increases his chance to get calls from people who want to buy a house. 
On the other hand, advertising a plumbing service on a website makes them earn more calls that need their services. In exchange, you get paid from the revenue you get for each rendered service. 
And what are the prices?…
How do you join Local Marketing Vault?
Now that we've learned about the tip of the iceberg, let's dig deep and find out how to make our way in. Getting excited? Well, hold down your horses and learn the basics. There's no shortcut in earning cash, keep your eyes on the road. 
Take the Lead
As someone who wants to earn money for a living, the very first step is to take the lead. Visit their website and navigate yourself in. Sign up and simply follow the instructions. 
After signing up, you'll be guided to look for your strengths and which aspects you must take. You will get a background of how the system works and how to ask for help. 
Earn Your Clients
Focus on making cold calls, networking transactions, and making cold emails rather than constructing the best content. Once you get yourself as part of the system, you will have access to how to funnel more clients.
Focusing on Your Goal
As an entrepreneur, you need to focus on your goal. There's no time to think about other things rather than what's in front of you. Have the proper mindset. With Local Marketing Vault, you need to focus on these aspects:
Persistence
Consistency
Patience
Don't get yourself hooked up with too many things. It's a distraction. You'll have full control in managing a small population rather than having many but not in accord. 
Formulate a Strategy
Passive learning is not enough. You have to get your head working to earn profit. Offering other services that are helpful for your clients is also good. A low-risk investment that needs only a fraction of a dime would be best. 
Know the Services
As you dig deep within the Local Marketing Vault, you must maximize its services. Successful businesses constitute three parts:
Brand
Present Customers
Potential Customers
The Local Marketing Vault will guide you on how to look for business in your area using Google My Business listing. Using other media outlets like video marketing is also a key factor in expanding your marketing industry.
Application 
Make use of the services offered and build your business structure. As you climb the ladder of success, the team is there to guide you. Learn from other experts and build your agency.
How much does Local Marketing Vault cost to join?
So, how do I sign up? Let's say you've done your research and are willing to grab this heavenly opportunity. All you need is to take that leap of faith. Open your door to success and grab the chance!
Although it says there "100% Free," it's just a piece of the whole story. There's more to Local Marketing Vault than its free services. If you sign up, you'll have the whole picture of the canvas. 
Signing up could take about $3,000 – $6,000.
That's not a joke. You need to give more to gain more. But the good thing is, you can avail the installment option if you don't have enough cash. 
Like, who cares? So what if I'll spend this much if the profit I could gain is much higher?
Local Marketing Vault monthly cost
You might think that $3,000 to $6,000 is a worthy expense to achieve financial freedom. I would also think of that as the case.
But the catch is… many people don't know that there are ongoing costs to this business model.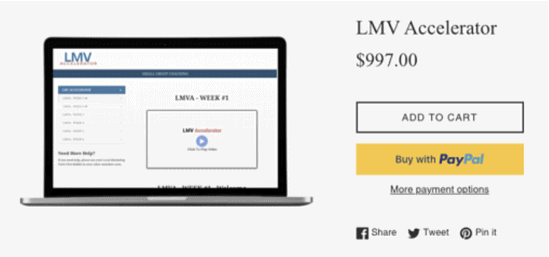 Here are some of the top expenses you are most likely to shoulder:
Weebley hosting and domain: $25 a month per website (needed)
Call tracker such as Callrail: $45 to $145 per month
Callsling: $498 one time fee (needed, but it doesn't work everywhere in the world)
Email autoresponder to track leads: $15+ a month
PO Box (to set up your business address): $19 to $75 for 6 months (needed)
SpyFu (competitor keyword research): $33 to $199 a month
AHrefs (keyword research): $99 a month
PPC ads: $200+ a month (not needed but can help for speed)
Outsourcing (you need this to build a website or do other tasks. Not needed, but is a great way to scale eventually.)
Minimum monthly cost: $76
Local Marketing Vault reviews online
Local Marketing Vault is an online course that teaches you lead generation and how you can make money from various areas online.
But what you really want to know is if this can really help you earn money online.
To answer this, I've checked a number of client testimonials and reviews about his course…
Common positive Local Marketing Vault reviews
Educational
Beginner-friendly

Strong community
Here are some of the best positive reviews I have found…
"LMV does come with some very helpful information to make money online and land some massive commission checks."
"Unlike other courses that kind of just send you on your way after the video training, Local Marketing Vault goes one step further. They actually give a list of 30 different niches with pre made funnels that help you get money in your pocket faster."
"Having a group the way they do is a great opportunity for people to connect. It fosters a great learning environment and encourages people to participate. They also have weekly live calls."
Common negative Local Marketing Vault reviews
Difficult in the long run

Expensive

Meticulous
And here are the negative reviews worth checking out…
"Ads can be difficult to scale or maintain."
"Not truly passive income since campaigns require constant babysitting."
"Clients wanting to watch your every step."
Is Local Marketing Vault a scam?
Local Marketing Vault is not a scam. 
People would be bad-mouthing about how the system works if it's a scam. Despite all the negative talks, it has proven to be more effective for the majority. Besides, its ratings are excellent and you can see people's fruits of success.
The rest of this Local Marketing Vault review will show you the pros and cons that I see from the training program…
Local Marketing Vault pros
Earning potential
Using Local Marketing Vault, people earn more than they expect. It's a big surprise if someone tells you that you'll be able to "earn a bit" yet receive more than what is to be expected. 
Create new business opportunities
People struggle because of problems in keeping their businesses alive. With Local Marketing Vault's help, they were able to keep their doors open for more opportunities.
Also check how its students and subscribers feel about Local Marketing Vault based on their reviews. You can easily see that they acquired a great deal of knowledge.
Useful
The methods used in Local Marketing Vault are very useful in the field of online marketing. It tackled all aspects as an entrepreneur and gives the best opportunities to further enhance your sales.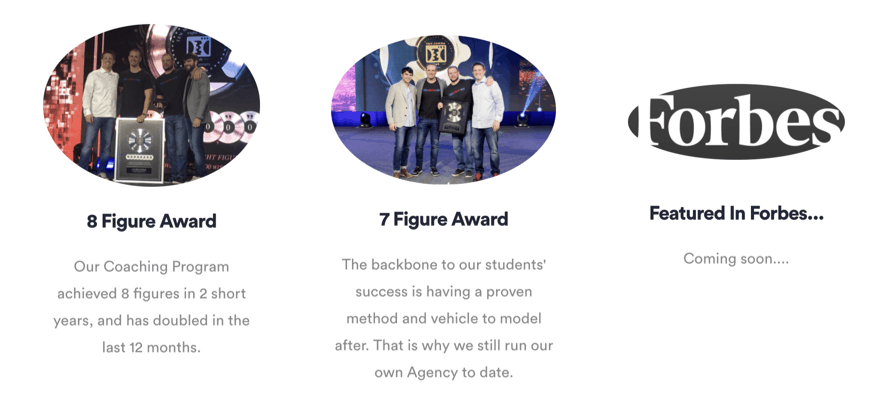 You can even see that it has a host of achievements and awards in the industry…
Local Marketing Vault cons
Needs multiple strategies
Local Marketing Vault is useful in managing online marketing.
However, if you want to venture into other businesses, you need to think outside the box. The limitations of exploring the online community are not enough to tackle other matters outside the web.
Expensive
The need for cash to invest is the main reason why people aren't able to avail the kind of business they want.

The hefty price is what others perceive to be a burden to avail of Local Marketing Vault's services. 
Expensive
We already mentioned earlier that it's going to make you spend more than $4,000 just to gain access to this lead generation course.


Although, you can pay this in installment basis, that still means paying $299 for more than a year. Not to mention that you also have to spend around $50 to $100 monthly for additional costs on tools.
Time consuming
Another problem for some people is having a client.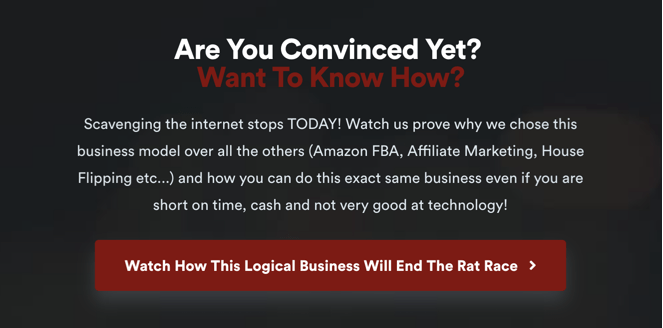 However, you need to understand that perseverance is a part of success. Having a client takes a lot of factors. Depending on what niche you're in, your clientele depends on how well you choose your line of business.
My opinion – Local Marketing Vault
Finding ways to achieve financial stability is every person's goal. You need to earn something for a living. However, because of this pandemic, most people are constrained within their walls. 
The next option would be to become productive even when staying at your house. This is where the Local Marketing Vault comes in handy. It allows you to earn something by simply using the net at your convenience. 
Although you need hefty cash to be a part of the team, I say it's worth the price. 
But note that there are just many other online business opportunities out there that you can try now…
How I make passive income online
In 2018 I had no idea what affiliate marketing was.
Once I learnt about it, it just seemed like a great business model that can grow over time using the power of the internet.
So I tried to figure it out by myself… that got me nowhere fast.
Then I fell for some terrible online scams.
But eventually, I found Wealthy Affiliate. It teaches long-term proven strategies to build an online business with all the tools & support needed.
And this happened…
Once you learn the process of getting thousands of people to find your website every month (for free) there really is not limit to what you can achieve online.
I've reviewed hundreds of courses or programs that claim to help people make money online. And I've spoken to dozens of 6-7 figure online entrepreneurs on my podcast.
This is by far the best place I've seen to help beginners get set up on the right foot. You can read my full Wealthy Affiliate review here (including the pros and cons!)
Or you can watch an insiders video I made that explains exactly how it works here.