Have you ever heard about LinkedIn? If you don't, then I think this one's for you. If you're looking for a job or want to look for someone to work for you, LinkedIn is your answer.
In other words, LinkedIn is a platform that generates jobs for seekers and employers.
But, there's more about LinkedIn. It's the best avenue for a digital marketing business. Yes, you've read that right, make money while working online.
This review will help you decide if it's worth trying by discussing its content, pros, cons, so you'll know if it is a legit way to make money online.
Disclaimer:
This LinkedIn Marketing review has been thoroughly researched with information and testimonials that are available online to anyone in the public. Any conclusions drawn by myself are opinions.
LinkedIn Marketing review: The overview and rankings
Name: LinkedIn Marketing
Owners: Ali Mirza
Type: Lead generation course
Price: $79.99
Best for: Anyone who wants to learn lead generation through LinkedIn marketing to make good money.
LinkedIn Marketing Pros
Easy to understand
Detailed
Fun
LinkedIn Marketing Cons
Outdated
Lacks examples
Needs an in-depth review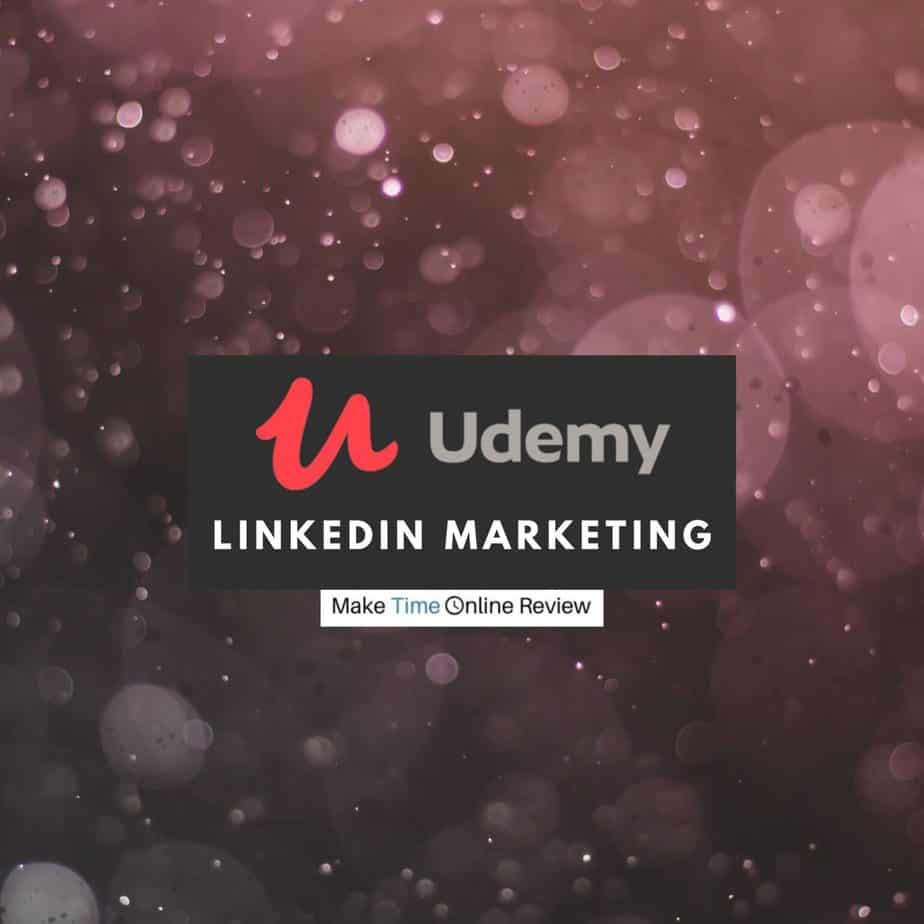 Summary:
LinkedIn Marketing is a lead generation course that teaches you how to make money online through effective local lead generation.
Make Time Online Rating: 40 out of 100
Recommended: No
What is LinkedIn Marketing about?
Looking for cash is everybody's dream. I mean, who doesn't want to earn?
Money is a basic commodity that's essential for our daily lives.
We need money to buy food, shelter, and convenience.
Now, how is it possible that some people are earning cash while staying at home? The answer lies within the digital marketing business.

In the online world, you can do almost everything you want to do. And that includes money. So, how are you going to make it?
You must've heard or read about LinkedIn. It's where people meet to seek job opportunities. You can post your CV and start your job hunting. Or, an employer may post a job vacancy and wait for somebody who'd meet their standards.
The bottom line is, it's where work and business-oriented people meet. Thus, making it a suitable ground for digital marketing business. With the right leverage, you can make this app your ladder towards success.
LinkedIn Marketing is a Udemy course that specializes in lead generation using the LinkedIn platform.
Turn this ground into an advertising site and get yourself the chance of meeting clients and close deals. After all, this is where businessmen and job seekers meet.
The chances are high. All you need is the right approach. Using the LinkedIn Marketing course, turning this platform into your market is possible.
Check out this 5-minute video to know more about LinkedIn Marketing…
So, who created this Local Lead Generation 101 in the first place?
Who is Ali Mirza?
Now, who's behind the LinkedIn Marketing course?
His name's Ali Mirza. He's a renowned digital entrepreneur and growth marketer. To date, Mirza has more than 100,000 students with 38 courses in Udemy.
As such, he holds a 4.2 out of 5 instructor rating with more than 5,000 reviews. Such a high rating for someone with clear expertise. And guess what, his expertise is way beyond what's expected.
Aside from his Udemy courses, Mirza is also the founder and CEO of iSocialYou. With more than a decade of experience in social media marketing, he's considered a digital marketing guru. He worked with different startups and many big companies.
His methods of designing and making the best social media brand made him exceptional. As such, utilizing social media platforms as a ground for lead generation is his expertise. If you want to get the best results for your digital marketing business, Mirza is there to help you.
Mirza continuously develops marketing products. In 2015, he launched FiveOH as a display of his contribution to digital marketing. Mirza's influence in marketing stretches far beyond what's to be expected.
He worked with mega-brands like Papa Murphy, Chevrolet, and Lexmark. His marketing career drove him to share his secrets with fellow entrepreneurs. By using this course, you don't need to exert precious time and effort.
Mirza's years of proven techniques in marketing are key to your success. All you have to do is submit and follow in his footsteps. Be a part of his dream of achieving 1,000,000 students in search of financial freedom with social media marketing.
So, how does the course work?…
Ready to make passive income online?
Hey, I'm Mike.
I created a passive income online within a year. I had no marketing skills or online experience when I started.
How does LinkedIn Marketing Work?
If you feel interested in just a short introduction about this product, this time, let's go deep. How exactly does this course work? You can see many online courses that teach about digital marketing.
However, without the right guidance, your efforts will be wasted. Good thing LinkedIn Marketing is here to help you. Using this course, your digital marketing business can go over unimaginable heights.
With a LinkedIn profile, maximize your opportunity in attracting clients towards your leads. Making a personal brand and sending business emails is just a piece of cake.
Using LinkedIn Marketing methods, running a digital marketing business goes smoothly. This course will guide you in making a systematic approach to making email leads. The consistency of these leads gives you the upper hand among others.
While rival entrepreneurs are busy searching for potential clients, you'll be sitting on your chair with many leads. A digital marketing business relies on the ability of the owner to make as many leads as possible. It's the golden rule in keeping your digital marketing business at pace.
Targeting the right audience is essential in creating leads. This course can give you the best leads for your business. With an optimized profile, turn your LinkedIn account into a medium for your digital marketing business.
A competitive brand plays an important role in getting the best possible results. Creating leads is just the beginning. Closing deals is the endgame.
Inside LinkedIn Marketing
Now that we've discussed some basic features about LinkedIn Marketing, it's time to look at what's inside this course. Let's find out what makes LinkedIn Marketing so special that people are eager to get their hands on it.
First and foremost, it's a plus if you have basic knowledge about the LinkedIn platform. It makes creating leads much easier. However, if you're new to this field, I think your willingness to learn is enough.
After all, knowledge and skills can be taught. But attitude, it's one of the biggest factors why most people fail. As long as you have the right mindset, getting something done is a piece of cake.
LinkedIn Marketing is used to teach you how to utilize the LinkedIn platform to your advantage. As part of your marketing strategy, you can make improvisations to use LinkedIn in generating leads. Since it's full of entrepreneurship-related sections, your business has a place to sit in.
You might not be getting the right type of clients. Or sometimes, you just don't know why you fail while others prosper.
Without the right guidance, you will surely fail. But, fear not! The answer is right in front of you.
LinkedIn Marketing is packed with multiple strategies that allow you to get business leads. And take note, these are not your ordinary leads. These are leads that give you a sure deal.
Inside this course is a set of strategies that serves as Pandora's box for every digital entrepreneur. You will be guided on how to "properly" optimize your LinkedIn profile. By doing so, making the best headlines and cover images are taught to better attract people's attention.
Make something that leaves people craving for more. Make your brand and master what you have. You are your boss.
LinkedIn is your Holy Grail. Generate business leads unlike ever before. Keep your digital marketing business rolling.
And before you know it, your cash is rolling even when you're sleeping. That's right, that's how powerful this course is. You can just sit back and wait for your money to work for you while others are still struggling in creating leads.
If you're worried about making emails and reaching out to clients, you don't have to. This course will give you an extra feature of free templates, cheat sheets, and scripts.
All you have to do is fill in the gaps and send your messages. You'll be surprised how much money you can make in taking this once-in-a-lifetime chance. So, take the first step and be a part of the winners.
Check out this 6-minute video to give you a better understanding of LinkedIn Marketing…
Let us move forward and learn more about…
How do you join LinkedIn Marketing?
So, how are you going to join this life-changing course?
All you need is a working desktop/laptop, stable internet connection, registration fee, and the willingness to learn.
Just visit Udemy's website and search LinkedIn Marketing. Click on the "Add to cart" button and follow the instructions. Pay for the registration fee and wait for a confirmation email. Once confirmed, you're now ready to make your money.
How much does LinkedIn Marketing cost to join?
Now that we've discussed the background, instructor, what's inside, and how to join the LinkedIn Marketing course, time to go to the most crucial part. The cost to join. But first, let me remind you of something.
Most businesses did not come out like magic. You need to invest. And that's the hardest part.
Others failed to achieve success because of being hesitant. Well, that's true especially when money is the issue.
Yet, you can never achieve success unless you make the first step.
So, how much does it cost to be a part of this course? It costs P3,790 to enroll. But, if you're lucky enough to avail of a discount, it goes down up to P549! That's an 86% discount we're talking about! Quite an offer, right?
LinkedIn Marketing monthly cost
If this course can offer you a discount of as much as 86% off, there must be a catch?
How much are you going to pay for the monthly dues? Well, friend, the answer is none.
You don't need to pay for any monthly dues just to avail its materials and services.
Besides, it's a one-time registration fee we're talking about. And that's inclusive of a 3-hour on-demand video, 2 articles, 6 downloadable resources, a certificate of completion, and full lifetime access on TV and mobile!
And if you're not satisfied with its products and services, don't worry. You can avail of their 30-day money-back guarantee promo. That's right, you can get everything back if you feel dissatisfied. Who else would give you such an offer?
However, many people fail to realize there are ongoing costs to this business model such as…
• Weebley hosting and domain: $25 a month per website
• Call tracker i.e. Callrail: $45 to $145 per month or Callsling and $498 one time fee (needed- but you get one included – note it doesn't work everywhere in the world)
• Email autoresponder to track leads: $15+ a month
• PO Box (to set up your business address): $19 to $75 for 6 months (needed)
• SpyFu (competitor keyword research): $33 to $199 a month / AHrefs (keyword research) – $99 a month
• PPC ads: $200+ a month (not needed but can help for speed)
• Outsourcing (some people pay others to build a website or do some of the tasks- not needed, but a great way to scale eventually)
LinkedIn Marketing reviews online
LinkedIn Marketing is one of Udemy's top-leading lead generation courses.
What it offers will indeed get you on top of others in the field of digital marketing. Hence, it gained good reviews from most of its students.
However, some view this course negatively. But, these are the people who were skeptical after hearing about this course.
Reluctance is one thing that hinders your dreams. If you're brave enough, take the first step towards success.
Common positive LinkedIn Marketing reviews
Easy to use
Content is udeful
Effortless lead generation
"The instructor is very knowledgeable about this subject and easy to understand."
"Ali gave useful strategies from start to finish that could be implemented. He shared tips and plugins to use in conjunction with the strategies."
"It is a good course, basic, well structured and Ali is a good teacher too."
Common negative LinkedIn Marketing reviews
Basic
Unclear audio voice
Limited chance of getting clients
"Contents were not bad, but Linkedin version was too old. I can't follow the direction."
"Just Need to be more insight and explanation on campaign ads and more."
"Will be revising and doing course again so will have better appreciation and will re-evaluate if permitted it again."
Is LinkedIn Marketing a scam?
Is this course a scam?
No, it's not.
Despite the negative things that others may say against this course, it's not a scam. And that's backed up with tons of positive reviews from students who found success using this course.
LinkedIn Marketing pros
Easy to understand
The things taught in this course help you towards success.
Using the LinkedIn platform, you can incorporate leads that could make a better outcome for your digital marketing business.
Detailed
Following the module of this course makes an easy understanding.

If you're new to LinkedIn, this course can guide your way through. Just follow its instructions and you're good to go.
Fun
Learning is fun using this course.
Its simplicity is the best. You don't have to hassle yourself with learning many things.
LinkedIn Marketing cons
Outdated
Although this course is easy to understand, its simplicity is a downfall.
It needs constant updates to compete with the latest trends in the market.
Lacks examples
Teaching is not just about input. You need to set an example based on facts.

This course is good, but it lacks solid examples so that beginners will find it easier to know more about LinkedIn marketing.
Needs an in-depth review
Focusing on LinkedIn is not bad.

However, the scope of this course is limited only to LinkedIn and how you can make money from it.
It needs to establish an in-depth review of how it would relate to other social media platforms.
My opinion – LinkedIn Marketing
Running a digital marketing business is hard especially without the right resources.
Good thing Udemy offers the best course that can give you the best outcome. If you want to succeed, learn from experts.
LinkedIn Marketing is one of Udemy's best courses when it comes to lead generation. Its techniques far exceed others. Is it a scam? My challenge for you is to take that first step towards success and see the gate of unending opportunities.
There are also many other better online business opportunities out there that you can try now…
How I make passive income online
In 2018 I had no idea what affiliate marketing was.
Once I learnt about it, it just seemed like a great business model that can grow over time using the power of the internet.
So I tried to figure it out by myself… that got me nowhere fast.
Then I fell for some terrible online scams.
But eventually, I found Wealthy Affiliate. It teaches long-term proven strategies to build an online business with all the tools & support needed.
And this happened…
Once you learn the process of getting thousands of people to find your website every month (for free) there really is not limit to what you can achieve online.
I've reviewed hundreds of courses or programs that claim to help people make money online. And I've spoken to dozens of 6-7 figure online entrepreneurs on my podcast.
This is by far the best place I've seen to help beginners get set up on the right foot. You can read my full Wealthy Affiliate review here (including the pros and cons!)
Or you can watch an insiders video I made that explains exactly how it works here.