Many years ago, successful sellers on Amazon had to perform an independent product search. Unfortunately, this process is extremely frustrating and time-consuming.
However, that is not the case today. There are tons of tools online that can help you.
One of these tools is Jungle Scout.
Jungle Scout helps sellers quickly estimate what products will be most profitable to sell and have the least competition in the Amazon marketplace.
This tool enables sellers to optimize their eCommerce profits on Amazon. In addition to that, it also helps lower the effort and time required to be successful.
If you want to be successful on Amazon and sell profitable products, you might be interested in Jungle Scout.
However, before you buy it, here are several things you should know.
This review will help you decide if it's worth trying by discussing its content, pros, cons, so you'll know if it is a legit way to make money online.
Disclaimer:
This Jungle Scout review has been thoroughly researched with information and testimonials that are available online to anyone in the public. Any conclusions drawn by myself are opinions.
Jungle Scout review: The overview and rankings
Name: Jungle Scout
Owners: Greg Mercer
Type: Ecommerce course
Price: $39/month or $228/year for extension, $69/month or $588/year package
Best for: Anyone who wants to learn e-commerce through Jungle Scout to make good money.
Jungle Scout Pros
Accurate data
Beginner-friendly
Good customer support
Jungle Scout Cons
There is a confusing price
Problems with the scoring have been identified
No Free trial
Expensive
Lack of Security
No mobile app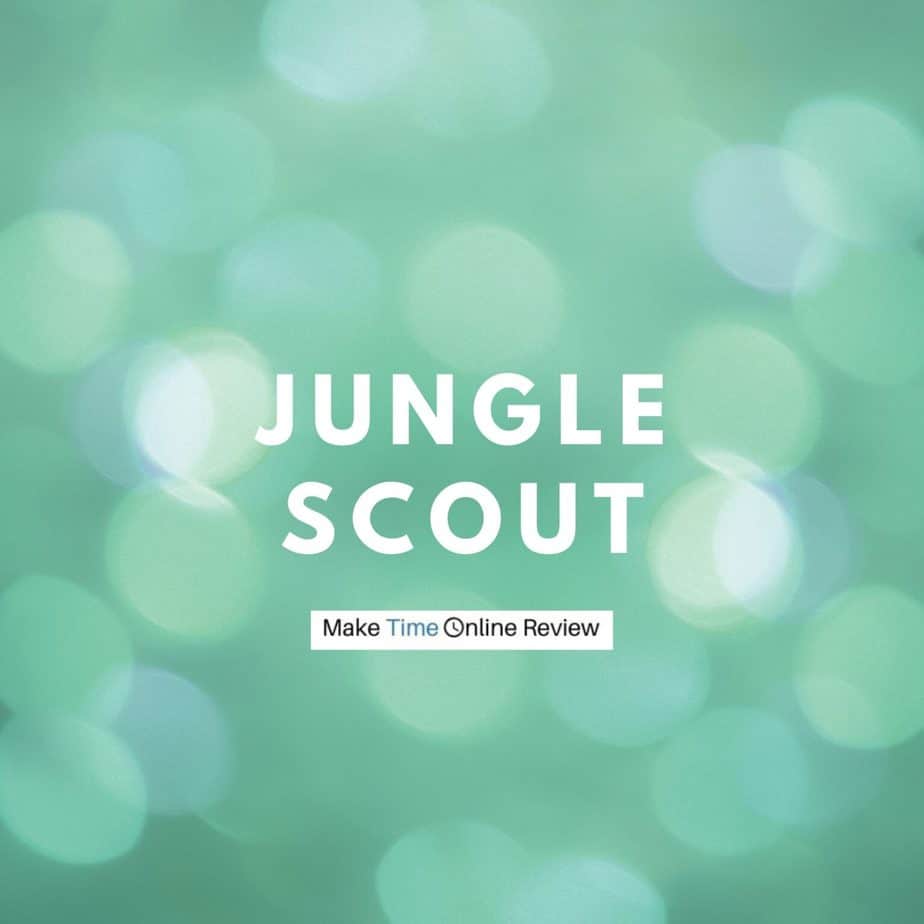 Summary:
AmazingJungle Scout is an ecommerce course that teaches you how to make money online through effective drop shipping in Amazon.
Make Time Online Rating: 45 out of 100
Recommended: No
What is Jungle Scout about?
When trying to build a company that provides passive revenue of several hundred to several thousand dollars per month, finding successful goods is the lifeblood of any business, and this software makes it easier than ever.
For less than the price of a night out on the town or even lunch in some cities, you may gain immediate access to statistics like search volume, keyword usage, competitive analysis, sales projections, and a profit calculator. As a result, you will be happy investing your time.
Moreover, Jungle Scout has a high degree of accuracy. It's not 100% accurate, and you'll need some familiarity with the Amazon marketplace, but it's solid nonetheless.
There are a lot of new business owners who need to take Jungle Scout at face value. This is a bad idea.
As such, it is meant to serve as a point of reference rather than as the last say on any given issue. It suggests relying on the strange, aqueous mass of neurons in your brain for challenging tasks.
One of the most difficult marketplaces to enter is Amazon. Even if you already have a successful business, you've got to be prepared constantly.
You need to continuously outperform competitors and improve your products. Because of this, you will need several tools to help with your problem.
This is where Jungle Scout comes in. It's a comprehensive tool that can help Amazon sellers guide them through the biggest marketplace in the world.
This tool is one of the most popular tools for selling on Amazon. It has a data-driven and powerful technology that helps you and your business become successful on Amazon.
Jungle Scout helps in a lot of aspects. This includes listing management capabilities, branding, market intelligence, product research, and much more.
Since 2015, Jungle Scout has helped more than 500,000 sellers on Amazon.
With this tool, you can automate review requests, manage finances and inventory, create product listings, look for suppliers, conduct keyword and product research, and more.
Check out this 7-minute video to know more about Jungle Scout…
So, who created this Local Lead Generation 101 in the first place?
Who is Greg Mercer?
Greg Mercer is the founder of Jungle Scout.
Before creating this tool, Mercer was an Amazon seller as well and was earning an 8-figure profit.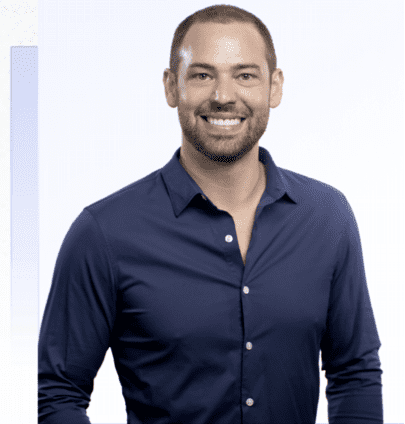 Aside from understanding how not to sell products on Amazon, Mercer also knows how to make money in the process.
Because of his skills, Mercer won the Best Amazon Seller award from the Seller Awards. Today, Mercer is one of the most well-known personalities in the eCommerce industry.
He joined a lot of eCommerce and Amazon seller-centric expos and conferences. This includes Brand Accelerator, Sellers Summit, and SellerCon.
Mercer was also featured in Forbes in 2016.
So, how does the course work?…
Ready to make passive income online?
Hey, I'm Mike.
I created a passive income online within a year. I had no marketing skills or online experience when I started.
How does Jungle Scout Work?
Jungle Scout offers a variety of product research tools.
These tools help sellers figure out the profitability of various products they plan to sell.
When you buy Jungle Scout, you've got two products to choose from. You can either choose the Jungle Scout web app or the Jungle Scout browser extension.
These platforms have various functionality. However, you can choose to use them both.
Inside Jungle Scout
The most popular features of Jungle Scout are providing powerful resources and information, promoting the products, and estimating sales.
All of these features help you and your business to successfully grow on Amazon.
Relevancy Score
This is one feature in Jungle Scout. It's a score that shows how relevant a particular term is to your original search.
If you already extensively know your product or niche, this feature is not quite helpful.
On the other hand, this is quite useful if you are still learning. This feature helps you understand a slang term, a synonym, or jargon to improve your listing and its quality score.
Keyword Difficulty and Ease of Ranking
This is another feature in Jungle Scout. It's a score of 1 to 100 that shows how hard it is to rank for a particular term.
More detailed and longer terms such as "men's flat feet workout shoes" are typically low. On the other hand, terms such as "men's shoes" will be almost impossible.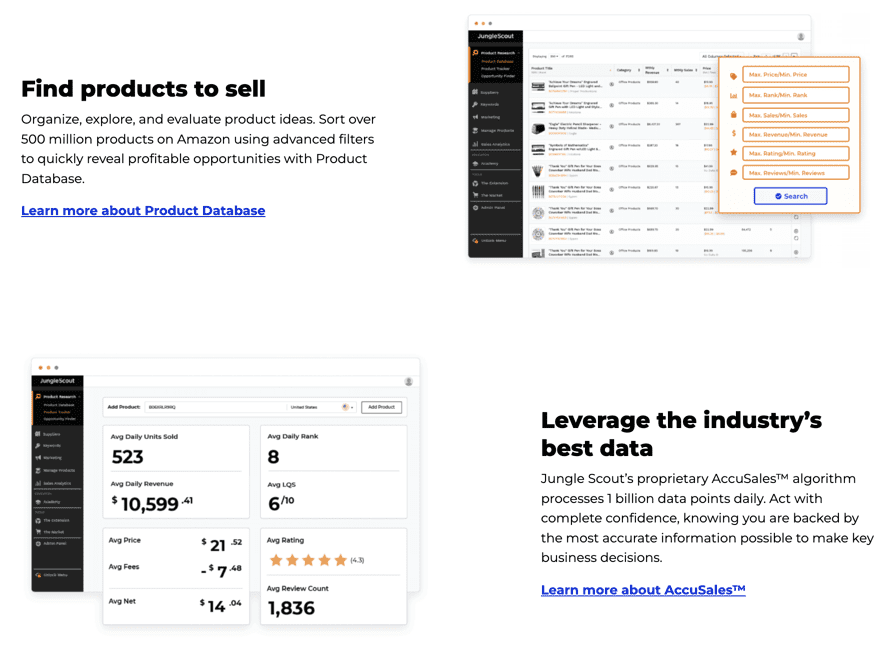 Keyword Scout
If you want to be successful on Amazon, you need to perform keyword research. You want to ensure that individuals are actively looking for your product.
In addition to that, you want to ensure that your listings are optimized to match the search queries of the consumers.
Many years ago, looking for the correct keywords was more of a trial-and-error process. However, that is not the case today with Jungle Scout.
Product Database
Jungle Scout also provides a database of all the products listed on Amazon. It contains more than 70 million products from the catalog of Amazon.
Since there are tons of products available, it can be difficult to search for a specific item. Luckily, Jungle Scout offers a preset filter feature that provides you with immediate inspiration.
This preset filter feature allows you to pick the most common criteria for a product. For example, you can filter products by low competition and high demand.
Unfortunately, many Amazon sellers ignore the product database. This is particularly true for amateur ones. You should not be one of these people.
There are a lot of excellent details in the product database. This includes product ranking, international marketplaces, profit calculators, and much more.
Product Tracker
This is another feature in Jungle Scout that enables you to see the whole sales history of a product.
For example, you can search for a particular pair of men's shoes. After searching that product, it will immediately provide you with the sales trends, search volume, weight, fees, rating, average price, and much more.
This feature offers you real-time data on the sales history of the product.
If you're looking for a comprehensive view of the history of a product and assess its possibility to be the next big thing, all you have to do is to look it up in the product tracker.
You will get inventory in stock, units sold, price, best seller rank, reviews, and much more.
This offers you a data-driven and much safer way of researching than simply following your guts.
Niche Hunter
For those who don't know, I am a product research nerd. Because of this, my favorite feature in the Jungle Scout app is the Niche Hunter.
This feature helps you figure out profitable keywords, products, and niche ideas based on various parameters. This includes opportunity score, average price, listing quality score, competition, and product category.
All you've got to do is to set the parameters. After that, the tool will provide you with a list of excellent keyword ideas and niches to explore.
Then, you can dig deeper into the data to see details about the most well-known products in every niche.
With this, you can get a better idea of how profitable that niche is before you invest money and time in it.
Check out this long 31-minute video to give you a better understanding of Jungle Scout…
Let us move forward and learn more about…
How do you join Jungle Scout?
As you can see, there are tons of useful tools that you can get if you buy Jungle Scout. So, if you want to be successful on Amazon, you might want to consider joining Jungle Scout.
How can you join Jungle Scout? Fortunately, the process is quite easy.
All you have to do is to visit the Jungle Scout website.
Once you are on the homepage, you will find a "Sign Up" button in the upper right corner. Click that button.
Then, you can see all plan options by toggling between yearly and monthly. Once you pick the right plan for your needs, click the "Buy Now" button under the plan.
Next, you will have to enter your email address and password. Once you're done, click the "next" button below.
Lastly, prepare your credit card details to pay for the product. Then, you will have to follow the instructions to finish your purchase.
How much does Jungle Scout cost to join?
As mentioned earlier, you've got two options to choose from if you want to join Jungle Scout. You can choose between the Jungle Scout App and the Jungle Scout Brower extension.
If you simply want the extension, you will have to pay $39 a month or $228 a year.
Keep in mind that this is only a basic package. It offers you access to the browser extension. This plan might be ideal for you if you simply want to try out the features of Jungle Scout.
However, you might not get the tools that you need if you want a complete product. Because of this, you need to purchase the Jungle Scout App.
Jungle Scout monthly cost
The Jungle Scout App costs $49 a month or $468 a year.
This package offers you access to all of the features of Jungle Scout. However, it does not include the browser extension.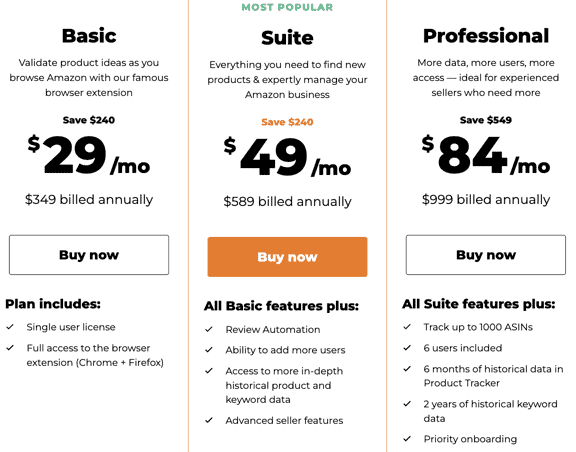 If you want to use the full power of Jungle Scout, you need to purchase both the App and Extension.
It will cost you $69 a month or $588 a year.
This is perhaps the best package for you if you're a full-time seller on Amazon.
If you choose the yearly plan, you will only pay $120 for the extension.
This is an extremely useful tool if you incorporate the other features of Jungle Scout.
However, many people fail to realize there are ongoing costs to this business model such as…
• Weebley hosting and domain: $25 a month per website
• Call tracker i.e. Callrail: $45 to $145 per month or Callsling and $498 one time fee (needed- but you get one included – note it doesn't work everywhere in the world)
• Email autoresponder to track leads: $15+ a month
• PO Box (to set up your business address): $19 to $75 for 6 months (needed)
• SpyFu (competitor keyword research): $33 to $199 a month / AHrefs (keyword research) – $99 a month
• PPC ads: $200+ a month (not needed but can help for speed)
• Outsourcing (some people pay others to build a website or do some of the tasks- not needed, but a great way to scale eventually)
Jungle Scout reviews online
When you read reviews online, you'll notice that Jungle Scout mostly has tons of positive reviews.
A lot of people claim that the tool played a vital part in their success on Amazon.
You should not hesitate to purchase this tool if you're planning to start a business on Amazon. This tool is extremely useful for assessing the competition.
A lot of users particularly love the product tracker since it helps them see how products perform over time.
Common positive Jungle Scout reviews
Many positive testimonialsUseful features and detailed analysis of products
High-quality customer support
Excellent accuracy of projections
Learning tips for beginners
User-friendly and intuitive
Here is what we have seen in G2…
"The data capabilities are super useful. They're constantly making it better, and I know that my clients and prospects are always impressed with the level of data we can show them (via Jungle Scout)."
"Jungle Scout is super versatile in what filters you can use to find the products you're looking for."
Common negative Jungle Scout reviews
If you don't know what you're looking for, the opportunity score metric is pretty useless
The pricing can be a little skeptical
There is no free assessment
The apps are a bit costly
There are a couple of bugs
And here is one of the most common negative reviews about Blue Sky Amazon that we have seen in G2…
"Sometimes the data is not totally accurate, so we have to hedge that when presenting to clients. Additionally, the parent/child ASIN dynamic can get a bit confusing."
"The only thing I see as a Con is that Mexico's Market is still limited. I have a couple of colleagues that use Hellium 10 and the stats are a bit more accurate and diverse than JS's, speaking exclusively about the Mexican market."
Is Jungle Scout a scam?
The short answer to this question is no.
Jungle Scout is not a scam.
While it is a little expensive, it's one of the best Amazon research tools available.
It is extremely well worth the money, especially if you are serious about growing your business on Amazon.
Also, if you think you're not getting the benefits, you can ask for your money back within 2 weeks.
Jungle Scout pros
Here are some of the best things that I like most about Amazing Selling Machine…
Accurate data
Jungle Scout offers detailed and accurate predictions of offers and sales.
This is a very good sign because it shows that it is really a legitimate course with actual and specific facts.
Beginner-friendly
Jungle Scout will systematically help beginners and newbies via basic business tactics.
They also teach different terminologies, which is a great thing because this makes the learning process much easier for everyone.
Good customer support
If you experience issues while using the app, Jungle Scout has excellent customer support services that are available 24 hours a day and 7 days a week.


This is another great thing because you can easily communicate to the team if ever you encounter some problems or difficulties in going through with the course.
Jungle Scout cons
And here are the not so good things that I consider as red flags for Amazing Selling Machine…
There is a confusing price
Yet, the price increases as more are sold, so I suppose we shouldn't grumble too much.
Problems with the scoring have been identified
The "opportunity score" is a very useful indicator. It's only comprehensible when placed in its proper setting. It can be wronged to you need to know what else to look for.
As mentioned before, you need more to grow in a crowded sector.
No Free Trial
Unfortunately, most platforms do not provide a free trial. With a risk-free 30-day trial, you can enhance or restore your reputation.
Expensive
Jungle Scout can often be quite expensive, especially if you choose the Suite Plan.
This is a bit downturn for me because there are many other choices out there that have lower costs.
Lack of security
The platform is not that secure.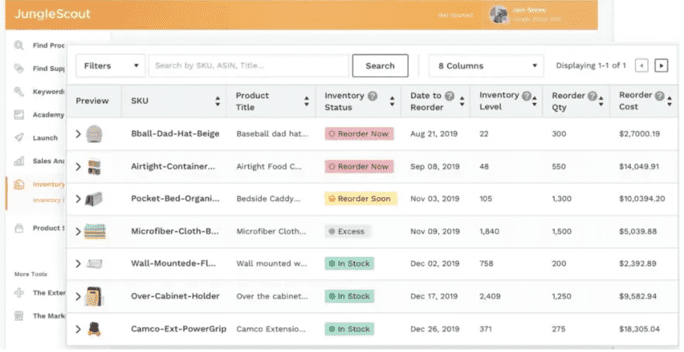 There is a huge risk of loss of sensitive data since integrations throughout the chrome extension and app lack security.
No mobile app
Unfortunately, Jungle Scout does not provide a mobile application.

This greatly compromises the convenience of a user, especially that almost all today are already using their smartphones to access the internet and make online communications.
Ready to make passive income online?
I've created a growing passive income online with no previous marketing skills or online experience…
I've made a special video for you to explain exactly how I did this.
My opinion – Jungle Scout
Jungle Scout is always working hard to accommodate exciting and new tools for Amazon sellers.
They will always add new resources, products, and features to improve the app.
For me, I think that Jungle Scout is worth the money. This is particularly true if you want to be successful in Amazon.
Jungle Scout has all the features that an Amazon seller might need, from tracking products to finding the right product niche.
This tool has led the way for a lot of successful Amazon businesses. The truth is that it has become virtually a crucial tool to succeed on the platform.
To make things short, Jungle Scout is a product that you should consider today or in the future.
There are also many other better online business opportunities out there that you can try now…
How I make passive income online
In 2018 I had no idea what affiliate marketing was.
Once I learnt about it, it just seemed like a great business model that can grow over time using the power of the internet.
So I tried to figure it out by myself… that got me nowhere fast.
Then I fell for some terrible online scams.
But eventually, I found Wealthy Affiliate. It teaches long-term proven strategies to build an online business with all the tools & support needed.
And this happened…
Once you learn the process of getting thousands of people to find your website every month (for free) there really is not limit to what you can achieve online.
I've reviewed hundreds of courses or programs that claim to help people make money online. And I've spoken to dozens of 6-7 figure online entrepreneurs on my podcast.
This is by far the best place I've seen to help beginners get set up on the right foot. You can read my full Wealthy Affiliate review here (including the pros and cons!)
Or you can watch an insiders video I made that explains exactly how it works here.