Looking for an additional source of income is what many are doing now.
And in your search to find that ideal business opportunity, you might have then stumbled on this work from home opportunity that goes by the name, Gourmet Cupboard.
But you are asking yourself…
Is Gourmet Cupboard a scam?
Well, to put you out of misery and dread thinking about it…
No, Gourmet Cupboard is not a scam.
So if no, then does this mean it is a legit opportunity to make money from home and leave your day job?
This Gourmet Cupboard review, along with a multitude of photos, videos, images, and never before head pros and cons, is going to help you make the right decision.
Gourmet Cupboard Review
The overview and rankings
Name: Gourmet Cupboard
Founder: Melissa Holmes, Judy Baker
Type: Food MLM
Products (Including Pricing):
Success Stories: 30/100
Price To Join MLM: $20 to $100
What to look for in a MLM:
Low start-up fee & maintenance cost
High-quality affordable products
You don't have to carry inventory
An affiliate-like system
Generous compensation plan
Company is in the early momentum phase
Gourmet Cupboard Pros
Positive product reviews
Operating for a long time
Gourmet Cupboard Cons
Expensive products
Hidden monthly expenses
Pyramid scheme in disguise?
Downward trend
Summary:
Gourmet Cupboard is an MLM company that sells pre-packaged food mixes. Aside from that, they also have members from around the globe who serve as agents selling their products to earn commissions from sales.
Make Time Online Rating: 30 out of 100
Recommended: No
Here's my top recommended program >>
What is Gourmet Cupboard?
Gourmet Cupboard is a Multi-Level-Marketing company founded by Melissa Holmes and Judy Baker. They are a mother-and-daughter team, and the company sells pre-packaged food mixes.
The Gourmet Cupboard was founded in 2001 by Melissa Holmes and her mother, Judy Baker. The company manufactures and distributes Gourmet Mixes with the help of multi-level marketing.
The whole idea for Gourmet Cupboard started when Melissa began making homemade gifts that consisted of Ziploc bags filled with food items that she distributed to family and friends. The people she gave them to loved them, so they decided to build a business around this concept.
The team has decided to go full-on with their business, and now the company has a lot of recipes and gift ideas that they are ready to share with the world.
Its gourmet product line offers soups, meals, side dishes, sweet and savory dips, teas, coffee, muffins and bread, desserts, and much more.
Simply put, they try to make cooking easier for their customers, and I can see the appeal of the products. The products look like they are high-quality, and the best part is that they are consumable.
Check out this 1-minute video that shows the founders talking about their company…
So, you might be asking…
Is Gourmet Cupboard a pyramid scheme?
Gourmet Cupboard is not a pyramid scheme.
This is because company members are still able to make money through the selling process of their packaged food mixes without the need to recruit more people.
Since Gourmet Cupboard members earn money by selling services and recruiting new members, it is safe to say that it is not a pyramid scheme.
However, since Gourmet Cupboard is still an MLM, do not expect to make money if you have no plans to recruit people. Recruiting will earn you significantly more money than actual product selling and is more encouraged.
A pyramid scheme is a type of scam in which people are promised money for joining the scheme and recruiting others. No selling of a product or service is involved whatsoever.
So you might be wondering where the money comes from.
The people that join are expected to pay a one-time fee; in exchange, they get a percentage of the fee of everyone they recruit after that.
From a mathematical standpoint, everyone can't make money because you run out of people.
But even if recruitment is not the main focus here, as what they say, it is still smart to ask…
Is Gourmet Cupboard a pyramid scheme in disguise?
What is a pyramid scheme?
A company that promises payment to members for recruiting more people into the company rather than selling a product or service.
Wikipedia did a good job in visualizing how pyramid schemes look like from their chart below…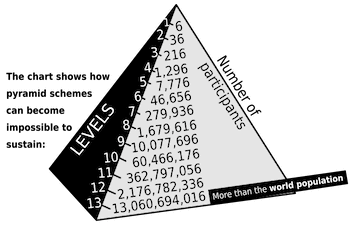 As you can see, the members who make the most money from this company are the only ones who recruit loads of people.
And looking at the diagram above, you'll clearly see that there is no way all of their salesmen can earn from this system because they will be running out of people to recruit sooner or later
The 5-minute video below can help you spot a pyramid scheme in disguise…
Success is rare with Gourmet Cupboard
Being successful is very hard if you are in an MLM, even if you work really hard day and night. The same thing happens to Gourmet Cupboard.
In fact, a report states that around 72.5% and 99.9% of MLM members don't make money, and worse, they're losing serious cash…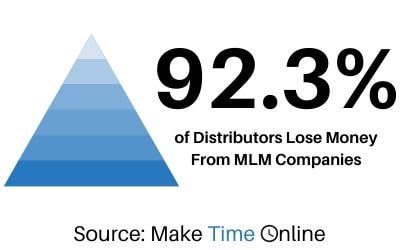 This is because of the sales quota these companies impose on their members. And the members must achieve so they can stay active and get commissions, bonuses, and perks…
If they are unable to do this, then they buy the products for themselves just so that they can stay active.
This is the reason why truckloads of cash are lost from the savings of members before they can recruit their first downline members…
Ready to make passive income online?
Hey, I'm Mike.
I created a passive income online within a year. I had no marketing skills or online experience when I started.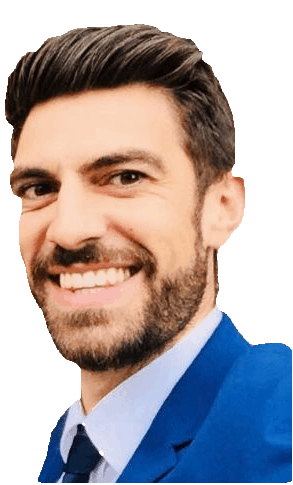 Find out how you can too
How does Gourmet Cupboard Work?
Gourmet Cupboard sells pre-packaged food mixes that they say are made only from the best gourmet ingredients.
They also have a business opportunity where members can join as salesmen. They then sell their products in exchange for commissions.
Sounds nice, right?
Well, hold your horses because this is where the tricky part starts…
Gourmet Cupboard does all of this just to avoid the expensive marketing campaigns because they just let members do all of the promoting, marketing, and selling…
Gourmet Cupboard products
If you really want to be a part of this company, then it would be best for you to the stuff they sell. This way, you'll know what you are really getting yourself into.
Gourmet Cupboard's best selling products are:
Meal of the Month ($46) – This changes monthly depending on the demand. For the month of May, their Meal of the Month are made up of:
Asian Pork Wraps
Tortilla Soup
Creamy Wild Rice Soup
Crowd Pleasin' Cowboy Stew
Tex-Mex Soup (Confetti Fajita Chicken Soup)
Chipotle Chicken Quesadillas (using Spicy Chipotle Dip Mix)
Baked Potato Soup
Creamy Chicken Stew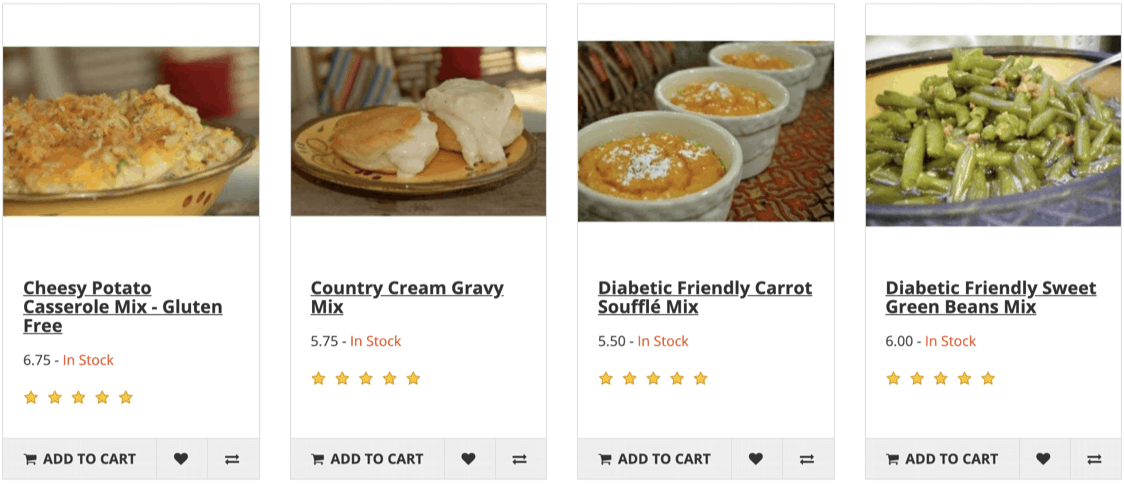 Cookie Dough Dip Mix ($6.75) – Perfect for dipping sweet crackers or sliced apples. You can also add some bits of cream cheese, butter, and peanut butter on this.Cheesy Potato Casserole Mix ($6.75) – A classic casserole mix. Just add water, 1 can of cheese soup, milk, and margarine. Then top it with grated cheese and fried onions for extra treat! It's also gluten-free.
It sure sounds really nice, unique, and special.
But know that there are already loads of similar MLMs that sell related stuff and follow a very similar business model.
Some of the most known ones are:
This means that you'll have a hard time selling these kinds of products because of the number of competitors. This is especially true knowing that you're just selling packaged meals.
I mean, you can just buy any food you want out there and have them delivered, right?…
I can't find any video that shows their compensation. plan. But here is one of Gourmet Cupboard's video showing how they prepare their meals. It's just a short 1-minute video…
Can you make money with Gourmet Cupboard?
Of course, you can. But it is very difficult to make money from Gourmet Cupboard.
It's not that easy to sell pre-packaged foox mixes, because not really many people are interested in them!
They don't even have an income disclosure to show if the company or, at least their members, are actually earning.
How to make money with Gourmet Cupboard
There are 2 main ways members can make money fro Gourmet Cupboard.
And that is by:
Selling their food mix products
Recruiting members into your downline
But remember that members can only earn money from the sales that their downlines make. So, that's not from the recruiting that they do!
That's a smart way for the company to avoid the authorities from calling them as a pyramid scheme because recruiting isn't happening directly…
How much does it cost to join Gourmet Cupboard?
You only have to pay a very affordable subscription fee of $25.
Take note that this is reflected as the amount or value of product that you buy initially, so you can become a member. So, you need to buy at least $25 worth of products…
Sounds pretty nice, right?
But then again, there's a catch…
Gourmet Cupboard monthly cost
You should also maintain a 33 PV every month.

What's this PV?
Well, it stands for personal volume, or the price of products you should sell monthly.
In other words, you must sell at least $33 of products every month for you to stay as an active member and earn commissions from downlines…
Gourmet Cupboard compensation plan
MLMs always have confusing compensation plans. And Gourmet Cupboard is no different,
They always have silly and fancy names that are divided into different categories so that people can think that there are many different ways they can earn from the company.
When the fact is, there's really just a few!
So, I'll simplify things up here for you…
Gourmet Cupboard has 3 main ways for members to make money:
Retail commissions – Earn 15% to 20% commission from every product that you sell.
Recruitment commissions – Earn 5% to 10% commission every time your downline members sell.
As you can see, it's all just about…
Selling Gourmet Cupboard
Recruit members into Gourmet Cupboard
It's really that weird because all you do is sell and recruit. And you still do that even though you already know that most, if not all of the members you are going to recruit is going to lose money!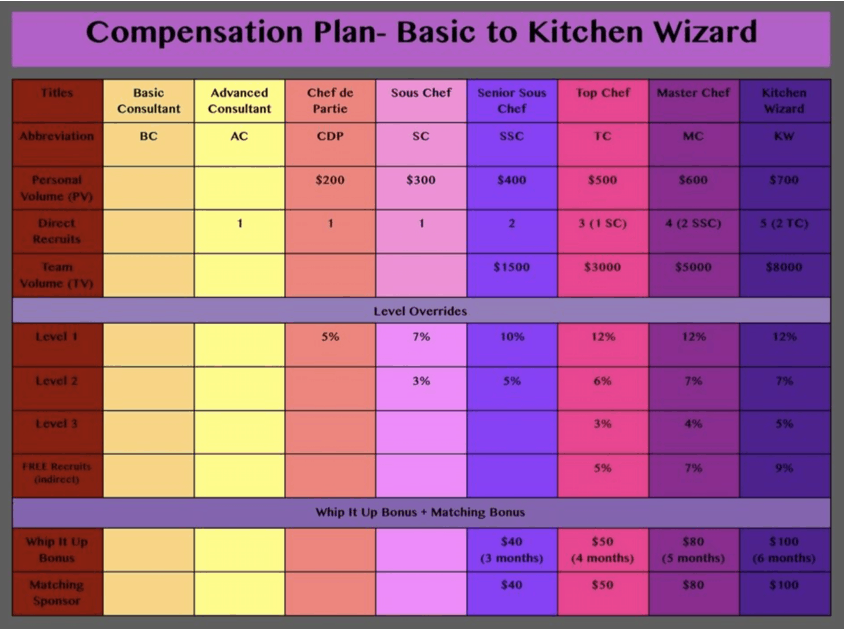 I could not find any video about their compensation plan, but here is a 9-minute video that'll show you the products you are going to sell…
You can also check out the full compensation plan here.
Is Gourmet Cupboard a scam?
HealX Nutrition is not a scam.
Why?
It's because they're selling quality and delicious gourmet packed meal products. They also pay their members as what is stated in their compensation plans…
But many are disappointed whenever they see that they're not making good money because they sell hard-to-sell products in a saturated market that hardly anyone is interested in…  packed meals!
This is why most members label the company a scam.
I'll go deeper into this in the next section of the review as I'll be showing you the pros and cons of this company.
Just to be fully transparent with you, I am not a distributor myself and I do not endorse it in any way.
I have researched the website, testimonials and information on the Internet to get to the bottom of what this program genuinely does. This is because I have been burnt from programs just like this in the past and I want to prevent others from making the same mistakes. If you'd like to learn how to "Spot an Online Marketing Scam" then click the highlighted text.
Tired of MLMs? Check out how I make money online here!
What I like about Gourmet Cupboard
Gourmet Cupboard isn't all about the disadvantages. They also have a few pros…
Key Terms:
Pyramid Scheme – recruits members via a promise for payment from recruiting others into the company rather than providing a product
Affiliate Marketing- Connecting a customer to a product they are looking for and receiving a commission for doing so
Red Flag – A warning sign
#1 Positive product reviews
One of the best things I like about Gourmet Cupboard is that it's got loads of positive reviews from customers.
Just take a look at these…
As you can see, there are a lot of satisfied customers, which just shows that they've been making quality meals all this time.
#2 Operating for a long time
Gourmet Cupboard has been founded back in September 2006 by a mother and daughter tandem in the likes of Melissa Holmes and Judy Baker.
This means that they have been operating for more than 14 long years! They have also built a strong fan base foundation.
So, that's a good way to say that this won't go anywhere and be bankrupt in the near future.
What I don't like about Gourmet Cupboard
Then there are the disadvantages that just makes me want to turn away from Gourmet Cupboard
#1 Hard to sell products
Gourmet Cupboard sells pre-packaged meal and food mixes just like salads, gravies, dips, and even cookbooks or what nots!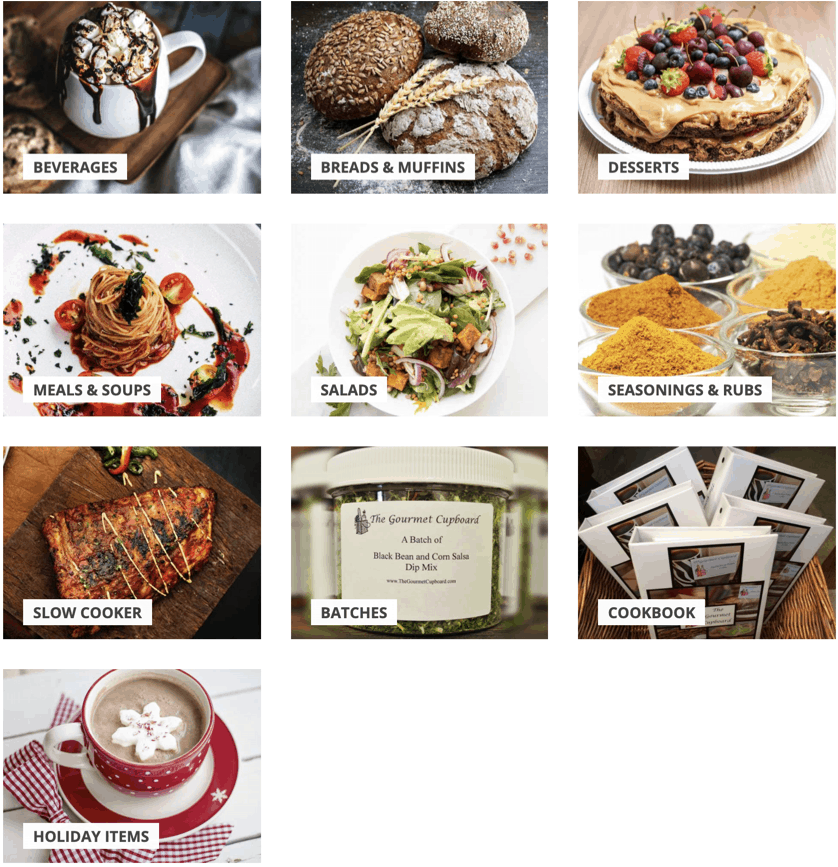 If you were to think of that, do you think that you can easily sell these kinds of meals?
Also, add in the fact that they're placed in Ziploc-like bags and sold for $10 to even $50 at most!
Common sense kicks in, and you'll know for sure there's no way you can easily sell these because very few people, if not no one, is going to be interested in these…
#2 Hidden monthly expenses
They say that there's no quota, right?
Well, there is. They just said it in a slightly different way.
You have to sell at least $33 worth of Cupboard Gourmet products to stay active and earn all of the perks of being a member.
If not, then you just buy them yourself. And what happens? Well, you lose money just by doing your best to become a member…
#3 Is Gourmet Cupboard a pyramid scheme in disguise?
Of course, you can earn by selling their meal products. But you can't make good money if you don't recruit members.
Here is a visual representation of how they system works…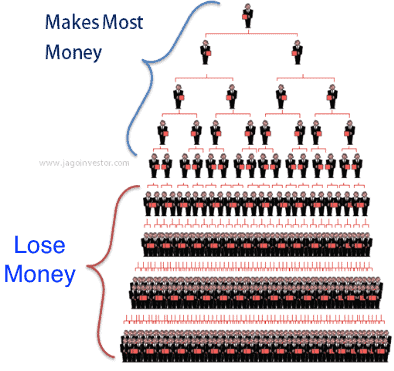 Basically, what's happening is that the more people you recruit, the higher chances of you making money.
It's just recruitment at the end of the day. So with this, we can dismiss the company as a pyramid scheme in disguise…
#4 Downward trend
Then there is what I found in Google Trends…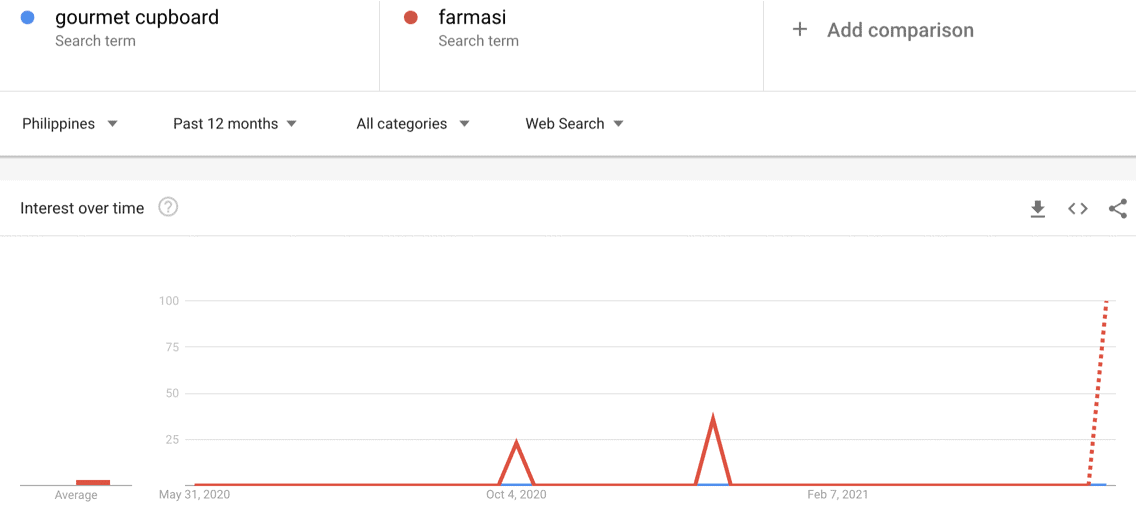 You can clearly see that not many people are searching for Gourmet Cupboard which is outlined in blue. Compare that with Farmasi, a well known and reputable MLM, and you'll see how stark the difference is.
This is also another way of showing that you are going to have a hard time selling their products because not many people are interested in it…
Ready to make passive income online?
I've created a growing passive income online with no previous marketing skills or online experience…
I've made a special video for you to explain exactly how I did this.
Yes, show me how
My opinion – Gourmet Cupboard
Here are my final two words for this MLM called Gourmet Cupboard…
This business opportunity is not good.
Yes, you can make some money by making commissions from the products you sell. You can also earn some cash through recruitment and also making commissions from the sales of your downline members.
But you do all of these in a way that's very time-consuming. You can even act like a full-time sales manager without earning any salary, but only a few dollars from commissions.
What's worse is that you recruit as many people as you can even if you already know that they are just going to lose money in the process.
There are more better ways to earn money from a legit business opportunity or campaign…
How I make passive income online
MLMs are not scams or illegal. However, I'm not a fan of them because of the restrictions to the expensive products you have to promote.
Once I learnt about affiliate marketing, I realised it's a far superior business model because:
You can promote anything you want and truly own the business
You never need to sell to friends and family
It's completely free to start
In 2018 I had no idea what affiliate marketing was.
But I went from a full time PE teacher to making a passive income online within one year…
If you want to discover how I did it then check out this special video I created which explains exactly how. You can also get your free 7-day bootcamp to get started.
Discover my secrets >>