Using social media for your digital marketing business enhances the opportunity to earn profit.
Most people are using the social media platform which makes it the best outlet for lead generation. The lead generation system allows a digital entrepreneur to maximize his sales by creating leads for potential clients.
Once people decide on clicking your links, it takes them to your website which showcases your products and services.
As such, knowing how to use social media to your advantage is a must.
Let's take a look at how to utilize the Facebook Ads course for your digital marketing business. 
This review will help you decide if it's worth trying by discussing its content, pros, cons, so you'll know if it is a legit way to make money online.
Disclaimer:
This Facebook Ads Marketing review has been thoroughly researched with information and testimonials that are available online to anyone in the public. Any conclusions drawn by myself are opinions.
Facebook Ads Marketing review: The overview and rankings
Name: Facebook Ads Marketing
Owners: Yasir Ahmed
Type: Lead generation course
Price: $89.99
Best for: Anyone who wants to learn lead generation through Facebook Ads to make good money.
Facebook Ads Marketing Pros
Easy to apply
Thoroughly explained
Useful guide in digital marketing
Facebook Ads Marketing Cons
Outdated
Needs better graphics
Costly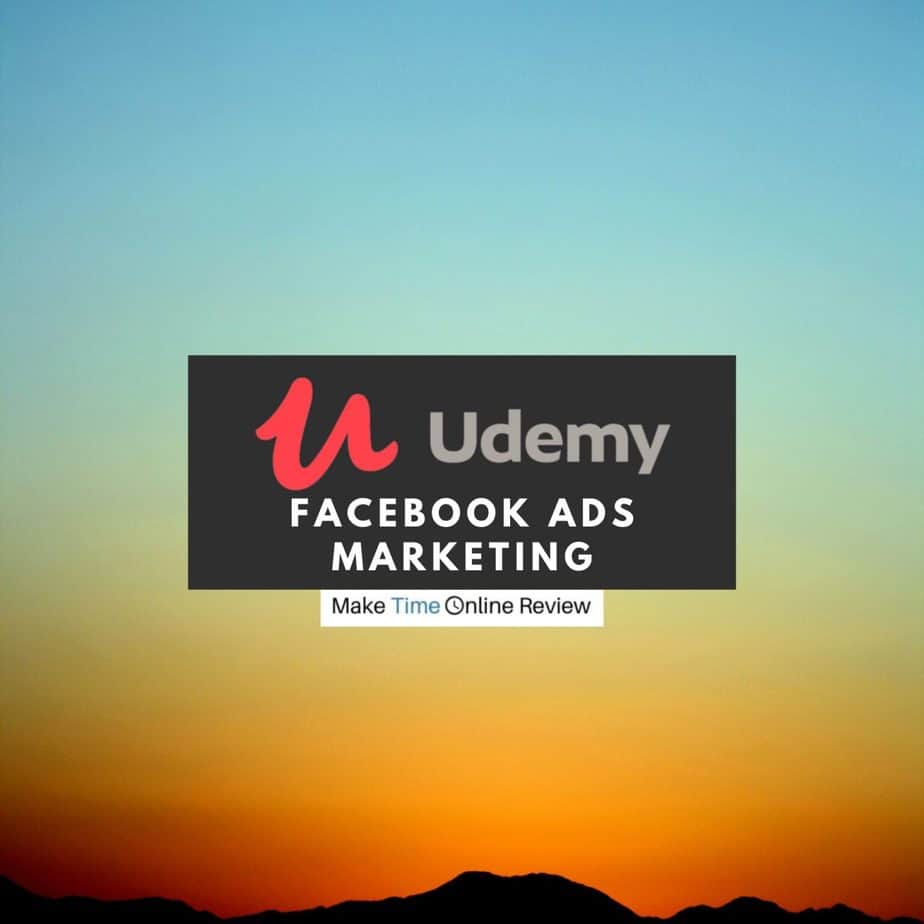 Summary:
Facebook Ads Marketing is a lead generation course that teaches you how to make money online through effective local lead generation.
Make Time Online Rating: 30 out of 100 
Recommended: No
What is Facebook Ads Marketing about?
Facebook is one of the biggest social media platforms.
It allows people to connect and share their lives with other individuals. But did you know that Facebook is also the perfect spot in digital marketing?
Facebook marketing is the practice of promoting a business and brand on Facebook. It can help businesses build brand awareness, grow an online following, gather leads, and sell more products or services.
With approximately 2 billion users, Facebook reaches audiences from almost every age group and social background. As a small business owner, however, you may wonder if Facebook Ads can effectively advertise your company, and the answer is yes!
Facebook delivers a powerful platform for businesses to connect with potential customers and share personalized ads about their offerings. 
Facebook — the world's most popular social media platform – is an excellent platform for promoting your business, connecting with your customers, and building a loyal community of engaged followers.
Facebook Pages are the gateway for businesses to market to this holy grail of users. 
A Facebook Page is a public presence similar to a personal profile but allows fans to "like" the business, brand, celebrity, cause, or organization. 
Fans receive content updates from the Page on their News Feed. At the same time, the company can raise brand awareness, deploy and track advertising, collect detailed audience insights, and chat with users who seek customer service.
Yes! If you know anything about digital marketing, utilizing Facebook Ads is your best choice to earn profit.

By doing so, you won't have to think about anything that might hinder your digital marketing business. Your goal is to gain more and more customers. 
The best way to do this is by flooding Facebook with your Ads. If you're new to digital marketing, don't worry. All you have to do is make a link on Facebook that would take somebody to your website. 
When this happens, advertising what you can give is just a piece of cake. Just wait and let Facebook do the hard work of getting clients for you. You'll be surprised how many clients you can make by using this course.
So, who created this Local Lead Generation 101 in the first place?
Who is Yasir Ahmed?
You might wonder whose idea this course is.
Well, the man behind the Facebook Ads course is Yasir Ahmed.
He's a Facebook Ads expert with more than 3,200 reviews, more than 30 courses, and 200,000 plus students…
Quite a man, right?

His passion for teaching digital marketing courses led to unimaginable heights. As such, he's been teaching Facebook marketing, SEO, PPC, Instagram Marketing, Google Ads, YouTube video advertising, and other social media marketing training. His goal is to share his expertise with individuals looking for financial success in digital marketing. 
As a mentor, he made it his mission to help people achieve financial freedom. The unending rat race is over. It's time to innovate and move forward. 
Ahmed is an MBA holder that works as a digital entrepreneur. With more than 4 years of experience, Ahmed worked with more than 40 companies. His years of experience and career taught him the ups and downs in life. 
His influence runs across Pakistan, the United Arab Emirates, and the United States of America. His advertising campaigns gave people the chance to work in the field of digital marketing. With a minimum ROAS of 4x in Ecommerce, Ahmed is a seasoned digital marketing coach.
So, how does the course work?…
Ready to make passive income online?
Hey, I'm Mike.
I created a passive income online within a year. I had no marketing skills or online experience when I started.
How does Facebook Ads Marketing Work?
Now that we know a bit of background about this lead generation course, let's find out how this works. So, if you want to make an exceptional income in digital marketing, how are you supposed to do it? Looking at Facebook Ads Marketing gives us the solution to maximize your profit. 
Do you wanna know how? Well, hold down your horses as we discuss some of their important features. Running a digital marketing business will be much easier using this course. 
Facebook Ads Marketing is designed to utilize Facebook as a medium in digital marketing.
Since Facebook is used by most people worldwide, your marketing scope also increases. As such, it's important to use this opportunity to your advantage.
By creating Facebook Ads that lead people to your website, your advertising strategy is enhanced. You don't have to do cold calling to ensure clients. This method is perfect as it gives you the chance to attract customers with just a single glance.
Facebook Ads Marketing allows you to create leads for potential clients. You can also gain access to Facebook Pixel, an application that gives you the chance to monitor people's behavior while they're on your site.
By doing so, you will learn how to deal with clients by enhancing specific areas of your website…
The advertiser is charged when a Facebook ad earns an impression, click, or purchase. How much an advertiser gets charged depends on their budget and bid, which they set before launching a Facebook ad.
Getting the most value and best results from Facebook ads requires utilizing the targeting options available. These targeting options, which range from location to workplace, are critical to how Facebook ads work. The targeting options available for Facebook ads are:
Location

Age

Gender

Interests

Connections

Relationship status

Language(s)

Education

Workplace
While you should launch your ads with targeting options, avoid over-targeting at the start of your campaign, and this approach can result in low-performing ads. Instead, make your targeting broad initially and refine it as you get more ad data.
Once you gain access to this upper hand, your digital marketing business is a sure success. You don't have to worry about running your business with much effort. Let Facebook Ads Marketing be your ticket to success.
Inside Facebook Ads Marketing
Getting more excited? I feel you. There's so much about this course that many people can't wait to take over. 
Let's dig deep and find out more about Facebook Ads Marketing. See for yourself how this system works. Be amazed at how to make Facebook Ads to your advantage. 
Starting your digital marketing business needs the right direction. If you want to succeed, you need guidance from experts. Using Facebook Ads Marketing gives you an edge over other entrepreneurs. 
This is a proven and tested method of running a digital marketing business using Facebook. With this, you can start your digital marketing business even without any prior knowledge.
The system is easy to understand…
The instructor will teach you his ways of running a digital marketing business. His methods include a $1,500 product case study, setting up lead generation campaigns, setting up Facebook Pixel, and finalizing winning Ad creative. These methods are essential components for your digital marketing business.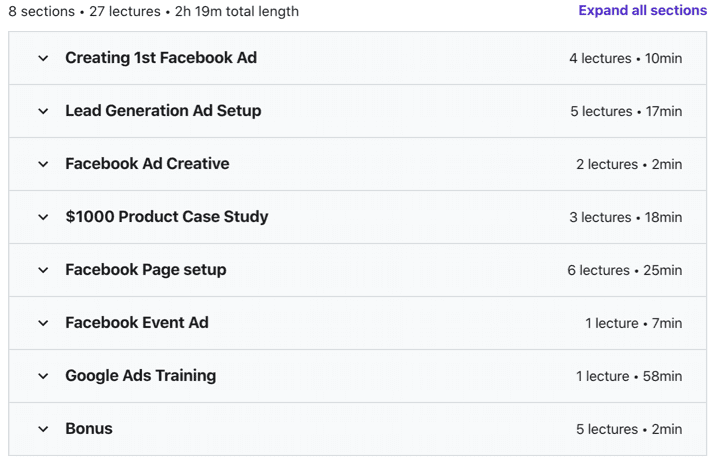 Paid advertising may be costly. However, in the right hands, you don't have to worry about anything. Get yourself trained by a seasoned instructor who has served more than 80 clients since 2015. 
Be a part of a pack of students in eCommerce who found financial freedom. Start your business from scratch and work your way up the table. Get the chance to earn clients from Upwork and Fiverr. 
And hey, there's more. We're talking about a 6-digit earning once you enroll in this course. You've read it right, that's how much you can earn if you stick to this course's module.
This course will guide you on a step-by-step basis in digital marketing. You will know how to create Facebook Ads that have the potential to earn big in eCommerce. Don't worry, you will be guided along the way and your mentor will teach you how to make the best Ads. 
After making an Ad, the next step is incorporating your lead generation Ad setup. You will even learn how to make Ads in Urdu/Hindi. Having an extra mile in terms of breaking language barriers further enhances the chance of getting more clients.
And here's the catch. This course also holds a bonus feature for its students. Be a part of its Fan Page and gain a 90% discount on its 20 other Digital Marketing courses!
And guess what, you will also learn how to speak Hindi/Urdu and get a chance to win branded shoes. Such a fine offer for an income-generating course, right?
So, if you plan on hitting the benchmark of maximized profit, don't hesitate. Be a part of the team and earn thousands of dollars.
Check out this 12-minute video to give you a better understanding of Facebook Ads Marketing…
Let us move forward and learn more about…
How do you join Facebook Ads Marketing?
Now, let's get to one of the most exciting parts. How are you going to be a part of the team? What does it take to enroll in Facebook Ads Marketing?
Do I need background knowledge about Facebook marketing just to join? No. All you need is the willingness and dedication to work with Facebook marketing.
As long as you have the guts to earn money using Facebook Ads, this course is for you.
How much does Facebook Ads Marketing cost to join?
Now, how much does it cost to join this course? Good question. If this course can offer you thousands of dollars, the price might be off the grid.
Well, let me tell you something. You need to understand that in every business comes an investment. You can't simply go on and run your business without looking at its cost.
The investment is part of the deal. Many businessmen took the risk of investing something for the sake of their business. And most of the time, they succeeded. 
So, how much does this course cost? Well, it costs $89.99. And like I said, being skeptical leaves no room for a business to flourish. 
But guess what, if this course holds the power of earning thousands of dollars, then this price is just. Make your way towards financial success and maximize your potential. Be the best digital entrepreneur and climb the ladder of success!
Facebook Ads Marketing monthly cost
Are there any monthly dues for this course?
The good news is none. You don't need to pay any extra fees to avail of its products and services.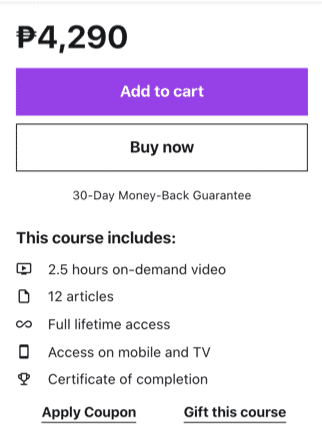 Besides, it's a one-time registration fee.
Don't hassle yourself like any other courses out there that ask for additional monthly fees. You only need to pay once. Nothing less, and nothing more.
However, many people fail to realize there are ongoing costs to this business model such as…
• Weebley hosting and domain: $25 a month per website
• Call tracker i.e. Callrail: $45 to $145 per month or Callsling and $498 one time fee (needed- but you get one included – note it doesn't work everywhere in the world)
• Email autoresponder to track leads: $15+ a month
• PO Box (to set up your business address): $19 to $75 for 6 months (needed)
• SpyFu (competitor keyword research): $33 to $199 a month / AHrefs (keyword research) – $99 a month
• PPC ads: $200+ a month (not needed but can help for speed)
• Outsourcing (some people pay others to build a website or do some of the tasks- not needed, but a great way to scale eventually)
Facebook Ads Marketing reviews online
The capacity of Facebook Ads Marketing to make an exceptional profit is one of the main reasons why people love it.
It's a course that gives you the chance of earning more than what you deserve. If you want to be successful, try this course now. 
Since this course gives promising feedback in digital marketing, it's normal to receive positive reviews.
However, critics also show their concern to the extent of what this course could offer. People are still trying to figure out how to maximize its full potential to earn more profit…
Despite all the good things Facebook Ads Marketing offers, it cannot be denied that ungrateful individuals still throw trash on it.
These are the people whose skeptical views clouded their intuition. Thus, some negative things are said against this course.
Common positive Facebook Ads Marketing reviews
Easy to use
Content is udeful
Effortless lead generation
"Awesome guide"
"Good match."
"It was okay."
Common negative Facebook Ads Marketing reviews
Basic
Unclear audio voice
Limited chance of getting clients
"It is good but I think, this course is too short."
"Detailed but sometimes it's hard for me to hear his voice. I will ask him some that bothers me in doing the Facebook ads."
"Course is very primitive."
Is Facebook Ads Marketing a scam?
Now, is this course a scam?
No, it's not.
And that's backed up with good reviews from students who found financial breakthroughs using this course…
Facebook Ads Marketing pros
Easy to apply
This course follows a detailed module about Facebook Ads.
This is a good way in practicing a marketing strategy that gives lots of profit. If you want to earn more, try this course now.
Fast client acquisition
Everything that you need to learn about Facebook Ads is thoroughly explained.

You don't need to study more about how the system works. All you need to do is apply what it does and follow the module.
Easy funneling
Running a digital marketing business might be hard.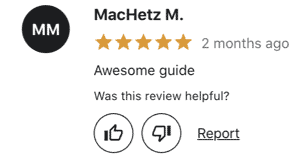 But, with the right leverage, everything will be smooth as water…
This course is the perfect guide in digital marketing that you can utilize to bring out your best potential.
Facebook Ads Marketing cons
Outdated
Although this course's means of running a digital marketing business is proven and tested, it's already outdated.
Others may view its ways to be primitive. As such, it's better if new means of running Facebook Ads will be developed.
Only basic things are discussed…
Needs better graphics
Poor audio quality has been a problem for some.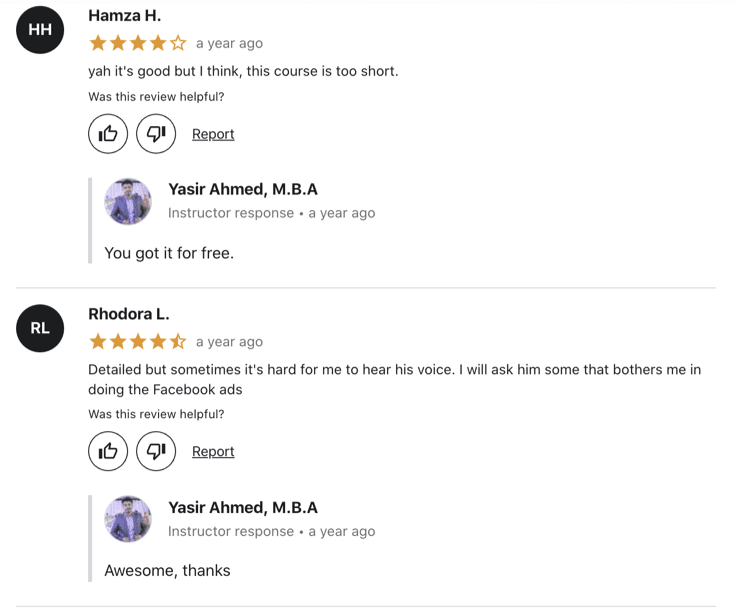 Thus, it's better if this issue is addressed. Good audio quality is key to a better understanding of lectures.
Costly
While others can afford the registration fee, some lack the resources to enroll.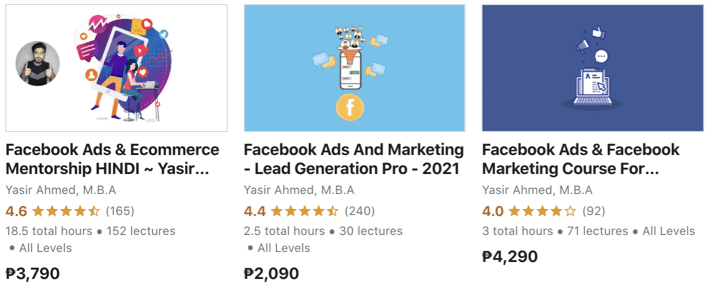 Money is always an issue in business. Without the right investment, you can't start running your company.
My opinion – Facebook Ads Marketing
As the digital marketing business stormed the market, a new way of marketing was given birth.
Nowadays, you can easily make money using the online platform (if you know the right means).
But, without any knowledge about utilizing the internet in making cash, you'll always go back to square one. 
Facebook Ads Marketing is designed to make your digital marketing experience better. It gives you the chance to earn thousands of dollars using Facebook as your medium. With most people hooked up on the internet, your chance of earning profit increases.
There are also many other better online business opportunities out there that you can try now…
How I make passive income online
In 2018 I had no idea what affiliate marketing was.
Once I learnt about it, it just seemed like a great business model that can grow over time using the power of the internet.
So I tried to figure it out by myself… that got me nowhere fast.
Then I fell for some terrible online scams.
But eventually, I found Wealthy Affiliate. It teaches long-term proven strategies to build an online business with all the tools & support needed.
And this happened…
Once you learn the process of getting thousands of people to find your website every month (for free) there really is not limit to what you can achieve online.
I've reviewed hundreds of courses or programs that claim to help people make money online. And I've spoken to dozens of 6-7 figure online entrepreneurs on my podcast.
This is by far the best place I've seen to help beginners get set up on the right foot. You can read my full Wealthy Affiliate review here (including the pros and cons!)
Or you can watch an insiders video I made that explains exactly how it works here.