Earning money online comes in different ways.
Venturing into the digital marketing business allows you to earn lots of cash. If you know the right means, earning is just a piece of cake. 
Many digital marketing courses offer the best ways to earn cash.
Let's find out how Ecom Success Academy can make a breakthrough in your finances.
Can this course be the answer to financial freedom? There's only one way to find out. 
This review will help you decide if it's worth trying by discussing its content, pros, cons, so you'll know if it is a legit way to make money online.
Disclaimer:
This Ecom Success Academy review has been thoroughly researched with information and testimonials that are available online to anyone in the public. Any conclusions drawn by myself are opinions.
Ecom Success Academy review: The overview and rankings
Name: Ecom Success Academy
Owners: Adrian Morrison
Type: Ecommerce course
Price: $2,495
Best for: Anyone who wants to learn e-commerce and make good money out of this.
Ecom Success Academy Pros
Comprehensive
Strong foundation
Bonus section
Ecom Success Academy Cons
Expensive
Not for beginners
Outdated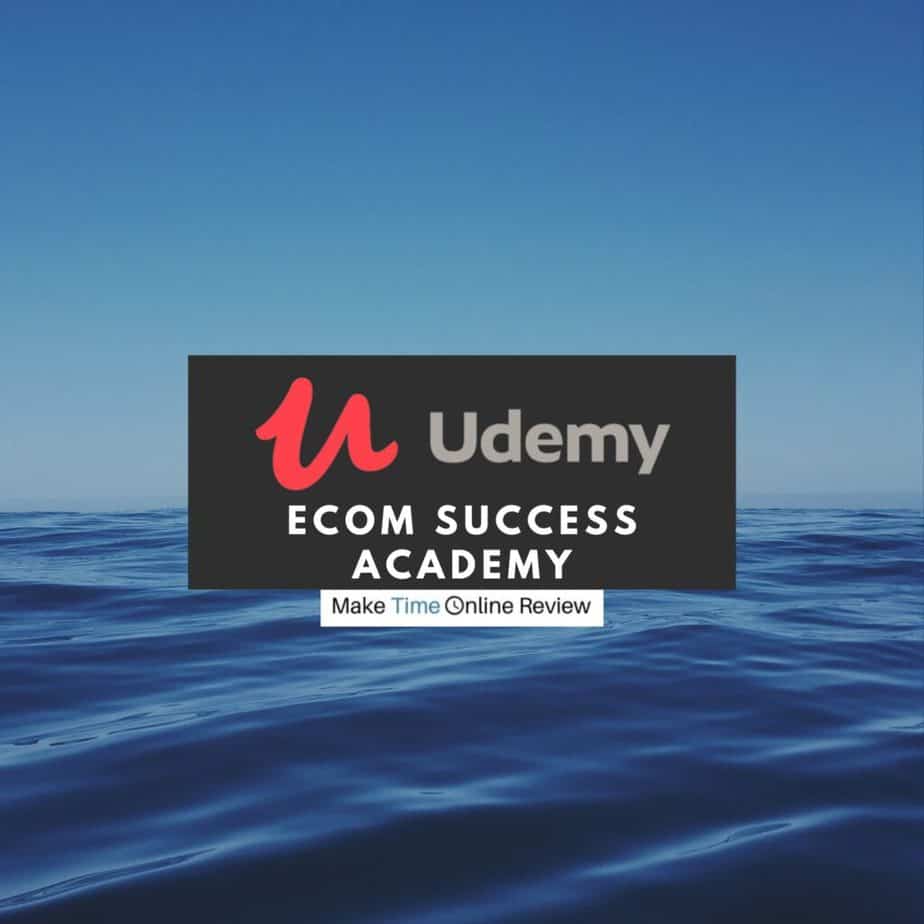 Summary:
Ecom Success Academy is a lead generation course that teaches you how to make money online through effective local lead generation.
Make Time Online Rating: 40 out of 100 
Recommended: No
What is Ecom Success Academy about?
Maybe you've heard about dropshipping.
If you're inclined with the digital marketing business, this should ring a bell. But, simply knowing about dropshipping is not enough to maximize your earnings in digital marketing.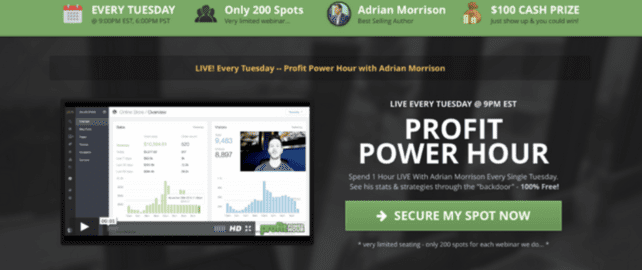 The right knowledge is your key to success. If you want to earn more, learn more. Ecom Success Academy is an eCommerce training course that specializes in dropshipping. It uses Shopify and other social media platforms as a medium in marketing. 
eCom Success Academy is a digital program created by Adrian Morrison. The course promises to teach you how to build a seven-figure business using Shopify and dropshipping.
Adrian's course will show you how to sell physical products without buying or stocking them yourself. 
Instead, you'll be "drop shipping" them straight to your customers. And the best part? Adrian claims to share all his secrets step-by-step in this training course.
He'll teach you how to create an e-Commerce store based on dropshipping using the most popular platform out there – Shopify. 
The course covers everything from setting up your store to driving traffic and selling in any niche you choose. And if you're wondering about traffic generation, don't worry – that's included too.
In a nutshell, dropshipping is when you create an online store to sell products without needing inventory.  
So, rather than taking orders online, fulfilling them, and having them shipped out, all you are responsible for is sending the supplier your order, and they do all the heavy lifting. You only pay a relatively small fee for the service and keep the profit.
Starting an online business is easier using this course. Learning different Shopify strategies give the best outcomes for a dropshipping business. Selling various product niches becomes easier using Ecom Success Academy. 
Since 2015, Ecom Success Academy has helped thousands of online entrepreneurs.
According to its founder, Aidan Morrison, this course enabled people to find financial breakthroughs. Thousands of lives improved with the help of Ecom Success Academy.
Check out this 2-minute video to know more about Ecom Success Academy…
So, who created this Local Lead Generation 101 in the first place?
Who is Adrian Morrison?
Now, who's the man behind Ecom Success Academy?
His name's Adrian Morrison.
He is a renowned digital entrepreneur worldwide. He's a famous author, speaker, and a seven-digit earner in marketing.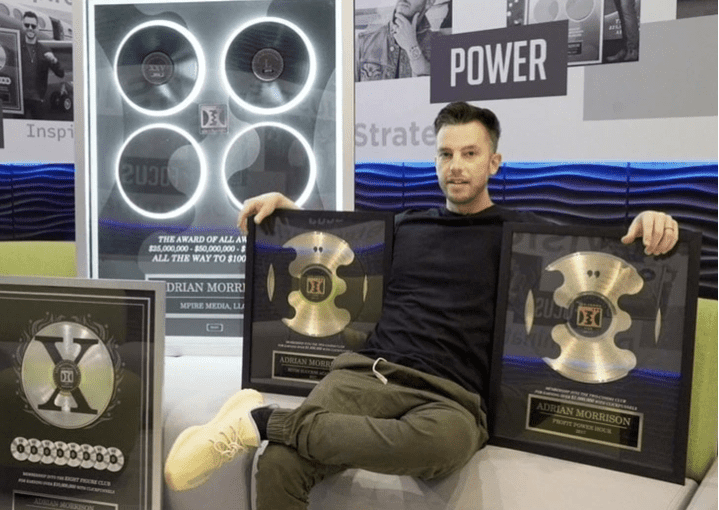 His success in dropshipping business earned him a name in the field of digital marketing. In one account, Adrian's Shopify store claimed to earn $4 million. To date, the figures are still growing and his dropshipping business is booming. 
As an expert in home-based businesses, Adrian believes in working your way to success for yourself. Achieving financial freedom is fast if you're working at your convenience. This vision enabled him to run and co-founded several businesses.
With more than a hundred thousand students, Adrian's passion for helping others continues to grow. Creating a profitable eCommerce business is no joke. Without proven and tested means, you'll face tons of hindrances. 
Adrian's background in digital marketing can be seen on his different social media accounts. Because of this, people are tailing him to get some tips in the digital marketing business. His YouTube channel alone has 27,600 subscribers because of his free Shopify tips. 
If you want to know more about dropshipping business, watching Adrian's videos can be a good start. Want to know a secret? He helped big companies on Facebook Advertising achieve multi-million earnings. 
His expertise reached out to top social media influencers. Creating traffic and increased revenue is possible with Adrian's guidance. His influence earned him a seat to visit Facebook Headquarters. 
This bond between Facebook's Internal Advertising team is every digital marketing's dream. Thus, making Adrian Morrison a prominent figure in the field of digital marketing.
So, how does the course work?…
Ready to make passive income online?
Hey, I'm Mike.
I created a passive income online within a year. I had no marketing skills or online experience when I started.
How does Ecom Success Academy Work?
Based on the background about Ecom Success Academy, things might be getting escalated. I understand how you feel and it's normal to have that thrill. So, let's get down to business. 
How exactly does this course help you find financial success? Ecom Success Academy teaches you the things you need to know about dropshipping. Using Shopify, making business is made easy with this course. 
Here are the basic learning tips that you will get using Ecom Success Academy: 
Sourcing products
Shopify store set up
Email Marketing
Facebook Marketing
Setting up your team
A set of course modules are used to guide you in your digital marketing journey.
However, some lessons are extensive, making it quite difficult for some. Nonetheless, the outcome can give you promising results. 
Although Ecom Success Academy is based on conventional means, its Print On Demand section makes it exceptional. Mastering dropshipping and branding are important tools in digital marketing. This course is designed to guide you with your digital marketing business.
Inside Ecom Success Academy
Joining this course wouldn't be convincing unless you'll know what's inside Ecom Success Academy. Does it give you the best advice in starting a digital marketing business? Is it worth it to try this opportunity to further enhance your business? 
Now, let's talk about its content.
This course uses a video-based teaching strategy about digital marketing. Sharing of ideas is focused on student development. Learning the concepts of eCommerce is discussed with each module. 
Learning is best experienced using various tips and tricks. With lessons subdivided into 8 sections, each module is focused on imparting the best knowledge to students. A bonus module is discussed as part of the package. 
Module 1: Shopify
The first module focuses on setting up your Shopify store. Don't have any background about Shopify? Don't worry. This course will guide you towards each section of the Shopify platform. 
Truth be told, Shopify is hard to grasp if you want to know everything about this platform. As such, every detail is tackled to ensure quality learning. Things like setting your checkout process, adding products, and making promotional strategies are given importance. 
Mastering these procedures ensures a strong leg of dropshipping. Following the step-by-step process of explaining the Shopify platform, everything becomes easy.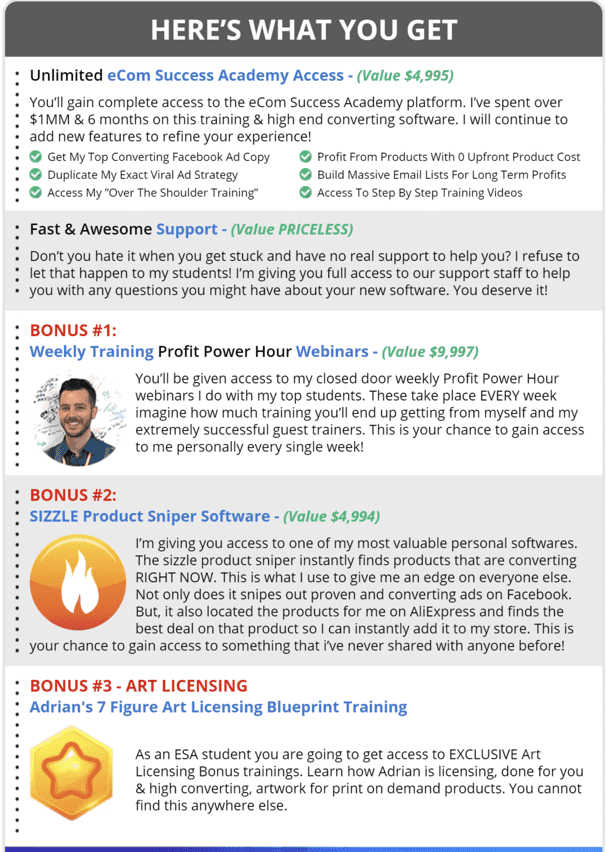 Module 2: Product Sourcing
Understanding the concept of dropshipping gives you the hint of becoming successful in digital marketing. You need to know the demand, trend, and available supplies in choosing your product niche. After all, selling products is the ultimate goal of dropshipping. 
Mastering the proper way of research is key to negotiating with clients. Getting a baseline for bidding helps you manage your resources. As such, conducting business with clients and suppliers becomes efficient. 
Module 3: Facebook Ads
As one of the leading platforms for paid ads, Facebook Advertising is one of the main players in this course. Learning how to make efficient Facebook Ads gives you the upper hand in ensuring sales profit. 
Going after paid ads doesn't mean spending much. Handling your resources the right way makes a proficient output. Thus, making cost-efficient ads becomes a tool in making your digital marketing business successful. 
It's acceptable to commit mistakes with the first few ads. However, this course's goal is to minimize mistakes as much as possible. Mastering Facebook ads saves you money and at the same time earns you profit. 
Module 4: Email Marketing
Email marketing is one of the oldest tricks in the digital marketing business. Making promotional email ads gives you an edge in searching for potential clients. Connecting with other people is essential in smoothly running your dropshipping business. 
Using an automated system, making emails is just a piece of cake. The course offers a template that can maximize your chances of getting clients. 
Module 5: Making a Team
Contrary to the belief about solely running a digital marketing business, making a team is a great opportunity. Outsourcing talents for your digital marketing business helps in lightening up your load. A few extra hands would be a good choice in dividing tasks.
If you want to succeed, learn to delegate. Allowing others to do simple tasks helps you focus on doing more complex tasks. This saves you time and effort. 
Besides, some things need professional intervention unless you're an expert in this field. This module helps you identify the reliable staff in handling things that are crucial for your company's growth. 
These include product research, customer service, social media, and graphic design. Despite your knowledge about these things, it's more beneficial to ask for others' help. Besides, two heads are better than one. 
Module 6: Project Management
Collaboration is necessary to keep your company running. Managing and organizing your projects is essential to avoid delays. Once your team works in harmony, achieving your goals becomes easy. 
Project management involves tasks that need to be arranged depending on their priority. Timely notifications of appointments are important to keep your business on track. This module helps you in setting your appointments using software (for instance, Google Sheets). 
Module 7: Exit Plan
Anticipating the worst possible case is one of the most crucial parts of the business. You need to keep an open mind for failure. As such, it's important to prepare for an exit plan. 
Tracking down your earnings and losses is one way of keeping your business running. However, should the worst thing come, being prepared is an advantage? Nonetheless, monitoring your mistakes and weaknesses is essential in running your business. 
Module 8: Bonus Section
As extra credit, this course offers an additional bonus section. This module is about extra tips in using Shopify. You'll also gain access to weekly coaching tips and assistance in this module. 
This section sums up everything to make sure all topics are covered. By doing so, your success in eCommerce and dropshipping is secured.
Check out this 13-minute video to give you a better understanding of Ecom Success Academy…
Let us move forward and learn more about…
How do you join Ecom Success Academy?
So, how do you become a part of the team? It's simple.
You can access Ecom Success Academy on LinkedIn or Facebook. Look for the signup option and follow the instructions. 
Pay for the registration fee and wait for confirmation.
Once you're done, you're now ready to go…
How much does Ecom Success Academy cost to join?
Getting interested? Let's go down to the most important part: the investment.
This course costs $2,495. However, if you're lucky to avail a discount, you'll only pay $2,000. 
This course indeed costs you a lot.
But luckily, they offer an alternative three-time payment in case you're short of cash. You'll pay $977 for each payment and run a total of $2,991…
Ecom Success Academy monthly cost
There is no mention of any monthly dues for this course.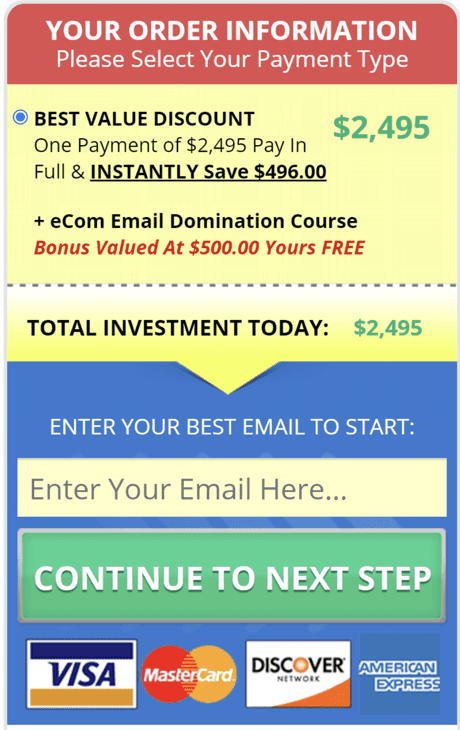 Unless you avail of its three-time payment option, which will give you more things to spend on for sure.
However, many people fail to realize there are ongoing costs to this business model such as…
• Weebley hosting and domain: $25 a month per website
• Call tracker i.e. Callrail: $45 to $145 per month or Callsling and $498 one time fee (needed- but you get one included – note it doesn't work everywhere in the world)
• Email autoresponder to track leads: $15+ a month
• PO Box (to set up your business address): $19 to $75 for 6 months (needed)
• SpyFu (competitor keyword research): $33 to $199 a month / AHrefs (keyword research) – $99 a month
• PPC ads: $200+ a month (not needed but can help for speed)
• Outsourcing (some people pay others to build a website or do some of the tasks- not needed, but a great way to scale eventually)
Ecom Success Academy reviews online
Running a digital marketing business isn't easy.
You need the appropriate guide to run your business smoothly. Ecom Success Academy earned both positive and negative reviews in the field of digital marketing. 
Either way, this course helped thousands of students achieve financial success. With the guidance of its proven and tested instructor, handling a dropshipping business becomes easy.
Common positive Ecom Success Academy reviews
Easy to start
You can work anywhere
Multiple products variation
Common negative Ecom Success Academy reviews
High competition
Supplier issues
Complex shipping arrangements
Is Ecom Success Academy a scam?
Is this course a scam?
Well, I can't say that Adrian is a fake.
Besides, many positive reviews are evident about this course. 
The course covers many topics, and Aidan provides a step-by-step curriculum to help you build a Shopify store. Plus, some bonuses add to the value.
But here's the thing: it's pretty pricey. You can see why some folks might think it's a scam because of that. 
And, just a heads up, dropshipping isn't a get-rich-quick scheme, and it takes a lot of patience and determination. 
Plus, getting started can be expensive, so if you don't have a lot of capital, this might not be the best fit for you. 
All in all, it's got some good info, but just be prepared for the cost and the effort it takes to make it work.
Lives were changed and financial success was achieved. The best way to know is to try it first hand.
Ecom Success Academy pros
Comprehensive
This course follows a step-by-step process that offers a comprehensive review.
This enables a better learning process.
Strong foundation
Adrian's proven and tested means established a strong foundation for this course.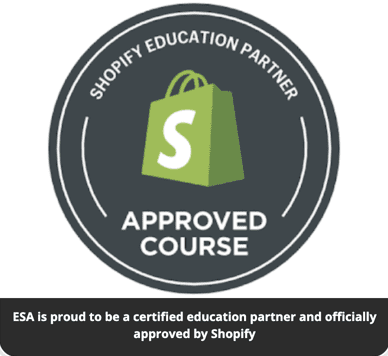 As such, achieving success is possible. This also shows that there is a solid foundation to this course.
Bonus section
The bonus section is a plus.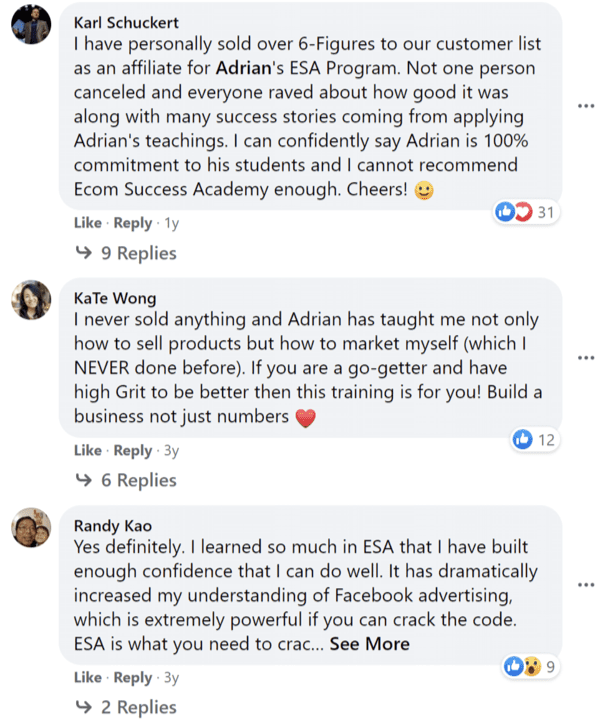 Knowing other things is needed to maximize your revenue.
Ecom Success Academy cons
Expensive
This course comes with a high price tag.
This is one of the major reasons why others did not enroll.
Not for beginners
The complex discussion of this course makes it difficult for newbies.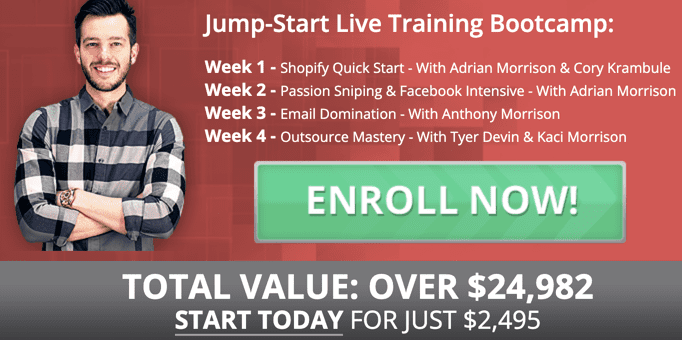 Stock knowledge is needed to appreciate it best, which is why this might be a bit hard…
Outdated
This course follows an outdated method of eCommerce.
Constant updates are needed to make it better and more relatable especially to those who are new in this field.
My opinion – Ecom Success Academy
Choosing an eCommerce course is important in venturing into digital marketing. Knowing the best techniques in dropshipping is needed to maximize earnings. 
This eCommerce course teaches you how to operate a dropshipping business.
Mastering Shopify's platform is essential in eCommerce. Your digital marketing business holds the potential of earning big using the right leverage. 
Is this course a scam? Well, that remains to be seen. Skeptical minds prevent the full potential of finding success. 
Maybe this course will cost you a lot. However, the revenue that you will get may far exceed your investment. You can never reach your destination unless you take the first step towards success.
Note, also, that there are many other legit and better ways to make money online. You just need to have an open mind…
How I make passive income online
In 2018 I had no idea what affiliate marketing was.
Once I learnt about it, it just seemed like a great business model that can grow over time using the power of the internet.
So I tried to figure it out by myself… that got me nowhere fast.
Then I fell for some terrible online scams.
But eventually, I found Wealthy Affiliate. It teaches long-term proven strategies to build an online business with all the tools & support needed.
And this happened…
Once you learn the process of getting thousands of people to find your website every month (for free) there really is not limit to what you can achieve online.
I've reviewed hundreds of courses or programs that claim to help people make money online. And I've spoken to dozens of 6-7 figure online entrepreneurs on my podcast.
This is by far the best place I've seen to help beginners get set up on the right foot. You can read my full Wealthy Affiliate review here (including the pros and cons!)
Or you can watch an insiders video I made that explains exactly how it works here.