Maybe you're one of those business-minded individuals who want to start a new business line.
Engaging with a digital marketing business offers a great deal of profit. People nowadays are fond of shopping using online platforms.
But the problem is, where are you going to store your products? Dropshipping is the key to answering this query.
Let's find out about dropshipping business and if Anton Kraly's Drop Ship Lifestyle is worth the try.
This review will help you decide if it's worth trying by discussing its content, pros, cons, so you'll know if it is a legit way to make money online.
Disclaimer:
This Drop Ship Lifestyle review has been thoroughly researched with information and testimonials that are available online to anyone in the public. Any conclusions drawn by myself are opinions.
Drop Ship Lifestyle review: The overview and rankings
Name: Drop Ship Lifestyle
Owners: Anton Kraly
Type: Ecommerce course
Price: $2,997 for premium, $4,997 for ultimate
Best for: Anyone who wants to learn ecommerce through Drop Ship Lifestyle to make good money.
Drop Ship Lifestyle Pros
Flexible time
Lifetime access
Supportive
Drop Ship Lifestyle Cons
Limited access
Expensive
Needs motivation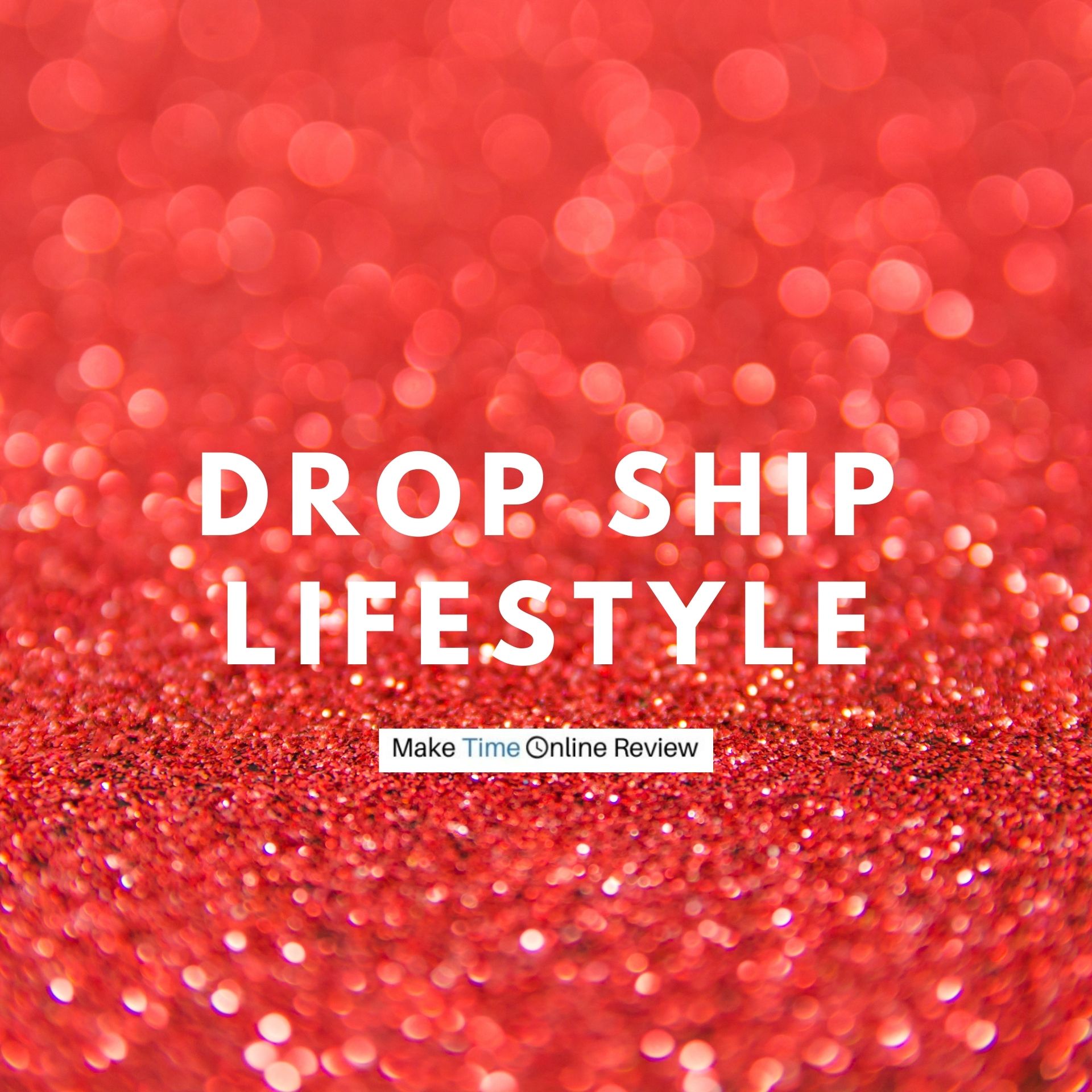 Summary:
Drop Ship Lifestyle is an ecommerce course that teaches you how to make money online through effective drop shipping and overall ecommerce.
Make Time Online Rating: 45 out of 100
Recommended: No
What is Drop Ship Lifestyle about?
You might wonder how your friend runs an online business but has no warehouse. Where does he keep his stocks? How can he supply his customers' needs?
Well, dropshipping makes this possible. This eCommerce business allows an entrepreneur to accept orders online. He processes them and contacts suppliers for the best offers.
Once the order is made, a courier service delivers the item directly to the buyer. In other words, someone who runs a dropshipping business acts as a medium in facilitating an order. It's convenient for both the buyer and supplier.
By doing so, you save yourself from the hassle of putting your products inside a warehouse. All you need is to get that order and facilitate the acquisition of the product. It's as simple as answering a phone call and doing what the caller needs.
So, what about Drop Ship Lifestyle? Drop Ship Lifestyle is an eCommerce course that teaches about dropshipping. Anton Kraly made this dropshipping course to help entrepreneurs start their dropshipping businesses.
This course allows an individual to master and be successful in line with dropshipping. In 2013, Drop Ship Lifestyle made a turning point using its 7-step blueprint of dropshipping. It aims to help students achieve financial success by guiding them on the right path.
Interesting, isn't it? But there's more. This course is not just about knowing what a dropshipping business is. It's about understanding the concept of this eCommerce curriculum.
This course teaches you about Shopify design, product selection, running ads, locating suppliers, outsourcing, and international marketing. But here's the catch. It also teaches you how to sell your store and make yourself comfortable upon retirement.
You can see many dropshipping courses out there. And they have a common thing – leaving you hanging. However, this course will not only give you a business structure but also guides you along your way to success.
Drop Ship Lifestyle is a one-stop shop in learning and running a dropshipping business. Since 2013, its students have grown in numbers and success has become possible.
Check out this 1-minute video to know more about Drop Ship Lifestyle…
So, who created this Local Lead Generation 101 in the first place?
Who is Anton Kraly?
Who's the man behind Drop Ship Lifestyle? His name's Anton Kraly. This course is proof of his eCom businesses that grew into dozens.
He's dedicated to teaching potential entrepreneurs about his means.
He wants to share how he achieved financial freedom and earned a title in the eCommerce world. As such, Anton holds $1M in revenue with his stores.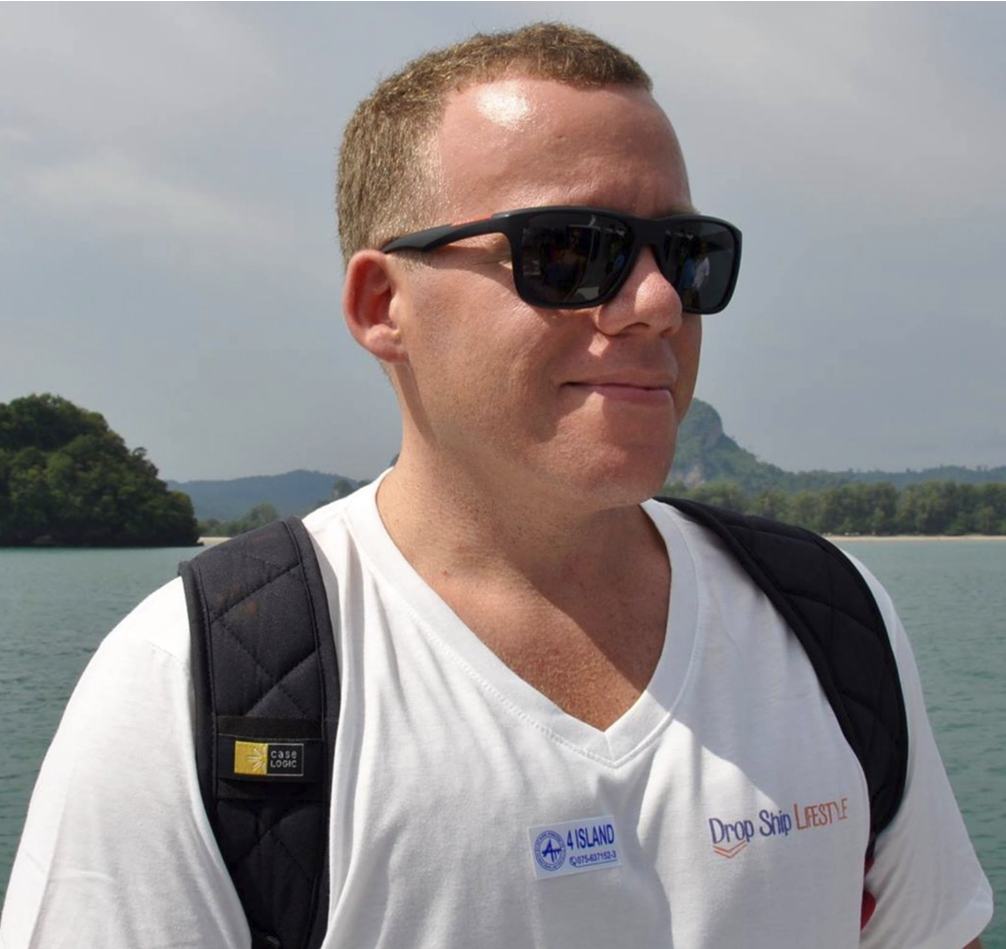 But, before reaching the top, Anton had some mishaps. After college, he got tied up in a job that he doesn't want. He earns a minimal amount with hard work and labor.
Then he landed on eCommerce. In 2007, he built his first eCommerce business for only $29. Little did he know, he got a million dollars in revenue within two years! The potential that Anton saw in eCommerce pushed him to share his knowledge.
His expertise in the dropshipping business is proof that he lives what he does. Walking the talk is essential. It proves the effectiveness of your claim.
So, how does the course work?…
Ready to make passive income online?
Hey, I'm Mike.
I created a passive income online within a year. I had no marketing skills or online experience when I started.
How does Drop Ship Lifestyle Work?
Like any other dropshipping business, this course gives you a simple, yet comprehensive review about dropshipping.
It teaches you how the market operates, the products you need to advertise, and services you need to avail yourself.
Unlike the other courses, Drop Ship Lifestyle guides you on a step-by-step process to achieve financial freedom. Processing orders takes time for some. This course guides you on how to facilitate orders fast.
The key to success in the dropshipping business is delivering products on time. By doing so, your customer satisfaction rating increases, therefore increasing your chances of getting new ones. This course makes you understand the concepts of a dropshipping business.
Learning new ideas and understanding its processes leads to an increased profit. Facilitating orders and getting high-value products are essential factors in dropshipping.
This course enables you to maximize your digital marketing experience…
Inside Drop Ship Lifestyle
You can scan through the internet for other dropshipping courses. And believe me, you can find lots of them. So, why choose Drop Ship Lifestyle?
Let's find out.
Drop Ship Lifestyle consists of 7 modules. It's a step-by-step process that guides you in managing your dropshipping business.
Module 1: Selecting the Right Niche
Selecting high-value products from different niches is crucial in dropshipping business. The right products determine the amount of profit you can make. It holds the potential of reaching your goals fast.
This course guides you in selecting the best niches around. The type of products you sell can either make or break your business. Thus, choosing something that holds the potential of earning 7 figures comes first.
Module 2: Research Marketing
Understanding how the market behaves gives you the chance of earning a high profit. Determining what products people want ensures a deal. Thus, conducting market research helps in tracking down potential business ventures.
Moreover, the data gathered through market research serves as a baseline. It determines the next move you need to make in running your dropshipping business. Without this data, your chances of earning profit boil down to a thin margin.
Module 3: Creating Your Business Site/Store
Selecting the right products comes first. But, creating the best business site or store should also be given importance. Your store serves as the facade of your entire business structure.
The right business store must capture the customers' attention. Creating an appealing and eye-catching business site increases your chance of closing deals. Hence, making your way towards success using Drop Ship Lifestyle gives you the upper hand.
Module 4: Getting Suppliers
In dropshipping business, choosing the best suppliers increases your chance of getting customers. Suppliers that give you the best deals increase customer satisfaction. By doing so, your success in dropshipping ties up to the kind of suppliers you have.
Good suppliers give you the chance of expanding your business scope. Worried about reaching out to suppliers? Don't worry. This course provides you with the right template for sending emails to your potential suppliers.
Module 5: Mastering CRO
Closing a deal also depends on Conversion Rate Optimization (CRO). This pertains to your store's theme, website layout, product prices, and color combination. CRO plays a role in terms of buyer psychology.
If you want an optimized approach to your dropshipping business, mastering CRO helps you through it. Keeping an eye on your conversion rates is key to achieving fast ROI. Thus, mastering CRO is needed.
Module 6: Traffic
Dominating traffic on the internet ensures an increase in sales. The social media platform acts as a medium in hitting your sales. Maximizing purchase intent using highly-targeted traffic better advertises your product.
Module 7: Automation & Outsourcing
You can never maximize your potential unless you ask for help from others. Outsourcing makes your work faster. Delegating tasks enables you to focus on other important things.
Check out this 6-minute video to give you a better understanding of Drop Ship Lifestyle…
Let us move forward and learn more about…
How do you join Drop Ship Lifestyle?
Now, how do you become a part of the team? It's simple.
All you have to do is go to the website of Drop Ship Lifestyle.
Just click on the membership section and follow the instructions.
Pay for the membership fee. Follow the instructions and wait for the confirmation email. Once done, then you're good to go.
Drop Ship Lifestyle cost to join
How much do you need to pay for this course?
There are two options for availing of the Drop Ship Lifestyle services.
First, you can avail its Premium package for $2,997.
Second, the Ultimate package costs $4,997.
Quite a hefty price, right?
However, if you want a ticket to success, here it is. This course is the answer to reaching a 6-figure income…
Drop Ship Lifestyle monthly cost
There is no mention of any monthly dues in joining Drop Ship Lifestyle.

Although you need to dispense a large amount of cash, it's enough for a one-time registration fee.
However, many people fail to realize there are ongoing costs to this business model such as…
• Weebley hosting and domain: $25 a month per website
• Call tracker i.e. Callrail: $45 to $145 per month or Callsling and $498 one time fee (needed- but you get one included – note it doesn't work everywhere in the world)
• Email autoresponder to track leads: $15+ a month
• PO Box (to set up your business address): $19 to $75 for 6 months (needed)
• SpyFu (competitor keyword research): $33 to $199 a month / Ahrefs (keyword research) – $99 a month
• PPC ads: $200+ a month (not needed but can help for speed)
• Outsourcing (some people pay others to build a website or do some of the tasks- not needed, but a great way to scale eventually)
Drop Ship Lifestyle reviews online
Drop Ship Lifestyle earned multiple online reviews.
Whether positive or negative, it still holds the power of achieving success.
Besides, it's a fact that Anton Kraly knows the secrets of running a dropshipping business…
Common positive Drop Ship Lifestyle reviews
Motivational
Feasible
Unlimited time
Here is what we have seen in Trust Pilot…
"Dropship Lifestyle is the absolute best course I ever signed up for! Anton is the real deal! His monthly webinars are outstanding where we can ask our questions. I have always got the support I have needed when I reached out. So happy I made this decision, doesn't compare to any other course I have found."
"Best part about the program is Anton's purpose of sharing his knowledge and experience to help others achieve success and the lifestyle they aspire. You can always pay for learning, but is rare to find masters that care."
Common negative Drop Ship Lifestyle reviews
Limited to Shopify
Lacks organic SEO discussion
Lacks a refund policy
And here is one of the most common negative reviews about Drop Ship Lifestyle that we have seen in Trust Pilot…
"I attended the webinar which was about 2.5 hours. Anton kept promising that if you stayed till the end he would send you a free ebook. I stayed till the very end and never got the book. How am I suppose to believe all his other claims ? That is a red flag for me, never trust a man that doesn't keep his word."
"I felt he himself should learn something about customer service, by providing full value – he would take care of customer , by refunding money – he would keep customer happy. This is my opinion on the course. Its not complete , Its way overpriced, half value and no way for people to get out of it. Not recommended and not worth it."
Is Drop Ship Lifestyle a scam?
Drop Ship Lifestyle is no ordinary course to take. You need the right amount of resources to purchase this course. But the problem is, is this course for real?
Looking at the reviews from its students gives us a hint of whether this is legit or not. The thing is, it's not a scam. And Anton Kraly proved his means to be effective.
Although dispensing a hefty price is a problem, it doesn't mean that this course is a scam. It holds no power in discrediting the effectiveness of its ways. As such, it allows you to operate your dropshipping business better.
Drop Ship Lifestyle pros
Here are some of the best things that I like most about Drop Ship Lifestyle…
Flexible time
The good thing about this course is its flexible time management.
You can have your own pace without any time constraints. Follow each module according to your capacity.
The absence of pressure enables you to learn faster. You can also replay each module to better understand its concepts.
Lifetime access
The one-time registration fee of Drop Ship Lifestyle makes it a better choice. Other courses ask for a lower registration fee. But, paying for monthly dues becomes a downside.

The lifetime access of Drop Ship Lifestyle enables you to access its services 24/7. As such, reviewing previous modules makes a better learning experience. You don't need to worry if you forget about something.
Just open the website and do your research.
Supportive
Drop Ship Lifestyle offers supportive services for its students. This way, you can easily ask for help using its website. Seek advice and learn from the experts.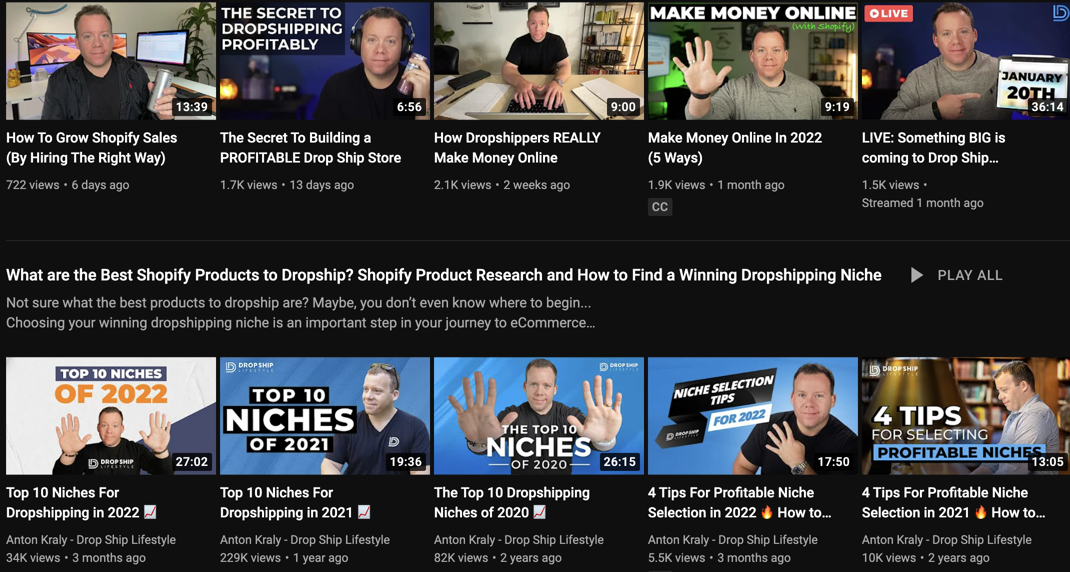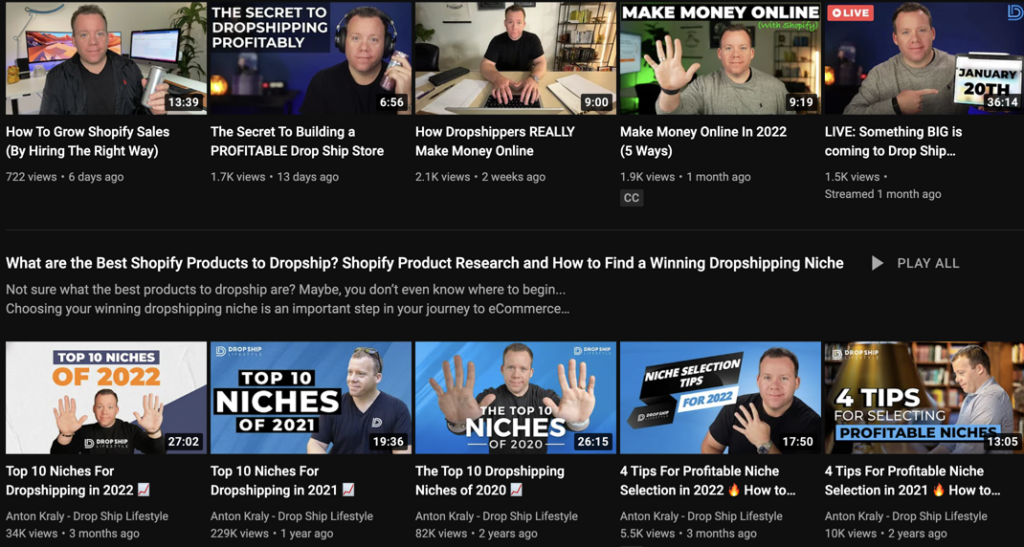 All you have to do is type your query and wait for somebody from the team to help you. It makes your work easier and learning becomes fun. Interaction allows a better learning experience.
Drop Ship Lifestyle cons
And here are the not so good things that I consider as red flags for Drop Ship Lifestyle…
Limited access
Although dropshipping offers a great deal of profit, Drop Ship Lifestyle's access is only limited.
It only focuses on Shopify. This limited access makes this course a bit of a disadvantage.
Expensive
Another downside of Drop Ship Lifestyle is its expensive price.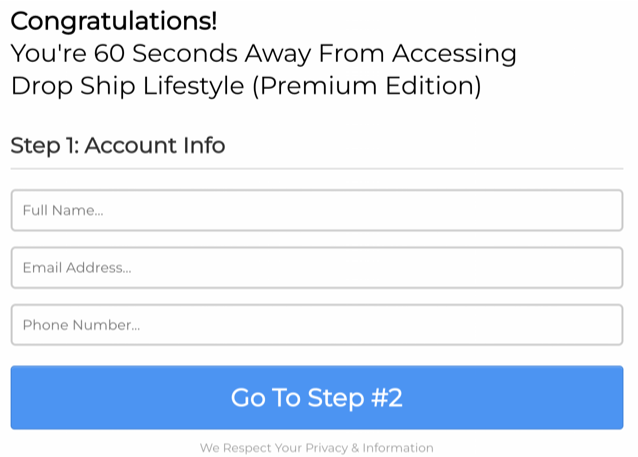 You need big cash to enroll in this course. Without the right amount, you can never avail of its promising services.
Needs motivation
Since Drop Ship Lifestyle offers flexible learning time, the lack of motivation becomes a disadvantage.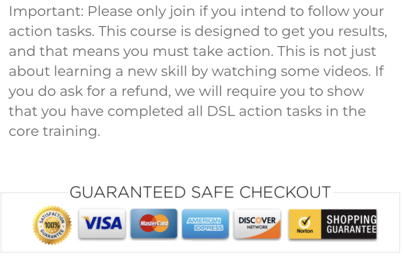 The absence of pressure in studying its modules prevents motivation from its students. You need the motivation to learn.
Ready to make passive income online?
I've created a growing passive income online with no previous marketing skills or online experience…
I've made a special video for you to explain exactly how I did this.
My opinion – Drop Ship Lifestyle
So, let's go down to business. Is Drop Ship Lifestyle worth the price? This earned various debates over the internet.
You see, joining a dropshipping course keeps you on the right track. Without the appropriate means, your business is at risk of falling down. Other businesses failed to see the brighter side of learning from experts.
One of the most common reasons why aspiring entrepreneurs don't enroll in a training course is skepticism. Doubt leaves no room for success.
Drop Ship Lifestyle offers you the chance of reaching your goals. Achieving your dreams is possible using this course. Don't be afraid of failure.
Failure is a part of the success that teaches us to start anew and move forward. Anton Kraly failed many times. Grab the chance of getting on the right track to success.
There are also many other better online business opportunities out there that you can try now…
How I make passive income online
In 2018 I had no idea what affiliate marketing was.
Once I learnt about it, it just seemed like a great business model that can grow over time using the power of the internet.
So I tried to figure it out by myself… that got me nowhere fast.
Then I fell for some terrible online scams.
But eventually, I found Wealthy Affiliate. It teaches long-term proven strategies to build an online business with all the tools & support needed.
And this happened…
Once you learn the process of getting thousands of people to find your website every month (for free) there really is not limit to what you can achieve online.
I've reviewed hundreds of courses or programs that claim to help people make money online. And I've spoken to dozens of 6-7 figure online entrepreneurs on my podcast.
This is by far the best place I've seen to help beginners get set up on the right foot. You can read my full Wealthy Affiliate review here (including the pros and cons!)
Or you can watch an insiders video I made that explains exactly how it works here.