One of the biggest challenges when establishing your business is to find the motivation. It could appear like you don't have a plan, or perhaps there is a lot of competition to consider.
When budding entrepreneurs don't know how to overcome their problems, they turn to online courses.
One of these courses is the Drop Servicing Blueprint.
The Drop Servicing Blueprint is a step-by-step course that shows old and amateur entrepreneurs how to establish a business online.
So, is the Drop Servicing Blueprint course by Dylan Sigley a scam as well? Today, we are going to find out.
In this review, I'll go over every single thing you should know about Dylan Sigley and his eCommerce course.
We will also help you decide if it's worth trying by discussing its content, pros, cons, so you'll know if it is a legit way to make money online.
Disclaimer:
This Drop Servicing Blueprint review has been thoroughly researched with information and testimonials that are available online to anyone in the public. Any conclusions drawn by myself are opinions.
Drop Servicing Blueprint review: The overview and rankings
Name: Drop Servicing Blueprint
Owners: Dylan Sigley
Type: Ecommerce course
Price: $997 one-time payment or $397/month for 3-month installment
Best for: Anyone who wants to learn e-commerce and drop shipping through Drop Ship Lifestyle to make good money.
Drop Servicing Blueprint Pros
Active community

Learn other skills
Drop Servicing Blueprint Cons
Exaggerated timelines
Difficult refund policy
Do everything on your own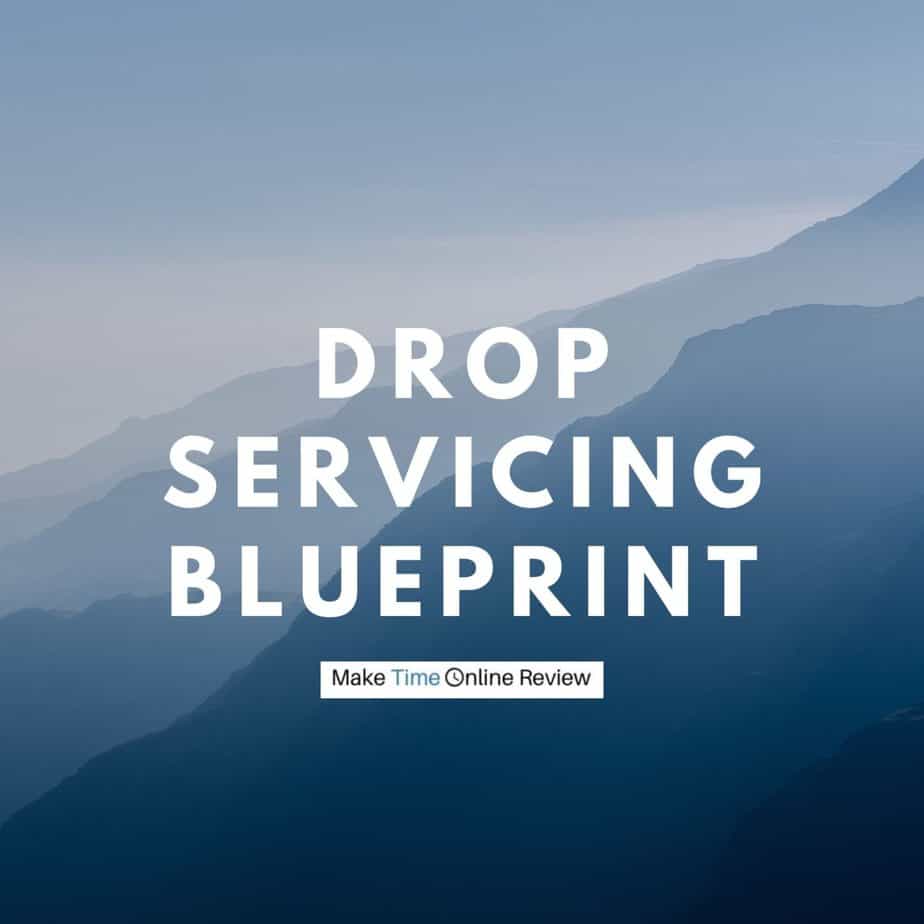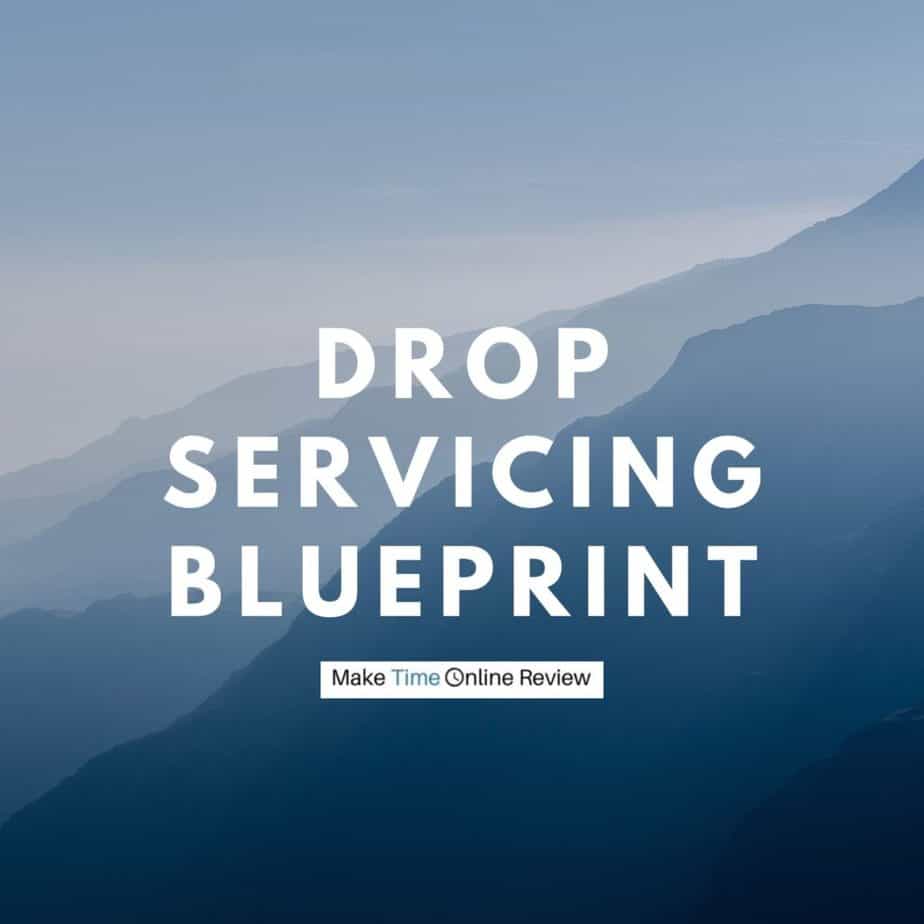 Summary:
Drop Ship Lifestyle is an ecommerce course that teaches you how to make money online through effective drop shipping.
Make Time Online Rating: 45 out of 100
Recommended: No
What is Drop Servicing Blueprint about?
The Drop Servicing Blueprint course is an online eCommerce course by Dylan Sigley.
In this, you'll learn all the steps on how to establish a business online.
To teach its users, the course includes models, community coaching sessions, and video instructions.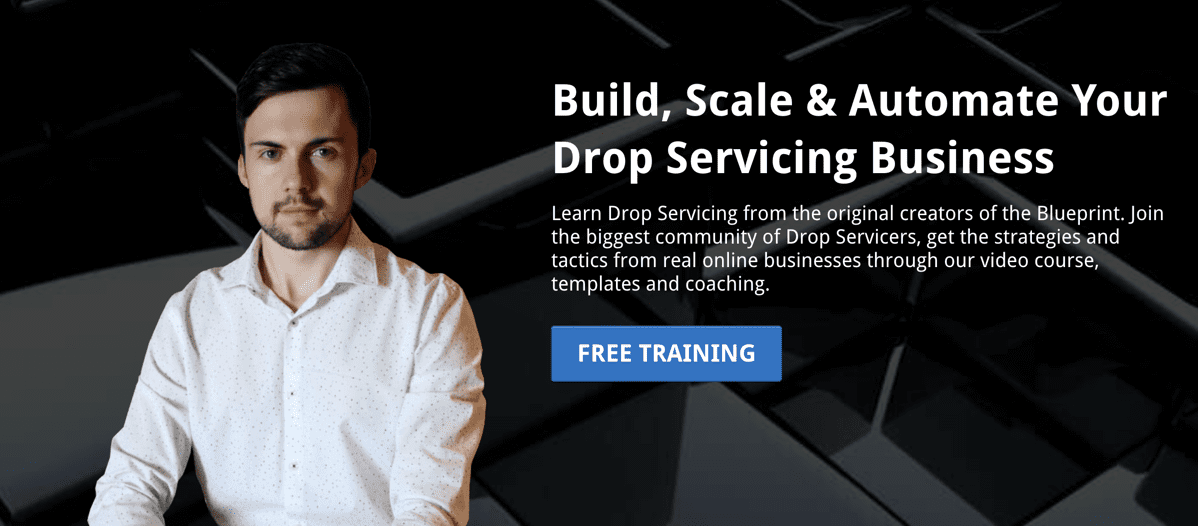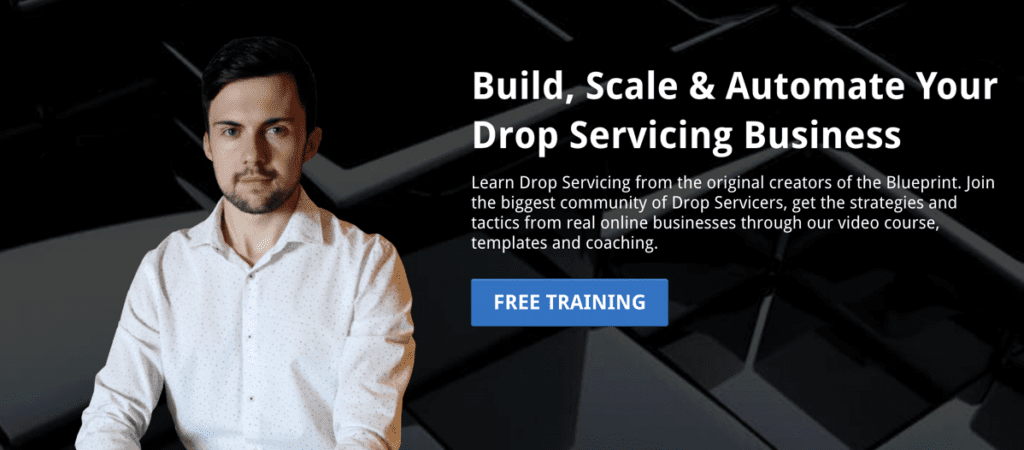 Their first aim is to assist our members in achieving outcomes as quickly as possible.
Here is what they provide:
Done-For-You business collaboration with a team of professionals with a successful track record.
More than seventy-five courses with step-by-step checklists and screen recordings demonstrate what to accomplish from beginner to intermediate levels.
You may easily develop, scale, and automate your business by copying and pasting 100+ pre-made templates.
Unlimited mentoring, coaching, training, and direct access to Dylan Sigley and other Drop Servicing Experts.
A network of highly motivated and prosperous entrepreneurs with six- and seven-figure enterprises that assist one another in achieving their objectives.
Their group possesses plenty of impressive qualities, talents, and aspirations. They value the distinctiveness that distinguishes us from everyone else and encourage us to bring our best potential to the workplace since we know that the group's chemistry as a whole determines results.
Overall, the course has more than 30 hours of instruction. In addition to that, Dylan Sigley regularly revises the course and updates it. 
One thing to keep in mind is that the Drop Servicing Blueprint course is not a subscription-based course. It's a one-time payment. Once you join, you become a member forever.
As the name implies, the Drop Servicing Blueprint will teach you the effectiveness and power of the drop servicing business model.
For those who don't know, a drop-service provider basically acts as a middleman between individuals who are looking for an online service and those who can provide the service.
Check out this 4-minute video to know more about Drop Servicing Blueprint…
So, who created this course in the first place?
Who is Dylan Sigley?
Dylan Sigley is the author and founder of the well-known eCommerce course called The Drop Servicing Blueprint. This is perhaps the only thing you should know about him.
Although, a lot of people can probably relate to his story. Just like other people, Dylan got his degree and was working a regular 9-5 job. Unfortunately, he wasn't satisfied with what he's doing.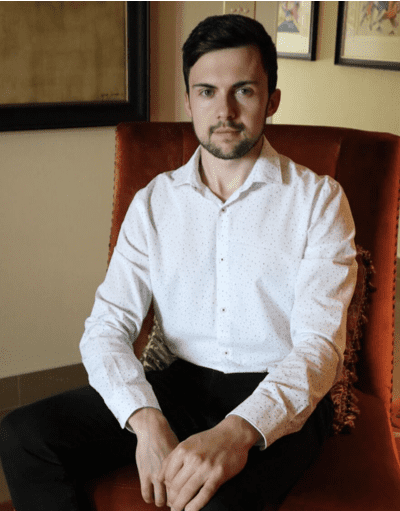 Because of this, he left his job and started making money by drop servicing. He found out that he is doing better with it and started doing it full-time.
In a short period, Dylan grew his business and started earning 6 figures. He also was able to automate the process completely. He is now living a life of complete freedom after his success.
For a lot of people, it is a dream come true to live your life to the fullest. That is why Dylan is now trying to help other individuals who were in the same place as him many years ago.
Still, you've got to keep in mind that not all people are the same. If you're going to start from scratch, you'll probably not get the same type of results as Dylan.
If you're wondering if Dylan is a fraud or fake, the answer is no. The course he offers is real. However, this doesn't mean that you'll be immediately successful once you enroll in the course.
Dylan Sigley also has a YouTube channel. He usually uploads videos of him talking about drop servicing. Oftentimes, Dylan uploads videos about financial tips.
So, how does the course work?…
Ready to make passive income online?
Hey, I'm Mike.
I created a passive income online within a year. I had no marketing skills or online experience when I started.
How does Drop Servicing Blueprint Work?
As the name implies, the Drop Servicing Blueprint is an eCommerce course that teaches users the drop servicing business model. 
The Drop Servicing Blueprint is a training program that will instruct you on how to launch and expand a drop-servicing company.
The practice of drop servicing is analogous to drop shipping. When you use Drop Servicing Blueprint, you play the role of an intermediary between people who require service and the instruments that are able to deliver that service.
This is not a novel idea; in fact, other people do the same thing on various freelance platforms. In point of fact, it's quite well-liked on marketplaces like Fiverr and Upwork.
As its name suggests, the Drop Servicing Blueprint course has been intended to demonstrate to you the power and efficiency of conducting business online through the drop servicing model.
You, in your capacity as a drop servicer, play the role of an intermediary between people who need something to be completed online and the individuals who are able to provide that assistance to those individuals.
The operation is as follows…
Let's assume that you are offering assistance to those who want to create their own websites.
In order to entice prospective customers, you would promote your business using a variety of channels, including Facebook, e-mail, and social networking sites.
You promote the service at a premium ticket price, say $1,000 for example. You pay your freelancer $250, leaving you with a profit of $750 after the transaction is complete.
To make things simple, your job as a drop-servicer is to be a middleman between people who require something to be completed online and people who can fulfill their needs.
For instance, let us imagine a person is selling tools that can help people create a website. Your job is to run ads claiming that you can do this task.
Of course, people will purchase from you if they're interested. Next, you will outsource the task to someone for a much more affordable price. Then, they will provide the final product.
The Drop Servicing Blueprint course will help you understand this business model better. You'll learn how to find reliable people to outsource the services that you need.
You will also learn how to run ads that can easily attract clients to improve your client base.
In the course, Dylan will teach you how to establish and build a drop service company. You will learn how to choose a niche and generate a website to list your service.
By the end of the course, you should know how to attract new clients and keep current clients by offering them repeat services.
Inside Drop Servicing Blueprint
The Drop Servicing Blueprint course is divided into 6 separate modules. According to Dylan, you can finish one module in 1 week.
Therefore, you can finish the whole course in around 6 weeks. However, you can always go at your own pace.
Module 1: The Foundations
Just like any course online, you will begin with a chapter that helps you create the correct mindset. It might appear like a waste of time. However, it's vital to have the right mindset, especially if you're new to this industry.
If you don't have the right combination of persistence and focus, you shouldn't expect to succeed in this industry.
Module 2: Establishing Your Business
After you're done creating the right mindset, the next thing you need to do is to get started with the course.
In this module, you'll learn how to establish a business for your customers. You'll have to pick a niche, build a website, create copy, and establish a sales funnel.
Personally, I love how the course gets straight to the point, which is helping you acquire customers.
With this, you will understand if your business will succeed or fail. Next, you will not have to waste money and time setting up everything simply to discover that there's no demand.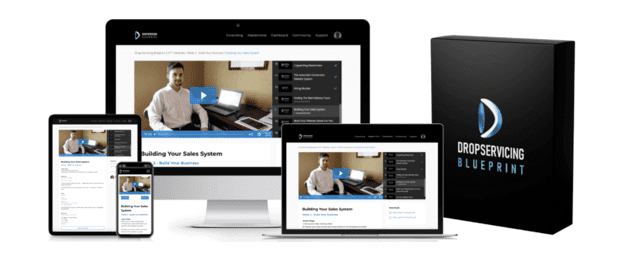 Module 3: Free Marketing Techniques to Acquire Clients
If you want to successfully get clients or leads, then you should be ready to invest money. The reason for this is that there are paid methods to do this successfully.
Fortunately, Dylan will also teach you a couple of free marketing methods to acquire customers. You'll learn the basics of social media marketing, SEO, cold calls, cold emails, and much more.
Module 4: Paid Methods to Acquire Customers
When it comes to generating results, organic or free marketing techniques can take quite some time.
Because of this, the course mainly focuses on the use of paid methods. There are benefits and drawbacks to this.
First of all, you will have to consider the cost of the service. Keep in mind that paid marketing platforms aren't affordable.
However, it is still a well-worth investment since you have a higher chance of getting the results you want.
Usually, paid methods to help you get clients to include Facebook Ads and Google Ads. You will learn the basics of using these methods.
Module 5: Automating Your Service
Once you know how to find clients, the next thing you will have to do is to find the right team to provide the service you're planning to offer.
You can train these people or you can hire someone who is already a professional at his job. Everything will depend on your preferences.
Module 6: Scaling
With automation, it's possible to scale your business. In this module, you will learn several different strategies to help you scale your business.
This module will also teach you how to upsell your business.
Check out this 7-minute video to give you a better understanding of Drop Servicing Blueprint…
Let us move forward and learn more about…
How do you join Drop Servicing Blueprint?
So, are you interested in joining the Drop Servicing Blueprint course? Perhaps you like everything that is included in the course. If so, I am going to help you join the course.
First of all, you need to visit their main website.
A simple Google search will lead you to it. Once you're on the homepage, click the "course" button found in the upper right corner.
After clicking it, the website will redirect you to the main page of the course. You will find details about the course and a huge button that says "Join Drop Servicing Blueprint". Click that button.
Next, you will be directed to a new website where you'll have to book a consultation. Simply find a date that fits your schedule and you're good to go.
Drop Servicing Blueprint cost to join
One thing to keep in mind is that the Drop Servicing Blueprint course is not a subscription-based course.
You will only need to pay $997 for the full course and you will be a member for life.
However, you should know that you can get the course for free. Unfortunately, it will take a long time for you to learn the tools you need.
Drop Servicing Blueprint monthly cost
If you think that the one-time payment of $997 is too much for you, then you've got the option to pay $397 a month for 3 months.

This means that if you choose to pay for 3 months, you will spend a total of $1191.
Unfortunately, you're paying $194 more than you would if you simply paid fully for the course.
Although you need to dispense a large amount of cash, it's enough for a one-time registration fee.
However, many people fail to realize there are ongoing costs to this business model such as…
• Weebley hosting and domain: $25 a month per website
• Call tracker i.e. Callrail: $45 to $145 per month or Callsling and $498 one time fee (needed- but you get one included – note it doesn't work everywhere in the world)
• Email autoresponder to track leads: $15+ a month
• PO Box (to set up your business address): $19 to $75 for 6 months (needed)
• SpyFu (competitor keyword research): $33 to $199 a month / Ahrefs (keyword research) – $99 a month
• PPC ads: $200+ a month (not needed but can help for speed)
• Outsourcing (some people pay others to build a website or do some of the tasks- not needed, but a great way to scale eventually)
Drop Servicing Blueprint reviews online
Even though a lot of people admire the course, there are a couple of things I have found a bit frustrating. It's best to know these things before you choose to join.
It's quite difficult to look for transparent drop servicing blueprint reviews on the internet.
Some of the reviews are too good to be true, while others are simply made by competitors to make Dylan look bad.
So here are some of the common positive and common negative traits of the Drop Servicing Blueprint course:
Common positive Drop Servicing Blueprint reviews
30-day money-back guarantee
Good traffic training
You can get templates that you can use for your business
Here is what we have seen in Trust Pilot…
"Great experience, Every question that I needed answered I had prompt service, Great communication, I would definitely recommend this service to friends and family. Thank you."
"I highly recommend it to anybody who wants to have access to clear instructions, good learning material, and constant support availability throughout the whole time."
Common negative Drop Servicing Blueprint reviews
There are steps you need to follow before you can get a refund.
The business model is too complex for amateur entrepreneurs.
The course is a bit expensive.
And here is one of the most common negative reviews about Drop Ship Lifestyle that we have seen…
"This course gives 6 weeks of training and less than 90 videos.. $997 for that seems too much."
"I personally don't like drop servicing that much. You have to build a team and it's difficult to scale. The upside isn't that high with this business model."
Is Drop Servicing Blueprint a scam?
So, is Dylan Sigley's Drop Servicing Blueprint course a scam?
The answer is no. it isn't a scam.
Once you join the course and pay the fee, you will get the training that you deserve.
The only thing you need to remember is that it's pretty difficult to make money with this business model. Thus, you shouldn't expect instant success if you enroll in this course.
Drop Servicing Blueprint pros
Here are some of the best things that I like most about Drop Seervicing Blueprint…
Active community
If you join the course, you will also join a Facebook Group that is filled with extremely active members.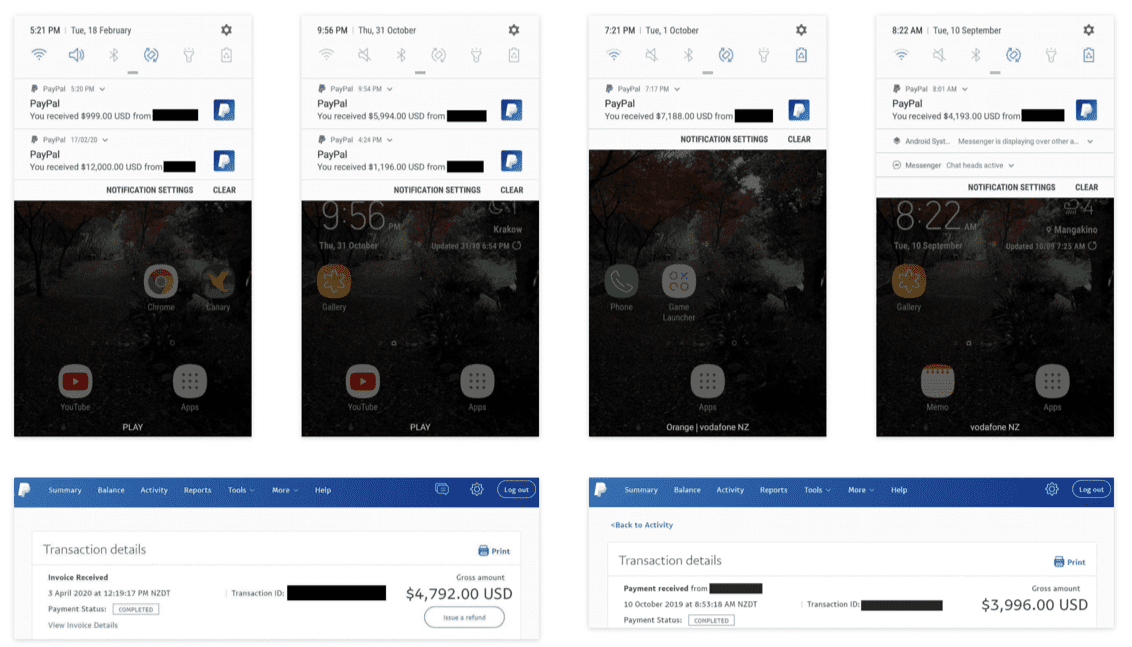 It is an excellent place to ask if you've got questions about the business.
You will get loads of support from the community, and you can use all this learning to further increase your knowledge about drop shipping and e-commerce in general.
Learn other skills
Aside from learning how to establish a drop servicing business, the course will also teach you other important skills such as Google Ads, Facebook Ads, copywriting, and much more.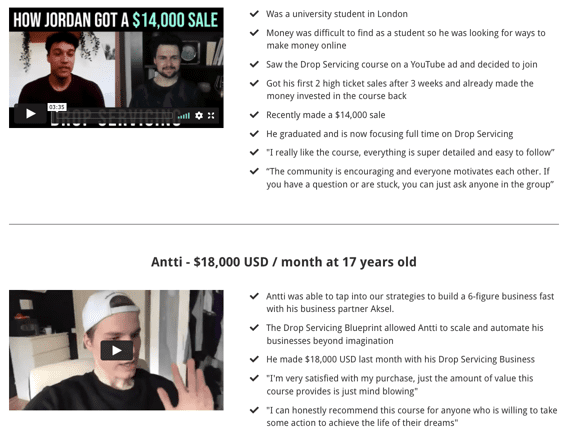 This will be of great help because this can help improve your skill set so that you can tap onto the more lucrative side of e-commerce, and that is by combining all of them in a single package.
Drop Servicing Blueprint cons
And here are the not-so-good things that I consider as red flags for Drop Ship Lifestyle…
Exaggerated timelines
Oftentimes, the course will tell you that you can finish a particular task in several days.
However, that is not the case at all.
The course will tell you that you can finish a specific task in weeks, when in fact you will need several months to finish it.
Difficult refund policy
Even though the course offers a 30-day money-back guarantee, it's still frustrating to get a refund.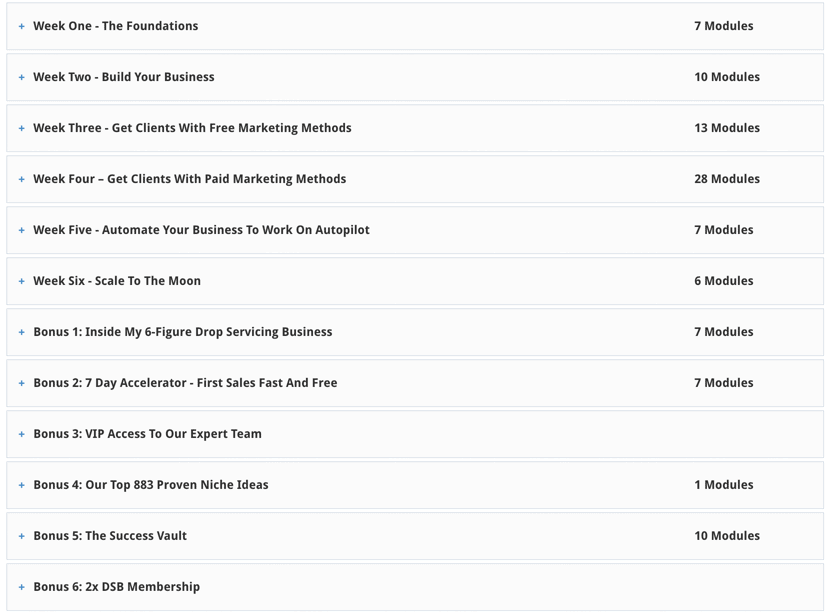 Before you can get your money back, you will have to follow long and tedious steps. It just deceives you into buying it as soon as possible.
Do everything on your own
The course will teach you how to do every single thing on your own.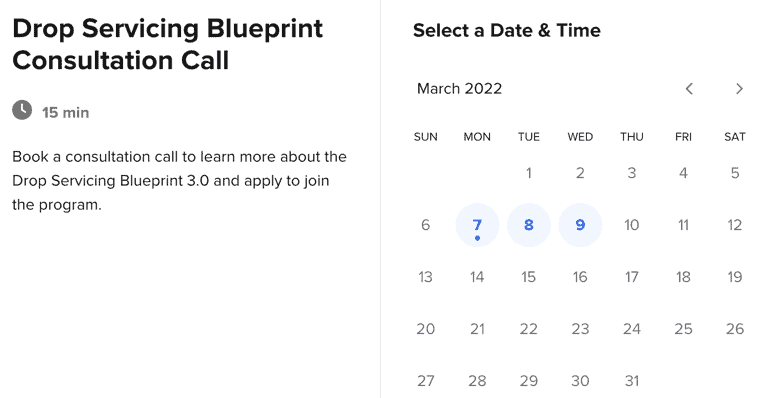 So, if you're new to the drop servicing industry, there is a good chance you will have a hard time with it…
Ready to make passive income online?
I've created a growing passive income online with no previous marketing skills or online experience…
I've made a special video for you to explain exactly how I did this.
My opinion – Drop Servicing Blueprint
The course is real. It is not a scam. It comes from a legit instructor with useful lessons and helpful tutorials. The training videos are great as well.
The course will teach you how to establish an online business.
However, some people might find the business model too complex, especially if it is their first time.
So, should you enroll in this course? The answer depends on your needs. If you really want to join the drop servicing industry, then this course will teach you all the things you need to get started.
There are also many other better online business opportunities out there that you can try now…
How I make passive income online
In 2018 I had no idea what affiliate marketing was.
Once I learnt about it, it just seemed like a great business model that can grow over time using the power of the internet.
So I tried to figure it out by myself… that got me nowhere fast.
Then I fell for some terrible online scams.
But eventually, I found Wealthy Affiliate. It teaches long-term proven strategies to build an online business with all the tools & support needed.
And this happened…
Once you learn the process of getting thousands of people to find your website every month (for free) there really is not limit to what you can achieve online.
I've reviewed hundreds of courses or programs that claim to help people make money online. And I've spoken to dozens of 6-7 figure online entrepreneurs on my podcast.
This is by far the best place I've seen to help beginners get set up on the right foot. You can read my full Wealthy Affiliate review here (including the pros and cons!)
Or you can watch an insiders video I made that explains exactly how it works here.