Many are looking for new means of making money. And that includes tapping onto the digital realm.
Because of this, many online courses have popped up that aim to help people make money online.
One of which is Consulting Accelerator.
But you might have asked yourself…
Is Consulting Accelerator a scam?
Nope, it is not. It is a legit consulting and lead gen course created by successful digitalpreneur, Sam Ovens.
This review aims to discuss its content, effectiveness, creator background, and weigh the pros and cons, so you'll know if this is a legit way to make money online.
Disclaimer:
This Consulting Accelerator review has been thoroughly researched with information and testimonials that are available online to anyone in the public. Any conclusions drawn by myself are opinions.
Consulting Accelerator review: The overview and rankings
Name: Consulting Accelerator
Owners: Sam Ovens
Type: Lead generation course
Price: $1,999
Best for: Anyone who wants to learn how to make money online through lead generation and consultancy.
Consulting Accelerator Pros
Legit creator
Positive reviews
Beginner-friendly content
Consulting Accelerator Cons
Expensive

Not for advanced folks
No guarantee of success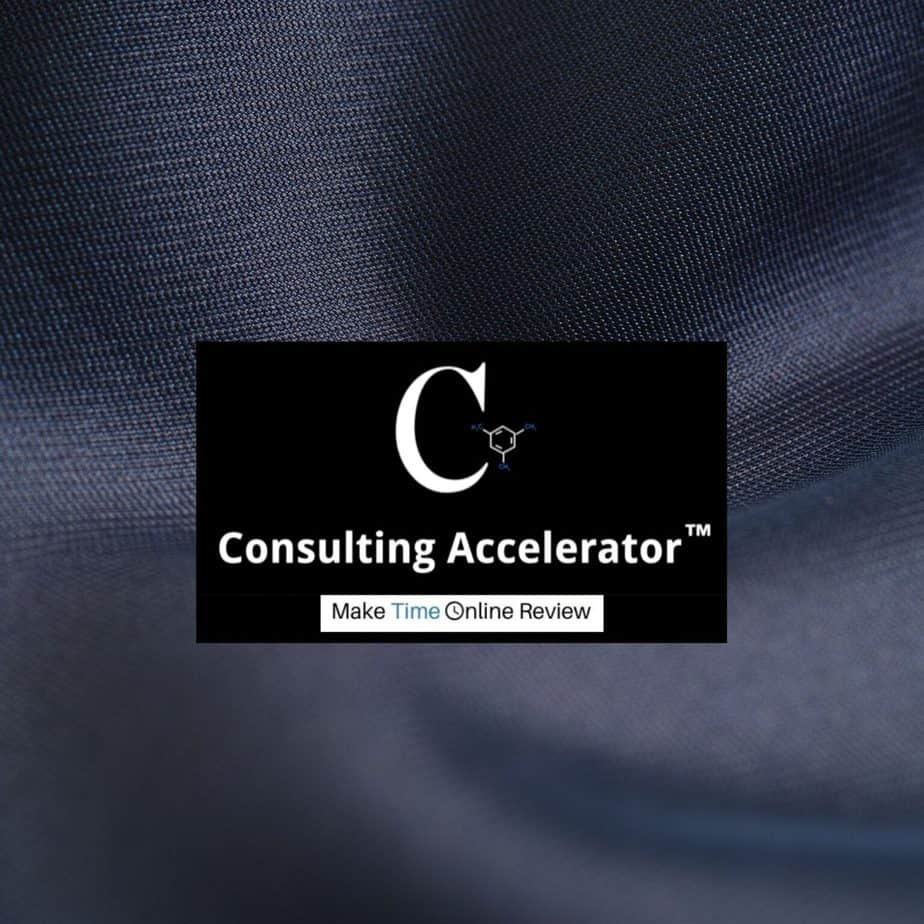 Summary:
Consulting Accelerator is a lead generation course that teaches you how to make money online through effective lead generation and digital marketing sales consultancy.
Make Time Online Rating: 45 out of 100
Recommended: No
What is Consulting Accelerator about?
Consulting Accelerator is a training program that spans 6 weeks.
This is created and designed to teach people how to use a number of technical and social skills to create a profitable business regardless of the location.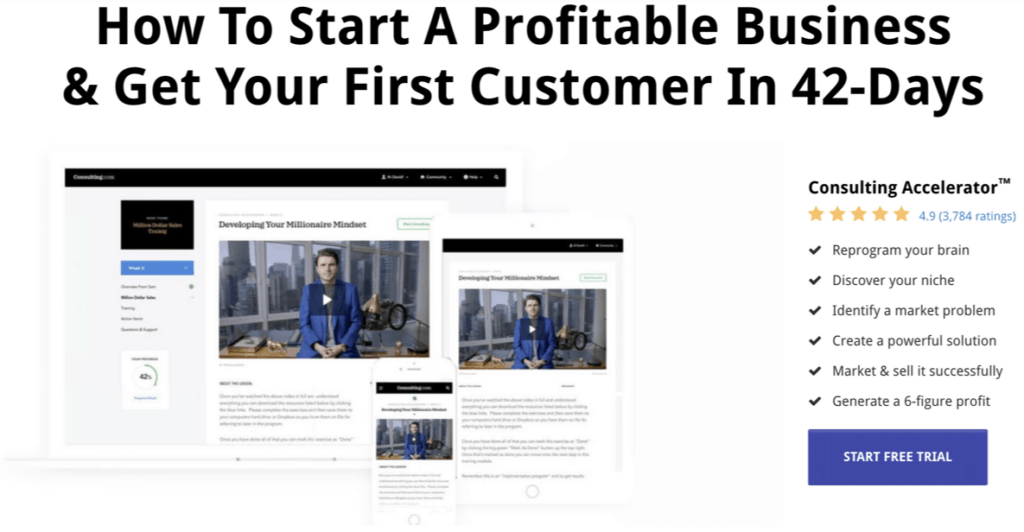 The course includes multiple modules which are broken down into different areas of launching businesses.
You learn how to deal with sales, advertising strategies, and how to boost profitability.
It's also worth noting that the course has already undergone multiple changes, making this a well-structured and polished course that we have today.
Check out this 2-minute video to know more about Consulting Accelerator…
So, who created this Consulting Accelerator in the first place?
Who is Sam Ovens?
Sam Ovens is the CEO and founder of Consulting.com, which is a globally-renowned online learning platform that helps people create businesses and grow it moving forward.
He has a proven track record of massive success in the digital industry as he has amassed more than $18 million in wealth.
Consulting.com currently has more than 20,000 active students and claims to have helped them earn $690 million in revenue.
Consulting Accelerator is a product of Consulting.com, and is created and facilitated by Sam Ovens directly.
So, how does the course work?…
Ready to make passive income online?
Hey, I'm Mike.
I created a passive income online within a year. I had no marketing skills or online experience when I started.
How does Consulting Accelerator Work?
The Consulting Accelerator is a 6-week training program that includes online documents, work books, and a community where you can have weekly Q&A calls and lifetime access.
I also found out that this has a 14-day money-back guarantee.
It works by discussing various matters that teach anyone how to create a profitable business regardless of the location you are in.
The course helps you set the foundations to learn sales, digital advertising, and how you can boost your business profitability by tapping into the right audience and market.
Inside Consulting Accelerator
The Consulting Accelerator includes six modules that have its own specific focus on lead generation and digital marketing as a whole.
Here they are:
Week 1: Laying your foundations
This covers the fundamentals of creating a consulting business. The pros and cons, as well as the scope of your service, are all laid out here in deep detail. You also get an idea of what you can expect once you enter this industry.
Week 2: Paradigm and Worldview
This is the second week of the training course. It's all about mindset for this module and focuses more on the transformational aspect of being an entrepreneur.
The various feelings that are common for businessmen are all laid out here so you can expect what to do and you can prepare ahead of time.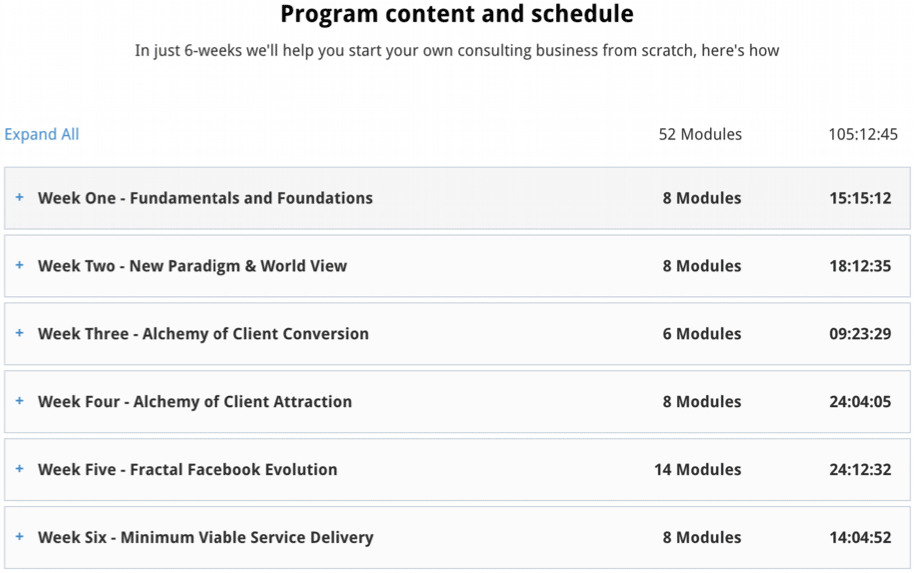 Week 3: Alchemy of Client Conversion
This third week is all about sales. The psychology behind marketing and sales are discussed here.
This then helps you leverage your network and use them to boost your business' profitability. In simpler words, you are taught how to convert anyone into a high-paying client with minimal effort and time used as much as possible.
Week 4: Alchemy of Client Attraction
This is the fourth week of the course and covers the marketing aspect of running a business.
Learn actionable strategies and effective techniques to acquire new clients through various paid and free strategies. Knowing how to reach out to your target market is the focus of this module.
Week 5: Fractal Facebook Evolution
Learn how to use Facebook advertising to attract more people. This is especially important knowing that social media, specifically, Facebook, is already a big part of everyone's lifestyle.
Week 6: Minimum Viable Service Delivery
This is the last part of the module. Learn how to structure your service delivery to meet the expectations of your market.
Set client expectations by hiring contractors to effectively manage your cash flow. You also learn how to focus on your business' operations and plan out the future.
Check out this 5-minute video to give you a better understanding of Consulting Accelerator…
And what are the prices?…
How do you join Consulting Accelerator?
There is no specific step-by-step instruction on joining Consulting Accelerator.
But you can visit their website and go to the right corner of the screen.
You will then find a green button that says Join Consulting Accelerator…
How much does Consulting Accelerator cost to join?
The Consulting Accelerator training course is worth $1,999.
But you can pay this on an installment basis worth $597 for five payments.
Their site also says that the original price is $5,991. So that's a huge discount, so to speak…
Consulting Accelerator monthly cost
You can pay a one-time payment of $1,999.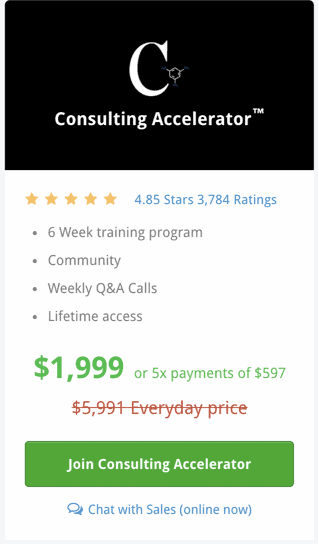 But you can also pay this on a monthly installment basis worth $597.
Aside from that, there are no more additional costs.
But is that really the case?
Well, I doubt so…
You see, many people fail to realize there are ongoing costs to this business model such as…
Weebley hosting and domain: $25 a month per website (needed)
Call tracker such as Callrail: $45 to $145 per month
Callsling: $498 one time fee (needed, but it doesn't work everywhere in the world)
Email autoresponder to track leads: $15+ a month
PO Box (to set up your business address): $19 to $75 for 6 months (needed)
SpyFu (competitor keyword research): $33 to $199 a month
AHrefs (keyword research): $99 a month
PPC ads: $200+ a month (not needed but can help for speed)
Outsourcing (you need this to build a website or do other tasks. Not needed, but is a great way to scale eventually.)
Consulting Accelerator reviews online
Consulting Accelerator is an online course that teaches you lead generation and how you can make money from various areas online.
But what you really want to know is if this can really help you earn money online.
To answer this, I've checked a number of client testimonials and reviews about his course…
Common positive Consulting Accelerator reviews
Educational
Effective

Beginner-friendly
Here are some of the best positive reviews I have found…
If you want to start and expand your consulting business, Sam's courses are the right ones for you.
The course follows a hands on approach and you will be actually creating your own business week after week.
The quality of the videos is much higher than other courses, the slides are easy to understand.
Common negative Consulting Accelerator reviews
Nothing special

Expensive

Many better choices
And here are the negative reviews worth checking out…
The Consulting Accelerator is an alright course, but most people will only find about half of it applicable or useful.
The course is very expensive, costing around $2,000, or if you don't have that much sitting in your pocket, Ovens will do you a favor and only charge you $3,000 over the course of 5 months.
It's by far not the best online business model in 2020. I've spent tens of thousands of dollars in FB ads, and I know it for a fact.
Is Consulting Accelerator a scam?
Consulting Accelerator is not a scam.
It is a legit lead gen digital marketing course created by a successful and undoubtedly legit creator named Sam Ovens.
The training course includes valuable information on how you can start a consulting business and use this to leverage on high-paying clients, that in turn, can boost your own business.
However, many people are disappointed to know that there is no guarantee of success even if you finish the course. And you have to pay a hefty $2,000 just to gain access to it, not to mention, the additional costs…
Consulting Accelerator pros
Legit creator
Sam Ovens is a globally-renowned digital entrepreneur and has built massive wealth around his marketing skills.
This is a good sign for the course because it shows that the course itself knows what it is talking about based on its own personal experience.
Positive reviews
Check this out…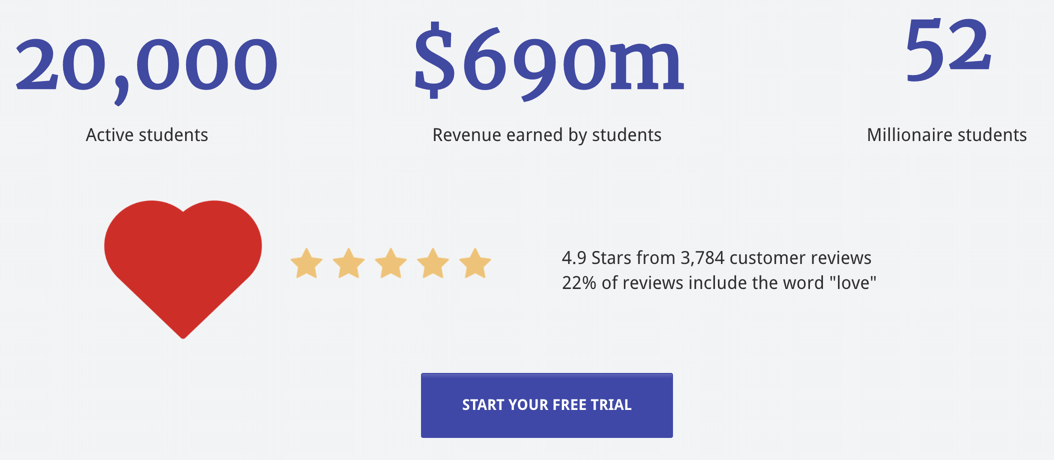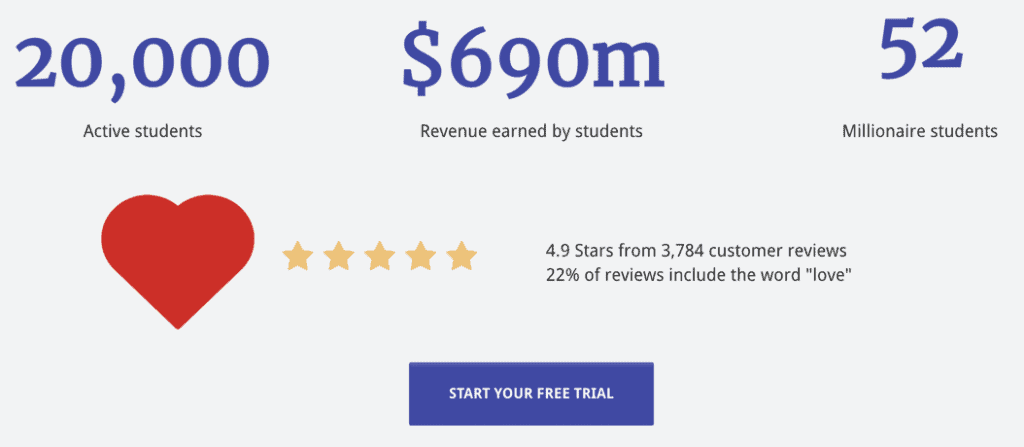 There are a lot of positive reviews out there. This shows that many students are happy and satisfied with the course and that they have learned a lot from it.
Beginner-friendly content
The content of the course is beginner-friendly.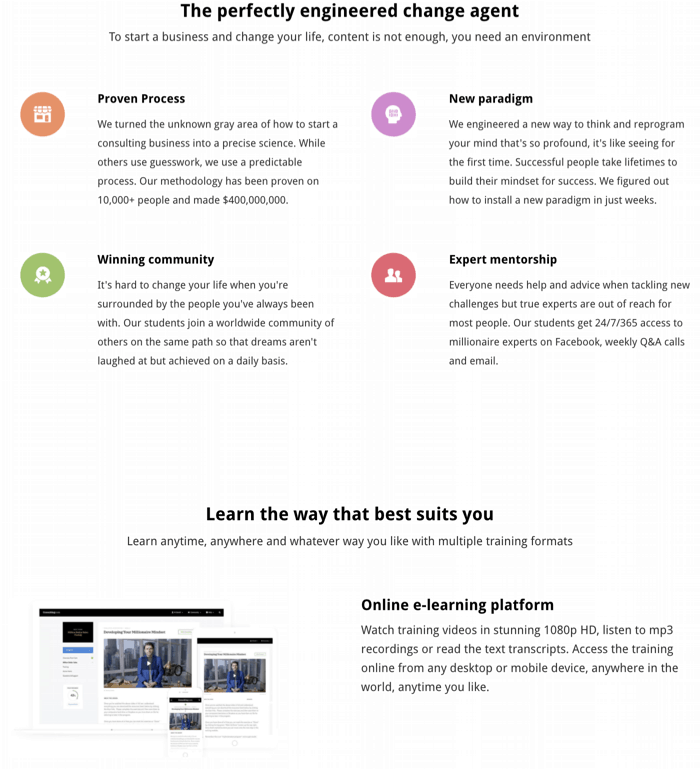 It provides step-by-step information where students are literally told what to do. It also has a hands-on approach that helps you create your own business and leverage lead gen strategies to your own benefit.
Consulting Accelerator cons
Expensive
Just like many other lead gen courses out there, this one is downright expensive.
$1,999 is a truck load of money, even if they say that it's worth $5,991. That is just too much, especially that this is just an online course.
Not for advanced folks
This is a beginner-friendly course.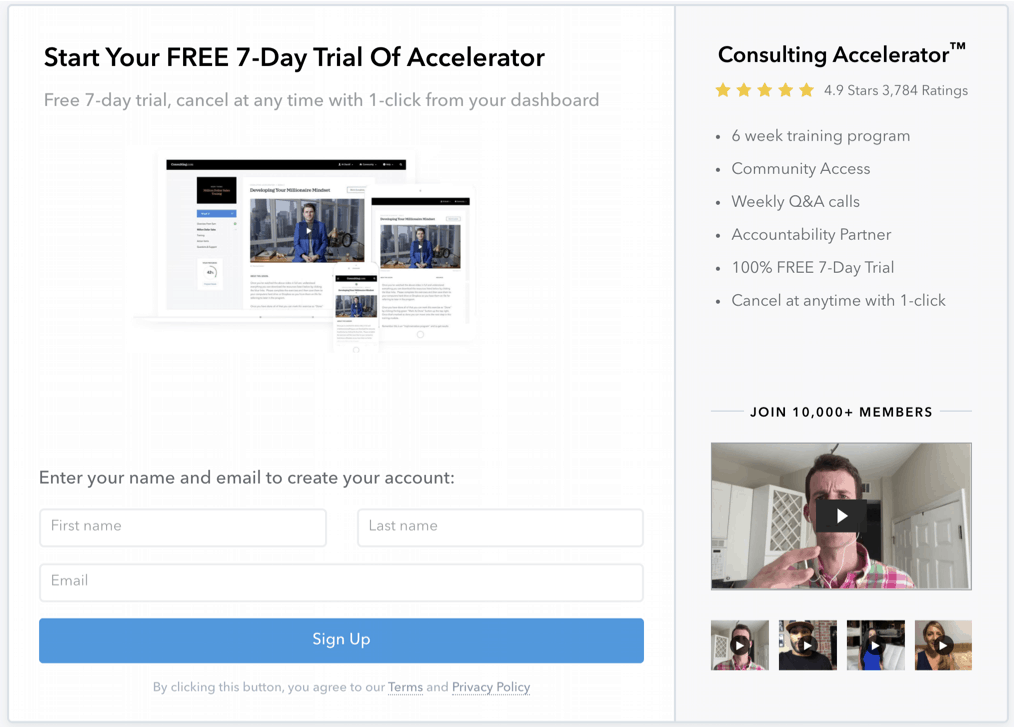 So, that automatically means that it's not for the advanced folks out there.
The course itself is too basic and many experience lead gen lads and consultancy people out there will just find these useless…
No guarantee of success
There is no guarantee of success and immediate wealth when you finish this course.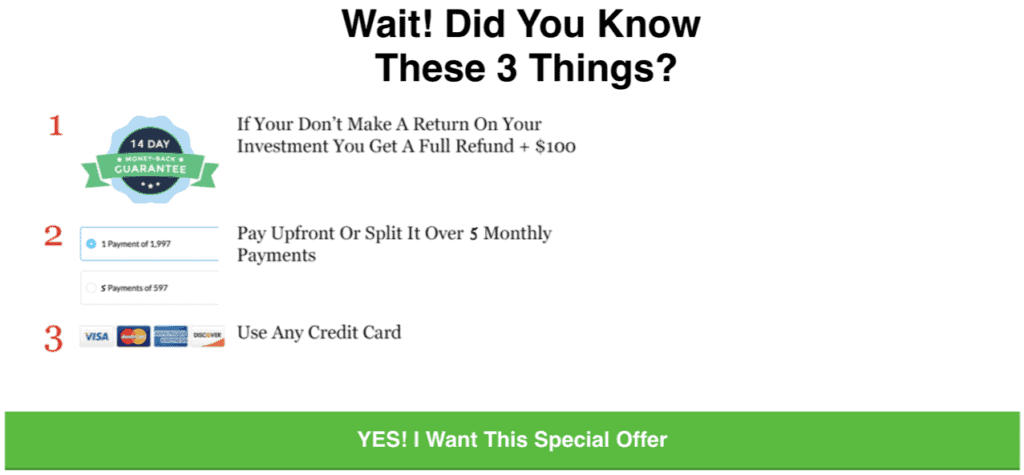 Yes, Consulting Accelerator review is informative and helpful. But you cannot expect that money will directly flow to you as soon as you finish it.
You need to spend a lot of time and money to perfect your own lead gen business and you should also carefully follow the things that Sam Ovens will teach you, aside from having some tidbits of your own creativity in store.
My opinion – Consulting Accelerator
The Consulting Accelerator is not a scam.
It is a legit lead generation course that teaches how to acquire high-paying clients to leverage for your consulting business.
It is also created by successful digital entrepreneur Sam Ovens who has amassed huge wealth thanks to his own personal experiences in the field.
It includes informative courses about lead generation and earning passive income.
But you get all these in exchange for spending loads of money just for the course. There is also no guarantee of success and massive riches, just like what they say, once you finish their course.
There are better online business opportunities out there that you can try now…
How I make passive income online
In 2018 I had no idea what affiliate marketing was.
Once I learnt about it, it just seemed like a great business model that can grow over time using the power of the internet.
So I tried to figure it out by myself… that got me nowhere fast.
Then I fell for some terrible online scams.
But eventually, I found Wealthy Affiliate. It teaches long-term proven strategies to build an online business with all the tools & support needed.
And this happened…
Once you learn the process of getting thousands of people to find your website every month (for free) there really is not limit to what you can achieve online.
I've reviewed hundreds of courses or programs that claim to help people make money online. And I've spoken to dozens of 6-7 figure online entrepreneurs on my podcast.
This is by far the best place I've seen to help beginners get set up on the right foot. You can read my full Wealthy Affiliate review here (including the pros and cons!)
Or you can watch an insiders video I made that explains exactly how it works here.