SEO is short for Search Engine Optimization. It's the process of optimizing a site to improve clickthrough rate, attract organic traffic, and gain search engine ranking.
Every person has heard of training courses for digital and SEO. Nowadays, it appears like they're a lot of them.
Unfortunately, any person can teach these courses. This lowers their reliability and makes people skeptical about checking out the new offerings
So, is ClickMinded a scam?
No, ClickMinded is a digital marketing resource that most SEO professionals recommend to beginners. It provides courses in social media marketing, content marketing, SEO, and more.
Is it really worth it?
In this article, I will help you choose if the ClickMinded SEO course is for you. So, continue reading below.
We will also help you decide if it's worth trying by discussing its content, pros, cons, so you'll know if it is a legit way to make money online.
Disclaimer:
This ClickMinded review has been thoroughly researched with information and testimonials that are available online to anyone in the public. Any conclusions drawn by myself are opinions.
ClickMinded review: The overview and rankings
Name: ClickMinded
Owners: Tommy Griffith
Type: SEO course
Price: $997 for a single course, $1,997 for a bundle of 7 courses
Best for: Anyone who wants to learn SEO to make passive income digitally.
ClickMinded Pros
Certification

High-quality content
Money-back guarantee
ClickMinded Cons
Expensive
No community
No guarantee of success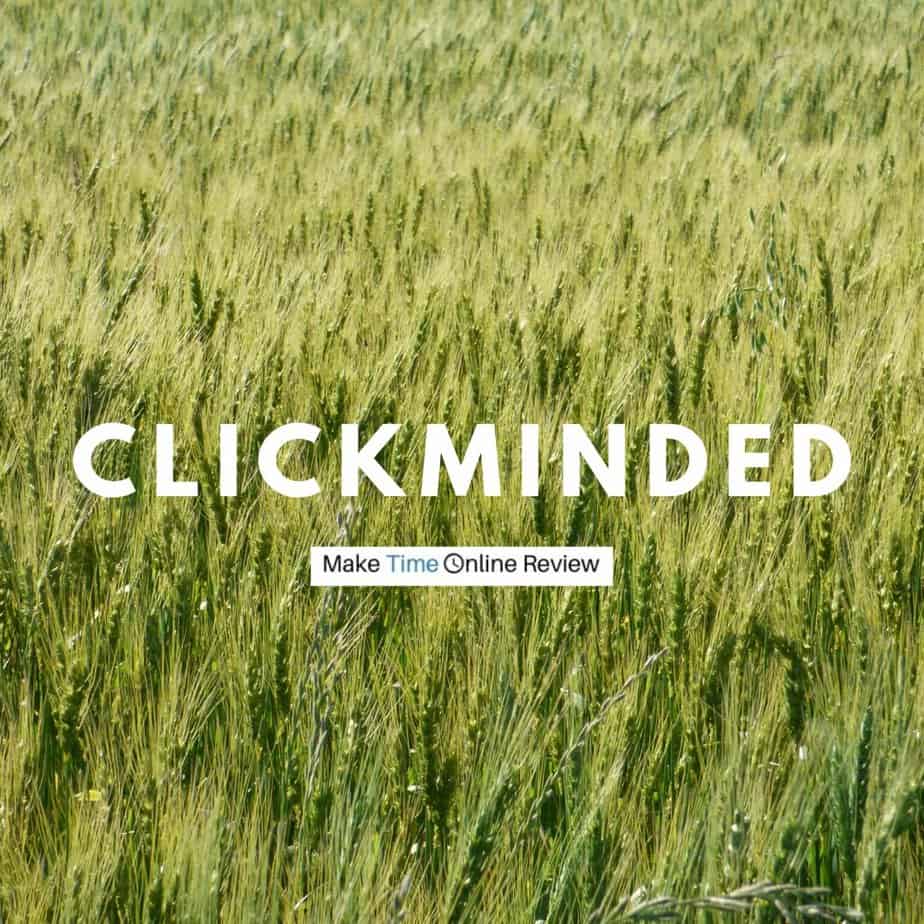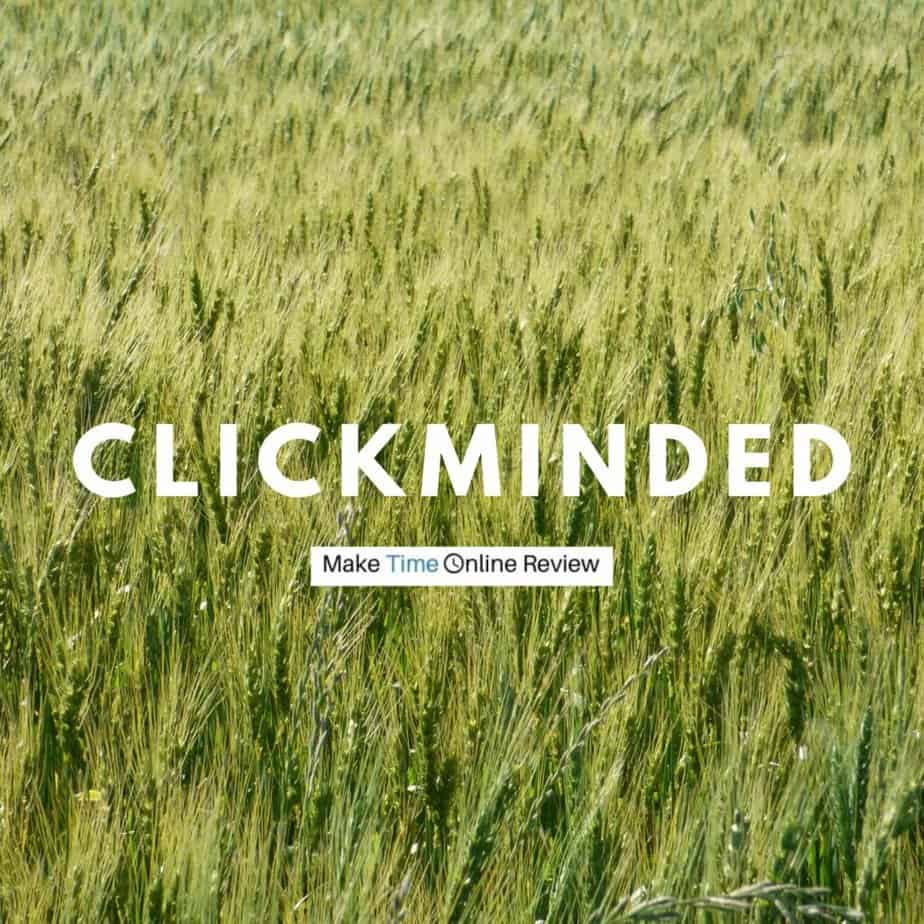 Summary:
ClickMinded is a Digital Marketing course that discusses digital marketing techniques and methods including SEO so you can easily make money and achieve success in the digital world.
Make Time Online Rating: 45 out of 100
Recommended: No
What is ClickMinded about?
ClickMinded is a company that was founded by Tommy Griffith. Griffith has tons of experience as an SEO specialist for Airbnb and PayPal. Thus, you can ensure that he's well-versed in SEO.
If you are attempting to scale, it goes without saying that training your employees, onboarding virtual assistants, and designing and rewriting new marketing processes are essential.
More than 50,000 marketers and counting utilize ClickMinded SOPs and online courses to rapidly train their teams and apply the most prevalent digital marketing procedures within their organizations.
You need not engage a new freelancer to handle a new marketing channel. Need a higher Google ranking? Build email systems that generate passive income? Launch advertising initiatives that are profitable (and don't consume your entire budget). Find a course or SOP just for this.
Forget about internet tutorials that waste your time with unnecessary detail. Get things right from the start — and with fewer resources!
Do not fall behind because others are utilizing channels in which your team lacks familiarity. Master each and every digital marketing channel with the assurance that you are studying from true professionals in the field.
Because of this, you won't have to worry about the quality and legitimacy of the training course. Even if you're not planning to purchase any of the courses, you can still learn a lot from them.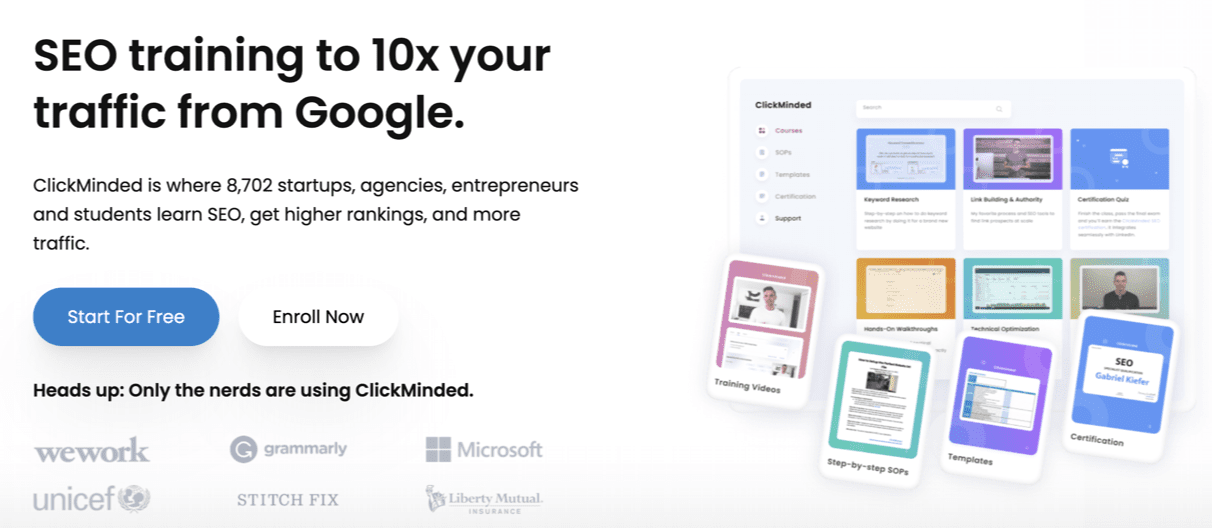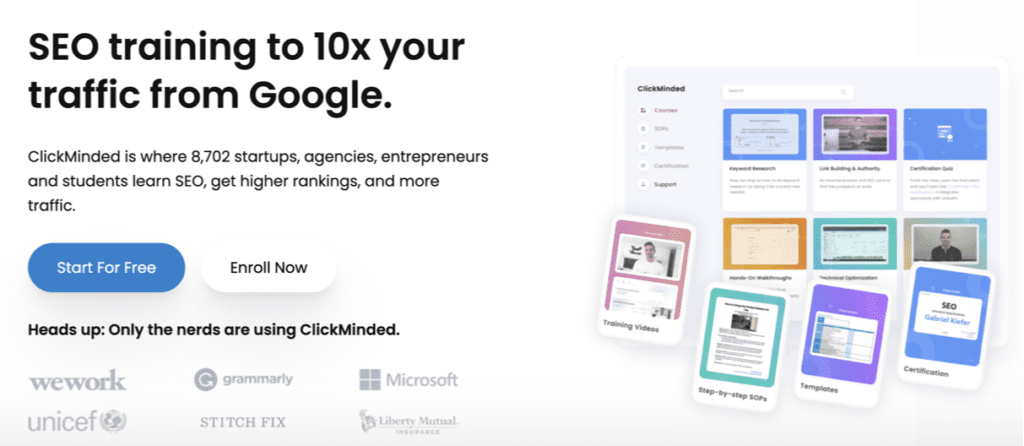 There is an introductory module that can provide you with an overview of what you could expect to learn in the course. It also offers strategy guides, actionable templates to download, tons of walkthroughs, and much more.
One of the drawbacks of ClickMinded is that the program does not have a private community where other students can exchange ideas, share experiences, and more.
While there are tons of various courses available, the primary course is focused on SEO. This is where Tommy Griffith can shine.
As of today, ClickMinded has helped more than 8000 students, entrepreneurs, start-ups, business owners, and agencies to get more free traffic and higher rankings.
Check out this 32-minute video to know more about 90-Day SEO…
So, who created this course in the first place?
Who is Tommy Griffith?
Tommy Griffith is the founder of ClickMinded.
He is an SEO veteran who has been doing SEO tasks for almost 10 years. Years ago, Griffith managed and led SEO teams at Airbnb and PayPal.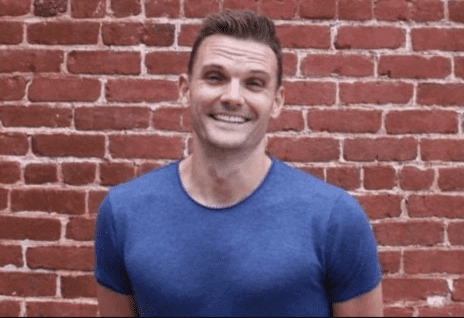 Aside from that, Griffith also has a BS in Risk Management from the University of Connecticut. He also worked as a paid search manager at Brandneu.
After he graduated, Griffith traveled abroad during the 2008 financial crisis.
He co-founded a digital marketing company in Taiwan that was focused on helping tourism start-ups. Unfortunately, the company did not thrive and is not active anymore.
In 2011, Griffith came back to the United States to work for PayPal. In 2013, Griffith joined Airbnb and worked there for around 4 years before creating ClickMinded.
So, how does the course work?…
Ready to make passive income online?
Hey, I'm Mike.
I created a passive income online within a year. I had no marketing skills or online experience when I started.
How does ClickMinded Work?
ClickMinded is an online digital marketing course.
The course includes lessons such as an SOP library, sales funnels, Google Analytics, paid advertising, social media marketing, email, content, and SEO.
The goal of the ClickMinded SEO training course is to provide a foundational understanding of how search engines rank websites.
You'll discover why higher ranks result in more visitors, which search engines to consider when selecting where to rank a website, and some of the approaches and strategies I do to get more clients.
This course will offer you with a comprehensive understanding of the fundamentals of search engine optimization.
Online marketing, keyword optimization, email campaigns, sales funnels, paid advertising, social media marketing, and content marketing are covered on the clickminded.com website.
There are numerous courses that cover each subject in depth. In addition, there is a course that covers all of them.
It is a bit more pricey, however purchasing all of these offers separately would be far less expensive. In addition, you will receive a certificate upon completion of each course.
As part of your portfolio, you might provide it to an employer or client as evidence of your skills. People can profit from all of the available resources inside Clickminded, which, in my opinion, are all of good quality (both free and paid).
The creator of the program, Tommy Griffith, established a curriculum based on his practical experience as an SEO supervisor at Airbnb and PayPal.
Every lesson is self-paced. Students can also finish each lesson in around 3-6 hours. Courses offer students with free updates and unlimited lifetime access.
This allows you to keep up to speed on new marketing strategies.
The experience-driven content offers step-by-step directions for students to incorporate the methods into their own services.
Aside from that, ClickMinded provides free resources for strategy guides, blog posts, and introductory courses.
All of these offer additional guidance and tips on how you can improve sales and traffic.
Subscribers won't receive direct support from teachers. There's no help provided to the work search.
A lot of people who finish the course and pass the exams obtain a certificate of completion that they can utilize to improve their LinkedIn profiles and marketing portfolios…
Inside ClickMinded
You can get access to 7 various digital marketing programs inside ClickMinded, one bundle that includes all the programs, and an SOP library that can help you grow any site.
For those who don't know, SOP is a collection of step-by-step guides and templates on the various methods for growing the conversions, traffic, and presence of a website.
Let's take a closer look at each course that ClickMinded provides.
Social Media Marketing
This type of marketing uses visual aids, such as photographs, images, and email to drive traffic to a website of company.
In this lesson, different marketing tactics will be shared with you. This includes how to put them into practice, and how you can use social media ads to improve engagement with your audience.
Also, you can learn how to advertise a business or company on social media and how you can share curated links.
Content Marketing
This course will teach you how to identify your target demographic by using different personas.
If you want to establish the identity for your audience, you have to understand what drives your consumer, their level of education, age group, gender, where they reside, and a lot of other factors that will allow you to change your marketing tactics.
Email Marketing
This type of marketing is a method of advertising your company by sending a commercial message through email.
Paid Advertising
This part will teach you how to personalize your responses and split your clients in order to help enforce your email marketing methods.
Also, you can learn everything about mobile-friendly emails.
People also refer to paid advertising as CPC (Cost-Per-Click) and PPC (Pay-Per-Click).
Sales Funnels
This course will show you the importance of this marketing as well as a lot of other paid advertising elements. This includes ROI, display ads, marketing segmentation, cost per impression, and brand loyalty.
Google Analytics
This course will teach students the effect and value of sales funnels, as well as how to establish your own.
Other topics you'll learn here are sales calls, sales, timing, conversions, leads, and other sales funnel considerations.
Google Analytics is a Google tool that deals with analytics.
This program will teach you Google Analytics to report and map traffic, and also how to utilize this service to boost client productivity and avoid common challenges.
SEO
Another program included in this bundle is SEO (Search Engine Optimization). Some of the lessons you'll learn here include different forms of performance drivers, how to attract targeted traffic, and how to utilize SEO strategies.
Other topics will tackle how to read search results and search engine ranking.
Check out this 37-minute video to give you a better understanding of ClickMinded…
Let us move forward and learn more about…
How do you join ClickMinded?
Joining the ClickMinded training program is quite easy.
All you've got to do is to open your favorite browser and search "ClickMinded" on Google.
Then, click on the first link on the result page. This will send you to the main website of ClickMinded. Once you're on their main page, you'll see an "Enroll Now" button in front. Click it.
After clicking the button, the website will give you 3 options to choose from. The first option is the SEO course. The second option is a bundle of all the courses that ClickMinded offers. The third option is a course bundle for 10 people.
Choose the right option for you. Next, you'll have to fill up your information and you're good to go.
ClickMinded cost to join
As mentioned earlier, there are three options you can choose from.
The single course will cost you around $997.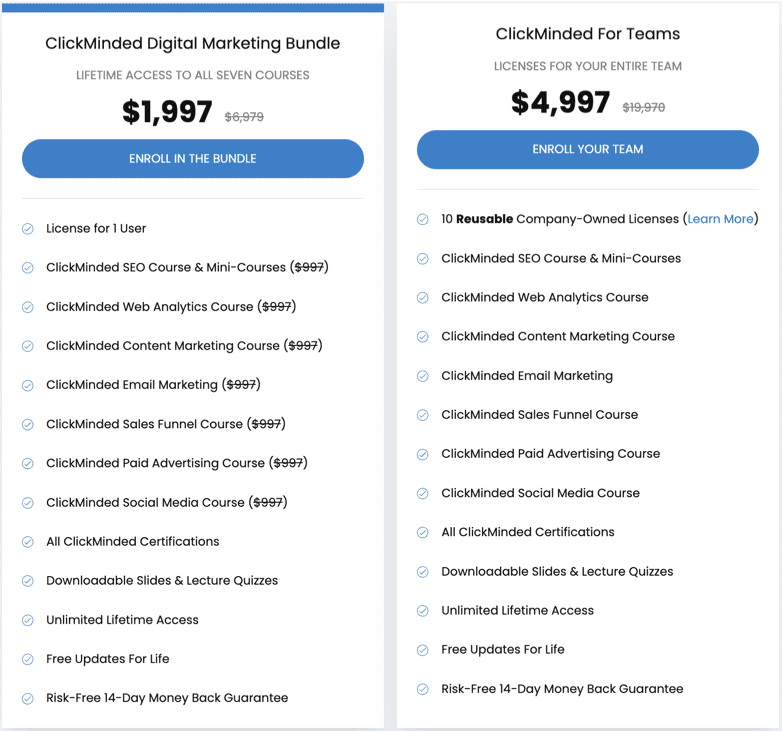 However, there's a bundle package option that includes every lesson mentioned above. The bundle package costs $1,997.
If you choose to buy each course, it will cost you $6,979. This means that getting the bundle will save you $4982.
Also, you should know that there is a 14-day money-back guarantee on every purchase. There are also no catches that can render you unable to get your money back.
As long as you ask for a refund within 14 days, you will get your money back.
ClickMinded reviews online
Many subscribers like the course. However, there are a couple of things I have found a bit frustrating. It's best to know these things before you choose to join.
It's a bit difficult to look for transparent drop servicing blueprint reviews on the internet.
Some of the reviews are too good to be true, while others are simply made by competitors to make Matthew look bad.
So here are some of the common positive and common negative traits of ClickMinded:
Common positive ClickMinded reviews
Comprehensive
Good content
Money-back
Here are some of the most common positive reviews we have seen from clients…
"I'm blown away at the amazing detail… I'm blown away at the amazing detail provided in each and every SOP. The team at ClickMinded truly over delivered."
"I came from a high-profile bootcamp to ClickMinded because the content I received through the bootcamp was subpar. However, with ClickMinded, the training is hands-on. I've already referred several people to this platform to learn SEO. I highly suggest grabbing the 7-course bundle. Everything I've completed so far has been outstanding!"
Common negative ClickMinded reviews
Expensive

No community support

No guarantee of success
And here are some of the most common negative reviews we have seen from clients…
"Worst support ever… their support is one of the rudest I ever contacted this what they said after I asked for my account to be removed "You have been removed. Don't ever visit our website or contact us again.""
"I brought based on the advert on Facebook, after reading all the documents only 56 are included. the advert never told me a lot of content was not included. they are trying to upsell by only giving you half the information"
Is ClickMinded a scam?
No, it is not a scam.
I can guarantee you that it is a legitimate course.
According to the LinkedIn profile of ClickMinded, the company was established in 2017. Since then, the company has served a lot of clients. In addition to that, the satisfaction rate is quite high.
One of the things I love about ClickMinded is that it provides free lifetime updates when you buy any of the courses.
This means that as long as the company keeps updating the courses and ensuring high-quality content, you'll have access to that without spending more money…
ClickMinded pros
Here are some of the best things that I like most about ClickMinded…
Certification
When you finish the course, you will get a certification of completion.
This can help you land more jobs as a freelancer, get that dream job, or just show off to your family, colleagues, and friends.
High-quality content
ClickMinded can boast of its high-quality content.
Keep in mind that every course and lesson inside the training program is held by industry experts. Every single one of them is an expert in their own respective fields.
Money-back guarantee
The money-back-guarantee offers you the peace of mind to purchase any of the courses.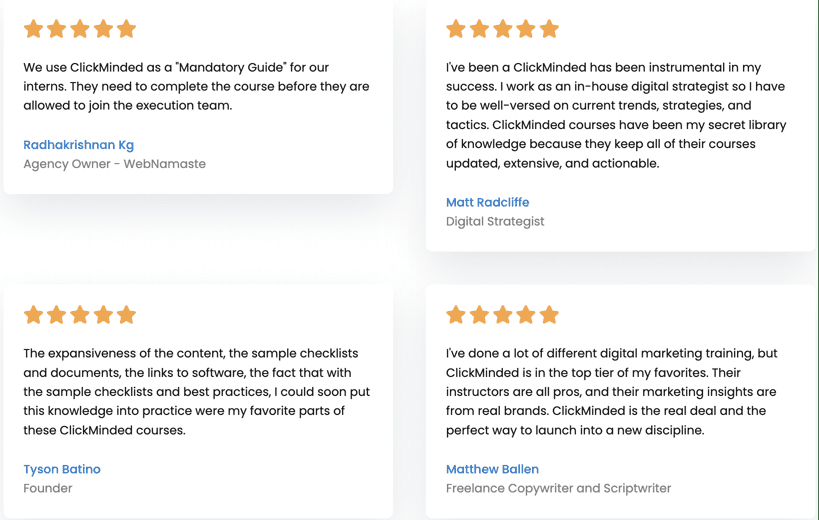 If you think that they're not for you, you can just get your money back and look for other courses.
ClickMinded cons
And here are the not-so-good things that I consider as red flags for ClickMinded…
Expensive
One thing that I do not like about ClickMinded is the high price for every course in the program.
This is particularly true if you're a beginner. Spending that much money on an online course can be extremely intimidating.
No community
Private communities can play a huge part in your failure or success.

Personally, having access to various individuals from all around the globe that share the same goals as you can be an extremely powerful tool than the training itself.
No guarantee of success
Although the tips and strategies thoroughly discussed in this course are proven effective and strategic, there is still no guarantee of success.
It still boils down to how the student or the person is going to implement all the strategies thoroughly discussed in the course, and how good they are when it comes to consistency.
Ready to make passive income online?
I've created a growing passive income online with no previous marketing skills or online experience…
I've made a special video for you to explain exactly how I did this.
My opinion – ClickMinded
If you're wondering if ClickMinded is a legitimate course, my simple answer is yes.
ClickMinded is a legit training program that will help you improve your SEO skills.
So, is it worth your money and time? The answer is also yes. This is especially true if you choose the bundle option when buying the course.
Having access to 7 various lessons will greatly help improve your digital marketing skills.
The training for the course is easy to follow. It's well-designed and has great delivery. I am glad to recommend this course to people who want to improve and learn more about SEO.
Unfortunately, I don't recommend this training program for business owners or non-enthusiasts that do not have enough time to finish the courses and apply the knowledge..
How I make passive income online
In 2018 I had no idea what affiliate marketing was.
Once I learnt about it, it just seemed like a great business model that can grow over time using the power of the internet.
So I tried to figure it out by myself… that got me nowhere fast.
Then I fell for some terrible online scams.
But eventually, I found Wealthy Affiliate. It teaches long-term proven strategies to build an online business with all the tools & support needed.
And this happened…
Once you learn the process of getting thousands of people to find your website every month (for free) there really is not limit to what you can achieve online.
I've reviewed hundreds of courses or programs that claim to help people make money online. And I've spoken to dozens of 6-7 figure online entrepreneurs on my podcast.
This is by far the best place I've seen to help beginners get set up on the right foot. You can read my full Wealthy Affiliate review here (including the pros and cons!)
Or you can watch an insiders video I made that explains exactly how it works here.