There may be affiliate links in this financial freedom book review, read the full disclaimer here.
Imagine what it would be like if you could go from having $2 in your bank account to over $1 million in 5 years.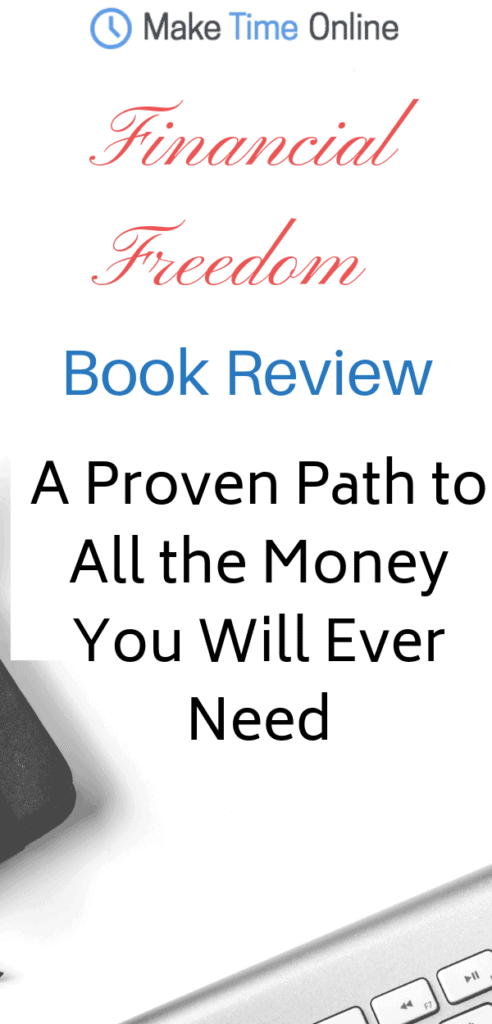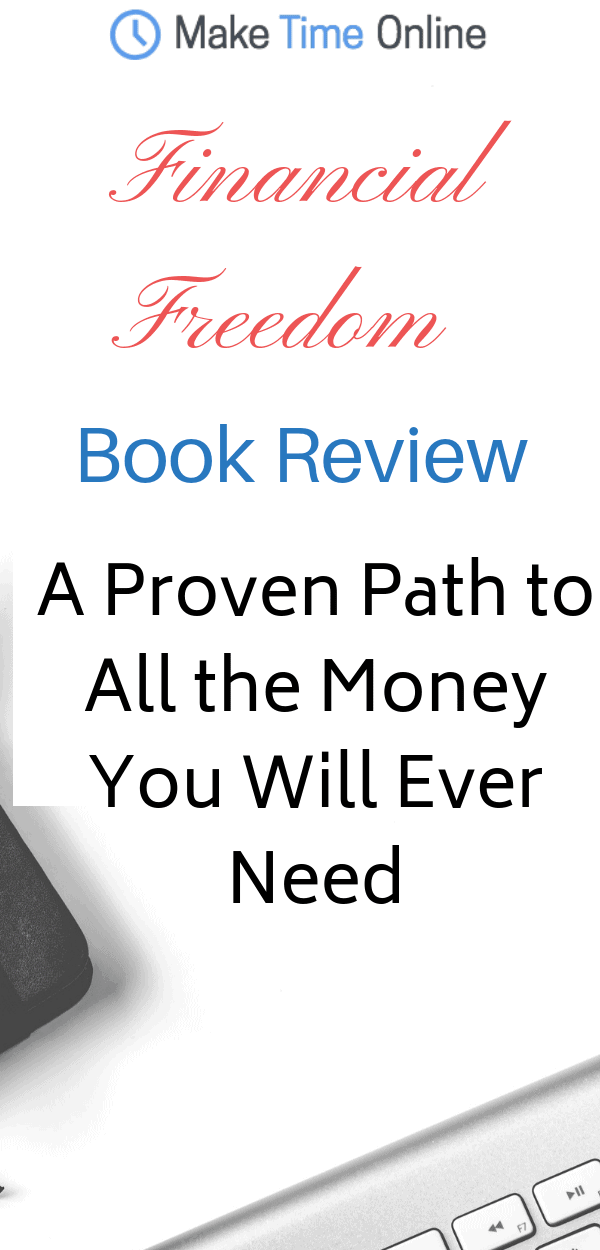 In the next few minutes, you will learn that this is exactly what Grant Sabatier did.
He is now on a mission to help others be able to do this (if they want!!)
The further on you read in this financial freedom book review, you'll begin to understand how this is possible for you.
Financial Freedom Book Review – The Overview and Rankings
---
Name: Financial Freedom- A Proven Path to All the Money You Will Ever Need
Author: Grant Sabatier 98 out of 100
Originality: 98 out of 100
Practical methods: 94 out of 100
Enjoyability: 81 out of 100
Maketimeonline.com Rating: 93 out of 100
Contact Grant:
grant@millenialmoney.com
Twitter @millennialmoney
Instagram @millenialmoneycom
Pros and Cons
---
Pros
Provides an amazing retirement strategy and way to earn true PASSIVE income
Shows that TIME is more valuable than MONEY
Very honest and real! Grant has done this!
Focus on making more money and side hustling (the ONLY way to retire young is to do this!)
Practical tips on WHEN to find time for the side hustle ideas.
Great examples with real numbers throughout the book.
The key to saving 20% or more each month AND remove that "penny-pinching" mindset.
Some EYE POPPING life hacks that show you how to live rent-free, travel hack and save money on food.
How to hack your day job!
Interesting real-estate tips to get anyone thinking.
Cons
Leaves you wanting more detail about practical steps for the side hustles Grant did (particularly domain flipping)
This is a long read, don't expect to cover it all in a weekend (Could be seen as a pro for some people!)
Who is Financial Freedom for?
---
Since you're still here I'm going to assume you are interested in financial freedom.
This book is really for any of the following people who:
Hate their jobs
Don't want to work for someone else until they are 65+
Want a hands-off passive income that covers their expenses… forever (and can grow!)
Want to be able to retire early
Are unhappy doing the same thing over and over again
Know there's more to life
The more you keep reading this financial freedom book review, the more you will realise it is possible to achieve.
Related Articles:
Financial Freedom Book Review Best Bits
---
As you absorb this information, you'll begin to feel a sense of excitement at how real and possible financial freedom is.
It's as real as the nose on your face!
These are the highlights of some of the best bits that I found from the book:
#1 Find Your Number
This is the ONE thing that makes Grant's book stand out like an honest man in the White House.
It is the uniqueness between other books that also recommend investing in index funds (such as the Millionaire Teacher and Unshakeable)
The best thing…
It's monkey simple…
All you have to do is work out "your number".
This will make you enough money to NEVER have to work again for the rest of your life!
The easy way to do this is use this simple equation:
25 x Annual expenses = Your Number
e.g. 25 x $50,000 = $1.25 million
But how?
Simply put…
Index funds will return 7% per year on average in the

looong run

(conservatively)
If you had $1.25 million today you could invest this into index funds.
You could take 4% to live on ($50,000)
You leave the additional 3% in the pot to grow your pot and compound with inflation (next year the pot is now $1,287,500)
This means the actual AMOUNT that your 4% to live on will increase over time too (next year you could take $51,500)
Grant goes into a LOT more detail about this in his book but if you'd like more information about this NOW click the link below…
Realted article:
#2 Build Wealth Quickly
Don't worry amigo, Mr Sabatier doesn't just drop that bomb then leave you high and dry!
He knows that normal people don't have a pot of $1.25 million!
So he spends the rest of his book showing you how it's possible to accumulate dollar… QUICKLY!
The key here is the speed!
Now, I can almost hear your mind saying "so this is a get rich quick book?"
No, no, no!!
Grant is just a realist and makes a point that so few books do…
A lot of personal finance books will talk a lot about compounding and letting time help you out.
This book makes an excellent point though…
Our life changes!
If we are aiming for $1.25 million, if we reach that number in 30 years chances are we will need a lot more.
Because of inflation and increased expenses!
Related articles:
This leads to my favourite part of the book…
#3 Side Hustle Ideas
Grant starts with a story about Matt, a graphic designer earning $55,000 in Chicago.
However, Matt earns $200,000 a year on his side huslte.
Have a guess at what it is…
I bet my sanity that you didn't guess dog walking!! But that's what it is!
The point is you can make money from a side hustle on ANYTHING!
Here's a list of side hustles Grant used to reach his number:
Building websites for law firms
Digital marketing campaigns for law firms
Flipping domain names
Doing Search Engine Optimisation (SEO) projects.
Flipping vintage mopeds and VW campers
Sold concert tickets
Watched neighbours cat
Writing whitepapers
Doing research
Babysitting
I have since listened to Grant on Pete McPherson's podcast "Do You Even Blog" and I can now understand how he "flipped websites".
He is the master of SEO!
Click here to listen to that interview
Grant did his first law firm website project for $500.
3 months later he sold a project for $50,000!
Listen to Grant go into more detail about this in our chat on this podcast.
Are you beginning to see that the skills we learn from side hustles are often what makes us the big bucks?
It may be hard at first & you may not earn much money (or any!)
But eventually, you can market these skills.
Related article:
#4 The Only Budget You'll Ever Need
This is another thing that I think the book does so well!
There are literally soooooo many "frugal specialists" out there now.
You know those people telling you to live below your means.
Well here's my personal opinion about frugality…
It sucks!!
Here's why:
It focuses our mind on how to save more money, hence closing our mind to ways to make more money
It kills the flame we have inside us
People do less fun things, which often create opportunities in life
We are always waiting to start living
Now I know it's important to not just fritter money away so…
Enter Grant!
The only budget you'll ever need is to reduce your spending in the 3 biggest expenses of life:
Housing
Transport
Food
The book has some great tips and ideas for you to try but here are some ways you can try to find right now:
Share a house with friends/ rent out a room
Buy second-hand cars that hold their value… you may be able to sell it in a couple of years for more! (typically Japanese cars)
Cook more! (literally more and have the leftovers for lunch)
Get your finances in check by using the free template below.
And stop wasting time in this area and find ways to make more money!
#5 Hack your 9-5
As you read each word of this article you'll notice another original thing from this financial freedom book review.
This is how to use your job to your advantage and get the most out of it:
Maiximise benefits
Get a raise
Give yourself more flexibility
Mr Sabatier goes into so much detail here about how all three of the above is possible.
I particularly enjoyed the tips about getting a raise and how to find more flexibiltiy.
If this is something that may interest you then click the link below to get the book right now…
#6 Core Investment Strategy
The last point that I will mention in this financial freedom book review is the core investment strategy.
In a world that new "investments" are being created every day it's becoming so hard to know what the right thing to do is.
Just take a look at what Google churned out about new cryptocurrencies…
No wonder people are finding it hard to know what to invest in, when "better than Bitcoin" cryptocurrencies are being invented EVERY day!
You're probably wondering what you should invest in.
As Grant says, it hasn't changed for years:
Property (real estate)
Stocks
Bonds
Your core investment should be made up around these 3 asset classes.
By all means, have some more risky investment vehicles in there.
But understand that they will likely be a form of tactical gambling rather than investing.
As a general rule, property will give you more control (the price changes less often i.e. less volatility) and leverage (due to mortgages) but stocks and bonds are more passive.
Related Articles:
Be sure to pin this page to spread the word! This book is too good to keep to yourself!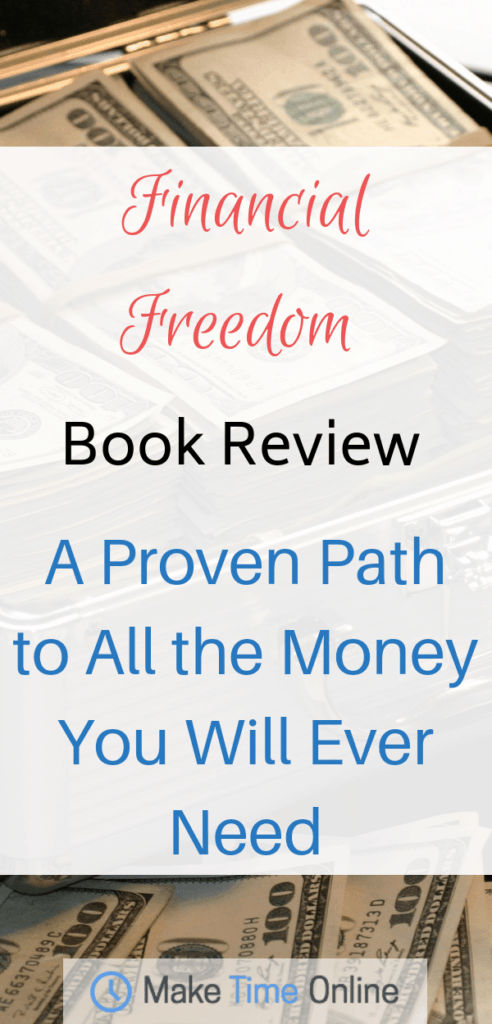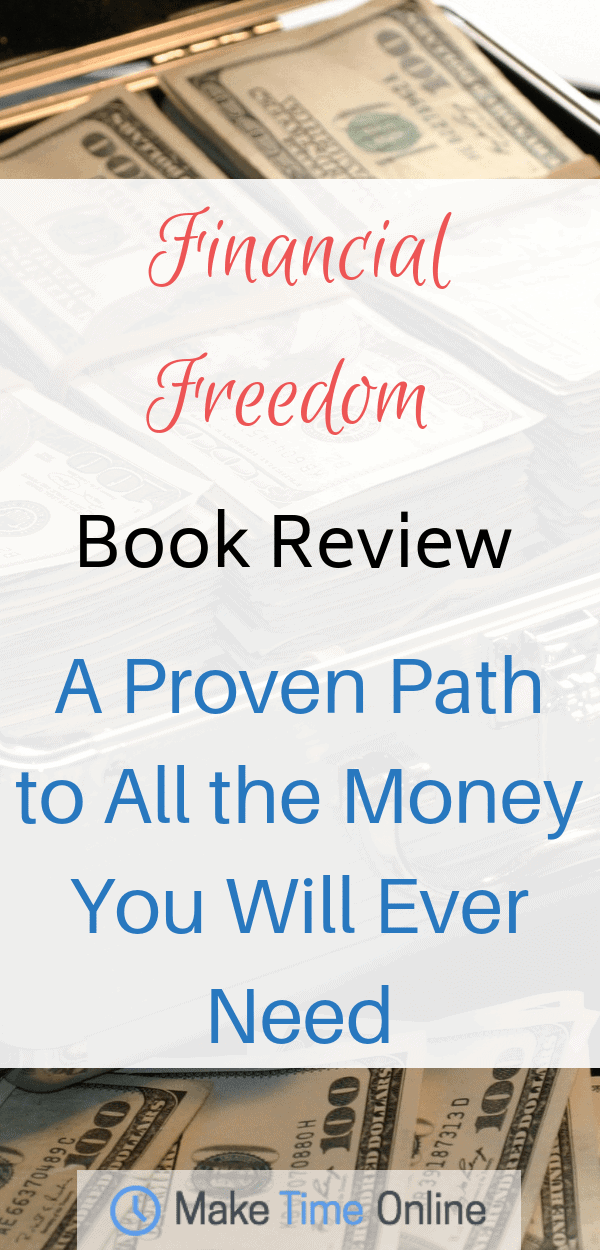 My Final Opinion of Financial Freedom
---
Since you're still here I'm going to assume you want to find a way to reach financial freedom.
Have you noticed yet that financial freedom will be different for every person and it's important to work out "your number" so that you know what the goal is?
Grant goes into a lot more detail about how you can reduce this number.
For example:
If you have $2,000 per month property income then you will only need $50,000-$24,000= $26,000 passive income from index funds each year.
This means your number would be
26,000 x 25 = $650,000
You can also take off any income that you know you will be earning if you are planning to work part time or have another source of income.
Realted article:
I personally think the honesty and focus on building a side huslte makes this book stand out when compared to similar books I've read.
The focus is on the exact right points if you have any interest in reaching financial independence to retire early (FIRE).
There is no selling some make believe dream.
It's real.
You need to hustle.
But Finacial Freedom will show you how.
Learn how to make money online with this free email course…
Financial Freedom Book Review: The "MakeTimeOnline" Review Final Word
---
The more and more you review this page the more you begin to find yourself excited at the possibility of reaching financial freedom much sooner than you first thought possible.
This Financial Freedom book review has shown you some of the things that you will learn from the book.
If you're wondering why you should still buy this book after this EPIC review here are some other points you will learn:
Why you can and should retire early
How to get clarity on your finances
How to build wealth quickly
More about how to hack your job
The future optimisation framework
The 7-step fast track investment strategy
How to live off your investments for the rest of your life
How to turn $10,000 into millions using other people's money
Real estate (property) investing tips
How to utilise your tax and savings accounts
And do you begin to notice how much value this book can provide?
This isn't even a list of everything this book has inside it.
Picture yourself 5 years from now.
Imagine what it would feel like to have the freedom to choose what you want to do EVERY day.
The risk of getting this book is wasting a few dollars.
The reward… is unlimited.
So what are you waiting for?
Get on it like shit on velcro!
Keep changing for the better,
Mike
p.s. If you have any questions and I mean ANY questions about this Financial Freedom book review, please leave them below. If you have read this book before or something similar please add your thoughts.
p.p.s. If you are serious about making money online, check out my #1 recommended program
In the spirit of full transparency, know that this F.U. Money book review contains affiliate links. This means if you make a purchase through these links, I may receive a small commission at no extra cost to you. In fact, you may receive a discount or some money for free! Click here to read my full disclosure policy.
As you read every word of this F.U. Money book review you will discover how to make as much money as you want and live your life as you please.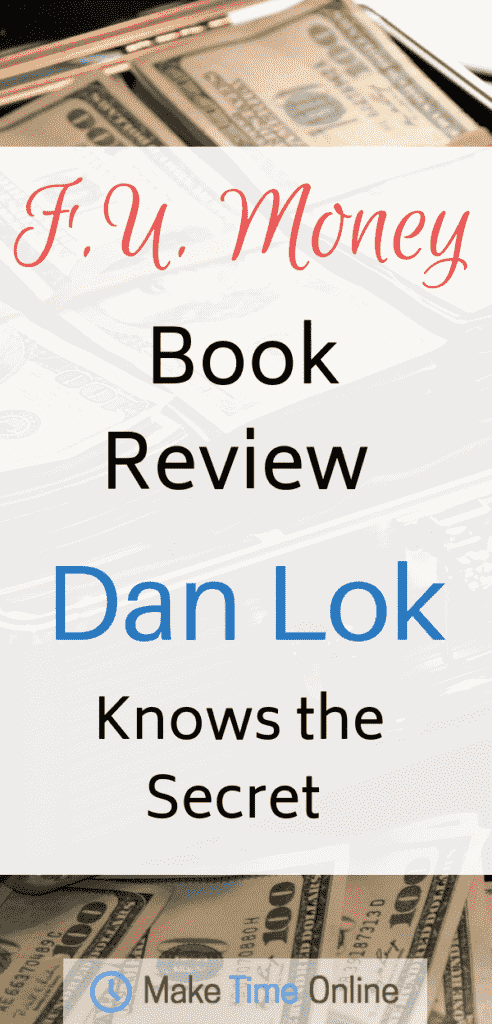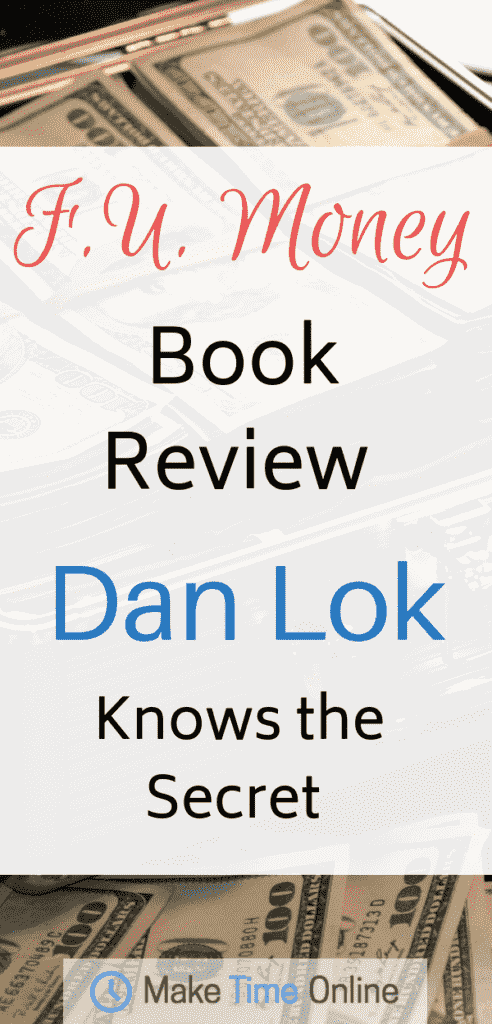 Imagine what it would be like to live your life knowing that you can do what you want when you want.
It does beg the question…
"Why doesn't everyone live life this way?"
You don't realise it yet, but in the next 2 minutes, you're going to learn how this is possible for ANYONE to do.
F.U. Money Book Review- The Overview and Rankings
---
Name: F.U. Money- Make as Much Money as You Damn Well Want and Live Your Life as You Damn Well Please
Author: Dan Lok – 88 out of 100
Originality: 85 out of 100
Practical methods: 75 out of 100
Enjoyability: 96 out of 100
Price: Kindle $8.50 | Audiobook $19.59 | Paperback $13.33
Maketimeonline.com Rating: 86 out of 100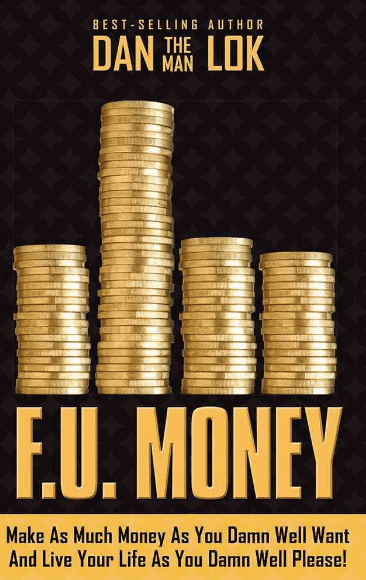 Pros and Cons
---
Pros
Straight talking no BS approach to the book
Motivating and makes you want to take action
Shows the 9 characteristics of the ideal business
Can help you to assess what you're doing and whether it is scalable
Opens your eyes to the possibilities in the world right now
Great tips on Internet marketing
Cons
Some people may take offence to the straight-talking approach
He pretty much spells out the best business model (but doesn't provide practical tips for how to start… so it leaves you wanting more)
Points you in the direction of his website (I expected to see a course or something sold but it's just his book)
Who is This F.U. Money Book Review for?
---
Now, let me ask you this…
Are you ready to take action?
No, I mean SERIOUSLY.
Not just kind've think you're ready.
It may sound wishy-washy but this book really is for people who are ready to make a BIG change in their life.
It is especially for:
Internet marketers
People ready to take action
Those On the path to financial independence retire early (FIRE)
Somone fed up in the job or working for someone else
People that WANT to learn new skills
An entrepreneur wannabe
A business owner
So read on to find out what you can learn from the book…
What's F.U. Money About?
---
F.U. money is the amount of money you make where you can literally say "fuck you" to anyone you want without consequence.
It's about freedom!
Dan Lok mentions how he really does enjoy the free things in life.
Such as a good conversation with a friend.
However, he points out that reaching this F.U. money stage allows the freedom to do these things more often.
Is this starting to sound familiar?
Dan Lok came to America with no money, no connections and without being able to speak English. He's now a self-made millionaire and he was born in 1981!
The thing is most people won't reach this stage due to three things:
Myths about money
The mindset
No plan
Related Articles:
The Seven Golden Keys to Internet Riches
---
There are some amazing lessons in this book but if you've read anything on make time online before you will know how important making money online is in today's world.
So here are Dan Lok's seven golden keys to Internet riches:
#1 The Market Comes First
And as you absorb this information you will realise that this is the most important key to being successful in any business, but especially an online business.
Research what your market is ALREADY spending money on.
Not what you think they would like!
Here are a few questions to ask yourself:
Is the market already selling something similar to what I'm thinking of selling?
Are people looking for something for FREE, or do people buy this?
Is the market big enough?
Can I joint venture with existing partners?
Am I going to be able to drive traffic to my website and get people to buy my products?
Sell somehting that is already proven to sell. If you want to find where money is being made, look no further than where moeny is being spent
Related content:
#2 Create a simple website that SELLS
Little by little you begin to realise your website MUST be built to sell.
It doesn't matter how professional it looks or how many visitors you get each month.
You will only get one shot at turning a visitor into a customer so everything should be built to do one thing:
SELL
#3 Build a business
Now, I can almost hear your mind saying "but I don't want to push sales on people".
As you keep reading this article you are beginning to realise that creating a simple website that sells doesn't mean you have to do this.
Assets in the online world are:
Customer lists
Products
A brand
Are you beginning to see that building trust and a customer list is just as important (if not more important) than selling?
Yes, you only get one shot to impress a visitor but that doesn't mean you HAVE to sell to them straight away.
Building a relationship and SOLVING their problems can only be done if you stay in contact with your readers.
Small distinction, BIG difference.
#4 Create multiple income streams- not loads of different businesses
Have you noticed yet that a lot of people in the online world have different websites with different niches?
The issue is that people often drive themselves crazy in the process of jumping into one market and another.
Dan Lok recommends you to sell to one market and serve the needs of ONE group of people.
Exhaust every way to make money within that one market.
If you can do this you will make more money than if you jump from one market to the next.
Note- some BIG time online marketers may have different niches and markets.
The best ones will only do this AFTER they are successful in one market.
How do they do this? Read #5…
#5 Leverage TIME and resources of others
The best online businesses know how to leverage their time.
And we know how important time is now, don't we?
Time is more important than money. You can always get more money, but you can never get more time.
The beauty of the Internet is that it's so easy to outsource different tasks and make the most of other people's experience and time.
Dan Lok even says it himself…
He's not a techie.
He doesn't know how to code.
Websites like upwork.com mean he can easily outsource this to someone else
Related content:
#6 Use your personality to sell
People buy from people they know and LIKE.
You have to be able to use your own personality on the Internet.
Write the way you talk.
Communicate one-on-one, not one-to-many!
Be who you are but AMPLIFY it!
Related content:
#7 Position your business for automatic growth
Leverage the power of the Internet!
Use autoresponders to set up valuable content to be delivered to your customers.
Build this email list 24/7 with enticing opt-in boxes.
How many times have you heard the money is in the list?
Get other people to do the tasks you don't like (writing, editing, proofreading, advertising etc.)
This will allow you to…
Do more of what works rather than trying to fix what's broken.
Now, let me ask you this.
Where do you spend most of your time?
My Final Opinion of F.U. Money
---
Wouldn't it be amazing if you could wake up and choose what to do EVERY day?
This is another book that I know will rustle people's feathers.
Dan Lok is blunt and will make you question some of your life decisions.
FACT!
It's up to you how you take this though.
You can either become offended or really think about how you can use this information.
Are you beginning to see that Dan Lok shows another way how financial independence retire early (FIRE) doesn't have to be a distant dream?
It can become a reality quicker than you think.
And have you noticed yet that this is not a get rich quick book?
It's a "use the power of the Internet to get rich quicker than you otherwise could" book.
It's a book by someone that's walked this path and is showing you the changes you need to make to get there.
One thing that I know for a fact…
If you do want to reach financial independence and retire early, you will have to find ways of making more money.
A side hustle is a must!
Related articles:
An Evergreen Strategy That Brings You The Money
---
It wasn't that long ago that I was still trying to figure out how it's possible for people to make money online.
The biggest issue I found was that most systems either required a load of time, money or for you to sell to all your friends and family. I wanted to find a passive system that had a few things:
I could work on when I wanted (I was still in a full-time job)
Didn't cost a fortune to start and maintain
Didn't need me to sell stuff to my friends and family
It was in September 2018 that I found the system that I still use today to make a passive income stream. In September 2019 I quit my full-time job.
The best thing about it is:
It's free to start
Customers are brought to you that are already interested (just think about how you found this review… there was no money or time spent from me promoting this!)
You get me as a personal coach to help you on your journey
When you try out this program you will see why so many people recommend it.
No credit card details required
F.U. Money Book Review: The "MakeTimeOnline" Final Word
---
As you get closer to the end of this F.U. Money book review, you begin to feel a sense of excitement.
Dan Lok is another person who has managed to make enough money to be financially free at a young age.
He didn't start with a load of money or get a business handed down to him.
He worked hard and figured out ways to make more money.
Little by little you begin to see how this freedom is possible for ANYONE to reach.
When you read this book you will discover why so many people get excited about it.
Imagine what it would be like if you could find out…
The 8 myths that are keeping you from making your F.U. money
The F.U. Money mindset
What the number one reason is that most people don't reach their F.U. Money
The 9 characteristics of the ideal business
The money secret shared by Richard Branson, Bill Gates and Warren Buffet
How Dan went from rags to riches on the Internet
Plus a lot more! You have to read it to believe it!
At the end of his book Dan makes a bold statement:
If you don't take some small action towards F.U. money within 24 hours of finishing the book, you will never take any action.
I'm going to leave you with that thought…
Keep changing for the better,
Mike
P.S. Wouldn't it be amazing if you could making money online to free up your time? You can fast track your results with the email course below and learn more about my #1 recommended program…