In the spirit of full transparency, know that this post on how to use Pinterest for beginners contains affiliate links. This means if you make a purchase through these links, I may receive a small commission at no extra cost to you. In fact, you may receive a discount or some money for free! Click here to read my full disclosure policy.
As you start reading the beginning of this article you find yourself wondering what it would be like to receive regular free traffic from Pinterest.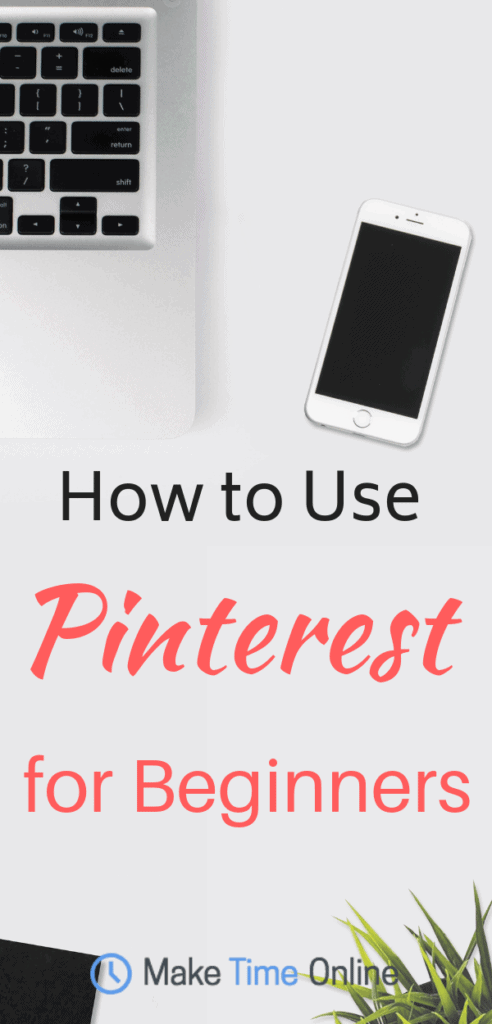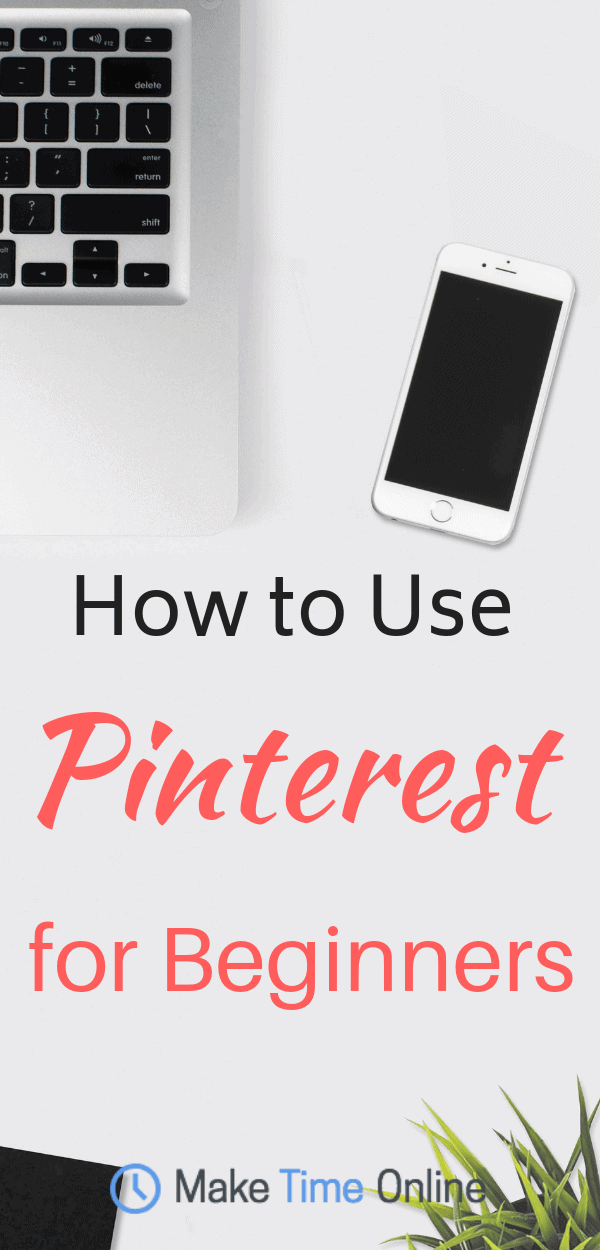 You're intelligent enough to know that some people use Pinterest to drive most of their traffic to their blog.
The further on you read you'll begin to understand how this is possible.
Welcome to how to use Pinterest for beginners…
Firstly, Why Use Pinterest?
---
If you're anything like me you've probably not used Pinterest much.
The little time you have spent on it has been wasted by pretty pictures of barn weddings and girly stuff.
So why bother to use Pinterest?
Because it's business model is designed to connect users to content. No other BIG social media platform is designed for this.
Now, read that again.
Simply put, the best way to get NEW visitors to your site are:
Pinterest = user to content (awesome)
Google = user to content (awesome)
Facebook = user to user (good)
Twitter = user to user (good)
Instagram = user to user (average at best- it is good for creating "followers" and a brand though!)
Any social media can be a great way to drive traffic to your website, especially if you already have a "presence" on there.
However, Pinterest really takes the biscuit for getting new visitors to your website.
A pin that is months or years old can still bring traffic to your website.
This is not the case for most other social media platforms (especially Twitter… imagine!)
As you pay close attention to this page you will find out how this is all possible…
Related content:
5 Steps to Get Traffic to Your Blog Using Pinterest
So there are loads of little tips and tricks to automate this traffic and to turn your blog into an online business.
But let's keep it simple to get your account set up in the best way possible.
If you are interested in seeing some of these automation tips then check out how Jeff and Ben created a $240k/ month online business using Pinterest.
Let's find out how to use Pinterest for beginners…
#1 Set up Your Account- Understanding How Pinterest Works
Step one is to have your account set up in a way to help Pinterest know who you are and what you are sharing.
Just like other social media platforms, Pinterest uses fancy algorithms that decide what content is shown to which people.
It's your job to make sure your account is set up to tell Pinterest what your blog is about and people that are interested in it can find it.
Simples.
Here are a few things you need to make sure you have done for your account to be set up in the best way:
It doesn't sound too bad but if you do this stage right it can take some time. Click any of the links above to find out more about each step.
I will leave this little nugget with you to help find your Pinterest keywords…
Click ads in the top left corner on Pinterest (only available to those with a business account).
Click "create ad" (don't worry you won't actually do this)
Hit continue
Scroll down to Keywords
Type in your keywords and it will show you the number of people that search for variations of your keywords every month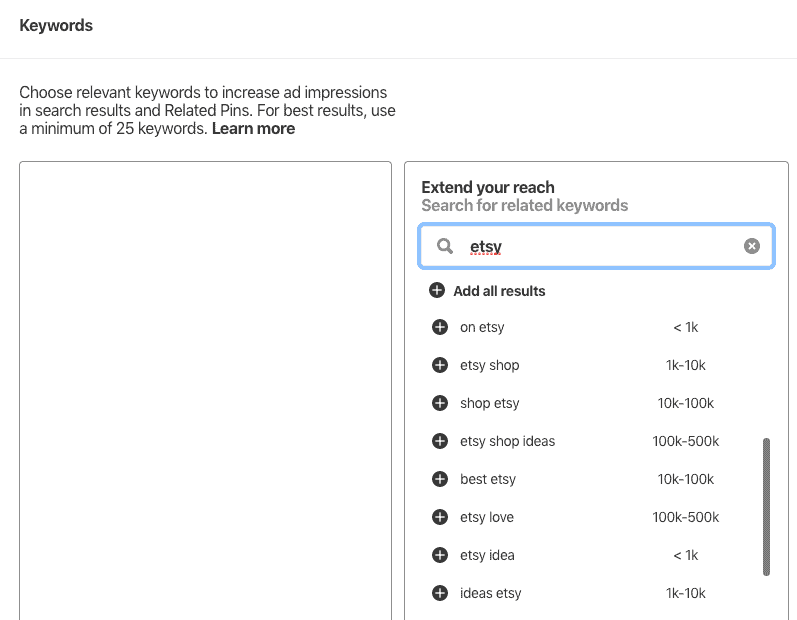 Top tip- target keywords with the highest searches as Pinterest doesn't care (as much) how old your account is unlike Google.
That stage alone is enough to make your Pinterest game way better than a lot of pinners!
If you're worried about doing all of that or not understanding you can sign up to the free course at the bottom of this page. It has all the information there that you need to get started with much more detail and help than in this post.
#2 How to Create a Board on Pinterest
---
I'm not going to waste your time here… but this is an important step for how to use Pinterest for beginners!
Click your profile, click boards, click add board.
The bit I do want to mention is what you should have on your board.
Specific title ("blogging" is bad "blogging tips for beginners" is better)
Keyword-rich descriptions (put in keywords i.e. "get more traffic" "SEO tips for beginners" "Affiliate marketing tips" etc.)
Design a brand cover photo using colours and fonts that you usually use (see below)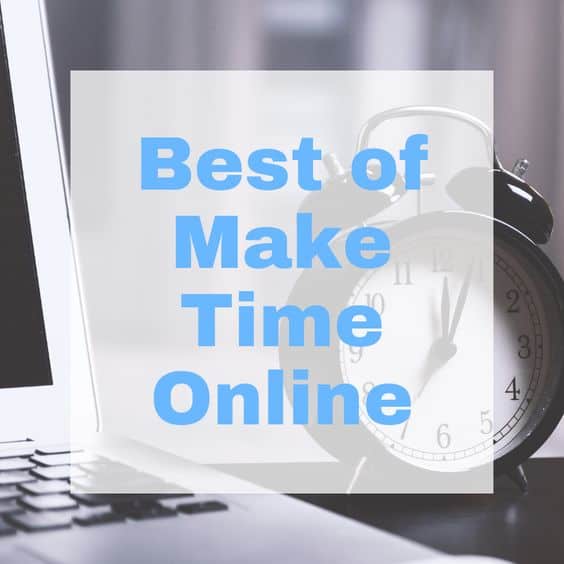 Related Articles:
Re-arrange Pins on Pinterest Boards
---
This can cause some confusion!
It's easy enough to repin your own pin to a different board but a lot of people seem to struggle with rearranging pins WITHIN a board.
Let me ask you this… Do you have certain posts that you want more people to find?
Of course, you do!
So make sure you rearrange your pins on occasion so that your best pins are at the front of your board!
There has been a couple of changes to Pinterest recently so check out this video to see how to rearrange pins on Pinterest.
#3 How to Make a Pin for Pinterest
---
So you've had your appetiser, now let's just jump into a few plates of meat…
There are 2 main graphic designers you can use to create your pins:
Canva is free
Snappa costs $10 a month (or you get 5 downloads for free each month).
Canva is great for starting out, so here are my top tips:
Bookmark different designs you use so you can quickly find the layout you like.
Use Pexels.com to get all the FREE stock photo's you need
If you want a transparent background (especially for logo designs) use this website for free.
Use a png compressor to make sure your pins are a smaller storage size (which improves the SEO of your website)
Snappa basically can do all the above (minus the png compressor) in one place.
Here's why you may choose Snappa:
You pay for convenience!
It's much more user-friendly to use
You can save unlimited pin designs (to save you time rather than recreating them EVERY time)
The stock photos are better than pexels.com
UPDATE- Since trying Jeff and Ben's (yeah you know the guys who make $240k/ month) "The Perfect Pin" course, I actually now use PowerPoint for a few reasons:
Your pins stand out compared to most people
I like the shading on letters which makes your words POP off the page
Using colour boxes with gradients behind words can help your words look much clearer & more professional
You have more control over how your pin looks
They really know their stuff!
Now, I can almost hear your mind saying…
But What Should Your Pins Look Like?
---
There's really only one rule…

Make them "Pinterest Pretty"
But what does that mean?
Just look at the best pins for "affiliate marketing for beginners":
Top tips for how to use Pinterest for beginners:
Don't make them ugly
Make Writing BIG and clear to read
Use LOTS of white space
Don't make them ugly

Use COLOURFUL text
Use a 2:3 ratio (typically 600 x 900px… don't go over 1,260 px tall but I'm currently trying out 735 x 1,105 px to make it stand out a bit more)
Don't make them UGLY!!
Here's an example (be sure to Pin this so you can come back to it later!)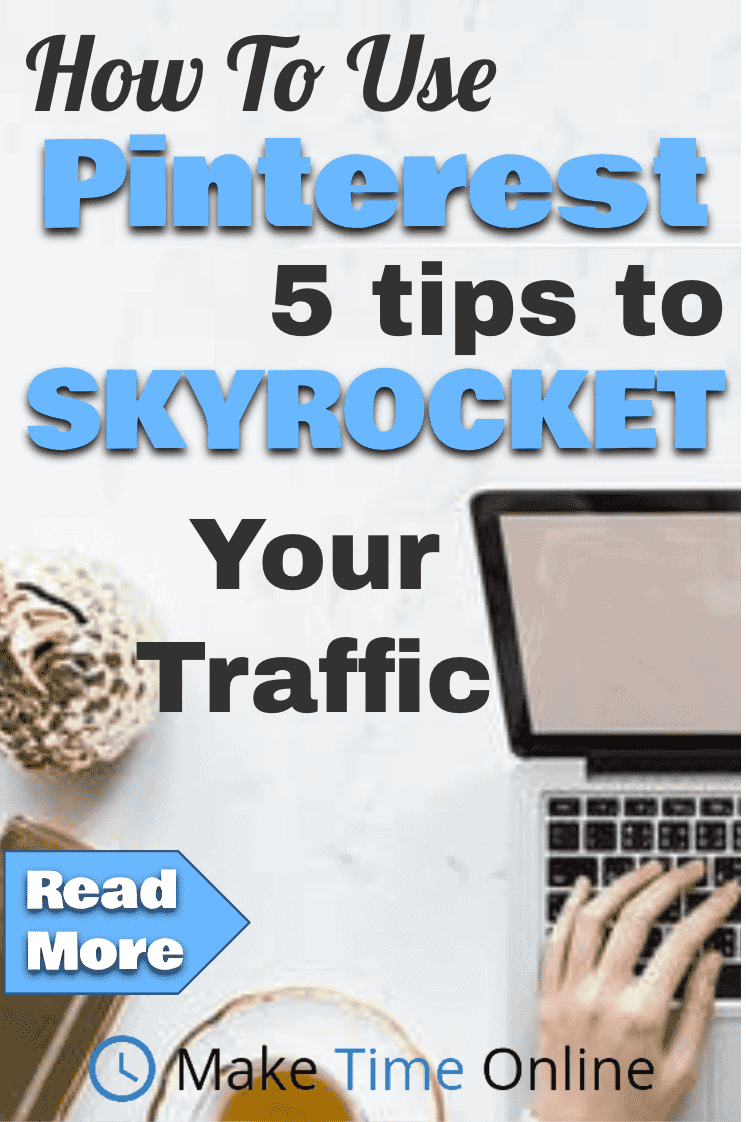 UPDATE- Your pin design is often the thing that will let you down at the start. I know because I have been there!
Funny story about this one- I didn't try the "Perfect Pin" course for a few months because it was only $9. I figured it couldn't be much good for that price.
It hands down beats other Pinterest courses I've taken for $40+! You can learn more from their on brand vs off brand and pins for engagement vs click through part than most other courses I've seen
#4 How to Get Followers on Pinterest
---
There's no secret sauce here!
Here's the scientific 2 step process (which can be used on ANY social media platform):
Follow Pinteresters that you'd like to follow you!
Pin stuff!
NEXT MEAL PLEASE!
Honestly, it has been said numerous times by Pinterest that the number of followers you have on Pinterest DOES NOT MATTER.
STOP!!
Re-read that sentence.
Partly because your content can be found through the search bar and the home page but mainly because of Tip number 5…
#5 Ultimate Tip! How to Join Pinterest Group Boards
---
So this is the game changer!
This is how Pinterest can help to drive so much more traffic than other social media platforms.
---
Hold on a jiffy… What is a group board?
It is a board that has 2 or more "collaborators" (people that can post pins on a board)
---
You can invite others to collaborate on your boards but the exciting part…
You can become a collaborator on other boards.
So if you are new and you get on a board with 10,000 followers then all of these people can see, share and view your pins!
Boom!!
If you would like to know how to do this then I would recommend you start this free Pinterest email course.
This includes an email template of how to ask to become a collaborator and how to track who you've asked!
How to Use Pinterest for Beginners Summary
---
The more you keep reading this article the more you begin to understand how to use Pinterest and how it can be a MAJOR traffic supply.
Since you're still here I'm going to assume you want to take Pinterest seriously.
If that's the case you can find out a lot more tips and tactics about how to set up Pinterest in the best way for traffic in the FREE 6-day email course above…
The best part is:
There's a way to automate it so you only need to put in one hour a month once it's going!
Get on it like white on rice!
Keep changing for the better,
Mike
P.S. If you want more Pinterest tips, then check out the 5 Pinterest Hacks to get More Traffic.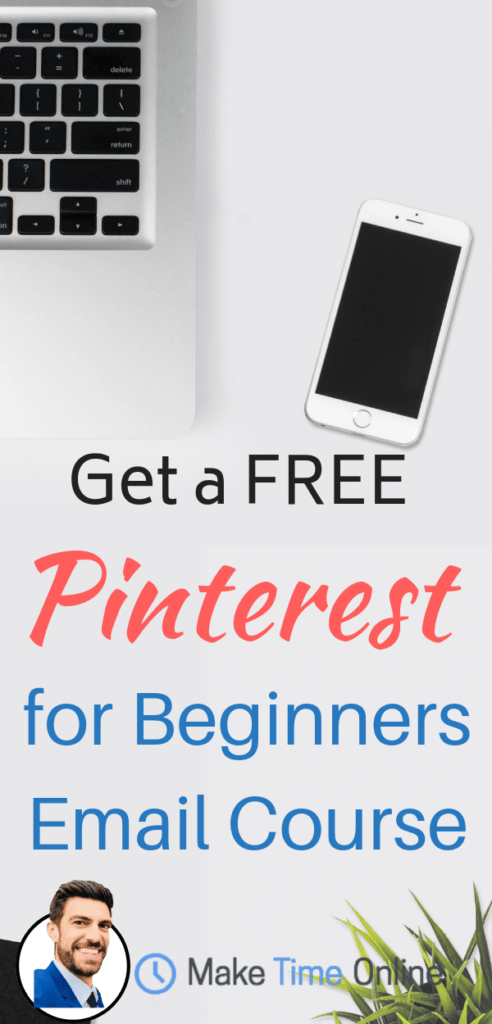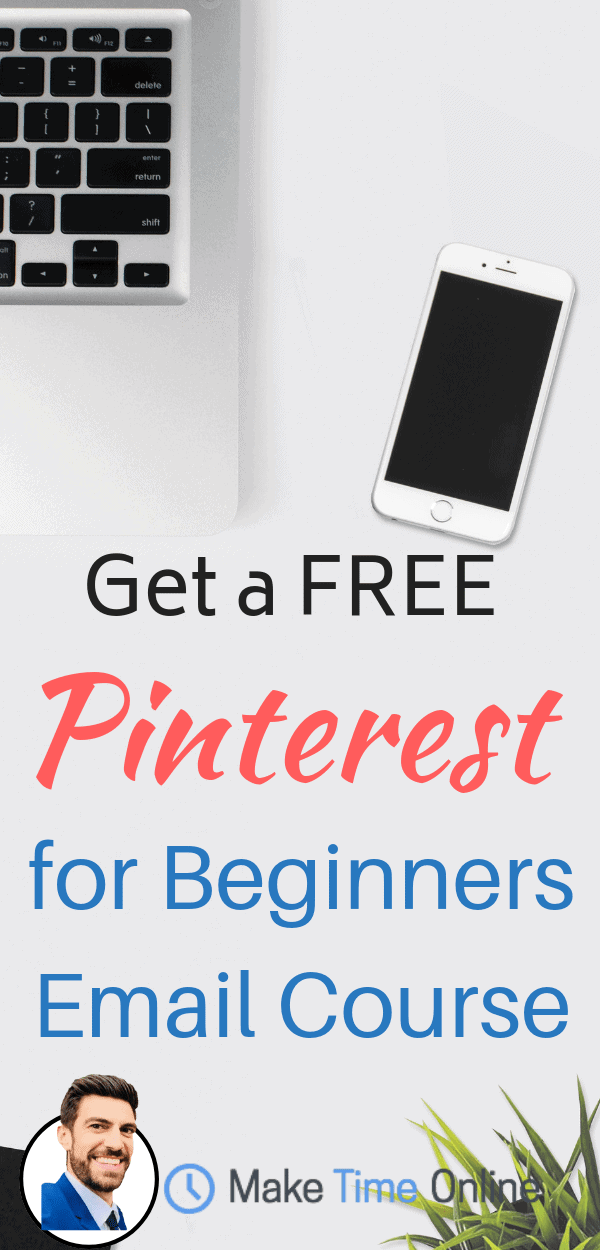 In the spirit of full transparency, know that this post on Pinterest hacks contains affiliate links. This means if you make a purchase through these links, I may receive a small commission at no extra cost to you. In fact, you may receive a discount or some money for free! Click here to read my full disclosure policy.
You probably know the main challenge for new bloggers is to get traffic to their blog.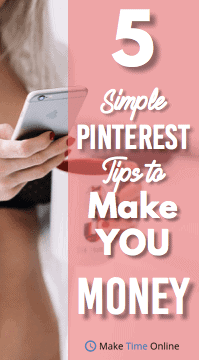 Now you may think all you need to do is pin more on Pinterest and you will start seeing traffic role in. In fact, by learning some expert pinner's secrets you can become much smarter with your efforts and even completely automate the process with a few hours of work a month.
This article (with video) will show you the top 5 Pinterest hacks to start driving crazy traffic to your blog.
Why Use Pinterest?
---
Now, I can almost hear your mind saying… I've already got an account with Facebook and Twitter, why should I bother with Pinterest?
This is the exact question I had been asking for about 2 years before taking the plunge!
I'm definitely not the Don on Facebook or Twitter or Instagram. However, I do use all of them and have a bit of a following (over 2 thousand) on each.
All of them have taken time to grow and to be honest I had been putting off starting another social media platform because of that.
However…
Pinterest beats all of these for one simple fact…
All of the other social media platforms are designed to keep the users on their platform.
Simply put, the best traffic drivers are:
Pinterest = user to content (awesome)
Google = user to content (awesome)
Facebook = user to user (good)
Twitter = user to user (good)
Instagram = user to user (average at best)
People literally use Pinterest to find valuable content. It is like using Google.
I HAD NO IDEA!!!!!
In 2018, after hearing this, I felt like I had been wasting all of my efforts on social media.
I thought Pinterest was for pretty wedding photos, flowers and basically… I thought it was for girls!
As it turns out, my stupid bias judgemental mind had been holding my website traffic back.
… Onwards and upwards…
So rather than dive into it full steam ahead, I went out of my way to find out some of the best Pinterest hacks to drive traffic to my blog.
Tip 1- Create Killer Content
---
Well Duh!! This is more important than water is to a fish.
I thought you said these were gonna be top secret tips?!
Well actually it may not be top secret but this one is ALWAYS the top priority. If you can genuinely help to solve someone's problems then this person is likely to become an avid fan and share, pin, tweet (whatever!) your content. Always ask yourself…
Am I actually helping to solve someone's problems?
It's so important that your content is easy to read.
Let's face it people on the internet are in a hurry. Think about the last time you read an article. Chances are very high that you skimmed it and tried to take in something useful without wasting your time reading it!?
So a very valuable tip is to create content that is EASY to read.
Help people skim read it if they want.
Remember, the main focus should be providing the reader with valuable information that helps THEM.
Solving other people's problems and helping them builds trust. This means they are more likely to read more of your stuff and come back.
Tips for making blogs easy to read:
Do not leave a wall of text. Use Line breaks and mix up your paragraph lengths… When writing ONLINE a paragraph should NEVER be more than 3 lines of writing.
Use images to convey your message.
Yes, you may think you sound clever. But these LOOOONG words make reading harder. If you can keep it simple people will keep reading.
Don't use 20 words if it can be said in 4. After writing a post CUT it down!! I've heard as a good rule of thumb to delete the entire first & last paragraph and remove every 6th sentence! Seriously… cut it down, don't get attached to your words, you will thank yourself in the future!
Use Stories/ similies/ metaphors
People find it easy to remember a story. They often come to their own conclusion and form their own opinions from them. It is much more powerful when we learn something ourselves than when we are told something.
Tip 2- Create Awesome Images
---
The way your pins look is IMPORTANT.
In fact, this is maybe the most important of the Pinterest hacks.
How can you make Pins that stand out?
Pins need to:
Stand out – BOLD and bright text
Grab attention – Eye grabbing picture
Entice people to click – A title that makes you want to know more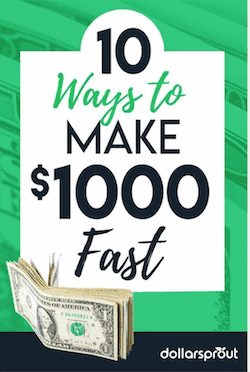 Here is one of the pins from the Pinterest kings Jeff and Ben at Dollarsprout.
What's the perfect pin size?
People seem to recommend different sizes all the time. There is no perfect pin size.
Currently in November 2018, from what I have found many are using or recommend 600px wide by 900-1,250px tall.
This is something I was terrible at when I started. It wasn't until I took Jeff and Ben's $9 "Perfect Pin" course that I really saw traction from Pinterest.
Check it out here, it can save sooooo much wasted time! As you read on you will find out more about Jeff and Ben from Dollarsprout (spoiler alert they now make over $240k/ month)
Tip 3- Use descriptions wisely
---
This can make a big difference in 2 ways:
People finding your pin
People clicking on the link
To help more people do both of these things your pin descriptions need to:
Includes keywords (helps people find it)
Have WIIFM (what's in it for me?)
200-300 characters
Has CTA (call to action – tell them what to do)
There's not much more to it than that.
The aim of the description is to get people clicking on that link! Try out different descriptions for pins leading to the same post to make the most of these Pinterest hacks.
Tip 4- Make a Clean and Branded Profile
---
Your business profile needs to come across well for your niche.
People just want to know what you do… So tell them
To get your Profile looking "Pinterest Pretty" you need to do the following things:
Use similar colours in your pins
Neat design (don't make it too busy/ too many words!)
Ensure your description and your business name uses keywords
Your description gets to the point.
Tell people what you do.
To be honest with you… there is too much to explain in one blog post about how to set up your Pinterest account and explain how Pinterest works.
If you're keen to see the same results as some of the most successful bloggers that make 6 figures a month then check out the best book I have found that explains everything you need to know about Pinterest. Including:
How to set your profile up for best results (with checklist)
The secret manual Pinning strategy to make pins go viral
How to only spend 1-2 hours a month setting up your pins
How to use Pinterest for affiliate marketing
All of this is great but there's actually one last BIG tip to getting more engagement on Pinterest.
The answer lies in Group Boards…
Tip 5 + Bonus Tip- The Group Boards Secret
---
Driving traffic from Pinterest is a game of applying to as many group boards as you can, and pinning bright, bold, click-bait pins to them repeatedly!
However, something that I have found hard to find anywhere else is…
How do I apply for group boards?
You basically have to find other people's boards that you would like to join. You need to message the owner and ask if you can become a "collaborator" of the board.
Type in a keyword into the search tab on Pinterest and look at the group boards for this.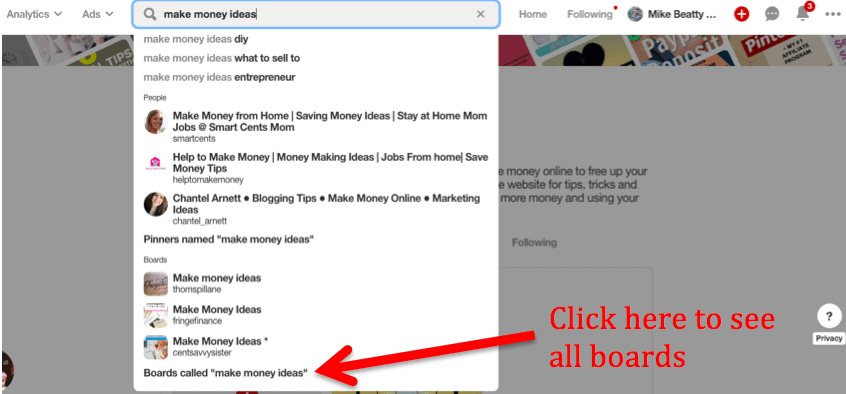 Group Boards are amazing and different from any other social media platform because…
If you only have 50 followers and "collaborate" on a board with 10,000 followers, then all of these people can now see your pins.
You could spend hours applying to loads of boards… However, some group boards are better to apply to. The BEST ones need to have the following:
Less than 20 collaborators
A very specific topic (not affiliate marketing… but affiliate marketing on Pinterest for beginners)
Realistically you won't know what boards are good until you join them. SO you need to hustle here and ask around. Once you're on the board you can check out what the best boards are by watching this short video…
Read the podcast chat show notes with Jeff and Ben from Dollarsprout.
You can message the owner of a board on a pin to ask to join a group board as a "collaborator".
If you'd like a step by step 6-day guide to using Pinterest from setting up your account to finding group boards then get this sent to you for free right now…
Plus get your bonus email template to join the best group boards…
But I have nothing to offer!
You can't name drop because you know nobody… you have no followers… you are just starting a blog…
So what can you do?
Comment and engage on their stuff!
Find where they hang out and contribute to their work regularly.
Is it easy to comment? Yes!
Can it be time-consuming? Yes!
Does everyone do this? Hell no!
There's always a way for you to stand out. You just have to be willing to go the extra mile!
Last little nugget before you go…
Use tailwind to automate your pins like clockwork… simples.
I just spent 3 hours setting up my pins (30+ a day) for the next 3 months. That's 3000 pins going out at THE best times of the day!!
Pinterest Hacks Summary
---
These Pinterest hacks really can drive more traffic to your website than rush hour on the M25 (that's British humour… Google the M25 if you don't know what I'm chatting about).
Use these 5 tips and find the best group boards to pin onto and you will have visitors pouring onto your site just like Jeff and Ben did in 2016. Check out how they went from not making any money from their blog for 13 months to now earn $240k per month.
Keep changing for the better,
Mike
P.S. It's so important to have your account set up the right way to get the best results from these Pinterest hacks. Make sure your account is set up right by getting the free course below…
Be sure to pin this page to come back to it later and share the secrets…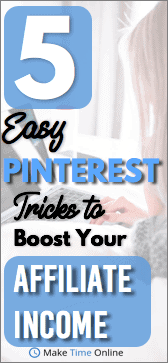 There may be affiliate links in this article on questions for bloggers to answer, read the full disclaimer here.
Picture yourself five years from now…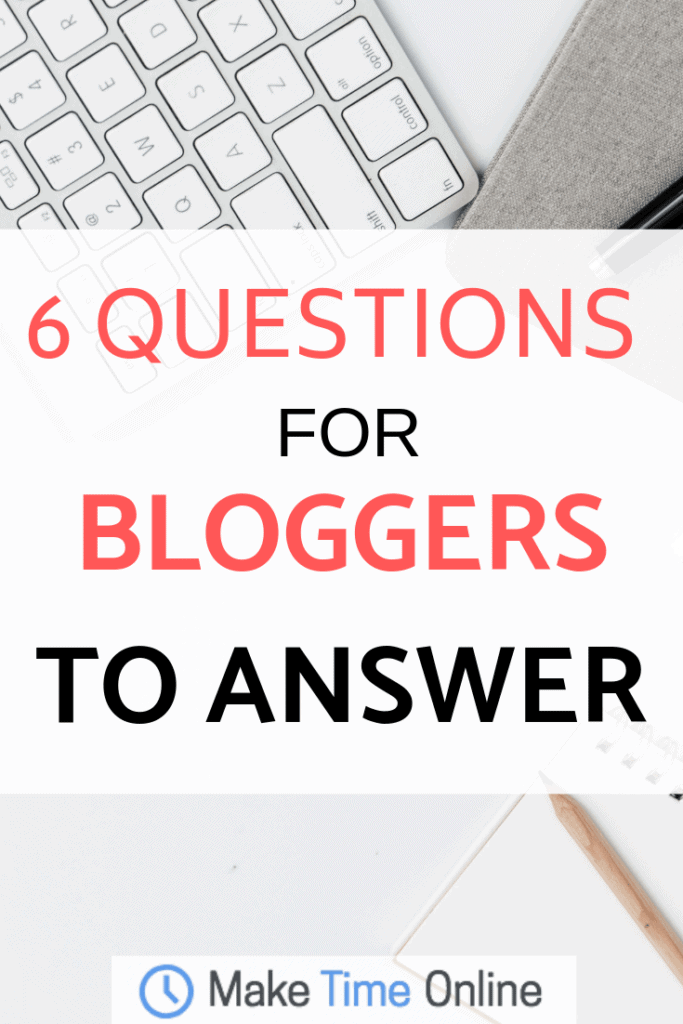 You've been blogging and publishing at least 2 articles every week.
You're recognised as one of the leading people within your niche.
The income you make from your website has replaced your full-time income (AND SOME!)
You look back to how you started out and realise how important it was reading the following 6 questions for bloggers to answer.
The more and more you review this page, the more you begin to find yourself prepared for the journey ahead.
1. Should I pay for Hosting?
---
Does a fat dog fart?
If you're like me you probably don't really understand what hosting is.
It's one of those things that you know you probably should have but you don't really understand why.
Wel,l good news pumpkin!
I've just been researching the techie part so let me try to explain in good ol' non-techie language (or as I like to call it… English)
Hosting is basically a server that stores the files of your website.
Your website is really just a bunch of files… yeah, like you have on your computer.
So the hosting is kind've like the storage space you have on your computer… Apart from it's "in the cloud"
Fun fact: Did you know there are actually these like mega warehouses that have huge computer systems that stores all the things "in the cloud"… yeah, me neither!
You can get hosting for free with basic WordPress packages and the likes.
However, if you would like to monetise your blog at some point it is 100% worth paying for a hosting package.
Here's why:
It makes it easier for people to find your website
You can do a lot more to your website if you "own the hosting" (you don't really own it you're renting it, but whatever!)
For example, you can put in opt-in pages (to get email addresses, which helps to build a relationship with your reader) and use more plugins and things that helps to improve your website speed.
And do you begin to notice that "should I pay for hosting" is one of the most important questions for bloggers to answer?
2. Will People Care what I Write About?
---
Does Pamela Anderson have trouble seeing her belly button?
In case you hadn't noticed I'm not very funny (but I do have my Hypnotic cheatsheet & analogy book on hand to help!… You can get yours for free below… so get on it like shit on velcro!)
Here's the thing Billy Bob…
You may not think you have much to write about right now.
But I guarantee the more you write the more you will think this…
"I wish I had a blog post about this I could link to right now!"
In fact, that's just given me another idea for a post…
100 blog posts ideas!
If you can think of something that will (or would have) help(ed) you, there's a very strong chance it will help someone else.
That, my friend, is quality content!
Related Articles:
3. How do I Get More Traffic to my Blog?
---
You probably know there are loads of ways to promote your blog post.
And of course, you've heard that not all of them are free.
Now, I can almost hear your mind saying this is possibly the most imporant of questions for bloggers to answer!
So let's break down the difference…
Paid targeted website traffic
There's really only 3 main ways to pay for traffic (visitors):
1. Facebook Ads (or other social media… Google ads are very similar)
2. Email Media (also called solo ads)
3. Sponsored posts
So let's think about what the benefits and negatives are for each approach.
1. Facebook Ads
Running ads on social media or Google can be a great way to get specific people to look at your website or sign up to your email list.
Facebook ads still stands out compared to other social media platforms because:
Positives
Over 1 billion users
Can be inexpensive to advertise (starting from as little at $20 or less)
Targeting the "right crowd" can be very specific
No matter what niche, Facebook has paid targeted website traffic
Has the potential to go "viral" without having to pay loads of money if people interact with the ad.
Negatives
Easy to waste money without getting results
Becoming harder to make an impact with Facebook ads (it's become more popular)
Easy to get people on a list that are not the correct target audience
Uncertain about how much engagement you will get from the ad
This is an affordable way to pay for getting good quality eyes on your page. There is an art to it though so more research is needed before diving in!
2. Email Media (solo ads)
This is when you write an email and pay someone with a list already to send this to his or her email list.
Within this email, you will put a link to your opt-in page or a specific website and you will usually pay in one of 2 ways:
A fee "per click" generated by the email
A set price, or a flat fee.
Positives:
Paid targeted website traffic for a very specific niche
Traffic can be VERY fast
You can be specific about how many "clicks" you want for your ad
If your opt-in or website page generates income it can grow exponentially (the ad would pay for itself AND some!)
Negatives:
Can be quite expensive (often pay $0.5-$2+ per click… so 100 clicks would cost at least $50)
Emails can be sent to poor quality email lists
Use Udimi.com if you want to find people that offer this.
Equally, if you have a large email list of 5,000+ you can offer this as a monetary service!
3. Sponsored posts
This is when you pay someone to write a blog post on his or her website.
Positives:
Get exposure to potentially unlimited people
You can choose specific blogs that are related to your niche
You are likely to reach targeted and specific people who will like what you write
Can be cheap or you can even barter (they do a sponsored post on yours in return for free or offer something else, like an email to your list/ adding to a group board on Pinterest etc.)
Negatives:
Very unsure about how many people will read it (some readers won't read these types of posts as they want to only read content by the owner of the website)
Requires more time and effort to create a post
Can be hard to do if someone is in the exact same niche as you are technically competition!
The best part about this is it will help to build your network and you may end up with other opportunities out of it.
How to Get Free Website Traffic
Now let me ask you this…
Did you even bother reading the paid traffic part, eh??
If you didn't then it's definitely worth a skim just to know the basics but here is the JUICY Lucy section right here.
Buckle up sweet cheeks, you're gonna love this…
1. Forum commenting
This method is loooong and I don't even really know if it still works for 2 reasons:
I couldn't be bothered to keep doing it
I couldn't be bothered to keep doing it
Supposedly you can comment on different forums such as:
Any other blog related forum
You can put your link to your website or an opt-in page as your signature on your comments in these forums.
If you end up getting in quick on a post that gets a heap of interest you can supposedly get a load of traffic for free.
To me, it seemed like there was VERY little progress and you kind've need to be lucky to get in early enough to be one of the first to comment on a BIG comment thread.
So after commenting every day in different threads for a month, I stopped.
Note- I did get the odd person to check out my link so it definitely does work, but I felt I was taking a lot of time for very little reward.
But this was when I discovered…
2. Pinterest
This is without a doubt the BIGGEST thing I have learnt since starting this website.
This is what I used to think:
I had no idea why ANYONE used Pinterest.
I thought it was for girls.
It looked like it was just pretty pictures of weddings and barns.
However, here's what makes Pinterest stands out like a white man in China compared to other social media platforms:
Pinterest is the Google of social media- people ONLY use it to find content i.e. blogs!
A good group board is a gold mine
Most other BIG social media platforms are built for user to user interaction (people go on there to see what other people are doing… Pinterest is different)
So, it turns out Pinterest is the biggest traffic source for my website and is starting to grow at a frightening speed.
There is WAAAYYY too much to go into here in this post so if you want more info, here it is…
Related Articles:
3. SEO
You probably know this but improving your search engine optimisation is the golden ticket to getting free traffic!
If you can get your website onto page one of certain search engines then you are guaranteed to get FREE traffic EVERY month to your website.
The challenge is:
1. To get your website onto page one (when was the last time you clicked on a link on page 2 in Google?)
2. To do this using a keyword that people actually search for!
If you get onto page one for a search for a keyword like:
"Banana and travel investment tips"
You can guarantee that nobody in his or her right mind would search for that… EVER!
So getting onto page one is not the only challenge here.
This is where doing keyword research before you write posts will give you the cutting edge over 90% of people that own a website.
You can tactically manoeuvre your website onto page one in Google searches to get traffic by doing two things:
1. Choosing a keyword that people search for
2. Choosing a keyword that few competing websites are ranking on
There's no accident in finding these magical keywords.
But you will need a keyword research tool to help.
If I go into too much detail here you will end up with an epic 5,000+ word blog post. So…
Related articles:
These posts will show you how to get free website traffic.
And are you beginning to see the solutions to the question "how to get more traffic to my blog?"
Pin this page so you can come back to it.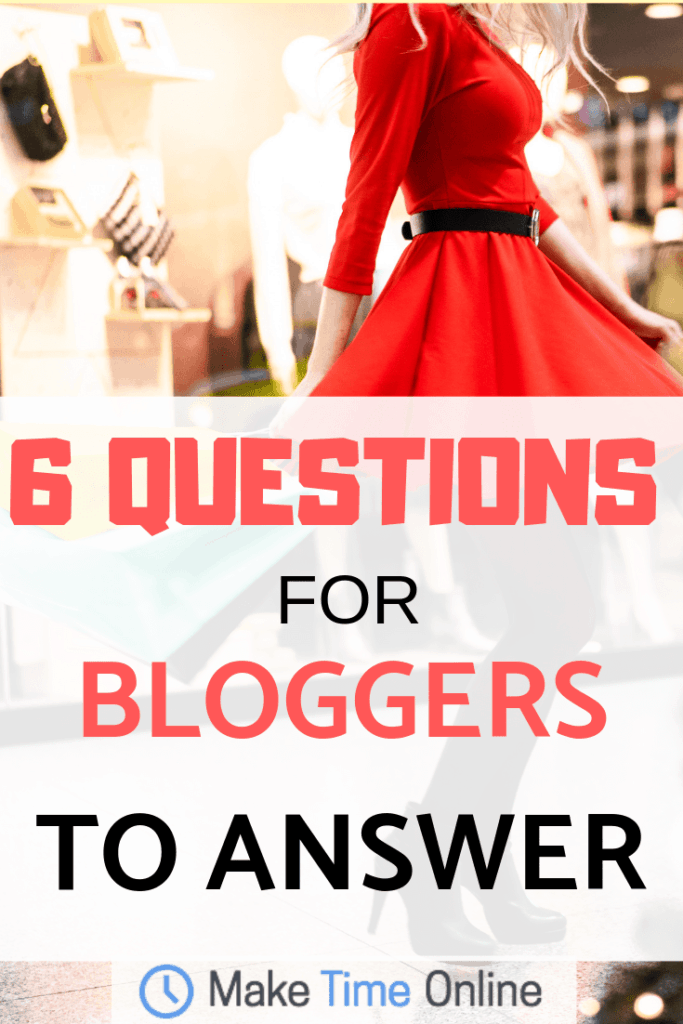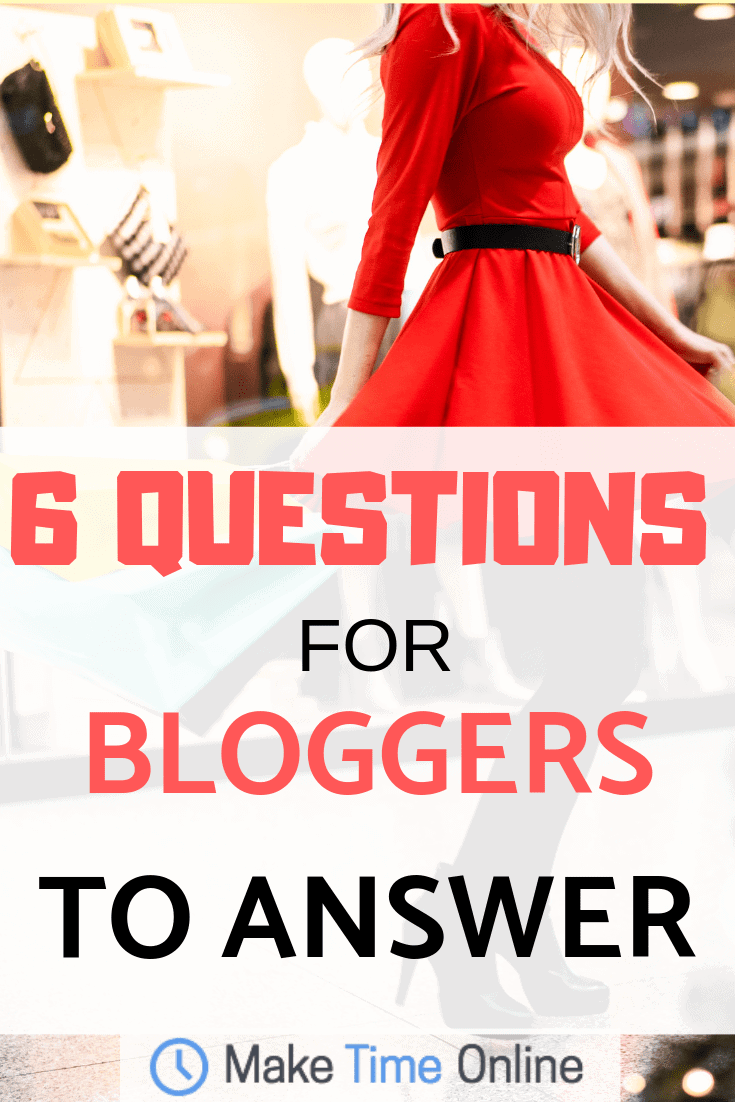 Wrapping up Part One – Questions for Bloggers to Answer
---
Oh sweet beJesus this is turning into one huge mofo post. Word count is close to 2,000 already!
I'm gonna call this the end of part one.
Check out part 2 next week to find out:
How do I make money blogging?
What plugins should I use on My blog?
Do I need to pay for training courses?
Little by little you begin to realise the importance of these questions for bloggers to answer.
Keep changing for the better,
Mike
P.S. If you have any questions or thoughts please feel free to drop a comment below… or send me a message on WA here
Can your passion make you $1 million? In "The Circle of Profit" book review you will uncover the truth behind the book and I'll let you know what my own experience has been so far.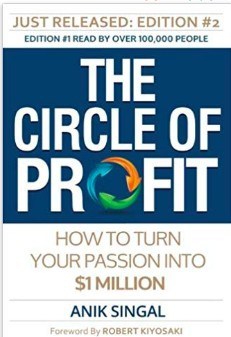 The Circle Of Profit- The Overview and Rankings
---
Name: The Circle of Profit
Author: Anik Singal- 99 out of 100
Originality: 85 out of 100
Practical methods: 90 out of 100
Enjoyability: 60 out of 100
Maketimeonline.com Rating: 83 out of 100
Pros and Cons
---
Pros
Simple methods to start using affiliate marketing
Break down of the circle of profit and how you can start right now
How to start making money online as you go
How to create your own products using your own passion
How to use email marketing to connect and engage with your audience
Free videos to help explain each step
So many practical tips throughout the book.
Cons
Makes it sound TOO easy
Selling of a FREE Webinar- which turns into a $997 course- The Inbox Blueprint
Not a super enjoyable read as a lot of it is practical content instead of stories (there are some stories in there to balance it out- but it's one of those books that you will need a pen and paper with you)
Who is "The Circle of Profit" For?
---
Anyone wanting to have a successful online business! It really does show you how to get started using email marketing and the 2-phase process that being an email marketer can make money online.
Phase 1 is using affiliate marketing to start earning an income through your online business. Phase 2 is how to create your own content to really expand your online business.
I have learnt a lot about creating an online business over the past few months. The more I have understood how online businesses work the more I have realised the importance of using email marketing (basically collecting email addresses and sending them regular emails).

Most people that make money online have an "email list" and I have heard from numerous people that wish they started collecting email addresses much sooner.
The reasoning behind this is that you have someones undivided attention in an email. If they read something on social media they can easily skim over it or not even see it due to the platform's algorithms (techy stuff that each social media platform has to decide what you see on your timeline). You can build trust through emails and it will only be seen by people who have chosen to access it.
Anik suggests that a rough figure is $1 per month per email that you have. i.e. 10,000 email addresses equates to $10,000 per month (roughly).
It is 100% worth a read if you would like to understand how it is possible to make money online and it has helped me to learn so much!
So What Actually is "The Circle of Profit"?
---
It is an email marketing program. It shows you how to use affiliate marketing and eventually your own products to make money by emailing your audience. The main 2 things to do are collect email addresses and sell products.
THE 8-STEPS
1. Passion Product
Discover your passion! The idea is to find a niche that you are interested in. If you'd like more information on how to find this, I go into more detail in "how to find your niche" (the video on here can save hours of unnecessary work that I went through!)
2. Opt-in Page
Create an opt-in page with an offer of a free gift in return for the visitor's email address. This is a standalone website that collects email addresses.
3. Autoresponders and Newsletters
An autoresponder is a programme that collects email addresses and automatically sends out emails. This is a crucial part of any online business and without email addresses (or an autoresponder) your online business won't exist.
The 4 that he mentions are:
SendLane (his own autoresponder)
GetResponse (I am currently using this one)
Aweber
iContact
There are other free autoresponders such as Chimpmail or Mailerlite, but I have found both of these to block my account due to messages sent. They really notice affiliate marketing links and don't allow these to be sent in an email, so they may not be the best ones to try with an affiliate marketing business (top tip- A workaround is to put your blog links into the emails and put the affiliate links in the blog posts, which seems to work fine on both free servers).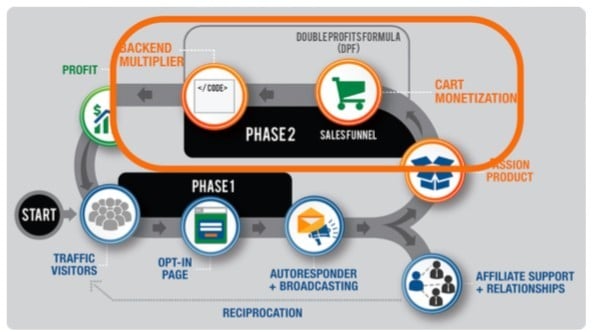 4. Get traffic
The fastest and easiest way to get traffic (visitors to your website- in this case, the opt-in page) is to buy it from the targeted sources. Traffic is the lifeline of every online business.
Anik mentions a variety of methods such as posting on forums or blogs (which appears to be outdated slightly/ are seen as spam on most blogs), Facebook advertising and email media (paying someone else that has an email base to send out an email for you).
5. Affiliates, Relationships, and Networking
Anik really knows his networking. He has built relationships with top-class entrepreneurs like Bob Proctor and Robert Kiyosaki.
He shows how having a good connection to other affiliate marketers can help you (and them) to build your own brands.
6. Passion Product
I thought this part of the book was amazing. Anik explains how to simply create a product within your niche that you can start selling.
This will be the long game and make the most profit in the long run but you don't necessarily need it to start making money initially. His explanation of written, audio or video products and how you can outsource some or even all of it, means it doesn't have to be a daunting task (obviously you pay for this with the money already made through affiliate sales!)

7. Sales Funnels- Frontend/ Backend
Anik talks about needing to know how to draft a proper sales message – written, audio, or video. Sales funnels are the key to multiplying your revenues.
I don't disagree with him on that but I do know that getting upsells can be really annoying when you think you have just bought a product and it turns out the upsell is ACTUALLY the product you wanted. So make sure if you have upsells they are clearly different from the products you are originally promoting i.e. online course to personal coaching.
You have your leads and you have your sales. What do you do with them? Well, as with every other business – you sell them more stuff. This is the part that I found very hard to read when I first looked at it. However, Anik puts it in a way that makes it seem more honest and acceptable to me.
Selling is good and necessary. Have you ever found a great deal when out shopping? It may be a super cheap holiday or a bargain on a pair of trainers. Do you keep that info to yourself or do you tell all your friends about it? It's the same online! If you find a great product that works, then tell your audience about it (equally tell them if you try a product and it was terrible)… they want to know!
8. Profit
Once you have everything down and connected – you launch your products. Either a full-blown time-sensitive launch or a rolling launch. You decide!
That's when you make your money. And what do you do with the profit you make? You re-invest it into growing your business.
Make more products around your passions, drive more subscribers through your opt-in page, and create an authority in your niche.
Does this Actually Work?
---
There are so many success stories throughout the book. Anik mentions loads of "his" students that have been through the training and obviously they have all done amazing!
As with most salespeople, he forgets to mention the ones that don't do so well. Reading between the lines on the huge success stories it is clear to see that most of these people had some experience of working online or a business already up and running. So it's important to take these stories with a pinch of salt if you are brand new to working online.
What I must say is that I have spoken to a few people that have been through his inbox blueprint course (which he highly recommends throughout the book… so if you don't like that sort of thing this is your warning about it!) All of these people seem to be very happy with the products and learning they have received from using it.
I'm yet to speak to anyone who is earning MEGA bucks or who have told me exactly the monetary results from the course, but I'm yet to speak to anyone who has hated it and found it a waste of time.
My own experience
---
So I read the book, I got super excited about it and thought I had found the answers to all the questions I was looking for. But (how did you know there was a but!!) it turns out it's really hard to get people to give you their email addresses… Yes even though I was offering a FREE e-book!!
I set up my email list on Chimpmail.
I made an opt-in page and pretty much copied one that was in the book.
I spent time setting up my initial 10 emails to send out to all the subscribers I was about to get.
I spent a couple of days putting my free e-book together.
I used the Facebook advertising method and spent £20 to get about 3,000 relevant people to look at my advert.
I managed to get about 200 people to click on the link and view my opt-in page.
And I managed to get a big fat total of…. ZERO people subscribe to my email list!! (enter "throw the toys out of the pram" tantrum)
It was sooooo disheartening spending all that time creating the free e-book & email responses to have NOBODY even look at them!!! I then re-read the book (yes front to back). I realised I went wrong on step ONE!!!!! Step bleeding ONE!! I didn't even clear the first hurdle (Muppet!) I realised I didn't even check out if my "niche" was profitable.
This is a huge reason as to why I've written an in-depth post about "how to find your online niche" and made a video to show you step-by-step what you SHOULD do to get started (and just in case you were thinking about starting a niche of "health, success and happiness"… DON'T!!! It is so broad that it's not even close to being considered a niche and pretty much includes every human on earth that is interested in it… which is why that won't work online- you have to be clear and specific in what you do!)
I also realised I didn't know how to sell. I have since learned that people buy on emotion… not logic. They will often justify the purchase with logic after they have been swayed emotionally. So my logical and bullet point adverts did not get people emotionally involved at any stage. You literally have to spell the dream out to them or hit a specific problem that they already encountered.
It's a learning curve and I learnt heaps! I keep finding the following quote to be so relevant to my life currently:
"I never lose. I either win or I learn."
That really helped me put things in perspective after this painful ordeal!! Check out my advert compared to some random advert I just saw on FB. You can see the difference right!?
My advert doesn't solve anybody's problem. It doesn't really sell any dream. To be honest, it just looks like it will be a waste of time to even read it, so why would anyone give up their private email address for this!?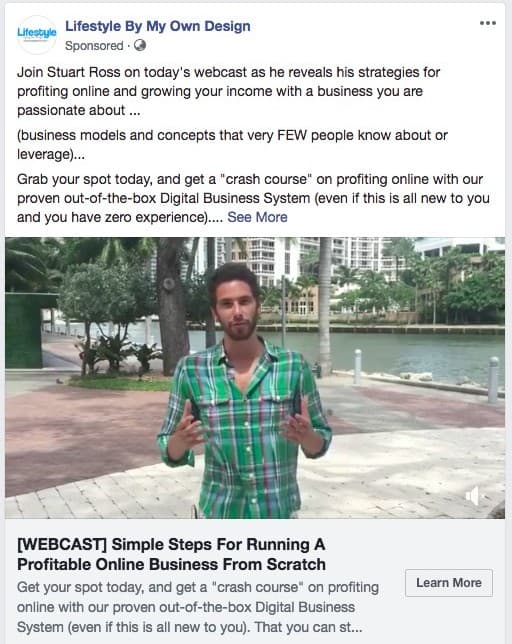 This advert is clearly solving a problem… How to run a PROFITABLE online business from scratch.
It's something that some people would REALLY want. If they already know they want to start this, and the video of the guy can attract them in then they will give up their email address for FREE to receive a shot at getting what they want (btw I literally just found this so can you see how powerful FB adverts can be, Facebook knows that I have an interest in making money online to free up my time and so it specifically sends me adverts related to this!!)
How I make passive income online
---
It wasn't that long ago that I was still trying to figure out how it's possible for people to make money online.
I wanted to find a passive income system that ticked a few boxes:
I could work on part-time when I wanted (I was still in a full-time job)
Therefore I needed it to not cost a fortune to start and maintain
Didn't need me to sell stuff to my friends and family
UPDATE- In September 2018 that I found Wealthy Affiliate. At the end of 2019 I quit my full-time job to dedicate more time to it.
I had no idea where to start with an online business a year before, but this has shown me step-by-step what to do.
The best thing about it is:
It's free to start
Qualified traffic is brought to you for free (just think about how you found this review… there was no money or time spent from me promoting this!)
You get me as a personal coach to help you on your journey (someone that has been through the exact same process to help you avoid the mistakes I made, but not too far ahead to forget what it feels like)
You don't need ANY technical skills to start
When you try out this program you will see why so many people recommend it.
The Circle of Profit book review: The "MakeTimeOnline" Review Final Word
---
I think everyone should read this if they are interested in making money online as it has a step by step guide into setting up a profitable online system.
The information is all there in the book.
If you already have a business or some basic sales skills then this book would really compliment these skills with practical advice on how to use email marketing.
It really simplifies the process, which makes it easy to understand. However, it also means that it sounds really easy to do when, in fact, a lot of these things take time to learn or figure out. You still have to create content to get started such as a free gift and promotions to get people looking at your opt-in page.
Beware of the promotions for Anik's courses such as the inbox blueprint. As I say I have only heard good things about this course but it does seem like it's a product to get after you already have a clear niche and some understanding of how affiliate marketing works.
It comes at a steep price of $997 so you really need to be certain that creating an online business is for you.
Keep changing for the better,
Mike
P.S. Since you're still here, I'm assuming you're interested in making money online to free up your time. Click here to read my review of my #1 recommended program and join the form below to learn how to build an online business with no experience.