In the spirit of full transparency, know that this Wealthy Affiliate review 2020 contains affiliate links. This means if you make a purchase through these links, I may receive a small commission at no extra cost to you. Click here to read my full disclosure policy.
Imagine what if would be like if you were in control of your own schedule.
Wouldn't it be amazing if you could make money from the comfort of your own home… or anywhere in the world with an internet connection?
Just picture this for a moment… living the life that you have always dreamed of…
No credit card details required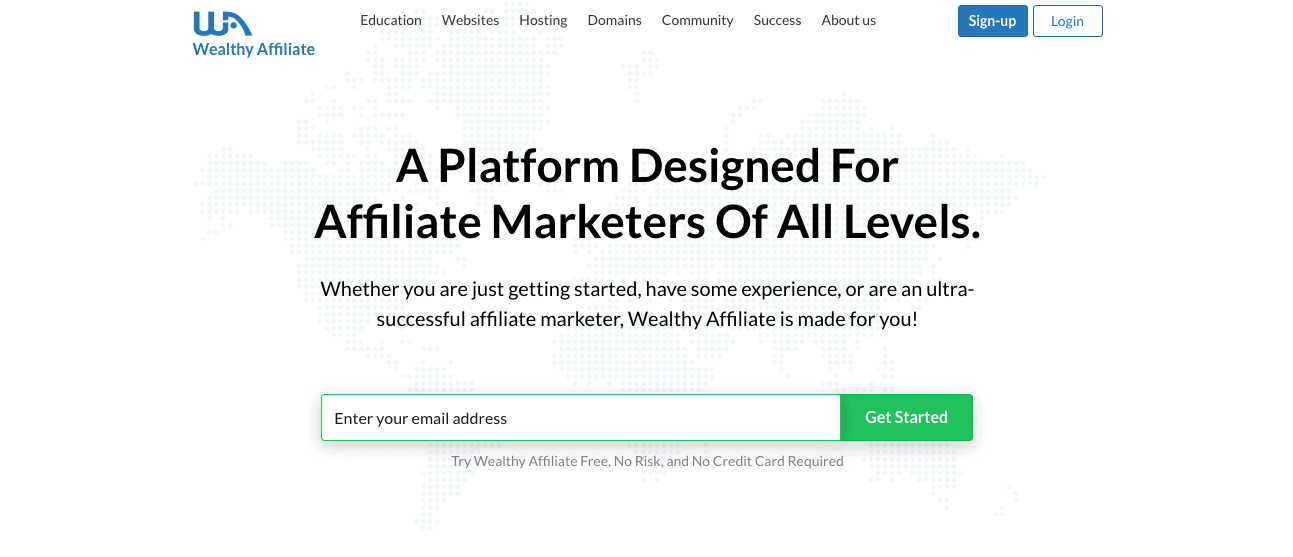 You probably agree that if you want to be financially independent and retire early you need to find ways of making passive income.
Well, creating an online business in a certain way can be a form of passive income for anyone. The best part is that you don't need to have thousands of dollars to get started like many other forms of passive income.
After you read this up to date honest Wealthy Affiliate review 2020, you will learn what Wealthy Affiliate can offer you.
Wealthy Affiliate Review 2020 Part One:
The Overview and Rankings
---
Name: Wealthy Affiliate
Owners: Kyle and Carson – 96 out of 100
Website URL: wealthyaffiliate.com
Training: 90 out of 100
Support: 99 out of 100
Website Builder: 99 out of 100
Research Tools: 95 out of 100 (for the paid version)
Success Stories: 95 out of 100
Price: Starter Member (Free- for as long as you want) Premium Membership ($49 per month/ $359 year)
Maketimeonline.com Rating: 97 out of 100
My Story
---
It all started on a sunny day in Essex, England, in August 2017.
Sarah, my wife, and I were sipping our coffee, chilled on my parent's sofa when she asked…
"Do you want to start a blog?"
I had no idea how much those 7 words would shape my life. Read the "About Mike" page to learn more about this story.
I didn't even know blogging was still a thing in 2017!
But after trying it out for a while and speaking to some people in this mysterious "blogging world" we realised some people were making a full-time income from it.
And others were making way more than I'd ever be able to as a teacher.
So it became a puzzle of mine to put the pieces together to figure out how they do this.
As you read each word in this Wealthy Affiliate review you will see how it has helped me to put a lot of the pieces together.
But I am not going to blow their trumpet to convince you to give it a go. I will be completely honest about my experience and show you the negatives so you can make an informed decision.
My First Online Sale…
Man, I remember the day that I made my first bit of money online.
It's such a weird feeling that is super hard to explain.
I was in freezing England after the Christmas break. We were out at dinner with my parents before we were heading back to Qatar when I got this buzz on my phone.
"Amazon Associates".
I recently had an email from them saying I had about a week left on my account to make the required 3 sales in your first 180 days.
So I didn't think much of it as I'd hardly used any affiliate links from Amazon on my website.
Then I clicked it and…
I made a massive…
$1.03!
This may sound weird but this was possibly the greatest $1.03 I have ever or will ever earn.
It was passive income.
I did the work once… and it paid me in the future.

Someone had read my review of Rich Dad Poor Dad, clicked the link and bought the book!
More than anything else, it was proof that I can make money online.
End of 2019 Update…
It's actually quite crazy how much I have learnt about online businesses over the last 15 months.
I also know how much there still is to learn.
But here's the truth:
I cannot fail if I don't quit.
How many types of business can honestly say that?
Here is what has started happening to my website in recent months…

I am getting over a thousand people to find my website every month for free!
This is all from Google and exactly what Wealthy Affiliate has taught me how to do.
But this is not the only method of traffic I have been taught…

I also know how to use social media and work with other online entrepreneurs to drive traffic to my website for viral traffic.
I've even used what I've learnt to start a new website and get hundreds of people to the website per day almost instantly…

Now, I can almost hear your mind thinking…
So what?
Traffic is not money.
Well, here's the secret amigo…
Yes, it is!
I just didn't know that until VERY recently…
Income Update…
If you're like me (and Jerry Maguire) the only thing you are probably interested in is seeing the money.
So I'm not going to hold anything back…


You're probably thinking…
So what?
"This is not enough to quit my full-time job!"
The thing that I want to make clear is this:
There are multiple streams of income (I make money from different affiliate programs)
The rate of growth is exponential (this time just a few months ago I hadn't made anything significant)
I am a PE teacher by trade! I. Did. Not. Know. This. Stuff!
Everything I have learnt has come from following the step-by-step training and people within Wealthy Affiliate.
It's even enough proof for me to quit my full-time job before the end of 2019! Exciting times ahead for sure! (I only joined in September 2018)
But enough about me.
Let's get back to the Wealthy Affiliate review 2020…
You Want the Proof? You Can't Handle the Proof…
---
Now I can almost hear your mind screaming…
Is Wealthy Affiliate a Scam?
So here's the thing…
There is so much proof, you don't need to hear it from me.
Meet Jerry- Joined May 2016
The 21-year-old college drop-out consistently makes 4 figures a month from Wealthy Affiliate.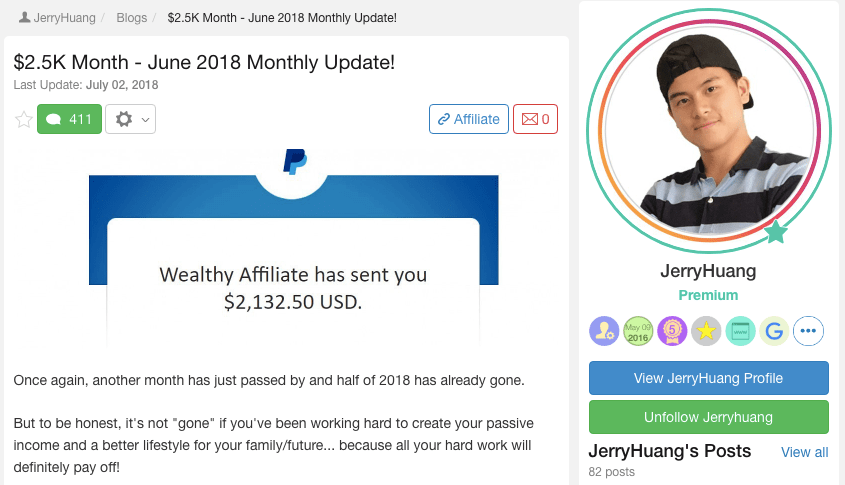 Do you notice the rate of growth in his income too?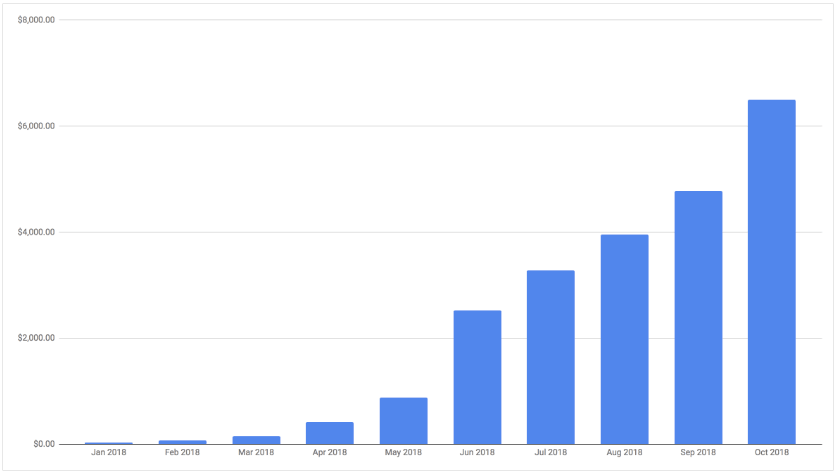 Oh, and did I mention he just made over $100k in a week from a new course he made?
Meet Grace aka LittleMama- Joined Sep 2016
The little darling of Wealthy Affiliate knows how to get paid on tap. Are you beginning to notice the rate of growth after making the first affiliate sale?
Her first annual membership referral was in November 2017
To $40k commissions in 2018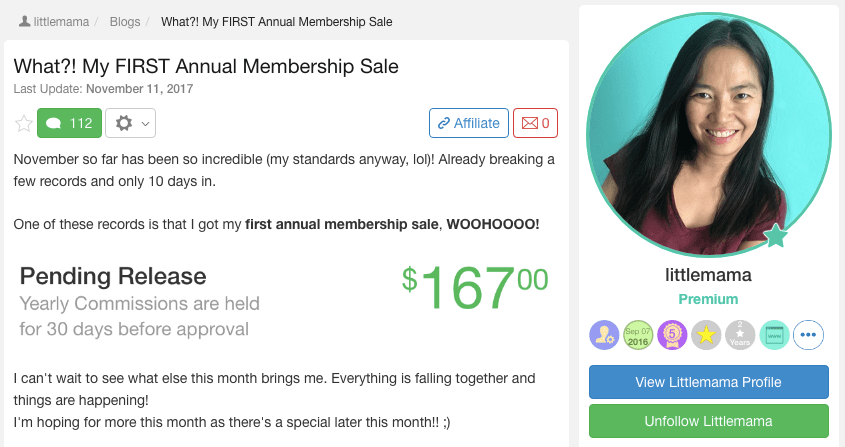 Will I Have to Promote Wealthy Affiliate?
Absolutely not.
As you continue to read this Wealthy Affiliate review in 2020 you will realise there are 2 training paths you can take.
Meet Juan- Joined May 2015
He makes money mainly from promoting other products on Amazon.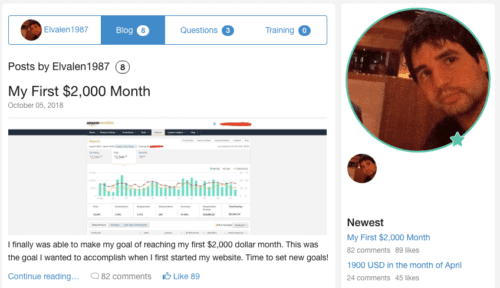 Will it Take Ages Before I Make Money?
How long is a piece of string?
It is entirely up to a number of factors including:
How much time you put into it
If you follow the training
Whether you collaborate and help out others
Meet Dylan- Joined Aug 2015
Dylan refined his tactics after working at Wealthy Affiliate for over a year. His new website generated over $4,000 in month 7!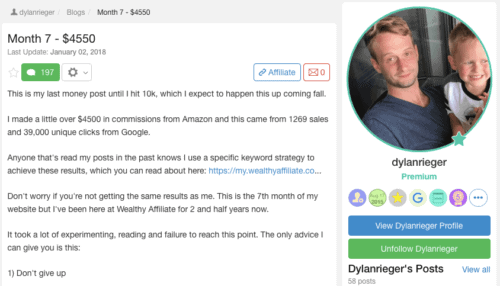 And yes it is possible to sell websites…
Will I Have to Put in Tons of Time?
This success story may help you decide…
Meet Steve- Joined Aug 2016
Here is a list of what he does:
Works a full-time job
Competes in "Iron Man" events (this is a full-time job just training in case you didn't know… it's heaps of swimming, cycling then a marathon to finish)
Manages a travel website
Spends quality time with his wife and friends
He is not a guy that has 40 hours a week to put into his online business… but he makes 4 figures a month!
Now, if this is not enough proof click here to see a whole load more.
Top Tip- Before you pay any money try the free account out. Find these people or thousands of others using Wealthy Affiliate and message them. They will tell you the truth about what they did and how much they worked.
No credit card details required
Why Use Wealthy Affiliate?
---
There are 3 main reasons why Wealthy Affiliate is my number 1 recommendation:
The step-by-step training is so easy to follow
Simple to use tools (read this to see "How to Build a Website in 30 Seconds")
Amazing support (24/7 live chat and over 1.5 million users ready to help)
Making money online can be overwhelming. There are a lot of moving parts and everyone has the next best shiny object ready to distract you.

As you keep reading this Wealthy Affiliate review 2020, you will begin to realise Wealthy Affiliate keeps it simple stupid.
They use a 4 step proven model:
Click on any of the above to read more about each step.
What are the Wealthy Affiliate Negatives?
---
Ok first of all I need to be fully open with you.
Wealthy Affiliate is NOT for everyone.
Here are some people that should not waste their precious time with Wealthy Affiliate:
Someone that wants to make money instantly
People that do not want to help others
Someone that doesn't want to put in any effort
If you're looking for a ready-made program to start paying you money (if you find this, hook me up… joking, this simply doesn't exist!)
If you use Wealthy Affiliate it does not mean you will be successful and have money flowing into your bank account each month.
It will show you what to do but you still need to put the work in. Some people do get frustrated with it and like to point the finger at the training program.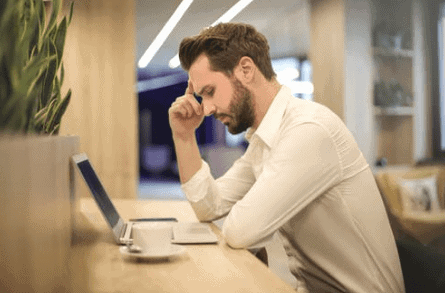 The Negatives
Nothing is perfect and there are some things that are not 100% ideal:
Information Overload

There is a lot going on inside Wealthy Affiliate. If you're not careful you will find yourself jumping around and trying to take on too much. The training exists for a reason. Trust it and follow it!

Email List Training

I was a massive skeptic about this initially. Read any "successful blogger's" number one tip and it will be…

"Build your email list immediately".

However, Wealthy Affiliate skims over this. It does have some webinars and some people have created training on it.

I ignored the training initially and thought I could go about building my list at the same time. Turns out, until you get traffic, nobody will join your list (no matter how good your content is!)

This is why Wealthy Affiliate doesn't focus on this in the starter trainings (hindsight is a wonderful thing!)



Who to Trust??

There are over 1.5 million users on Wealthy Affiliate.

This means there are some amazing people you can learn from. But it also means a lot of people won't know what they are talking about (they may still try to help you though!)

Figuring out who to take tips from isn't easy at the start, but that's where I can come in to point you in the direction of the best people to ask!
Disclaimer- Remember there is no magic button to press to make it all work. You will have to learn and put the time and effort in if you want to see results.
As you pay close attention to the rest of this Wealthy Affiliate review in 2020 you will begin to get excited about what Wealthy Affiliate can offer you…
Wealthy Affiliate Review 2020 Part Two:
What does Wealthy Affiliate do?
---
A lot!!
To be honest it does so much that it can be overwhelming reading it all.
All you need to know:
If you are interested in making money online to free up your time, then Wealthy Affiliate holds your hand into getting an online business up and running.
Some of the things Wealthy Affiliate does:
Step-by-step training – make a website suited for affiliate marketing (promoting other peoples products and getting a commission)
An amazing community to support you
Build your website in 30 seconds
Tools to track and monitor your progress
Tools to improve your research and content
Top quality hosting
When you try it out for free you will discover why so many people get excited and tell their friends about it .
Wealthy Affiliate Training, Many Formats to Suit your Taste
---
The training comes in different formats to suit your learning style:
Video
Written
Weekly live webinars
There are 2 routes you can take with the training:
Online Entrepreneur Training
Affiliate Bootcamp
Basically, route 1 is for those who have a specific niche and know exactly what they want to do.
Route 2 is for those who don't really know and so they hold your hand down the make money online route.
Now for me, the indecisive ninny here, I found this very hard to decide!
As I already had a blog up and running I literally would love to have a niche in anything to do with:
Health/ Nutrition
Success/ Business
Happiness/ Personal development
However, after starting route 1 I realised I would 100% need to sub-niche this down as it's too vague and pretty much covers everyone in the world (which turns out is not a good thing!!)
If you need to some help in deciding on your niche then I have created a post to show some things I wish I knew before (the video on there could save you hours of faffing!!)
Choosing Your Route
Working in the education system since 2011 has shown me how little financial IQ is taught at schools. This website is my way to help spread the word about financial education and demonstrate different ways we can create more money (and hence time) in our own lives.
…So route 2 it was!
The Bootcamp is more useful than a cold beer on a hot day. It literally shows you, step by step, how to create your online business.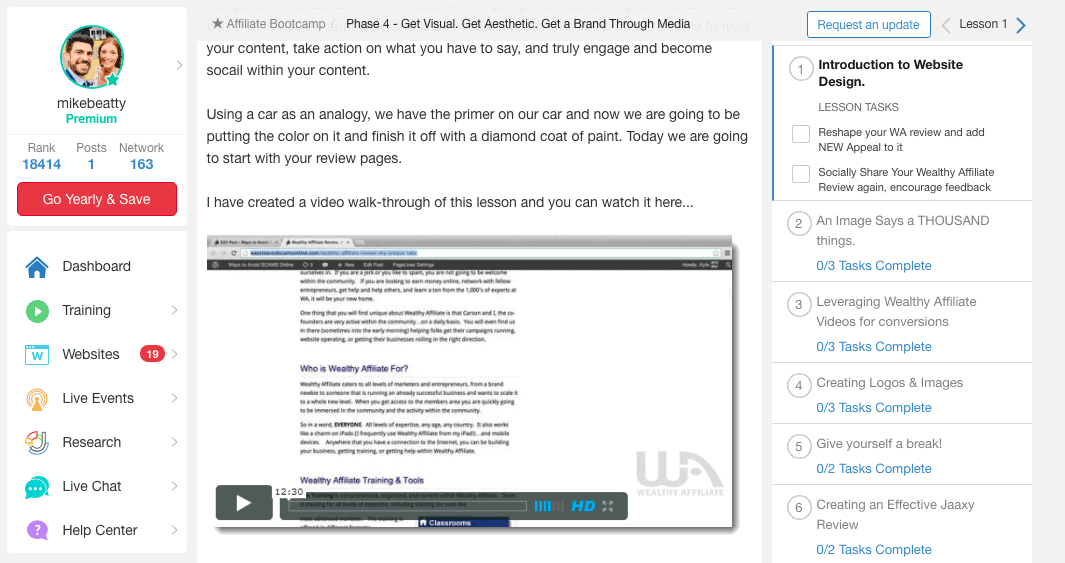 The information is incredibly thorough.
Do you remember reading that the downside to the training is the lack of depth in email marketing? Hindsight has taught me that it's actually a good thing they don't put this in too soon as this would cause overwhelm… I know this because I tried it anyway!
You would end up doing everything… but nothing well (Hello… that was me!)
Top Tip- Do EVERY step as it comes. Do not skip past action points and go at your own pace.
To avoid these mistakes and fast track your progress check out this free course…
Wealthy Affiliate Support, A Community of "Caring" Experts
---
When you try the program out you will find people at completely different stages of their online marketing journey:
Complete beginners
People who have been using it for 6 months
Members who are making 5 figures a month
I decided to join Wealthy Affiliate after reading Riaz Shah's website as I found his reviews to be very honest and informative.
He has been more helpful to me than Robin is to Batman (…yes I just referred to myself as Batman!) Just look at the detail in his response to a question I asked. This is only a fraction of the answer… talk about personal service!
There is also a Live chat and Forum so you can get quick responses to any question that pops up in your head!
After only 2 months of being a member, I wrote a post about "Why do People Create Blogs"… 13 people inside WA took the time to answer some questions for me.
People continually provide comments and feedback on my website and they are so helpful, generous and understanding of any type of problems.
No credit card details required
The SiteRubrix Suite, Create, Manage & Grow Your Websites
---
This was actually pretty amazing! I remember creating our website for our first blog on WordPress and I was so confused.
WordPress is actually very user-friendly but it took me ages to make the website look how I wanted it.
With Wealthy Affiliate, it took 30 seconds to create a website using Site Builder. No joke! Check out "How to Create a Website in 30-Seconds" for more info.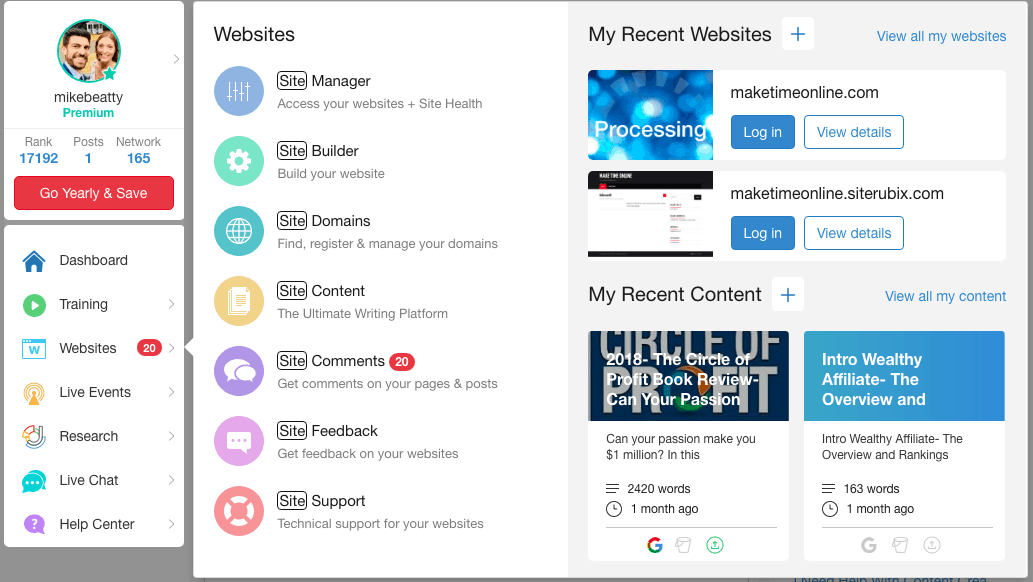 The screenshot above shows all the things that come with the SiteRubrix Suite. I honestly have found it soooooooo helpful!
For me, one of the best things about Wealthy Affiliate is the site comments.
You choose what you're interested in (so I never receive any baby advice or gardening websites) and you can skip websites if you'd rather not read it. So I actually find reading others people work really useful. All you do is write a meaningful comment to someone else.
In the screenshot above I had made 10 comments and then I used my "credits" to ask for specific feedback on certain posts that I have created. As you can see I had already received 20 comments (20 for the price of 10!!!!)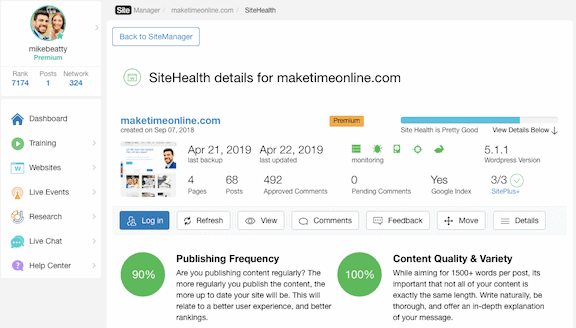 The Site Manager (above screenshot) is such a great way to see what you can do to improve your "Site Health".
It also shows the speed of your website and what you can do to improve this. This helps to ensure your website is optimised to improve its rankings on search engines and that your audience has a better experience when using the site.
Jaaxy Tool – Key Word Research
---
The training program shows you step by step how to make the website better for SEO using plugins (Search Engine Optimisation- in English this means it makes your website easier to find on Google)
The Jaaxy Tool is an amazing way to find keywords that receive a lot of searches each month.
If you want to learn more about SEO then check out this "Jaaxy Review" and particularly "How to Find Keywords For Your Website to Get Traffic on Tap".
As you absorb this information you will realise the best part of using Jaaxy is the QSR column (number of competing websites).
This helps you to find keywords that have less competition. Therefore, your website will rank higher on search engines and you will get more visitors to your site… aka more eyes on your website to purchase through your affiliate links.
This may sound overwhelming if you are brand new to this…
but just like everything else on this site…
follow the training, complete the tasks and all the pieces of the puzzle start coming together.
This is actually worth $49 per month by itself but it comes as part of the Premium Wealthy Affiliate package.
Managed WordPress Hosting- Set up Efficiently!
---
Picture your website like a load of files on your computer.
The "hosting" is basically where you store these files and share them with other people.
People can pay anything from $60 to a few thousand dollars per year.
So the Wealthy Affiliate hosting is top quality.
If you are on the free membership you get 2 .siterubrix free websites so you can get started and try out the training without having to pay anything. Plus you can stay on the free membership for as long as you like!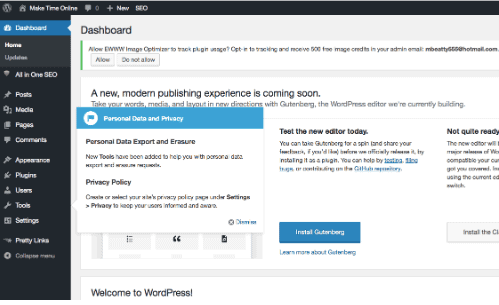 If you use the paid version you can get 25 free .siterubrix websites and 25 domains. WordPress is what all the big online marketers use to manage their website and WA helps you get set up on there super easily.
This means if you have another online business or website you can transfer it onto Wealthy Affiliate and get all the added benefits of:
Faster speeds
The Spam Blocker
SiteSSL (notice my website is https instead of http. You usually find this on websites that you make payments on as it makes the site more secure).
Why bother using the paid version?
---
This is something that I asked myself a lot when I started out.
You can access so many things on the free membership I didn't really see the point.
The 3 big things I could see was that on the paid membership you get:
The extra websites available (25 instead of 2)
Access to the Jaaxy Keyword Research Tool (usually $49 per month by itself)
Much more training
Check out all of the benefits for yourself:
The main reason I went for the paid membership was really because of what I'm about to tell you… and no it's not the Vegas trip…
Meet in Vegas, Lucrative Affiliate Program
---
If you sign up right now you will be getting a free trip to Vegas every year for the rest of your life!!… Only joking!!
Of course, they don't actually sell this to you like that (that would be cool though eh?!) and of course, it's great to set big goals but to get the all paid for Vegas-trip you need to get 300 people to sign up to Wealthy Affiliate.
Remember, you DO NOT have to promote Wealthy Affiliate at all.
If your passion is photography then Wealthy Affiliate can help you get a great online business set up for you too.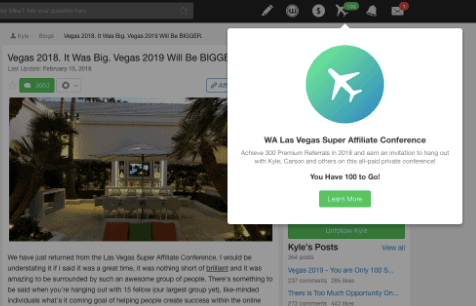 The bit that is interesting for a lot of beginners is that you can get paid to refer others to join Wealthy Affiliate.
Now, there are a lot of reviews that sell Wealthy Affiliate as the best thing since sliced bacon (I'm sure you'll understand why in a second).
The thing I have found surprising is that a lot seem to fail to mention this part. I'm not entirely sure why…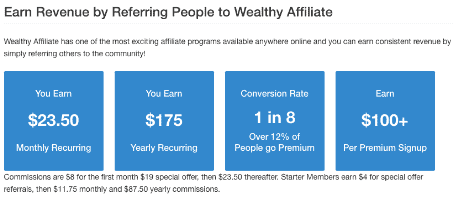 You get paid if someone signs up from your link…
If you're on the free membership (by the way did I mention you can be a free member for as long you like??) you receive:
$11.75 per monthly premium subscriber
or $87.50 for a yearly membership
If you are on the paid membership it doubles to:
$23.50 per month
or $175 for a yearly membership
So that means if 2 people sign up to Wealthy Affiliate from your link, you effectively get the premium Wealthy Affiliate membership for FREE!
Are you beginning to see how people make money online?
Wealthy Affiliate Review 2020: The "MakeTimeOnline" Final Word
---
Wealthy Affiliate is amazeballs for beginners and bloggers that want to start monetising or scale their website.
Especially if you are serious about making money online to free up your time, but still haven't found the right strategy.
Even if you don't join the paid membership you can stay on the free membership for as long as you like and learn a load from the free training.
This is the best one-stop-shop to get:
Tools (hosting, keyword tool, affiliate opportunities etc.)
Step-by-step training
And support
Have you noticed yet that if you want to connect with like-minded people there is a strong active community on Wealthy Affiliate?
Plus, I am already going through this process so you've got someone to give you personal feedback and help.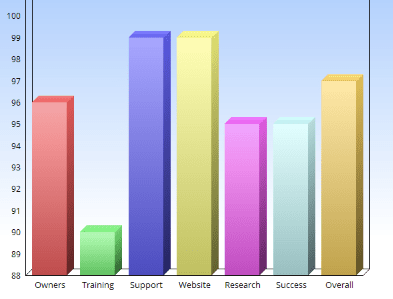 How Much Is Wealthy Affiliate Really Worth?
When you actually break down what you get from a premium membership with Wealthy Affiliate it looks like this:
100+ Step-by-Step Training Lessons (Value $997)
Super Simple Website Builder (Value $294)
Web Domain Marketplace (Value $99)
State-of-the-Art Web Hosting (Value $240)
Jaaxy Keyword Research Tool (Value $588)
Affiliate Program Marketplace (Value $197)
Weekly Live Training Calls (Value $497)
User Generate Training (Value $299)
Worldwide Community: >1.2 Million Members (Value $349)
24/7 Technical Support Team on Standby (Value $299)
The training, tools and support adds up to a total value of $3,859
But it doesn't end there as I remember exactly how hard and weird it was starting out as a brand new "online business owner" in September 2018.
So I'm going to give you some additional bonuses that no other WA members get and what I wish I had when I started…
My Recommendation and Special BONUS!!
---
I would recommend giving Wealthy Affiliate a try for free. This way you can check out the starter training and test out the platform. You can also message some other people inside if you'd like another person's point of view.
The special bonuses of signing up for the premium membership during your first week are: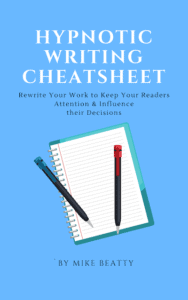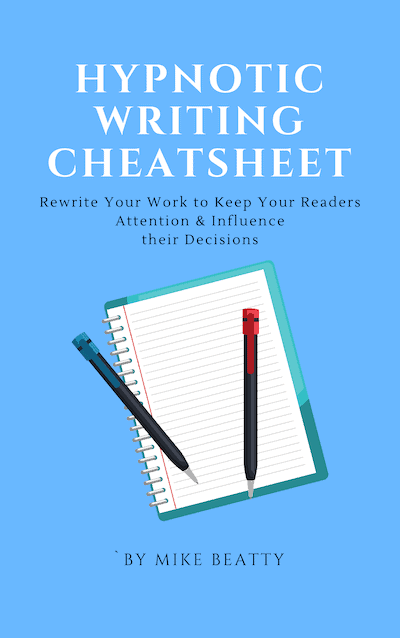 BONUS #1, Hypnotic Cheatsheet & Analogy Book ($67 Value)
Insert scientifically proven words into your writing that helps to keep your readers engaged and hooked to the end.
Make editing your writing much quicker.
Persuade and seduce your readers to take action that can help them.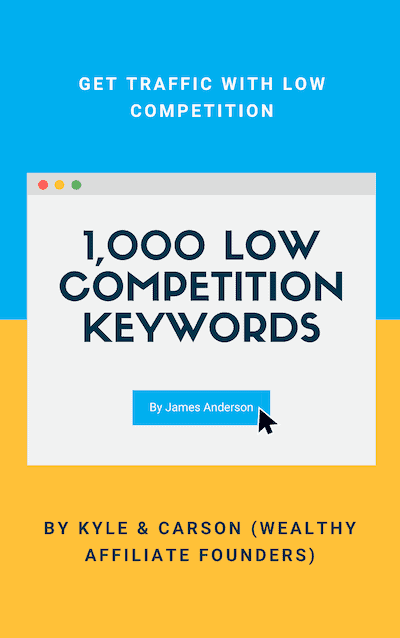 BONUS #2, 1000+ Amazing Keyword Ideas & Guest Posting Opportunities ($99 Value)
Get 1000+ low competition (not many websites writing about them) keywords with a lot of traffic (this is how you can get free traffic from Google every month)
Quickly improve the "authority" of your website by "guest posting" (writing a post for them to link back to your website) to some amazing websites
Save hours of time from having to do this research yourself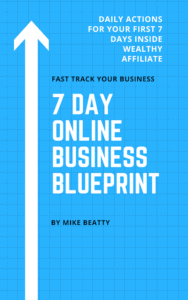 BONUS #3, Personal Business Blueprint + Checklist ($139 Value)
I'm also giving you this Personal Business Blueprint where I'll give you specific instructions to help you start on the right foot and plan your schedule.
I've also created a custom daily task for week 1 to assist you in Wealthy Affiliate's training.
This is NOT found anywhere else and NOT available to any other WA members!
BONUS #4, Top WordPress Themes & Plugins Guide ($97 Value)
Not sure what themes & plugins to use for your website?
If you've tried WordPress, you know WordPress has a TON of themes and plugins. I understand it's confusing for beginners.
So, I've created this guide to help you based on my experience.
This guide will be extremely helpful to kickstart your website!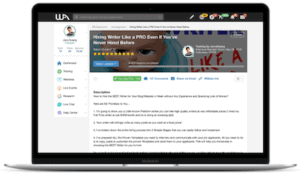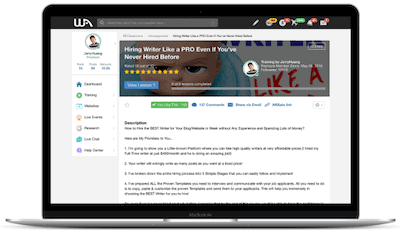 BONUS #5, Outsourcing Secrets: Hire Writer Like A PRO ($249 Value)
Do you hate writing? Feel like you suck at writing? Me too!
In this training, I'll give you the exact steps a Wealthy Affiliate member took to hire his full-time writer at just $400/month who writes really well.
Thanks to his writer, he's now automated his website. He hasn't written a single post for a very long time, yet the money just keeps coming in every single day.
This is how you can truly create an online business!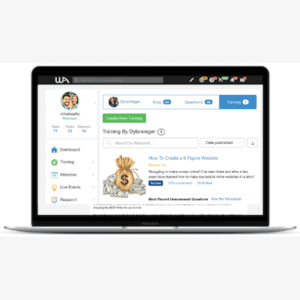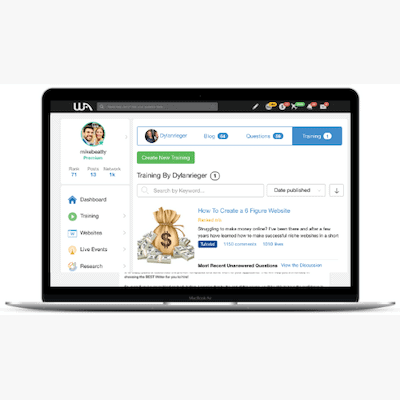 BONUS #6, How To Create a 6 Figure Website… In 6 Months ($299 Value)
Still no idea where to begin?
In this training, another Wealthy Affiliate member walks you through his exact strategy for creating a 6 figure business using Amazon
Following these steps have proven to create a website that generates $4,000 per month and this is possible to achieve within 6 months!
If I were to start again and not have a clear passion I wanted to follow… this would be exactly what I would do
Remember this is a special bonus for those "action takers" that join the premium membership during the first week.
Total Value: US $4,809
Your Investment TODAY: US $19
When you try the program out you will discover why so many people get excited about it and recommend it to others.
Now let me ask you this…
What's the life you would love to live worth to you?
Keep changing for the better,
Mike
No credit card details required
P.S. If you'd like the advice I wish I received when I started out, then check out this free course…
Updates to Questions Below
---
The training also includes how to use social media including Facebook, Google+, Pinterest and how to make your website a place for others to engage.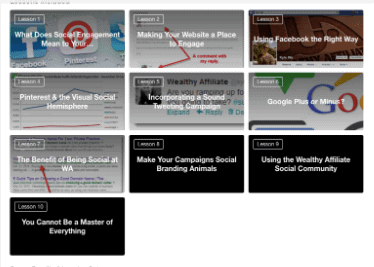 Can your passion make you $1 million? In "The Circle of Profit" book review you will uncover the truth behind the book and I'll let you know what my own experience has been so far.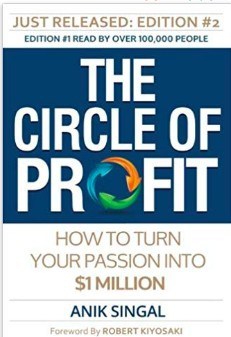 The Circle Of Profit- The Overview and Rankings
---
Name: The Circle of Profit
Author: Anik Singal- 99 out of 100
Originality: 85 out of 100
Practical methods: 90 out of 100
Enjoyability: 60 out of 100
Maketimeonline.com Rating: 83 out of 100
Pros and Cons
---
Pros
Simple methods to start using affiliate marketing
Break down of the circle of profit and how you can start right now
How to start making money online as you go
How to create your own products using your own passion
How to use email marketing to connect and engage with your audience
Free videos to help explain each step
So many practical tips throughout the book.
Cons
Makes it sound TOO easy
Selling of a FREE Webinar- which turns into a $997 course- The Inbox Blueprint
Not a super enjoyable read as a lot of it is practical content instead of stories (there are some stories in there to balance it out- but it's one of those books that you will need a pen and paper with you)
Who is "The Circle of Profit" For?
---
Anyone wanting to have a successful online business! It really does show you how to get started using email marketing and the 2-phase process that being an email marketer can make money online.
Phase 1 is using affiliate marketing to start earning an income through your online business. Phase 2 is how to create your own content to really expand your online business.
I have learnt a lot about creating an online business over the past few months. The more I have understood how online businesses work the more I have realised the importance of using email marketing (basically collecting email addresses and sending them regular emails).

Most people that make money online have an "email list" and I have heard from numerous people that wish they started collecting email addresses much sooner.
The reasoning behind this is that you have someones undivided attention in an email. If they read something on social media they can easily skim over it or not even see it due to the platform's algorithms (techy stuff that each social media platform has to decide what you see on your timeline). You can build trust through emails and it will only be seen by people who have chosen to access it.
Anik suggests that a rough figure is $1 per month per email that you have. i.e. 10,000 email addresses equates to $10,000 per month (roughly).
It is 100% worth a read if you would like to understand how it is possible to make money online and it has helped me to learn so much!
So What Actually is "The Circle of Profit"?
---
It is an email marketing program. It shows you how to use affiliate marketing and eventually your own products to make money by emailing your audience. The main 2 things to do are collect email addresses and sell products.
THE 8-STEPS
1. Passion Product
Discover your passion! The idea is to find a niche that you are interested in. If you'd like more information on how to find this, I go into more detail in "how to find your niche" (the video on here can save hours of unnecessary work that I went through!)
2. Opt-in Page
Create an opt-in page with an offer of a free gift in return for the visitor's email address. This is a standalone website that collects email addresses.
3. Autoresponders and Newsletters
An autoresponder is a programme that collects email addresses and automatically sends out emails. This is a crucial part of any online business and without email addresses (or an autoresponder) your online business won't exist.
The 4 that he mentions are:
SendLane (his own autoresponder)
GetResponse (I am currently using this one)
Aweber
iContact
There are other free autoresponders such as Chimpmail or Mailerlite, but I have found both of these to block my account due to messages sent. They really notice affiliate marketing links and don't allow these to be sent in an email, so they may not be the best ones to try with an affiliate marketing business (top tip- A workaround is to put your blog links into the emails and put the affiliate links in the blog posts, which seems to work fine on both free servers).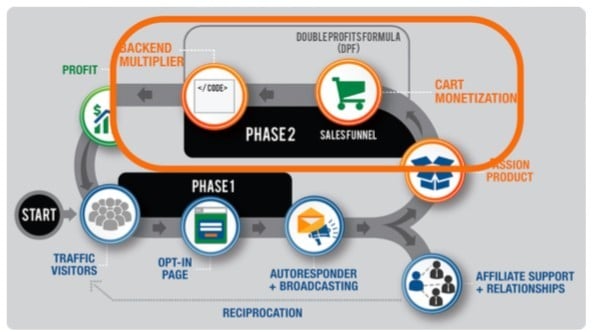 4. Get traffic
The fastest and easiest way to get traffic (visitors to your website- in this case, the opt-in page) is to buy it from the targeted sources. Traffic is the lifeline of every online business.
Anik mentions a variety of methods such as posting on forums or blogs (which appears to be outdated slightly/ are seen as spam on most blogs), Facebook advertising and email media (paying someone else that has an email base to send out an email for you).
5. Affiliates, Relationships, and Networking
Anik really knows his networking. He has built relationships with top-class entrepreneurs like Bob Proctor and Robert Kiyosaki.
He shows how having a good connection to other affiliate marketers can help you (and them) to build your own brands.
6. Passion Product
I thought this part of the book was amazing. Anik explains how to simply create a product within your niche that you can start selling.
This will be the long game and make the most profit in the long run but you don't necessarily need it to start making money initially. His explanation of written, audio or video products and how you can outsource some or even all of it, means it doesn't have to be a daunting task (obviously you pay for this with the money already made through affiliate sales!)

7. Sales Funnels- Frontend/ Backend
Anik talks about needing to know how to draft a proper sales message – written, audio, or video. Sales funnels are the key to multiplying your revenues.
I don't disagree with him on that but I do know that getting upsells can be really annoying when you think you have just bought a product and it turns out the upsell is ACTUALLY the product you wanted. So make sure if you have upsells they are clearly different from the products you are originally promoting i.e. online course to personal coaching.
You have your leads and you have your sales. What do you do with them? Well, as with every other business – you sell them more stuff. This is the part that I found very hard to read when I first looked at it. However, Anik puts it in a way that makes it seem more honest and acceptable to me.
Selling is good and necessary. Have you ever found a great deal when out shopping? It may be a super cheap holiday or a bargain on a pair of trainers. Do you keep that info to yourself or do you tell all your friends about it? It's the same online! If you find a great product that works, then tell your audience about it (equally tell them if you try a product and it was terrible)… they want to know!
8. Profit
Once you have everything down and connected – you launch your products. Either a full-blown time-sensitive launch or a rolling launch. You decide!
That's when you make your money. And what do you do with the profit you make? You re-invest it into growing your business.
Make more products around your passions, drive more subscribers through your opt-in page, and create an authority in your niche.
Does this Actually Work?
---
There are so many success stories throughout the book. Anik mentions loads of "his" students that have been through the training and obviously they have all done amazing!
As with most salespeople, he forgets to mention the ones that don't do so well. Reading between the lines on the huge success stories it is clear to see that most of these people had some experience of working online or a business already up and running. So it's important to take these stories with a pinch of salt if you are brand new to working online.
What I must say is that I have spoken to a few people that have been through his inbox blueprint course (which he highly recommends throughout the book… so if you don't like that sort of thing this is your warning about it!) All of these people seem to be very happy with the products and learning they have received from using it.
I'm yet to speak to anyone who is earning MEGA bucks or who have told me exactly the monetary results from the course, but I'm yet to speak to anyone who has hated it and found it a waste of time.
My own experience
---
So I read the book, I got super excited about it and thought I had found the answers to all the questions I was looking for. But (how did you know there was a but!!) it turns out it's really hard to get people to give you their email addresses… Yes even though I was offering a FREE e-book!!
I set up my email list on Chimpmail.
I made an opt-in page and pretty much copied one that was in the book.
I spent time setting up my initial 10 emails to send out to all the subscribers I was about to get.
I spent a couple of days putting my free e-book together.
I used the Facebook advertising method and spent £20 to get about 3,000 relevant people to look at my advert.
I managed to get about 200 people to click on the link and view my opt-in page.
And I managed to get a big fat total of…. ZERO people subscribe to my email list!! (enter "throw the toys out of the pram" tantrum)
It was sooooo disheartening spending all that time creating the free e-book & email responses to have NOBODY even look at them!!! I then re-read the book (yes front to back). I realised I went wrong on step ONE!!!!! Step bleeding ONE!! I didn't even clear the first hurdle (Muppet!) I realised I didn't even check out if my "niche" was profitable.
This is a huge reason as to why I've written an in-depth post about "how to find your online niche" and made a video to show you step-by-step what you SHOULD do to get started (and just in case you were thinking about starting a niche of "health, success and happiness"… DON'T!!! It is so broad that it's not even close to being considered a niche and pretty much includes every human on earth that is interested in it… which is why that won't work online- you have to be clear and specific in what you do!)
I also realised I didn't know how to sell. I have since learned that people buy on emotion… not logic. They will often justify the purchase with logic after they have been swayed emotionally. So my logical and bullet point adverts did not get people emotionally involved at any stage. You literally have to spell the dream out to them or hit a specific problem that they already encountered.
It's a learning curve and I learnt heaps! I keep finding the following quote to be so relevant to my life currently:
"I never lose. I either win or I learn."
That really helped me put things in perspective after this painful ordeal!! Check out my advert compared to some random advert I just saw on FB. You can see the difference right!?
My advert doesn't solve anybody's problem. It doesn't really sell any dream. To be honest, it just looks like it will be a waste of time to even read it, so why would anyone give up their private email address for this!?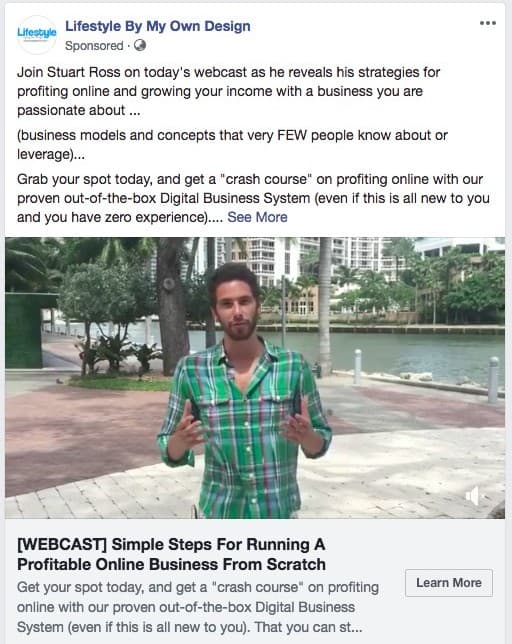 This advert is clearly solving a problem… How to run a PROFITABLE online business from scratch.
It's something that some people would REALLY want. If they already know they want to start this, and the video of the guy can attract them in then they will give up their email address for FREE to receive a shot at getting what they want (btw I literally just found this so can you see how powerful FB adverts can be, Facebook knows that I have an interest in making money online to free up my time and so it specifically sends me adverts related to this!!)
How I make passive income online
---
It wasn't that long ago that I was still trying to figure out how it's possible for people to make money online.
I wanted to find a passive income system that ticked a few boxes:
I could work on part-time when I wanted (I was still in a full-time job)
Therefore I needed it to not cost a fortune to start and maintain
Didn't need me to sell stuff to my friends and family
UPDATE- In September 2018 that I found Wealthy Affiliate. At the end of 2019 I quit my full-time job to dedicate more time to it.
I had no idea where to start with an online business a year before, but this has shown me step-by-step what to do.
The best thing about it is:
It's free to start
Qualified traffic is brought to you for free (just think about how you found this review… there was no money or time spent from me promoting this!)
You get me as a personal coach to help you on your journey (someone that has been through the exact same process to help you avoid the mistakes I made, but not too far ahead to forget what it feels like)
You don't need ANY technical skills to start
When you try out this program you will see why so many people recommend it.
The Circle of Profit book review: The "MakeTimeOnline" Review Final Word
---
I think everyone should read this if they are interested in making money online as it has a step by step guide into setting up a profitable online system.
The information is all there in the book.
If you already have a business or some basic sales skills then this book would really compliment these skills with practical advice on how to use email marketing.
It really simplifies the process, which makes it easy to understand. However, it also means that it sounds really easy to do when, in fact, a lot of these things take time to learn or figure out. You still have to create content to get started such as a free gift and promotions to get people looking at your opt-in page.
Beware of the promotions for Anik's courses such as the inbox blueprint. As I say I have only heard good things about this course but it does seem like it's a product to get after you already have a clear niche and some understanding of how affiliate marketing works.
It comes at a steep price of $997 so you really need to be certain that creating an online business is for you.
Keep changing for the better,
Mike
P.S. Since you're still here, I'm assuming you're interested in making money online to free up your time. Click here to read my review of my #1 recommended program and join the form below to learn how to build an online business with no experience.